Cranberry Rosemary Cocktail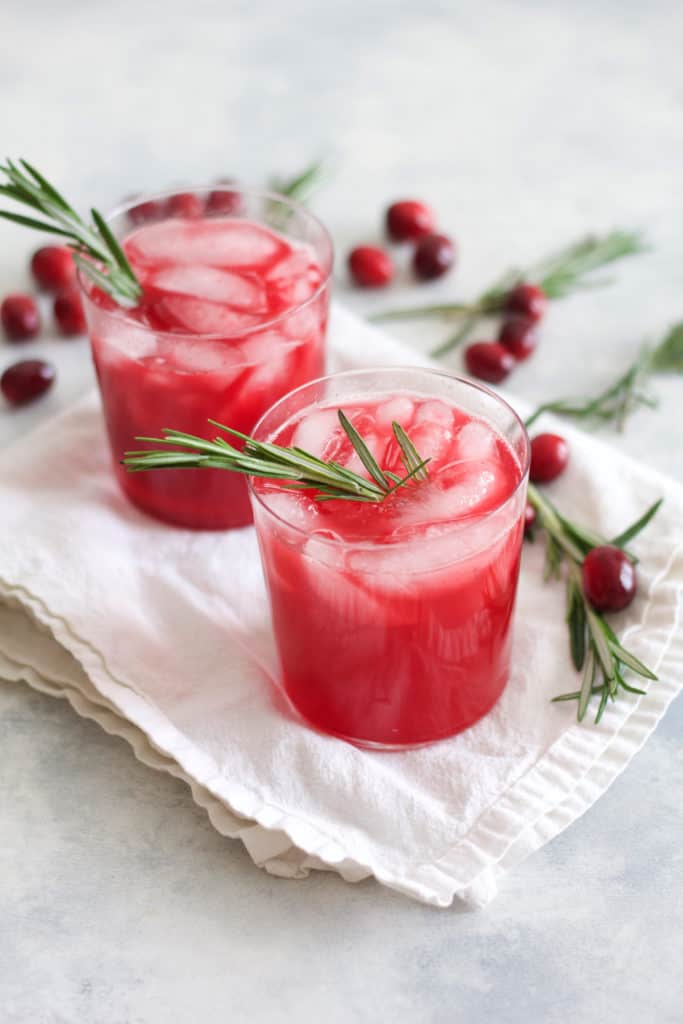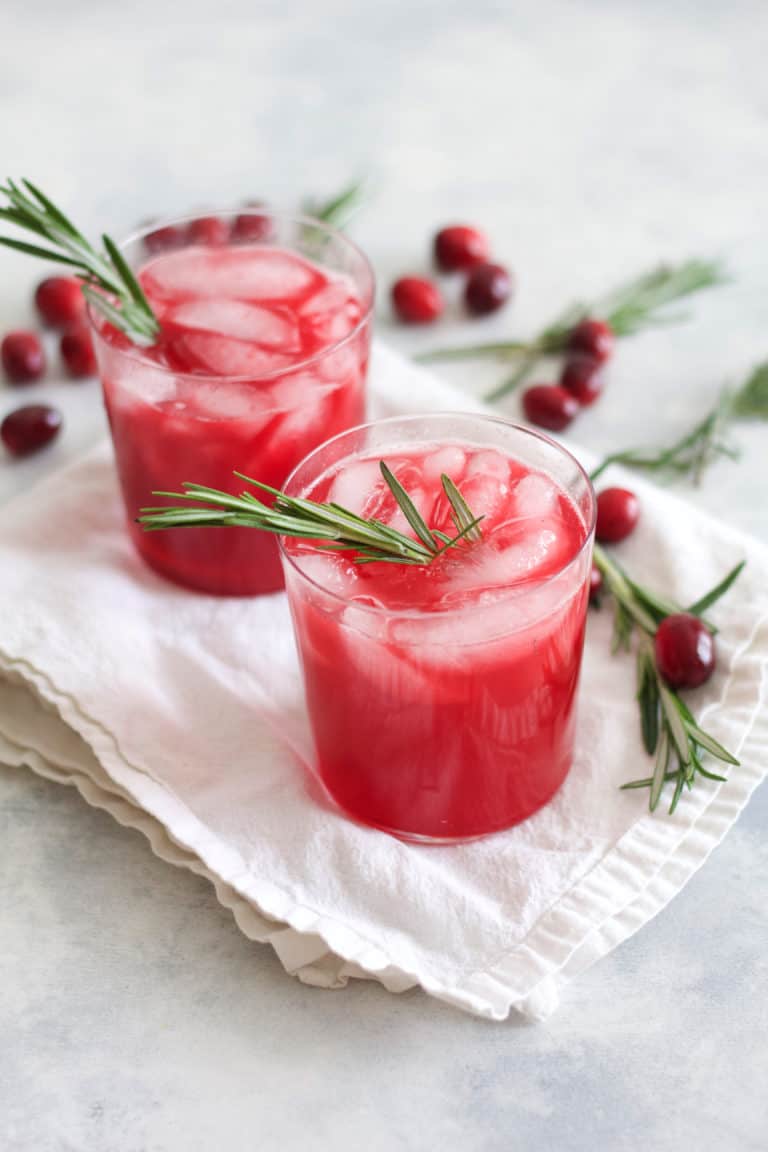 The holiday season is all about gathering friends and family and I'm always on the hunt for exciting ideas for a killer appetizer/cocktail menu. I shared the amazing recipe for Union Square Cafe's Bar Nuts earlier this week, (that is a must for any holiday spread,) these Truffle Deviled Eggs are a must, and this fresh and tangy drink is going to be your new signature cocktail for this year's holiday parties.
It is really everything I want a festive, simple cocktail to be: bright, light, and delicious. The vibrant red hue of this drink comes from making fresh cranberry juice, and it's the perfect not-too-heavy drink for a holiday happy hour or dinner party. The hint of rosemary adds an herby touch that cuts the tartness of the cranberries nicely.
Ingredients needed for Cranberry Rosemary Cocktail:
Fresh Cranberries
Fresh Rosemary
Sugar
Bottle of Vodka
Soda water / club soda
Lime Juice
Supplies needed for this Vodka Cranberry Cocktail
Cocktail shaker or large cup with spoon to stir
Small saucepan for simple syrup
Small rocks glass or cocktail glass
The process:
Make some homemade rosemary syrup by combining 1-2 large rosemary sprigs in a saucepan with a cup of sugar and a cup of water. Then strain out the rosemary and cool the syrup.
To make fresh cranberry juice blend fresh cranberries and water in a blender and strain. This is going to be tart, unsweetened cranberry juice that is so fresh and amazing and much different from the cranberry juice cocktail you buy at the store.
When you're ready to make a cocktail, place some large ice cubes in your glass with a sprig of rosemary, stir together the vodka, syrup and cranberry juice and mix to combine. Pour over the ice and squeeze in a lime.
Making this recipe for a large crowd? Double the recipe in a large pitcher or punch bowl. Fill an ice bucket and you have a self serve cocktail station for your holiday celebrations.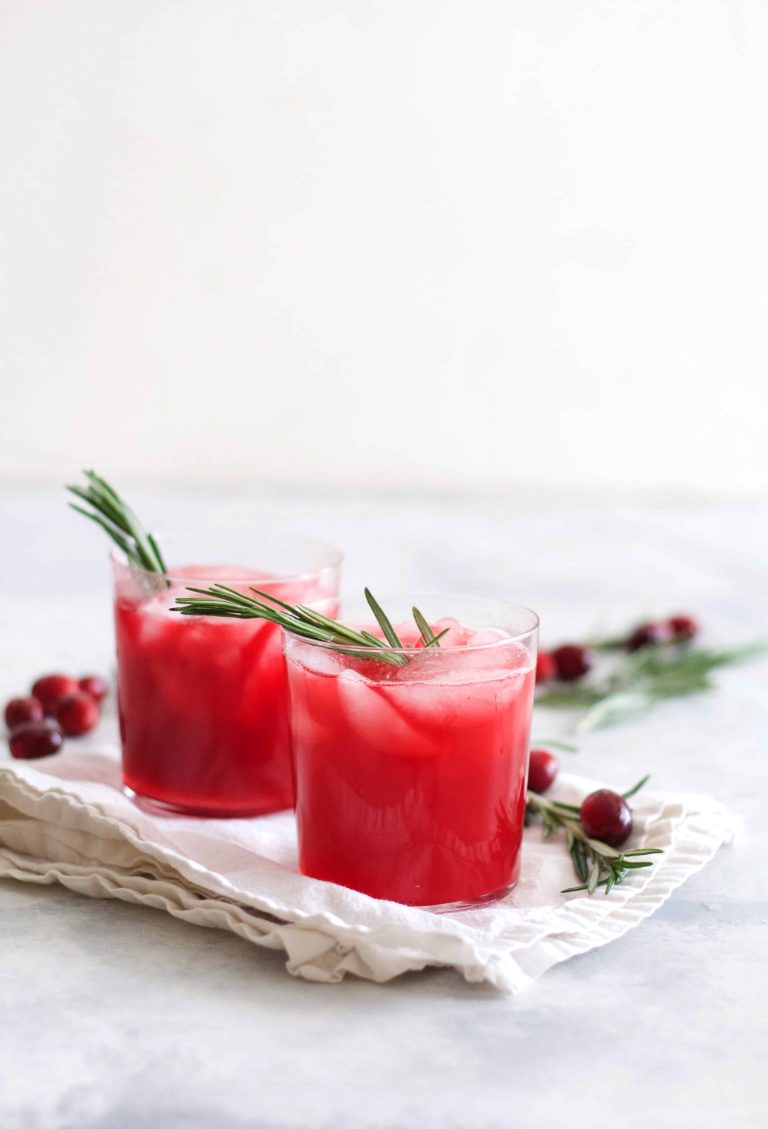 Ways to make this recipe your own:
Make a Cranberry Moscow mule by finishing the cocktail with ginger beer instead of soda.
Garnish with orange twists and a squeeze of orange juice or fresh lemon juice.
Add a cinnamon stick to the simple syrup for an extra festive twist.
Make a bubbly cocktail by finishing with sparking wine or prosecco instead of the club soda.
Have leftover cocktail ingredients? They will last in the fridge for a week in a jar or other airtight container.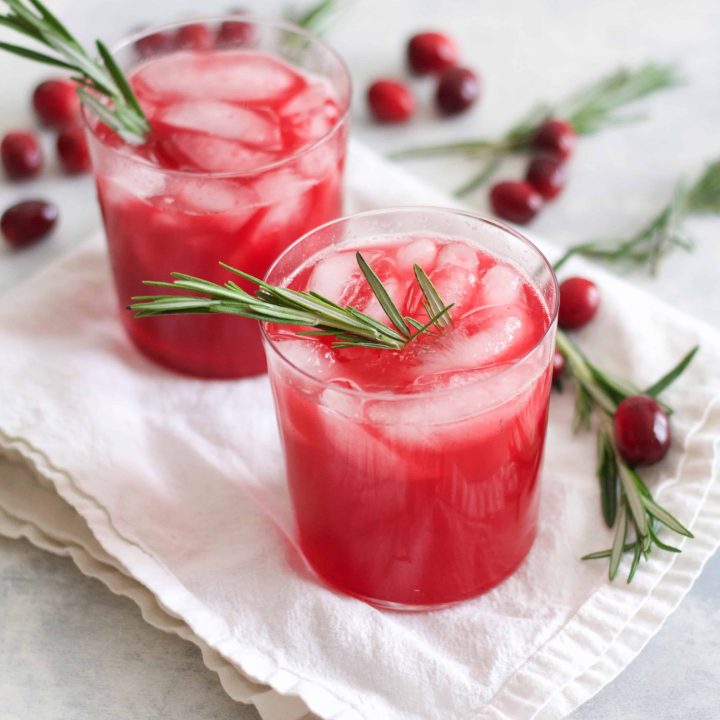 Cranberry Rosemary Cocktails
Ingredients
5 cups of fresh cranberries
2 cups vodka
4 sprigs of rosemary (plus more for garnish if desired)
1 cup of sugar
8 oz. seltzer water
Instructions
In a large blender jar, combine the cranberries and 2 1/2 cups of water. Blend on high for a minute or two, or until pureed with no big chunks.*
Place a fine mesh sieve over a large bowl and strain the mixture, pressing it down with the back of a spoon until all the liquid is out and only some pulp is left. (You should get 2.5 cups of juice.)
Add the vodka to the blender jar with the remaining pulp and blend for a minute or two.
Strain that mixture and discard the pulp.
Store the juice and vodka in sealed jars in the fridge until ready to use.
For the syrup:
Combine the sugar, rosemary and 1 cup of water in a small saucepan over medium-high heat. Stir until sugar is dissolved. Remove from heat and allow to cool. Remove the rosemary sprigs and pour syrup into another small jar.
To make a cocktail:
Combine 2 oz (1/4 cup) of the cranberry juice, 1 oz. of the cranberry vodka (2 tablespoons,) and 3/4 oz of the rosemary syrup (1/5 tablespoons.)
Stir together and pour over ice. Top with a splash of seltzer and a rosemary sprig if desired. Add more syrup or vodka depending on your personal taste.
Notes
Depending on how you like your drinks you may want another splash of vodka or a little more syrup. The recipe should give you a little wiggle room too add more if you'd like!

Recipe adapted from: Wanderlust Kitchen