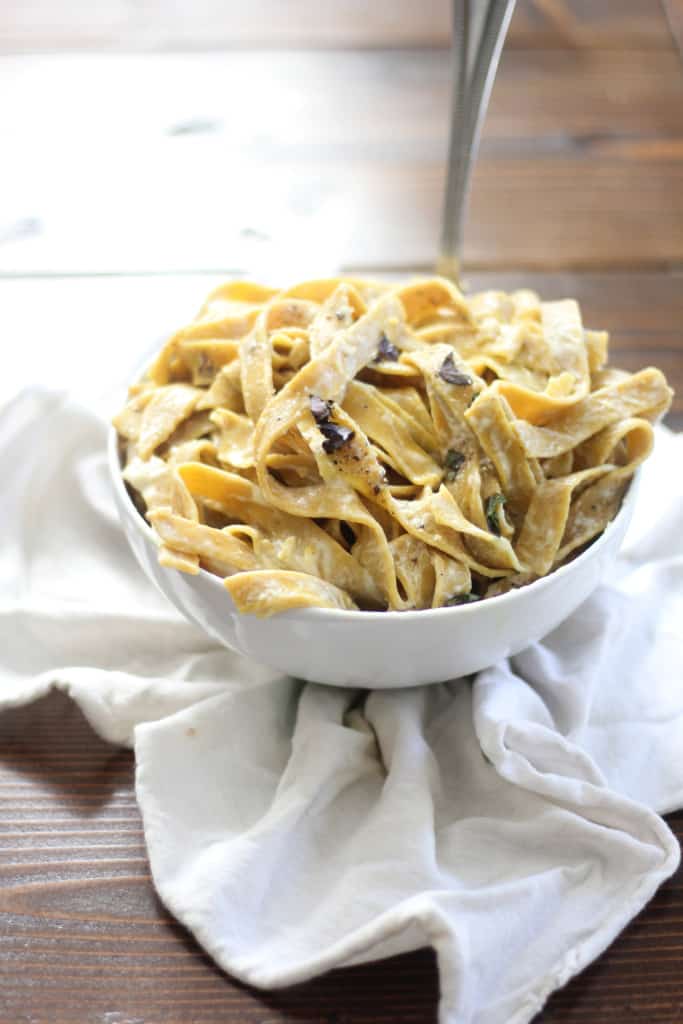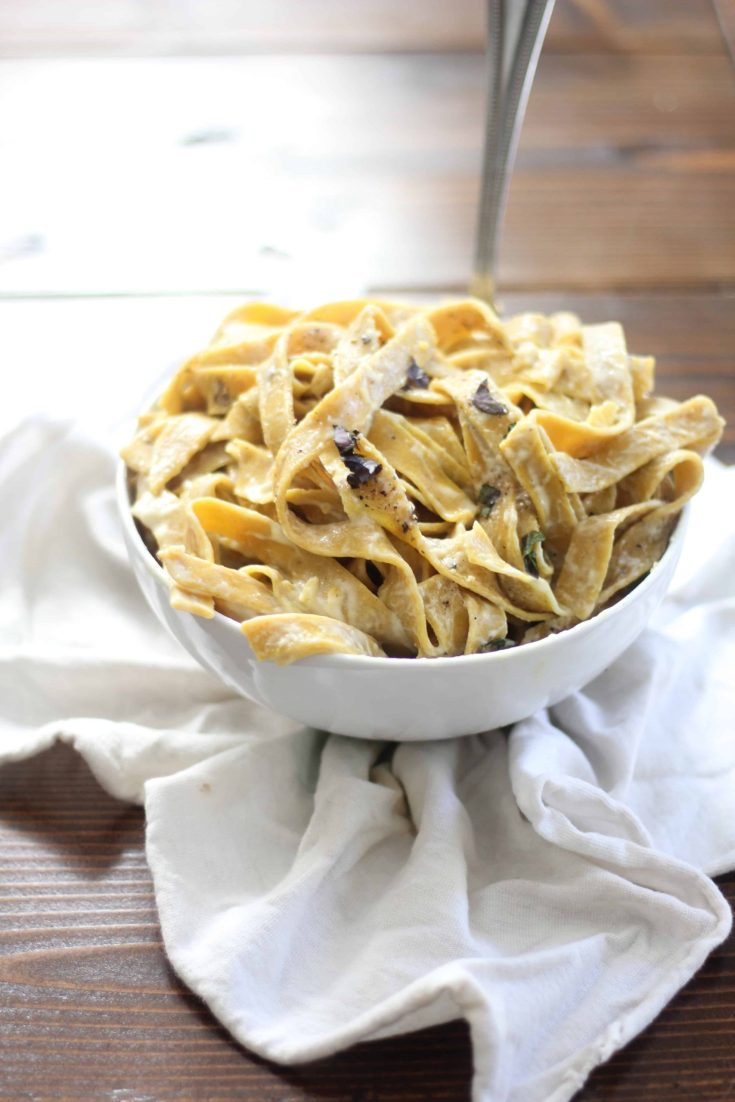 I'm sitting down trying to write about this pasta while also watching the nightmare that is the debate while also trying to pay attention to the Packers game. So, yes this will be short and sweet. First of all- I have been cooking and baking so much! I wish that cooking and baking was the only step involved in sharing recipes with you guys, so sorry it has been awhile, but I have some good ideas coming, and I hope to pick up the pace soon. It's been 2.5 months and I just haven't really found my groove yet in this new life. How much time am I allowed?
Anyway- one of the best things about my new life in our new lovely house is my new lovely neighbors. Particularly my new friend/neighbor Amanda who is a fellow foodie and also a stay at home mom. What a blessing to have her! Our kids get along, and we've recently tried to attempt some food/craft projects while they play. Our most recent one? Pumpkin pasta! Amanda is an experienced pasta maker, and she came over to make this with me and teach me the ropes. Is there anything better that freshly made pasta? I don't think so. I'm into it. Expect more posts on my forays into fresh pasta making starting right here.
This pasta is so delicious, with a subtle pumpkin flavor and just enough spice to make it something special. I tossed it with some parm and half & half, but a brown butter sage sauce would also be fabulous don't you think?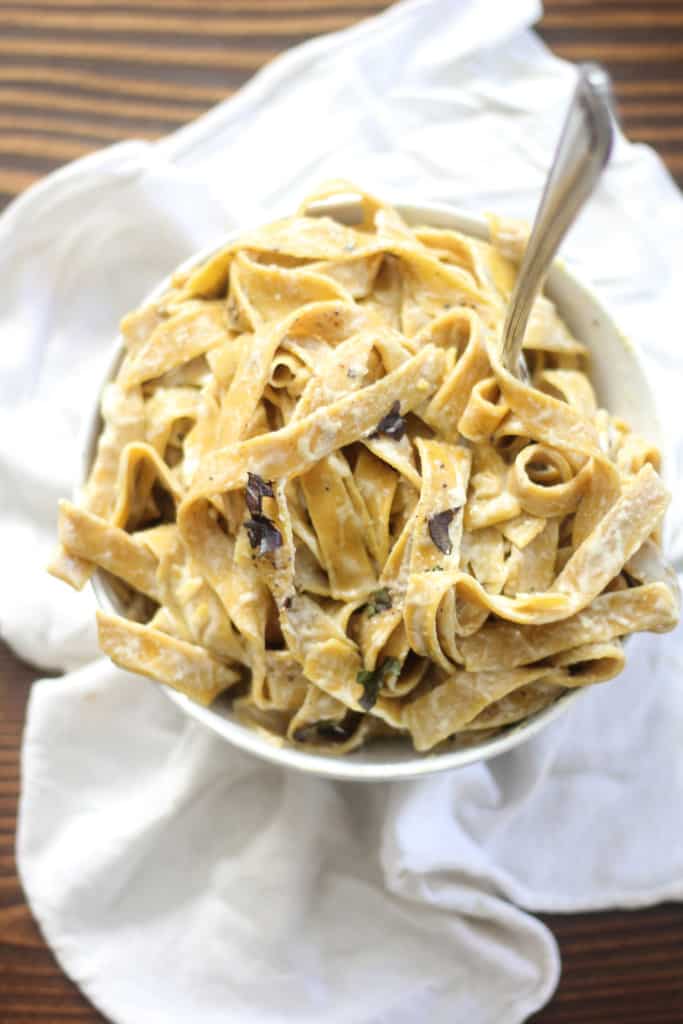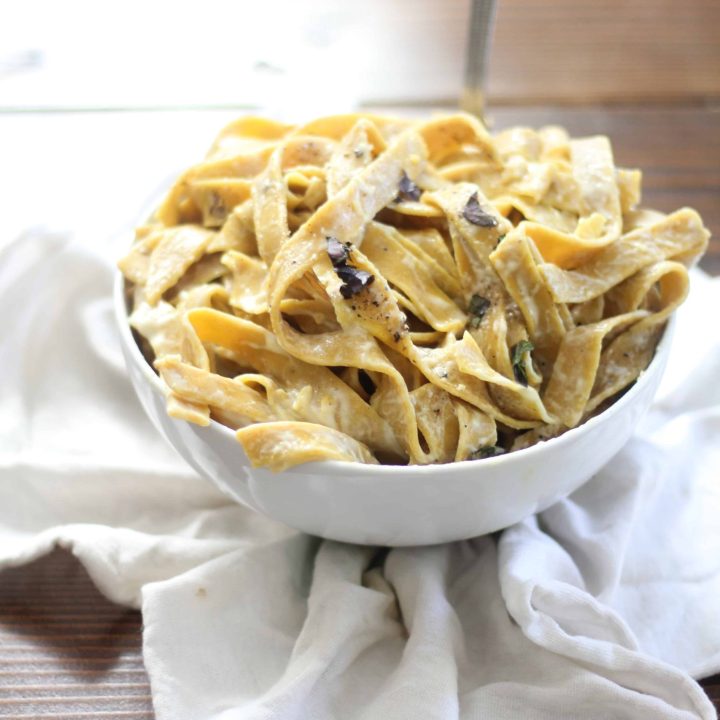 Fresh Pumpkin Pasta
Ingredients
1/2 lb. (1 cup) pumpkin pureé*
3/4 lb (about 1 1/2 cups) all purpose flour, or a blend of AP, seminola and durum flour*
1/2 tablespoon pumpkin pie spice
2 large eggs at room temperature
Instructions
Put the flour and pumpkin pie spice into the bowl of a stand mixer fitted with a paddle attachment and create a well in the center. (You can also do this by hand!) Add the eggs and pumpkin puree into the well.
On low speed, mix the dough until the wet ingredients are worked in and the dough starts to come together. Transfer to a floured surface and knead by hand for about 5 minutes, or until dough is cohesive and moderately smooth to the touch. (You may need to add more flour if it is sticky.)
Cover dough with plastic wrap or a damp cloth and let rest for 30 minutes. The dough will continue to absorb flour as it rests, but before you roll it out, you may need to add additional flour if it is difficult to work with.
We used a pasta maker attachment to roll out our pasta, but you can also roll by hand by rolling out the dough, (they recommend rolling between two pieces of parchment or plastic wrap,) and then cutting by hand. You could of course make sheets of pasta for lasagna or make stuffed pasta.
When ready to serve, cook pasta in boiling water for about 5 minutes and serve with your favorite sauce. (This was just cream, parmesan, salt & pepper!)
Notes
*You could also use butternut squash or another squash pureé. Canned or fresh pumpkin works, but if using fresh, I wouldn't add all of it to the dough right away, as it often has a higher water content and may make the dough too sticky.
**If you choose to do a blend of flour for your dough which adds a nice taste and texture, do 2 parts AP flour 1 part seminola and 1 part durum.

Recipe adapted slightly from "Making Artisan Pasta" by Aliza Green