Happy Friday! I'm excited to share these delicious pancakes with you, but have to keep it short and sweet as there are about 20 empty boxes and an entire un-packed apartment waiting for me. Moving day is 7 days away! (but who is counting?)
Anyway- I whipped these up for breakfast last weekend, wanting to use my bag of beautiful apples for something non-desserty. I love fried apples, so I pan-fried these babies in some butter, brown sugar & cinnamon and then added them to my favorite buttermilk pancake recipe. It was all pretty simple, so perfect for fall, and so so good. (The side of bacon didn't hurt.)
I mean it about the apple bonanza coming your way..I have at least one more apple recipe coming in the next week or two, as well as a savory football snack and a fancy pastry I'm working on today. After that- I really hope that I can unpack my baking things first thing and get cracking in my new digs. I'll be sure to share a couple pictures of my shiny new space on Instagram. When you get your first dishwasher ever it's something worth sharing. (PS- did you know that if you don't have Instagram my last 6 posts update at the bottom of this page?) Have a great weekend!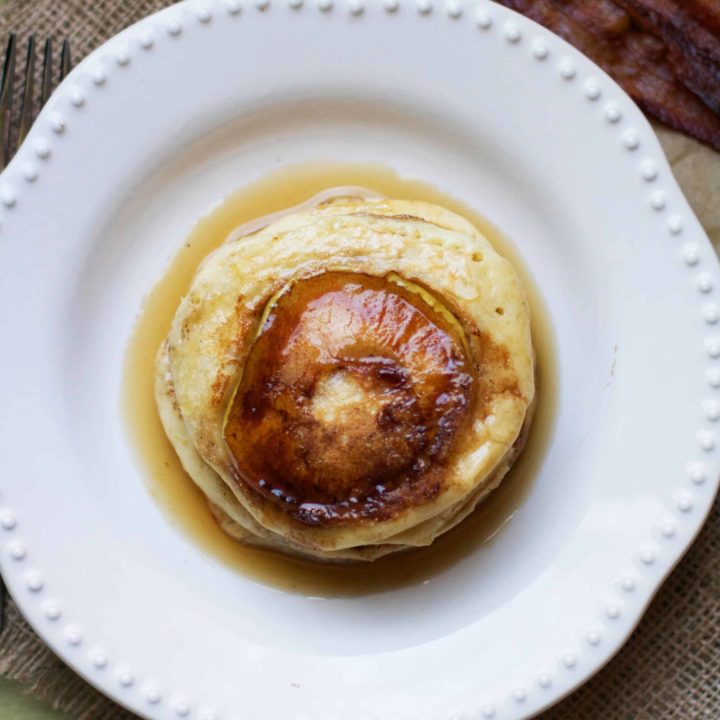 Fried Apple Pancakes
Ingredients
1 cup all-purpose flour, or 1/2 cup whole wheat pastry flour and 1/2 white
2 teaspoons baking powder
1/2 teaspoon salt
1 cup buttermilk
1 Tablespoon canola oil
1 large egg, lightly beaten
2 large tart apples, cut into whole slices.
2 tablespoons butter
2 tablespoons brown sugar
1/2 teaspoon cinnamon
Instructions
For the Apples:
In a large saucepan on medium-high heat melt the butter. Add the brown sugar and cinnamon and stir to combine. Add the apple slices and stir with the butter mixture to coat the apples well. Cook for about 2-3 minutes on each side, depending on thickness, until apples are soft but not fully cooked.
Remove from the pan and set aside.
For the pancakes:
In a large bowl, stir together the dry ingredients, add the wet ingredients and whisk to combine.
Butter or spray a large skillet over medium heat. Pour out a 1/4 cup measurer of batter ( don't fit too many on the pan at once as they spread when you add the apples.) Place one apple slice on each pancake. Cook until bubbles form and pancake is golden brown when you check it. Flip and repeat! Serve with warm maple syrup.
Nutrition Information:
Serving Size: 1 grams
Amount Per Serving: Unsaturated Fat: 0g