Frosted Chocolate Peanut Butter Reindeer Cookies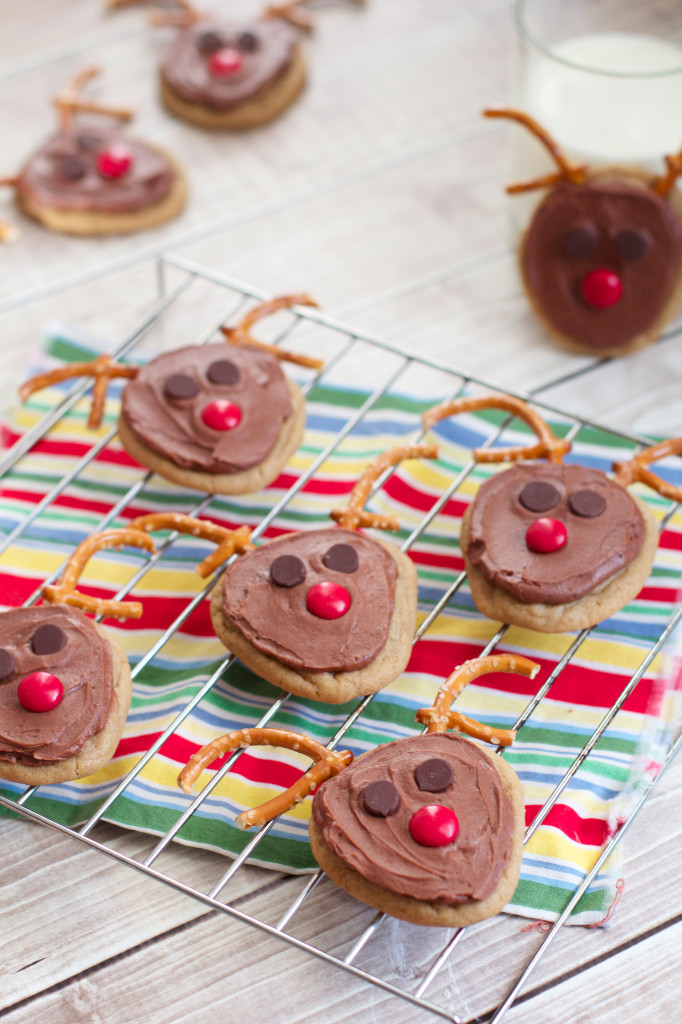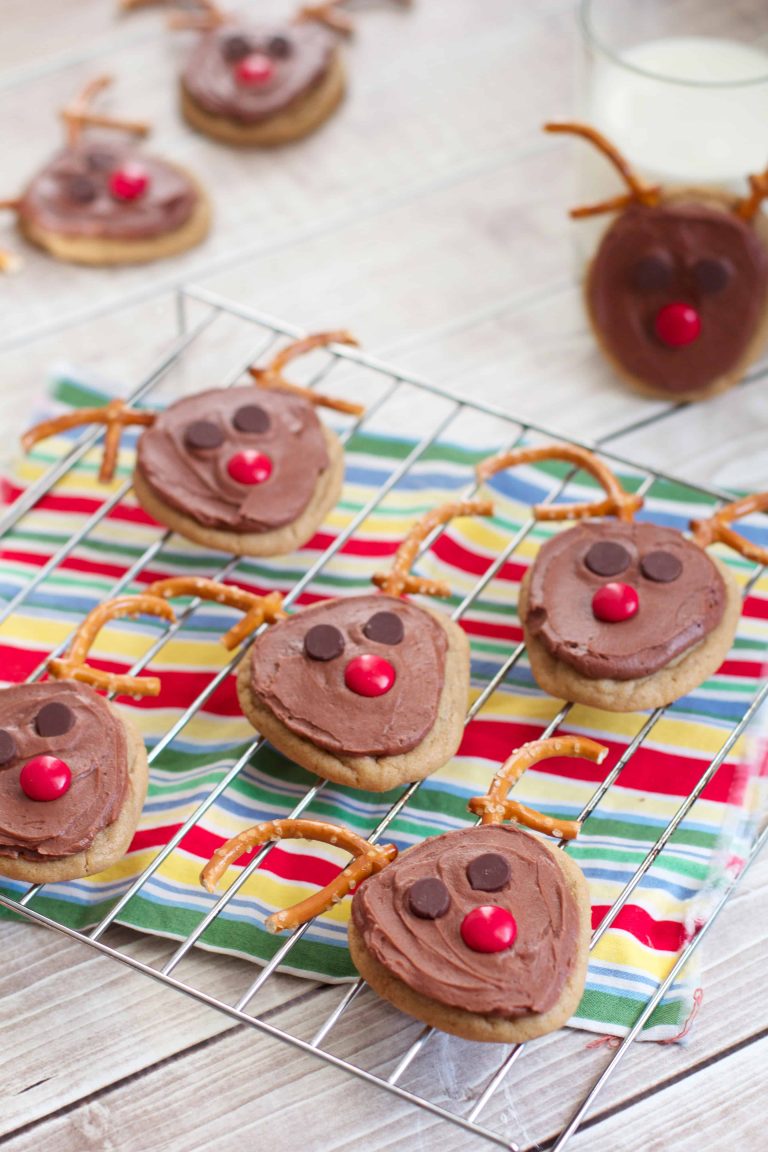 I just can't stop with the super festive recipes you guys. I'm just having way too much fun with it! Also, by some miracle, Hugo is in a self-sufficient phase, happily playing by himself for huge chunks of time. (Yesterday he chased an empty coffee can around the apartment for almost 30 mins!) This lucky phase has allowed me lots of time to bake- these fun cookies being my most recent project.
The first thing to note about these is that they are SO good. Even without the fun decor and festive reindeer ears- this is a kick-a chewy peanut butter cookie with thick & creamy chocolate frosting that makes them even better. It's the same recipe I used for the Peanut Butter Chocolate Football Cookies and I can guarantee I'll use it as a base recipe again and again. It is by far my favorite peanut butter cookie recipe ever.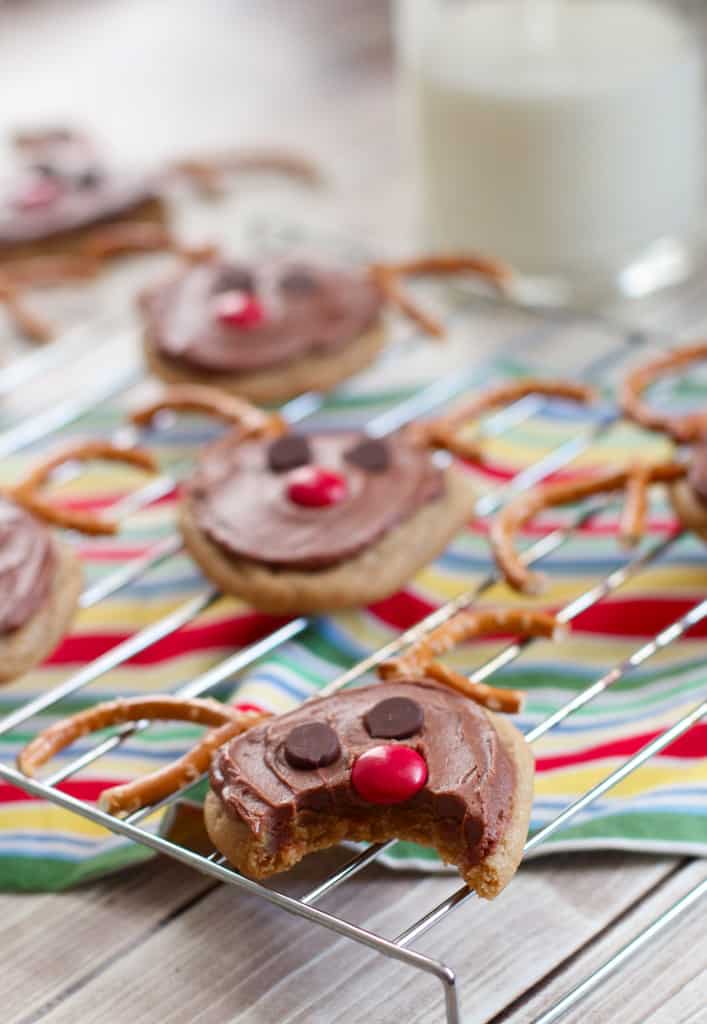 If you follow my instagram you may have noticed I polled my followers to see if they thought these cookies seemed a little….well….creepy. After staring at them for hours the little faces started looking a little off and I immediately thought I should have used mini chocolate chips for the eyes. They have since grown on me and I think the faces are cute, but mini chocolate chips may help their case. What do you think? These are cute right?
Anyway- I brought these cookies to a party/contest over the weekend and they won! I was told the best way to enjoy them is to break of the antlers and lay the pretzels over the cookie- resulting in a crunchy, sweet & salty bite!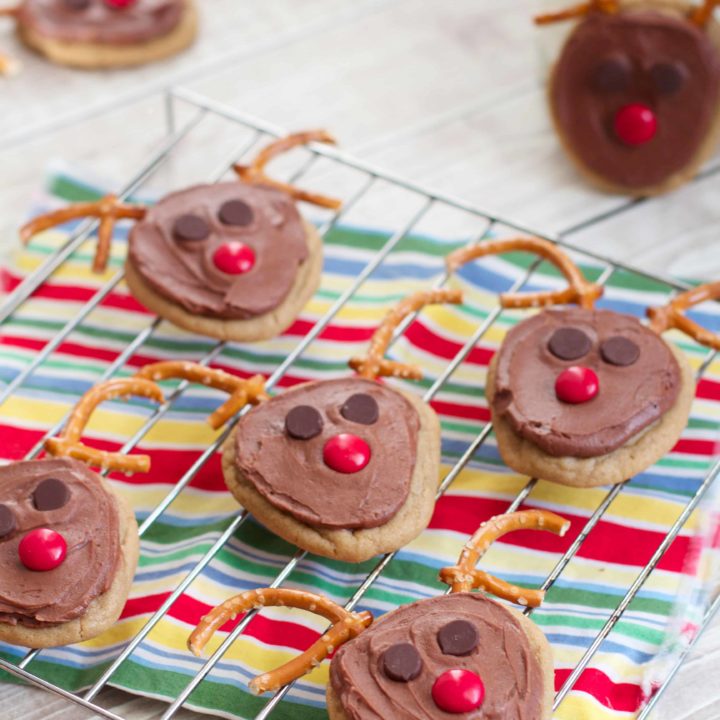 Frosted Chocolate Peanut Butter Reindeer Cookies
Ingredients
For the Cookies:
1/2 cup unsalted butter, 1 stick
1/2 cup creamy peanut butter
1/2 cup white sugar
1/2 cup packed brown sugar
1 egg
1/2 teaspoon vanilla extract
1 1/4 cups all-purpose flour
1/2 teaspoon baking powder
1/4 teaspoon salt
3/4 teaspoons baking soda
For the Frosting:
1 stick butter, softened
2-3 cups powdered sugar
5 tablespoons unsweetened cocoa powder
1/4 cup milk
1 teaspoon vanilla extract
Chocolate Chips* M&Ms and Pretzels broken into antler-like pieces for decorating
Instructions
Cream together butter, peanut butter and sugars until smooth. Beat in egg and vanilla.
In a separate bowl, stir together flour, baking powder, baking soda, and salt. Gently stir the dry ingredients into the butter mixture until just combined. (No streaks of flour should be visible but don't over-mix!)
Chill dough in the fridge for at least 45 minutes.
Preheat oven to 375F. Use a small cookie scoop to portion dough into balls and then smush them into more of an triangle shape. Place on a parchment-lined cookie sheet 2 inches apart. (Leave room for the antlers!)
Bake for about 9 minutes or until cookies begin to turn golden. Be careful not to over-bake! Right after removing from the oven press the pretzel antlers into the warm cookies to set.
For the Frosting:
Beat the butter with the powdered sugar (Mixture may be dry.) Add the vanilla and milk, gradually until frosting is smooth. Add the cocoa powder and mix until smooth.
Frost cookies using an offset spatula, and place the chocolate chips and M&Ms to make the reindeer's face!
Notes
*I used regular but mini chocolate chips may work even better! Base cookie recipe adapted from All Recipes
Nutrition Information:
Serving Size:

1 grams
Amount Per Serving:
Unsaturated Fat:

0g