Frosted Sugar Cookie Bars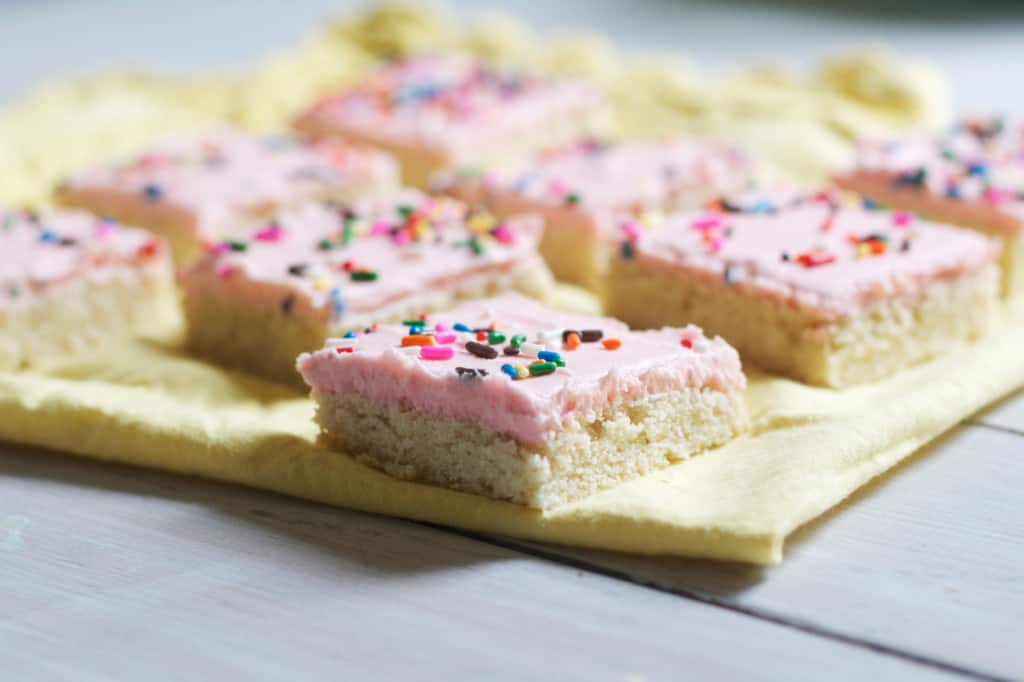 It's amazing how much I love a recipe that makes things quick and easy. Even though plenty of people probably make sugar cookies regularly, not minding the steps involved, it's a treat I often don't have the patience for. Now that being said, it's on my "baking bucket list" to learn how to make the beautiful royal-iced cookies that some bloggers are so amazing at, but I'm taking baby steps OK! In the meantime, I'm more than happy to satisfy my sugar-cookie-sweet-tooth with the simplest sugar cookie bars in the planet.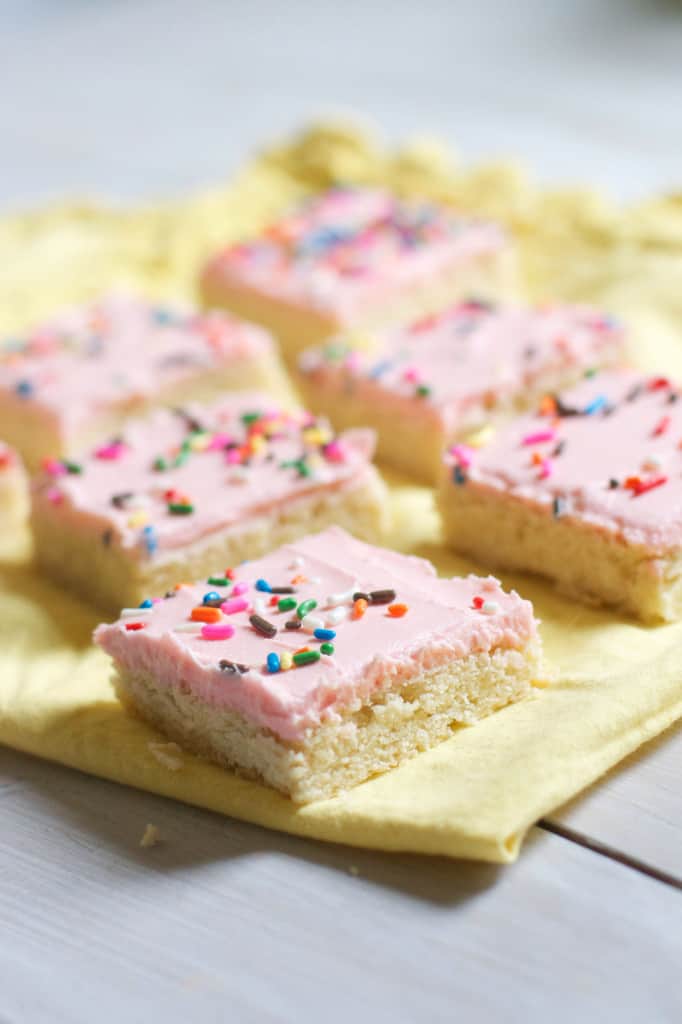 Instead of chilling and rolling and cutting the dough- you simply press it into a pan and bake! A simple buttercream is lathered over and there you have it- a perfect palate for any seasonal color of icing and sprinkles! I found these bars soft and buttery, with a not-too-sweet cookie base made up for with a sugary frosting. After sitting out for a few minutes the frosting firms up which makes these easy as pie to transport and share. (I brought them to my agent's office- note- sugar makes people happy!)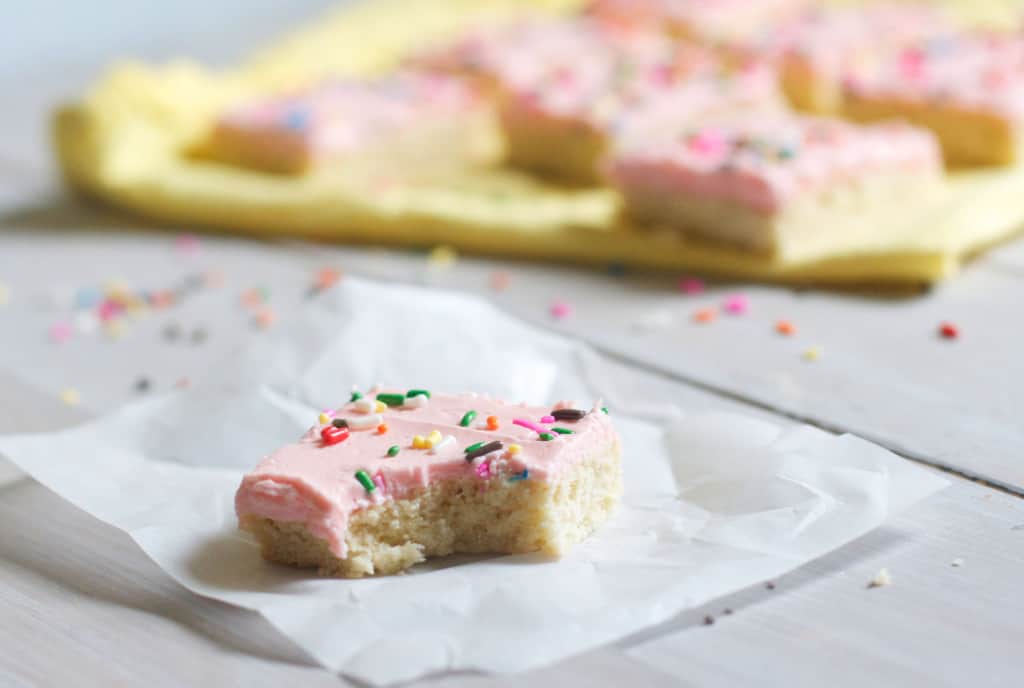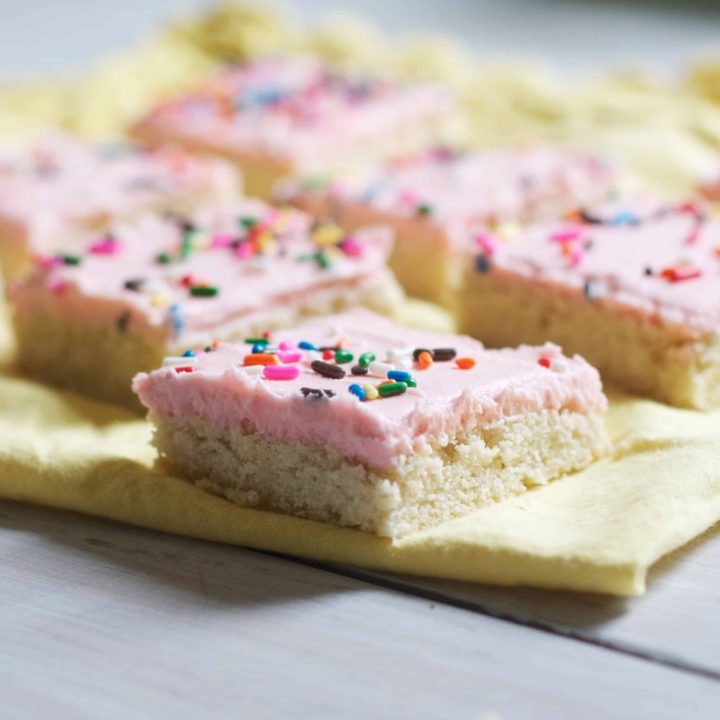 Frosted Sugar Cookie Bars
Ingredients
1/2 cup butter, softened
1 cup granulated sugar
1 egg
1 egg white
1 1/2 Tbsp sour cream, I just do 1 heaping Tbsp
2 tsp vanilla extract
2 1/2 cups all-purpose flour
1/2 tsp baking powder
1/2 tsp salt
1 recipe vanilla frosting, recipe follows
Vanilla Frosting
1/2 cup unsalted butter, softened
2 1/2 cups powdered sugar
2-3 Tbsp half and half
1 tsp vanilla
Pinch of salt
Several drop food coloring, optional
Sprinkles, optional
Instructions
Preheat oven to 375 degrees. Butter a quarter sheet pan OR a 13" x 9" baking dish, set aside.
In a mixing bowl combine flour, baking powder and salt, set aside.
In the bowl of an electric mixer, whip together butter and sugar until pale and fluffy about 2-3minutes. Mix in egg and egg white. Add sour cream and vanilla and mix until blended. (mixture may be a little lumpy at this point.)
With the mixer running on low, slowly add dry mixture and stir until just combined. Scoop dough into prepared pan, and use an off-set spatula to gently spread it to the edges. (Use your hands to gently press if needed.)
Bake 15-18 minutes or until the middle is slightly firm and the edges are lightly golden.
Cool completely, then frost and cut into squares.
Vanilla Frosting:
In a mixing bowl, with an electric mixer, whip together butter and powdered sugar until thick. (Mixture will seem dry.) Add half and half a little at a time until fluffy. Mix in vanilla and salt. Add in food optional food coloring and mix until well blended.
Nutrition Information:
Serving Size:

24 grams
Amount Per Serving:
Unsaturated Fat:

0g
Recipe adapted slightly from: Cooking Classy