Fruity Frosted Sugar Cookies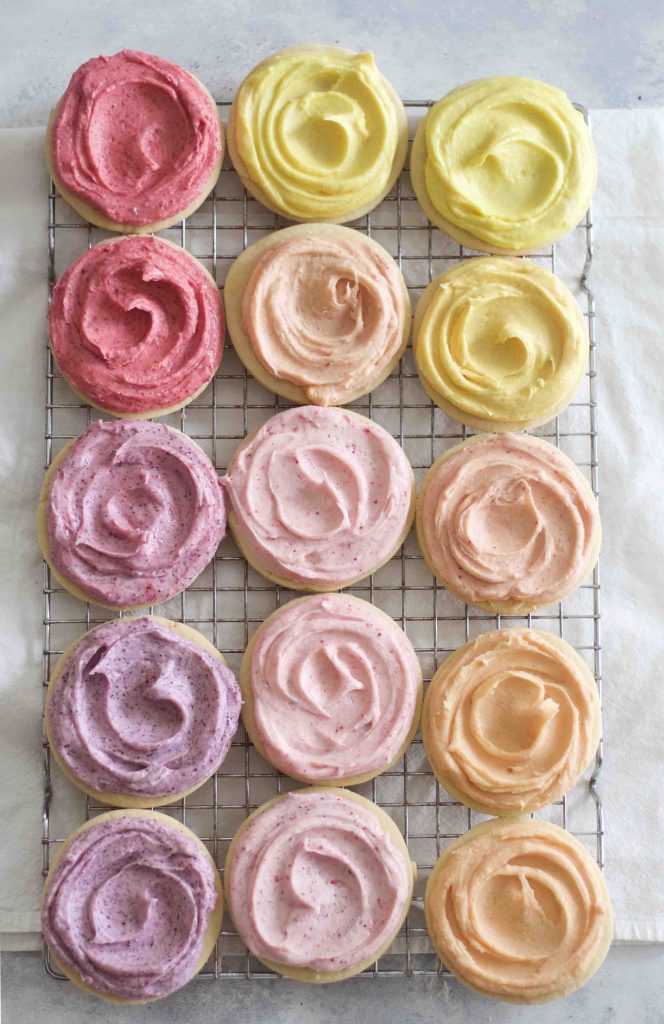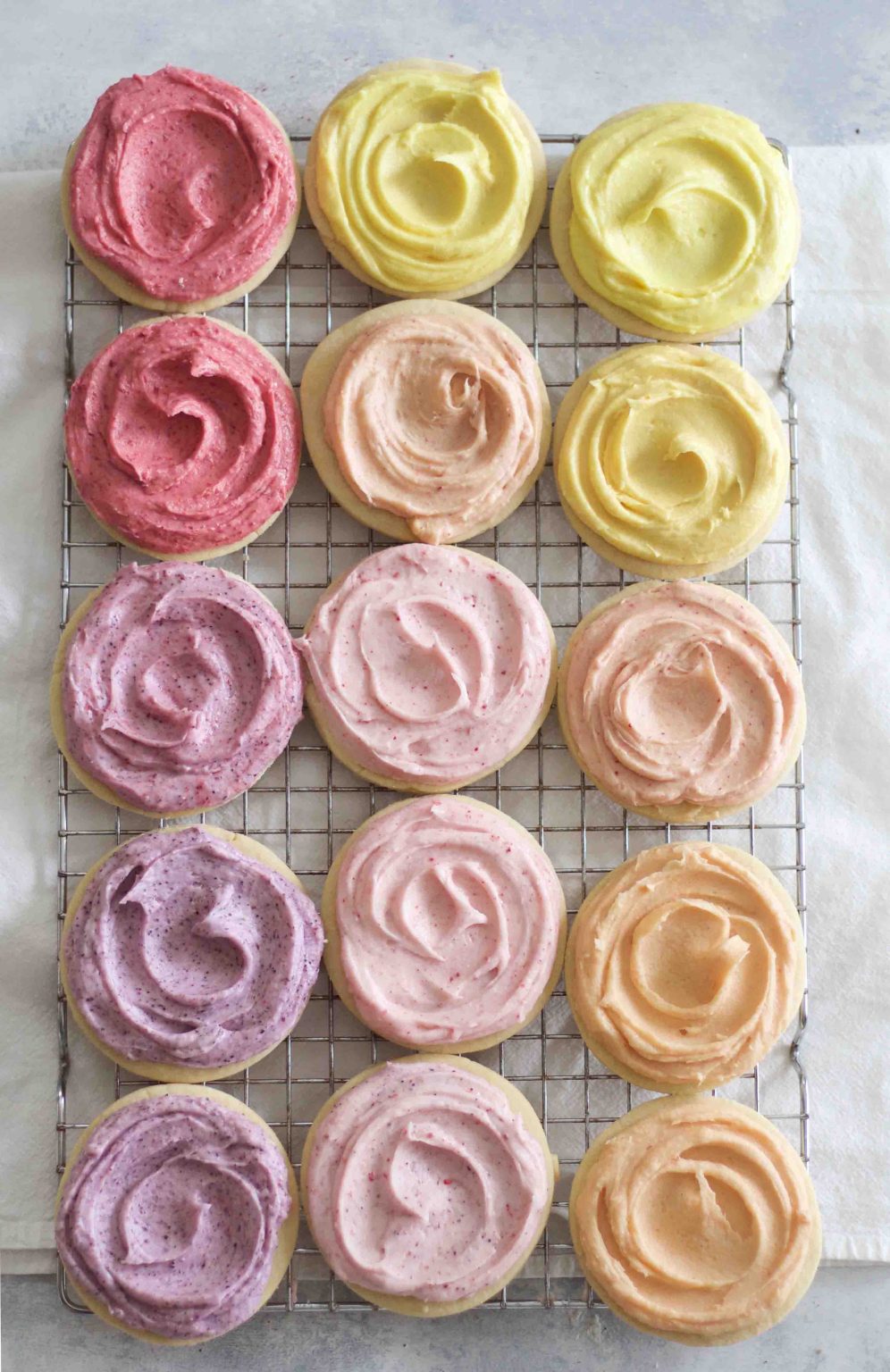 If you don't know by now, I'm obsessed with using freeze dried fruit to color frosting.
If you haven't tried it yet- you must. Never before has it been so easy to get beautiful, natural looking coloring in your icing that actually tastes really good too.
Fruit-flavored frosting usually doesn't work out too well. Adding fruit or even just the pureé tends to make frosting runny or watery which doesn't bode well for getting it to hold shape or be spreadable.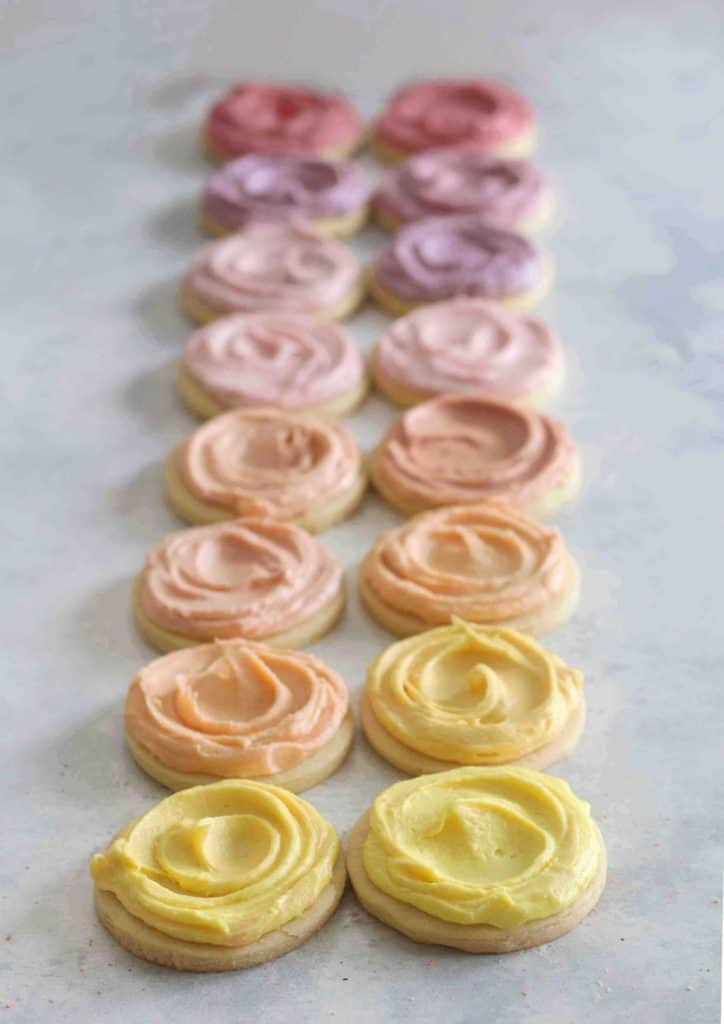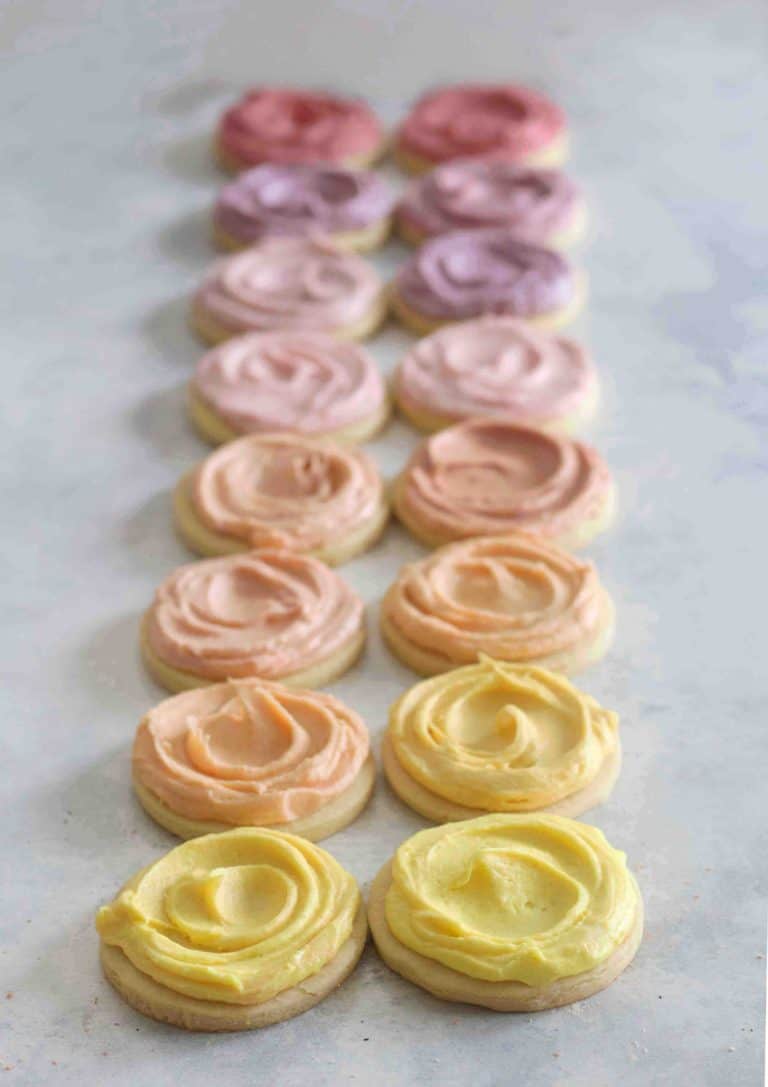 Freeze dried fruit is the perfect frosting solution. You crush it into a powder, (I like to put it in a ziplock bag and gently crush it with a rolling pin,) stir a little (or a lot,) into your plain buttercream, and then you're good to go.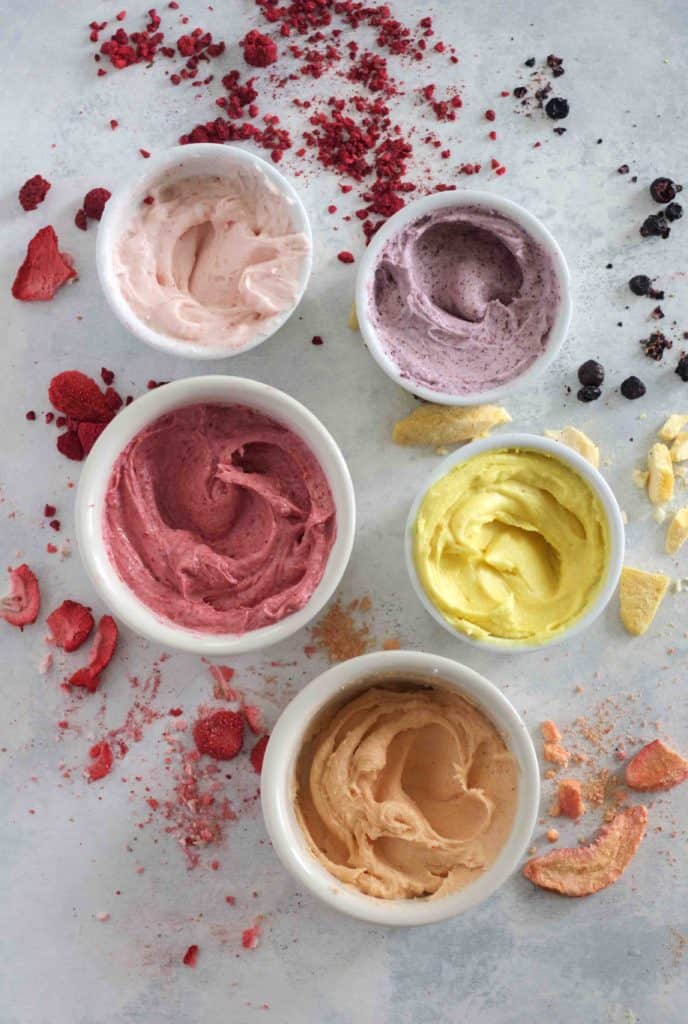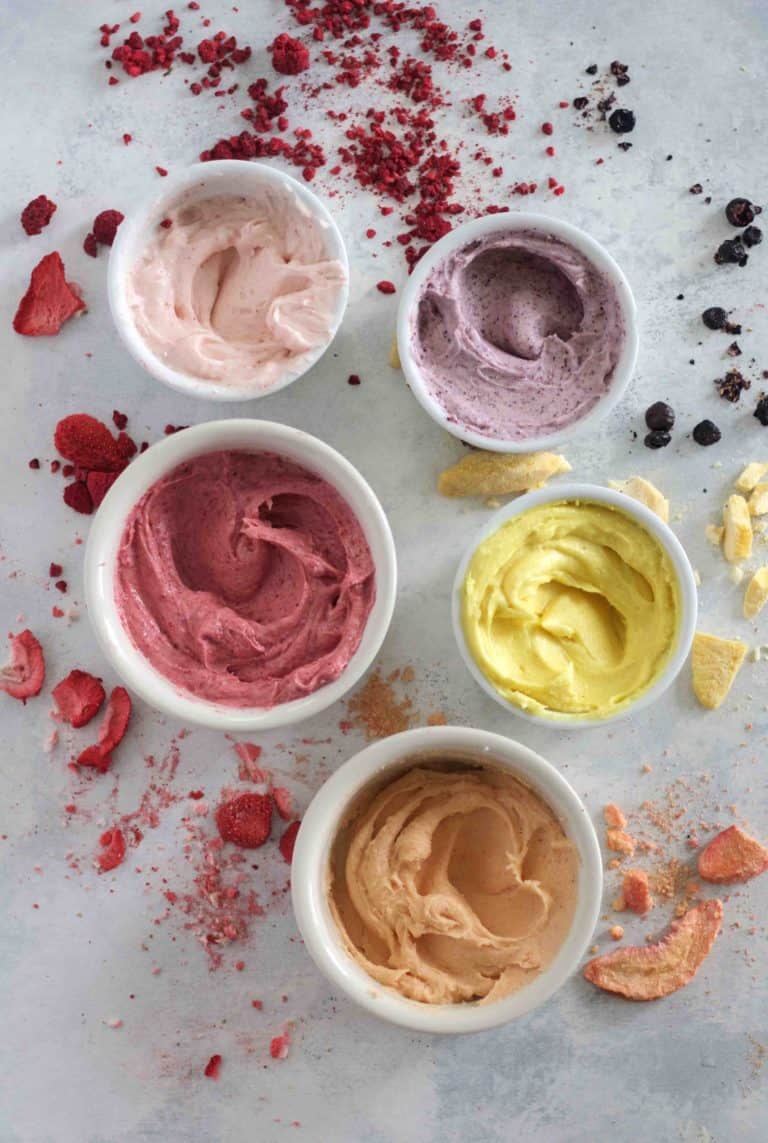 For these cookies I used 5 different fruits and experimented with mixing them together to create different colors and flavors. The end result was the perfect array or beautiful spring-like colors, perfect for Easter don't you think?
The freeze dried raspberries, strawberries, blueberries and mangos were all from Trader Joes, and I got the freeze dried peaches on Amazon.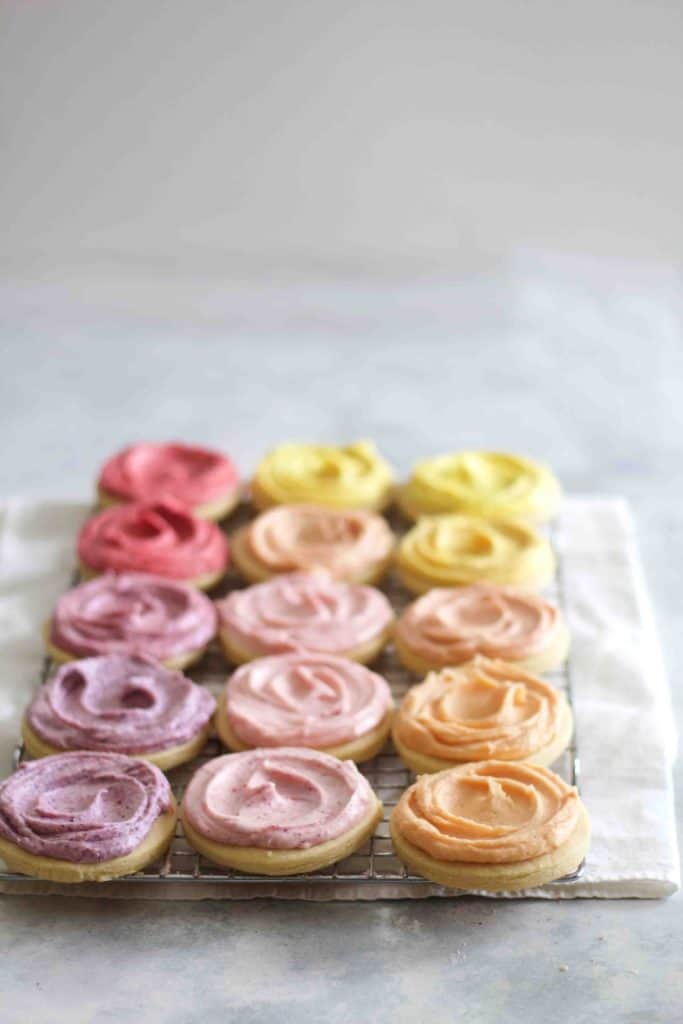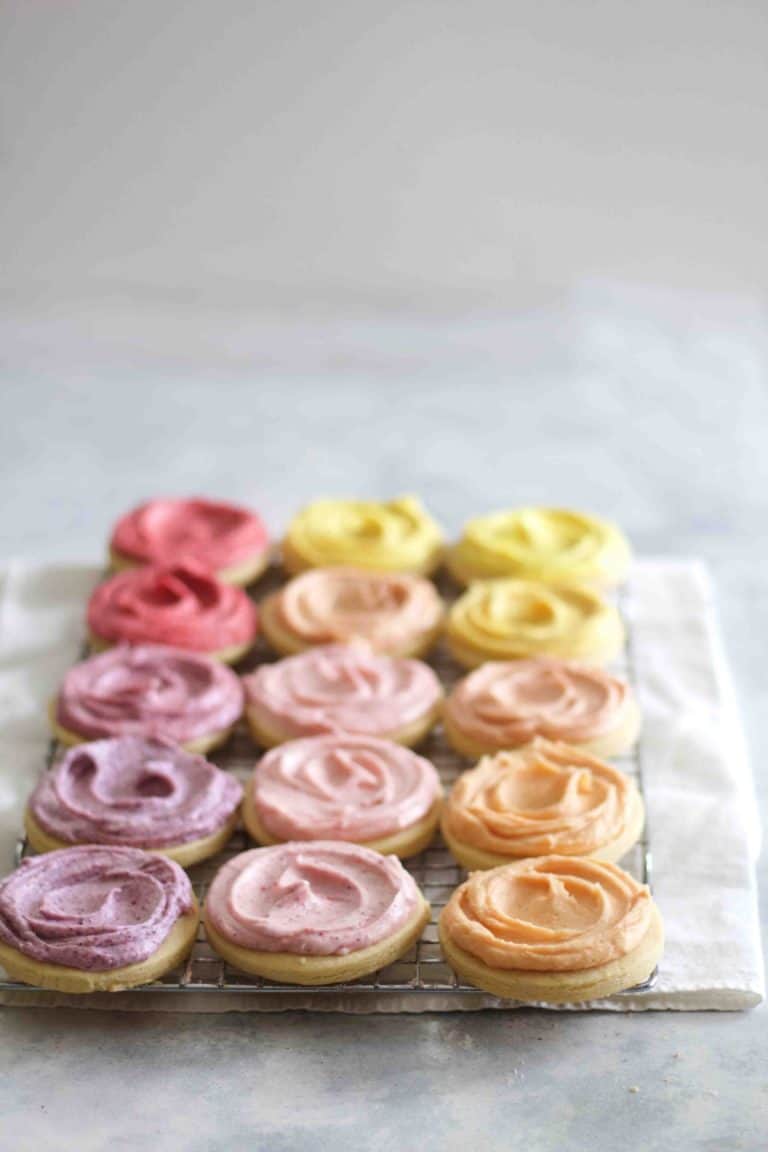 Not only was I blown away by the gorgeous colors I got from the fruit powder, but the flavors are so strong and delicious. The mango frosting really tasted like a juicy mango!
I am so happy to have these other flavors in my bag of tricks for springy and summery cakes and cupcakes. Think you'll give them a try?
Want more freeze dried fruit? A couple faves include Ombre Raspberry Lemon Sugar Cookies and Strawberry Lemonade Cupcakes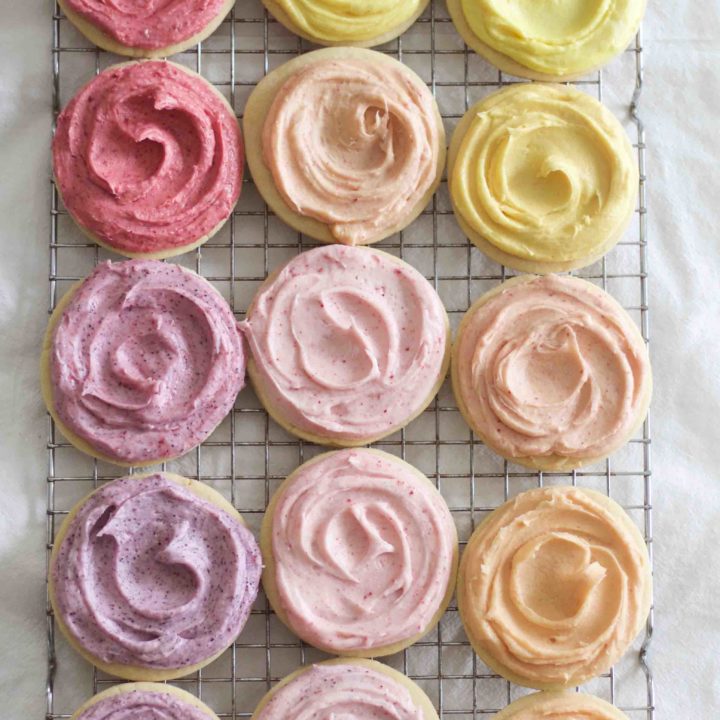 Fruity Frosted Sugar Cookies
Yield:
about 2 dozen 4 inch cookies
Ingredients
For the cookies:
3 cups all-purpose flour
2 teaspoons baking powder
1 cup sugar
2 sticks (salted) butter, cold & cut into small chunks
1 egg
2 tsp vanilla extract
For the frosting:
16 tablespoons of butter, softened (2 sticks)
2-3 cups powdered sugar
2-3 tablespoons "fruit powder" from freeze dried fruit* (I used raspberries, strawberries, blueberries, mangos and peaches)
1-2 teaspoons of milk
Instructions
For the cookies:
Preheat oven to 350F. In a small bowl stir the flour and baking powder together, set aside.
In a large mixing bowl combine the butter and sugar, and use an electric mixer to cream until fluffy. Add the egg, vanilla and mix until creamy and well mixed.
Add the flour mixture and mix on low speed until combined. Dough will be crumbly.
Turn dough onto a floured surface and knead until the dough comes together.
Roll dough to ¼ inch thickness and cut out using cookie cutters. (I used a 4 inch biscuit cutter.) Place cut out cookies on a lined cookie sheet 1-2 inches apart and freeze for 5 minutes before baking.
Bake each batch 10-12 minutes. Allow to cool on the cookie sheet for 5 minutes and then move to a cooling rack.
For the frosting:
Cream the butter with an electric mixer until smooth. Add the powdered sugar, one cup at a time until fluffy and creamy. Add a little milk as needed to get frosting to a thick and spreadable consistency.
Divide the frosting into bowls and add fruit powder as desired to get the color and flavor you like. Feel free to mix and match to get a variety of color/flavor combos.
Cookies last up to a week stored in an air tight container in the fridge.
Notes
Base cookie recipe from Bake at 350.

* use about 1/2 cup of loosely packed fruit and crush into a powder in a ziplock back with a rolling pin. Strain powder in a fine mesh sieve and remove any large pieces.