Fudgy Chocolate Bundt Cake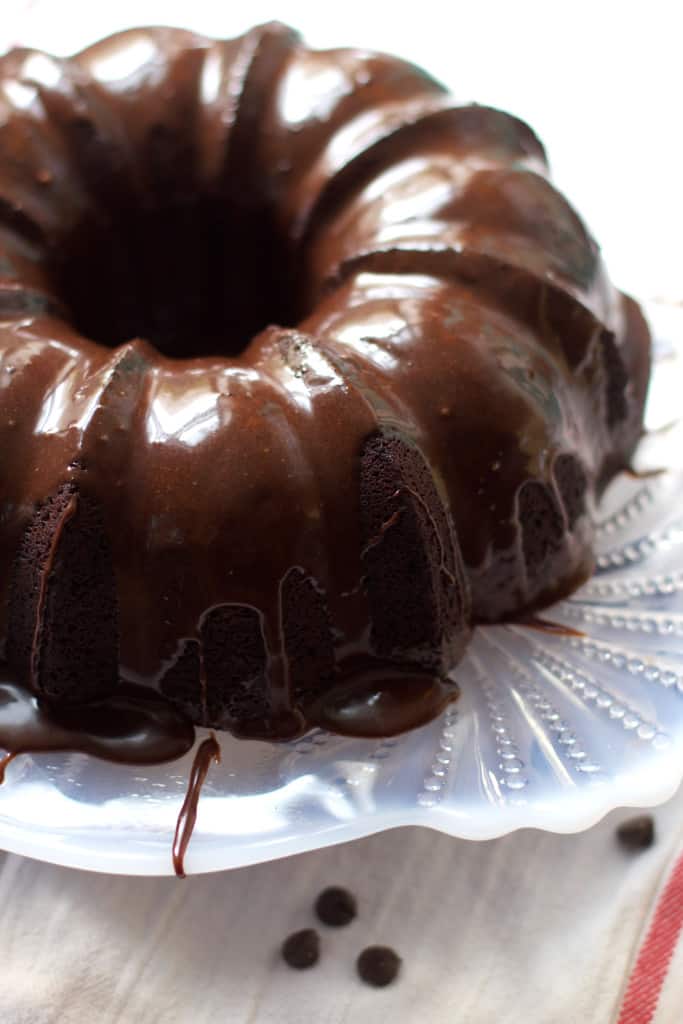 I think it's time for some chocolate around these parts don't you? Between traveling to Wisconsin and wrangling my crazy active toddler (how is he a toddler!?,) I feel like this page has been needing something rich, decadent, gooey and scrumptious- so here you go! This cake is all of those things. So rich, with a dense brownie-like outer layer and a gooey molten center. Topped with a bonus chocolate glaze this whole recipe is out of this world.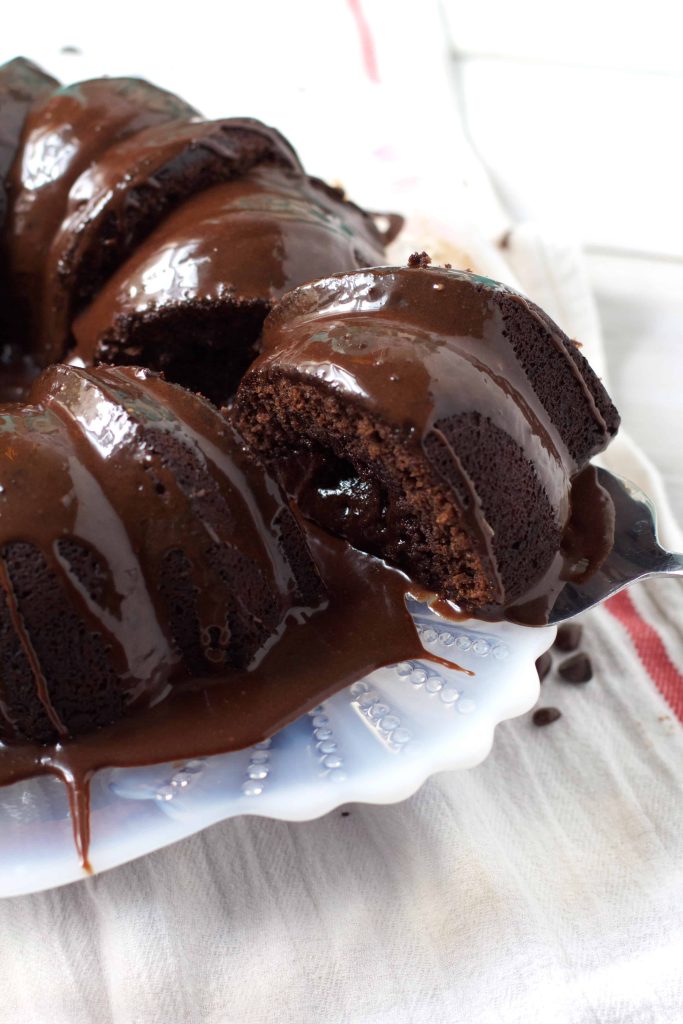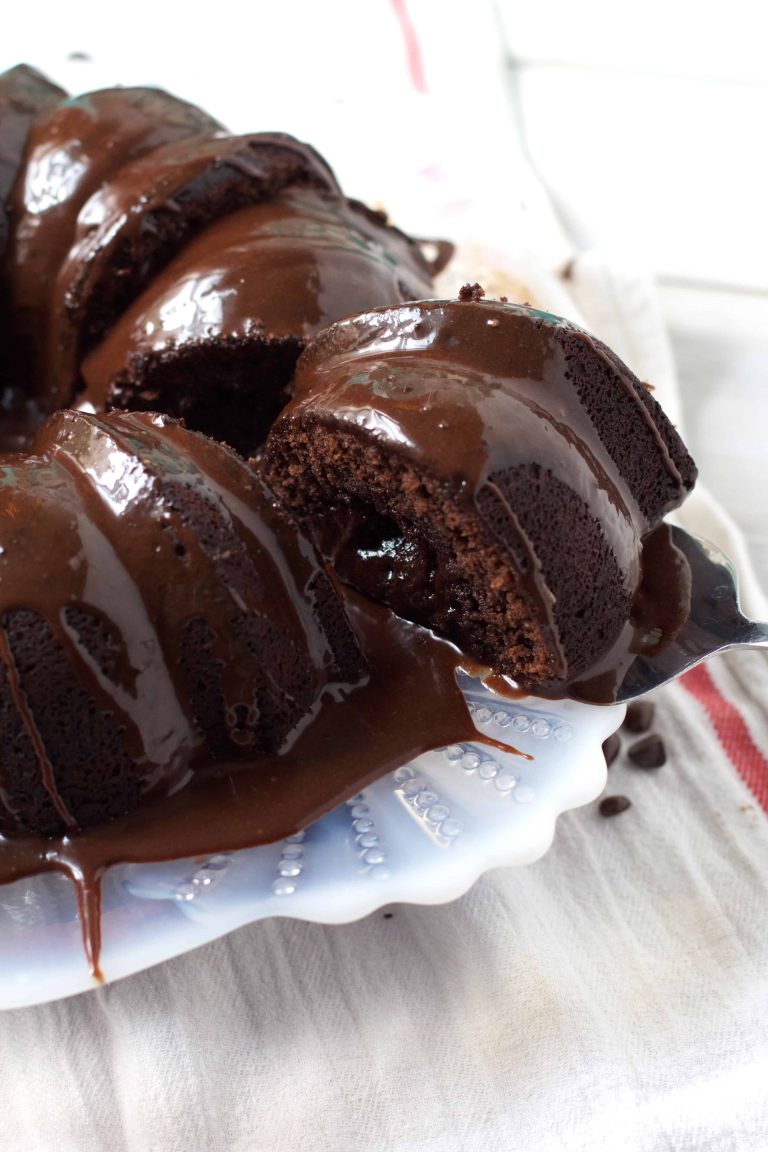 Every time I make a bundt cake I have a moment of total astonishment as to how I don't make them more. They may be my absolute favorite type of cake. They always look beautiful and yet are rarely difficult. When I made this lovely confection, I popped it into the oven- went out to our back patio (an NYC treasure,) and played with Hugo while it baked. I popped back in to take it out to cool, drizzled on the icing when ready and that's it. The finished product is a show-stopper without all the work of a more intricate cake, (which I do love making on occasion.)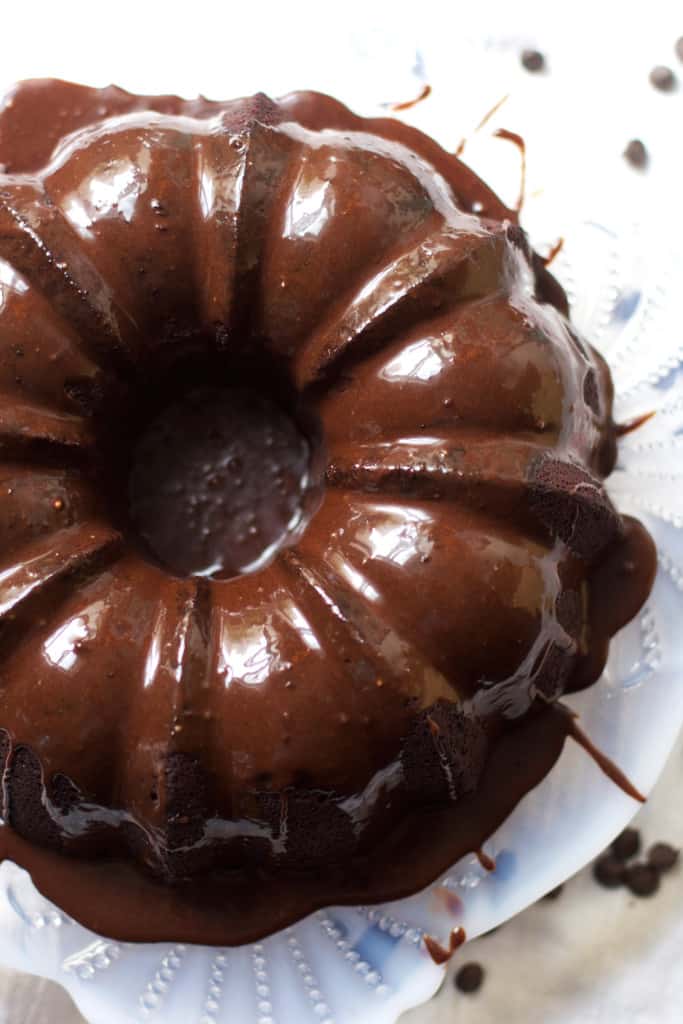 This cake is truly a chocolate-lover's dream. If you let it cool for a few hours, the filling will firm up and be more dense and fudgy. If you are as impatient as I am and choose to cut into it a little sooner, the inside filling will still be gooey and ooze out of each slice like those individual molten cakes. I have no idea how this happens since there is only one batter for this cake and no filling. I assumed that in order to get a filling like this I'd have to fill the cake with hot fudge or something but no! Right out of the oven you can see two separate layers, one looking crackled like the top of a gooey brownie and then a more cake-like part. I love these crazy baking mysteries. I tried to figure out the magic of it for awhile, but in the end realized sometimes too many questions is a bad thing, and decided to just let this be one delicious mystery!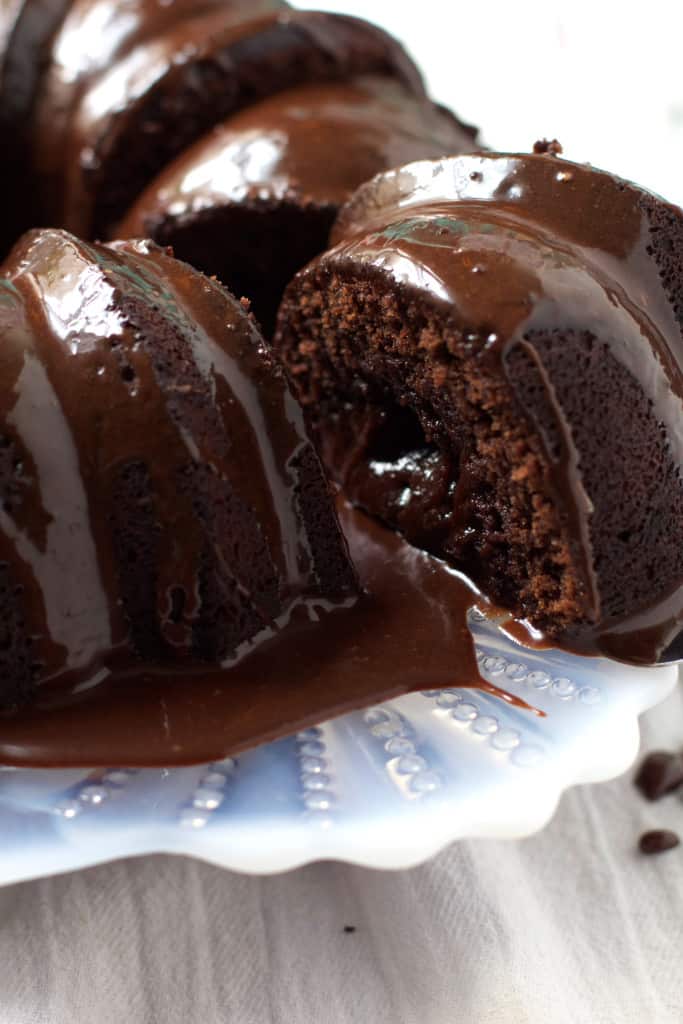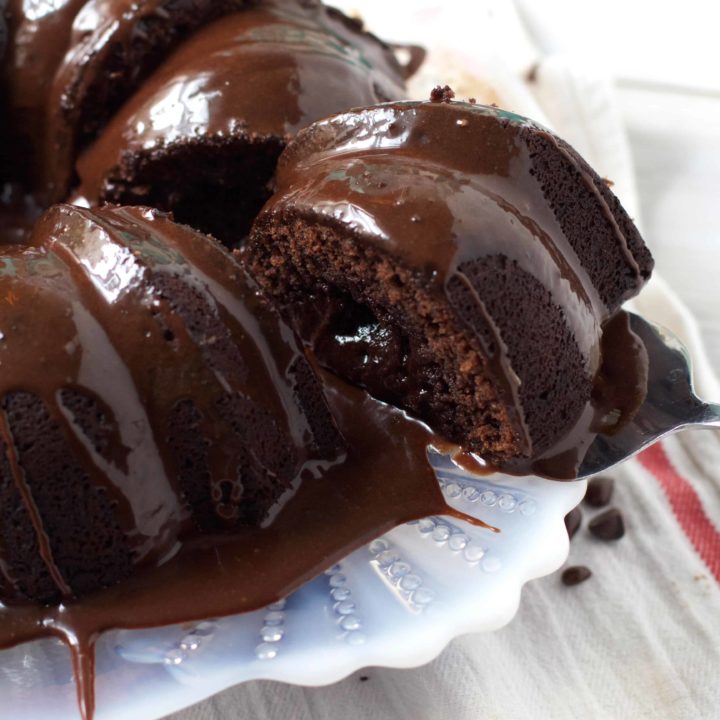 Fudgy Chocolate Bundt Cake
Ingredients
For the pan:
1 tbsp. dutch-processed cocoa powder
1 tbsp. unsalted butter, melted
For the cake:
½ cup piping hot coffee
2 oz. dark chocolate, chopped*
2 cups all-purpose flour
¾ cup Dutch-processed cocoa powder
2 cups confectioners' sugar
1 tsp. salt
5 large eggs, at room temperature
1 tbsp. vanilla extract
1 cup granulated sugar
¾ cup packed light brown sugar
2 1/2 sticks unsalted butter, at room temperature
For the glaze:
1/2 cup heavy cream
2 tablespoons light corn syrup
6 oz. dark chocolate, finely chopped*
½ tsp. vanilla extract
Instructions
Preheat oven to 350F. Melt the butter and mix with the cocoa powder for the pan. Use a pastry brush to coat the inside of the bundt pan- set aside.
In a small bowl pour the hot coffee over the dark chocolate and let sit for a minute before stirring until smooth.
In another small bowl or liquid measuring cup, whisk together the eggs and vanilla.
Stir together the flour, cocoa powder, powdered sugar and salt in a third bowl.
In the bowl of a stand mixer fitted with a paddle attachment, cream together the butter, white and brown sugars until smooth and fluffy. Stream in the egg mixture and mix until just combined. Add the chocolate mixture and continue to run the machine on medium until combined. (batter may be lumpy.)
With the machine running on low, slowly add the dry ingredients and mix until the batter is smooth with no streaks of dry ingredients but don't over-mix.
Pour the batter into the prepared pan and smooth the top with the back of a spoon.
Bake for 45 minutes or until the edges of the cake pull away from the pan. Let cake cool in the pan for an hour and then invert onto a wire rack. To fully set the filling cool the cake 2 hours more, or you can speed this up in the freezer.
For the Glaze:
In a small saucepan combine the chocolate, cream, and corn syrup. Cook over low heat, stirring constantly until smooth and melted.
Allow glaze to cool and thicken for about 20 minutes (or speed it up in the freezer,) and then drizzle it over the cooled cake. Allow the glaze to set before serving the cake.
Notes
*You could also use dark chocolate chips. Recipe adapted from Cooks Illustrated via Annies Eats
Nutrition Information:
Yield: 1 Serving Size: 1 grams
Amount Per Serving: Unsaturated Fat: 0g