Fudgy Peanut Butter Cup Brownies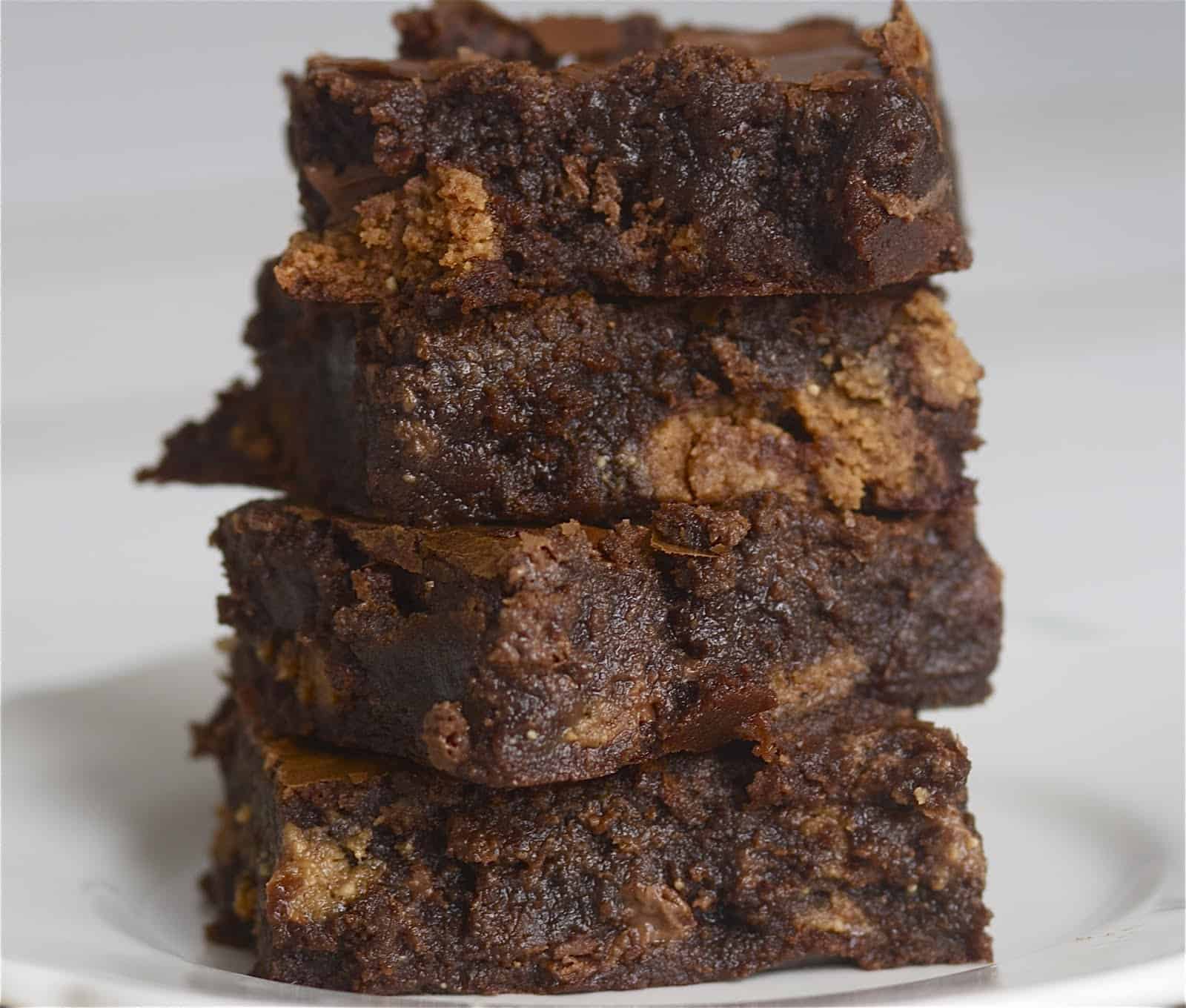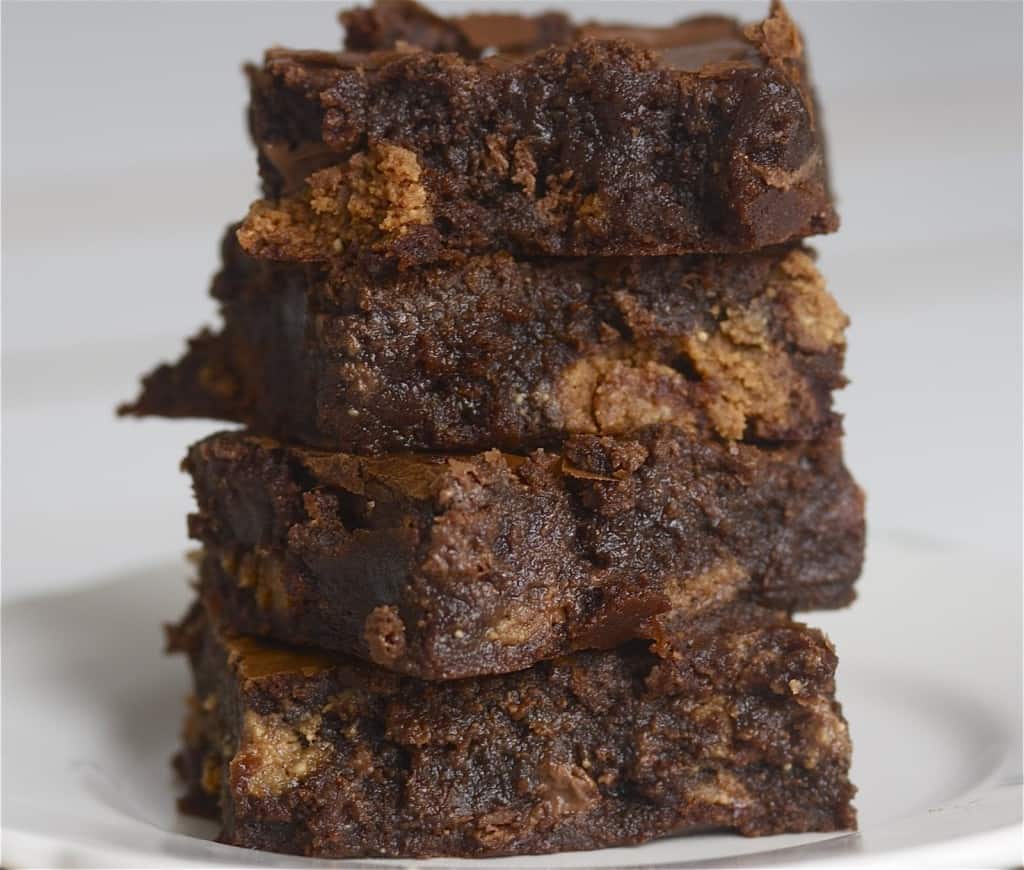 In the next few months more of my girlfriends are having babies than I can count. I love this, as I love babies and can't wait to get to lend a hand with their little nuggets. As the little sweeties grace us with their presence over the next few months, I'm sure I'll be baking more and more treats for their showers, "welcome home" gifts etc.
My friend Amber had her sweet little girl Abigail Rose last week. (Remember
the cupcakes
I made for her baby shower?) When I went to visit her in the hospital after having the baby, I knew I couldn't come empty handed. I also remember how she and her husband love the peanut butter/chocolate combo (who doesn't though?) So when these brownies popped up on
Tracey's
blog last week I knew they would be a great and easy sweet to bring with me. Lately I am always going for brownies or bars over other treats because they are SO easy to bring wherever I go and distribute. These turned out so well and were so incredibly easy that I'll be making them again and again.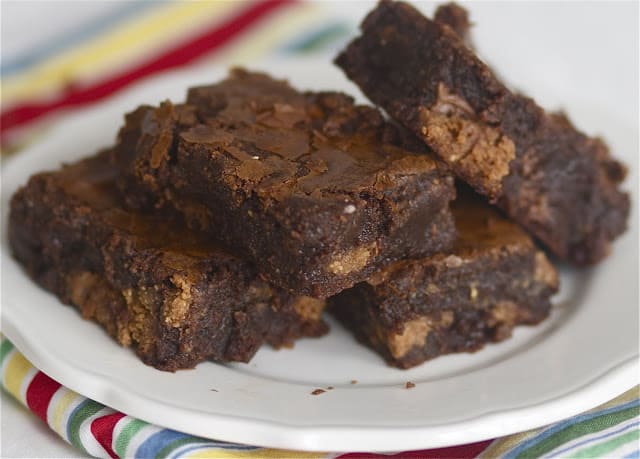 These are rich fudgy brownies with chunks of peanut butter cups throughout. They have crisp edges, a crackly top and the insides are gooey and delicious. The most time consuming part of making them was chopping up and unwrapping the peanut butter cups. One that is done, the ingredients are mixed together and baked to perfection. Simple as that. I would love to try these with other candy bars chopped up. (Twix anyone?) So glad I found this recipe-it is a keeper!
Peanut Butter Cup Truffle Brownies
1 cup (2 sticks) unsalted butter
10 oz dark chocolate, finely chopped
2 cups packed light brown sugar
1 cup all-purpose flour
1/4 teaspoon salt
4 large eggs
2 teaspoons vanilla extract
2 cup mini peanut butter cups, coarsely chopped
Preheat oven to 350 F. Spray a 9×13 pan with cooking spray (or grease it with butter.)
Add the 2 sticks of butter to a medium saucepan and set over medium heat. Melt the butter, and continue to heat until the butter sizzles. At that point, add the chocolate to the pan and gently shake the pan to submerge in the butter. Turn off the heat and set aside.
In a large bowl, using an electric mixer, mix the brown sugar, flour and salt just until evenly combined. Add two of the eggs to the bowl and beat just until incorporated then scrape down the sides of the bowl and add the remaining two eggs, again beating just until incorporated. (Don't overmix!) Mix in the vanilla.
Whisk the butter and chocolate mixture until smooth then add to the mixing bowl. Stir to incorporate with a rubber spatula. Fold in the chopped peanut butter cups.
Pour the batter into the prepared pan and spread in an even layer. Bake for about 30 minutes, or until a toothpick inserted in the center comes out with just a few moist crumbs attached. Transfer the pan to a wire rack and let the brownies cool completely in the pan. The brownies will be easiest to cut if you stick them in the fridge overnight. (I stuck the pan in the freezer for a few minutes to make them easy to cut.)
Source: Tracey's Culinary Adventures via Bake! by Nick Malgieri