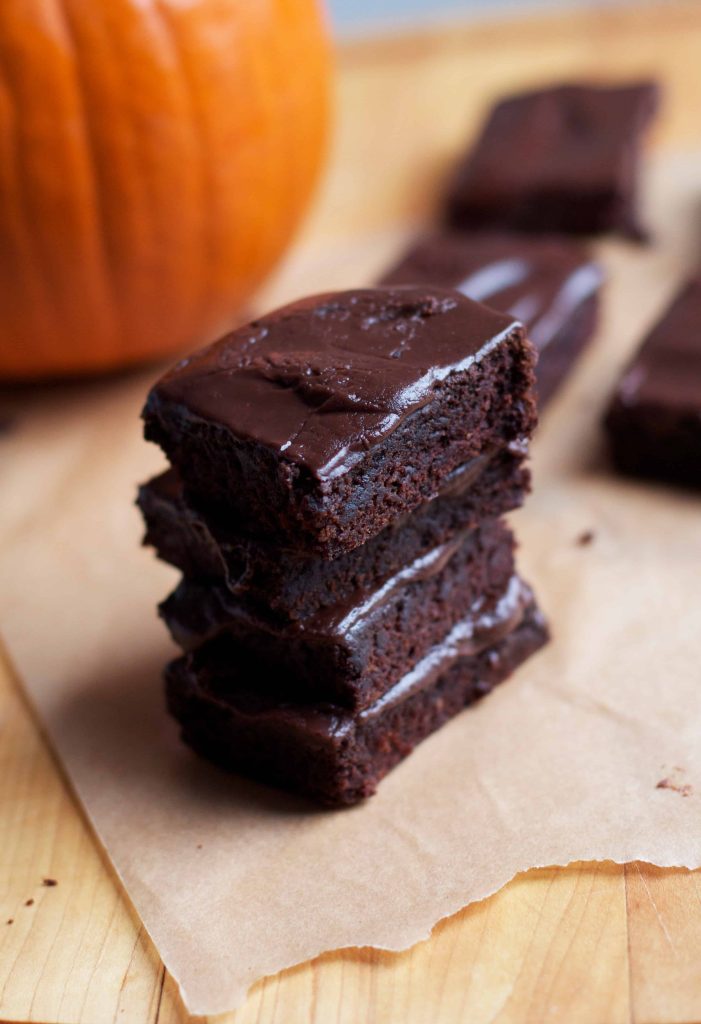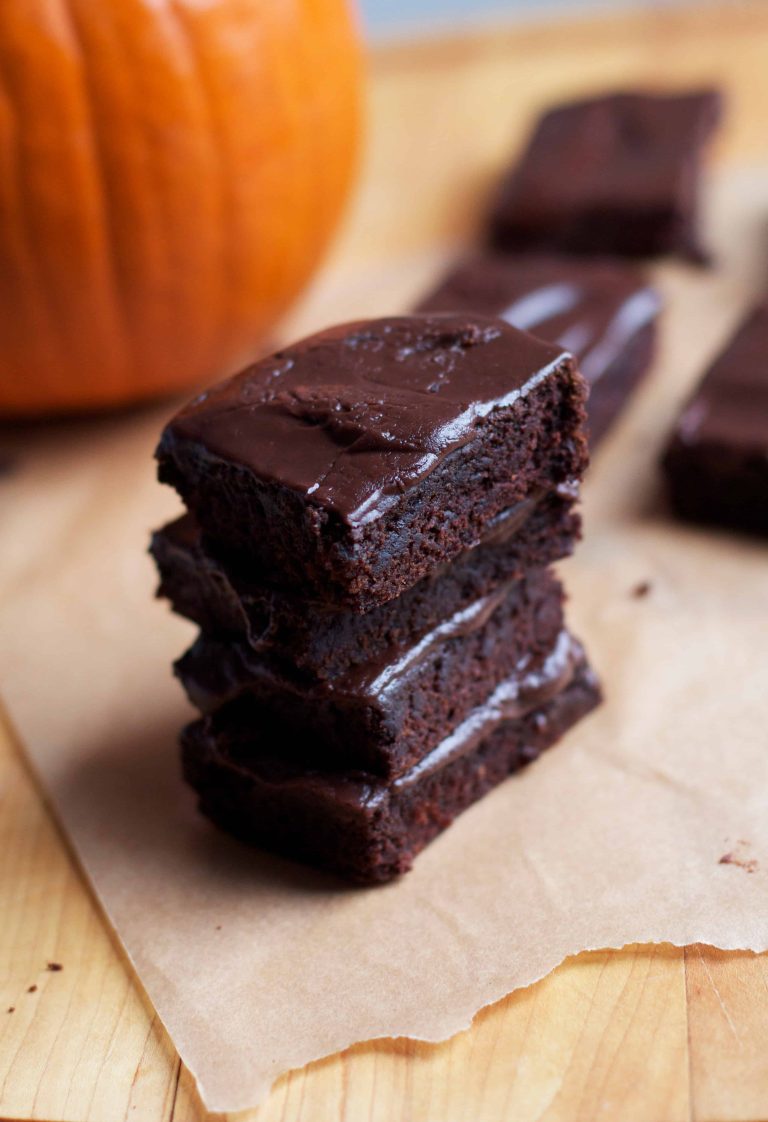 Thanks for sticking with me guys. Maybe I am more critical of myself and my work than you are, but I feel like what I've contributed to the food blogging world lately hasn't been my best work. Perhaps it's fine and I'm just cranky and tired, or it could be that I always feel rushed when writing and photographing, and that things just don't feel quite the same…Either way, thanks for sticking with me.
I wish that I could promise that soon this space would be full of more well-executed photos and creative recipes, but I just can't. Lately it seems that the more I plan and try to fit into my day, the less I'm actually able to accomplish. So, when I have an hour during Hugo's nap to bake something it is more likely than not easy- I mean really easy. Like one bowl- in and out in under an hour.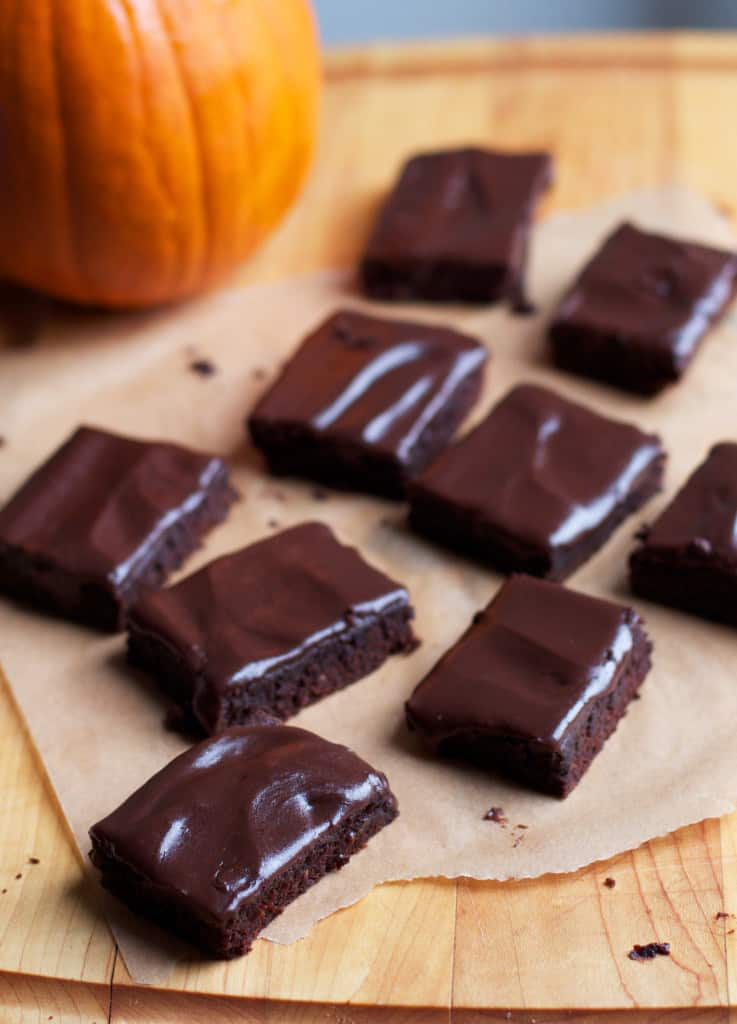 Luckily, these brownies are just that: simple, seasonal, and delicious. They are made with a full cup of pumpkin puree, but you'd never know it. This is perfect for me, because I love what the pumpkin does to the texture here, but I don't necessarily love pumpkin and chocolate together. (Yes I'm in that camp.) So no pumpkin spice or anything like that, but sneaky squash in brownies which I love. (butternut squash would also be great here!)
So thank you for your patience…in the meantime make these super easy and delicious brownies that also happen to be vegan!! (But you would never ever know!)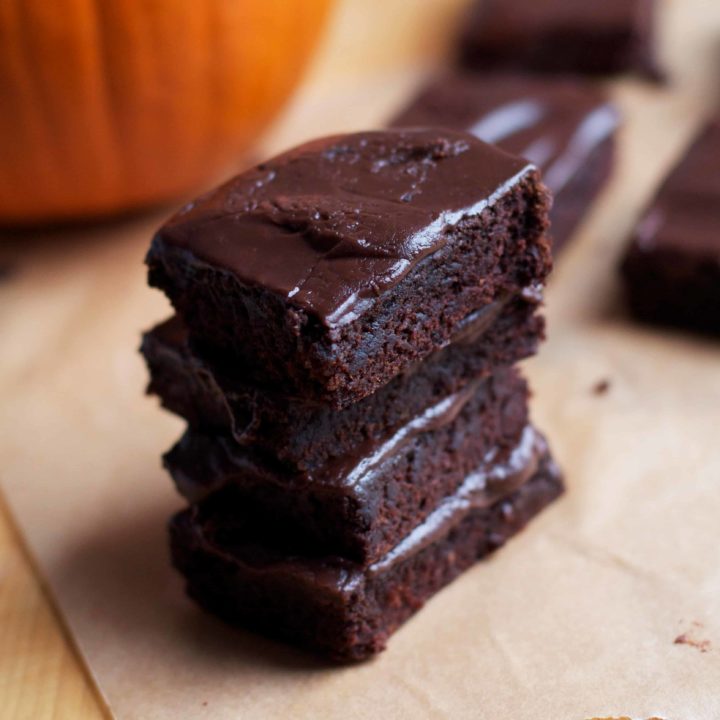 Fudgy Pumpkin Brownies
Ingredients
1/4 cup coconut oil, another vegetable oil will work as well
3/4 cup white sugar
1 teaspoons vanilla extract
1 cup all-purpose flour
1/4 cup unsweetened cocoa powder, I used dark
3/4 teaspoons baking soda
1/2 teaspoon salt
1 cup pumpkin pureé
Frosting:
2 tablespoons unsweetened cocoa powder
2 tablespoons melted coconut oil*
1 cup confectioners' sugar
1-2 tablespoons milk, coconut, almond, or regular all would work
1/4 teaspoon vanilla extract
Instructions
For the Brownies:
Preheat oven to 350F. Lightly spray an 8x8 baking dish and line with parchment paper.
In a large bowl, whisk together the coconut oil, sugar, and vanilla. Sprinkle the flour, cocoa powder, baking soda & salt on top and whisk, starting with the dry ingredients and the mixing everything together. (Mixture will be dry.)
Stir in the pumpkin pureé until batter is smooth and just combined.
Spread batter into prepared pan and bake for 25-30 minutes or until a toothpick inserted into the middle comes back with just a few crumbs.
Allow brownies to cool before frosting.
For frosting:
In a medium-large bowl, stir together the coconut oil and cocoa powder until smooth. Add the powdered sugar, 1/2 cup at a time, alternating with the milk. Stir in the vanilla.
Spread frosting over cooled brownies and enjoy!
Notes
* For the frosting, you could totally use butter as well. I chose coconut oil this time to make a fully vegan brownie, but it's delicious both ways... Recipe adapted from: All Recipes
Nutrition Information:
Serving Size:

1 grams
Amount Per Serving:
Unsaturated Fat:

0g