Funfetti Cupcakes for my Blogaversary and a Giveaway!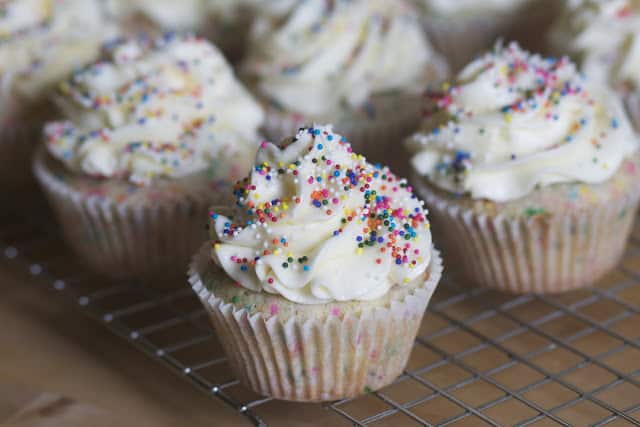 One year ago on Superbowl Sunday I had an idea. I was feeling creatively stifled, and I knew I needed to do something big to change that. I wanted to spend more time making things, and less time feeling bummed about not doing that. So, as I sat around with my friends and family- I mentioned the idea of starting a baking blog. I spent that week thinking about it, and one year ago today I started something I have grown to love so much. A little celebration is in order don't you think?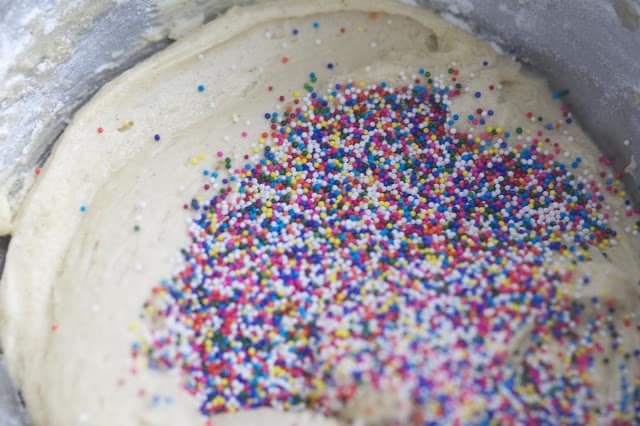 Something bright, fun, and of course delicious was needed. And what screams celebration more than funfetti? (It sure makes me feel special.) Add some creamy vanilla frosting decked out in even more sprinkles and these cupcakes really made my day.
….because we need to celebrate these special moments in life don't we?
And since it's the one year anniversary of The Baker Chick, I thought I'd give you a present. (Where would I be without you after all?) One lucky reader will win two of my absolute favorite things to have in my kitchen- a cute Anthropologie apron and a jar of Nielsen-Massey Vanilla Bean Paste.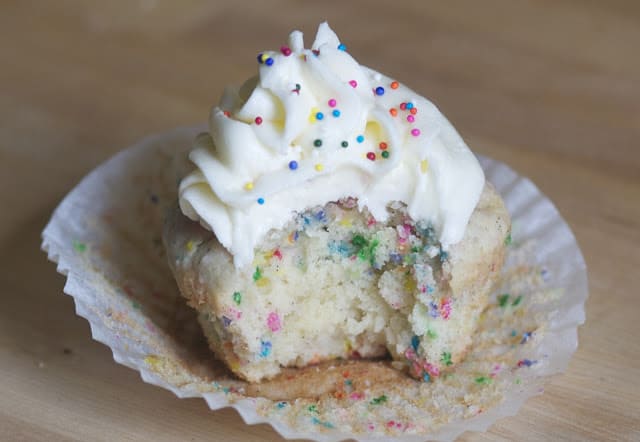 To enter the giveaway just leave a comment on this post!
One entry per person- US and Canada only please! Giveaway is open until Thursday 2/16 11:59 ET. I'll announce the winner on Friday 2/17! :)
*This giveaway is sponsored by me!

Funfetti Cupcakes for my Blogaversary and a Giveaway!
Ingredients
1/2 cup butter
1 cup sugar
2 whole eggs, room temperature
1 tablespoon vanilla extract
1 1/2 cups flour
1 teaspoon baking powder
1/3 cup milk, room temperature
1/3 cup assorted brightly colored sprinkles + more for top of frosting
vanilla buttercream
2 sticks of unsalted buter- room temperature.
2 1/2 cups powdered sugar
2-4 tsp milk or cream
1 tsp vanilla bean paste or extract
Sprinkles for decorating
Instructions
Preheat oven to 350 degrees F.
Cream butter and sugar in the bowl of an electric mixer until fluffy, and pale about 3 minutes.
Scrape down the bowl and add eggs and vanilla and beat until combined. Combine dry ingredients in a separate bowl. Alternate adding the dry ingredients and milk gradually, mixing only until just combined. Don't over mix! Fold in the sprinkles and pour into cupcake tins - filling them 2/3 of the way. Bake for 18-20 minutes. Let cool, then frost.
For Frosting:
In a large bowl, cream the butter until it is fluffy and pale. Gradually add the powdered sugar and beat until it is well combined and thick. Add the vanilla paste and 1 tsp at a time of milk until the frosting is a creamy and good spreading consistency. Pipe/Spread on cupcakes and top with sprinkles.
Nutrition Information:
Yield: 12 Serving Size: 1 grams
Amount Per Serving: Unsaturated Fat: 0g
recipe adapted from: How Sweet It is