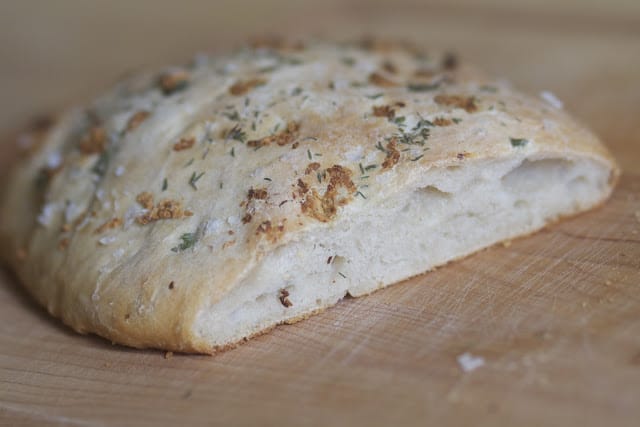 Earlier this week I mentioned I had some extra dough from my latest Milk Bar Mondays adventure. You see- I went ahead and made a full batch of this versatile dough thinking I'd probably make a mistake and need to scrap half. Well it turns out it actually turned out pretty well and I couldn't bear to throw away a perfectly proofed round of dough.
So- I thought and thought about it, and after scrounging my kitchen for any rogue herbs, I came up with this creation. I know this may not be a super authentic focaccia recipe, but it was the best bread I've ever made by far. It had a perfectly crisp crust, and a soft and pillowy inside. The garlic and thyme really infused every bite with savory deliciousness, and I added some flaky sea salt which made it even better for a salt-a-holic like me. With the bread all toasty dipped in some olive oil, this was a perfect pre-dinner snack.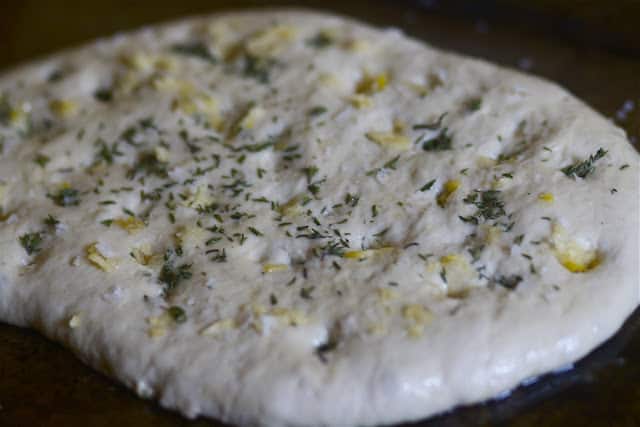 The options for flavors/toppings are endless which makes this recipe even more worth keeping around. I think it would be great with some greek olives smushed in, rosemary or maybe carmelized onions. (Plus- this is a very basic dough that as the cookbook proves can be used for tons of different types of recipes!) Yum! Happy a great weekend! :)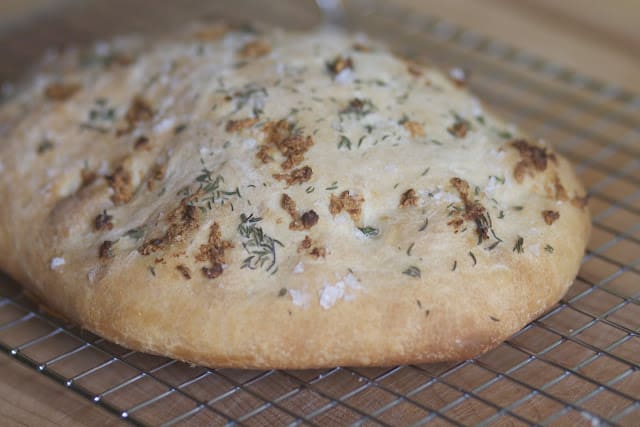 Ingredients
makes two 8 inch loaves
ingredients:
550 g 4 1/2 cups bread flour (you can use all purpose if that's all you have)
12 g 1 tbsp salt
3.5 g active dried yeast, 1/2 a packet
370 g 1 3/4 cups room temperature water
2-3 Tablespoons of Extra Virgin Olive Oil
4 cloves crushed garlic
2 tablespoons fresh thyme
flaky sea salt for sprinkling
Instructions
In a large bowl stir together the 3 1/2 cups of the flour, salt, and yeast. Slowly add the water while you continue to stir. Mix for 1 minute with a wooden spoon. If you'd like- transfer the dough to your stand mixer and using dough hooks, mix for 3 minutes or until smooth. (Or mix by hand. )
The dough will be wet and sticky, so gradually add the remaining flour while kneading on a lightly floured surface until dough is smooth and round. Dough should bounce back when lightly poked.
Brush a large bowl with oil, move the dough into the bowl. Cover the bowl with plastic wrap and proof at room temperature for 45 minutes, or until almost doubled in size.
When dough is proofed, divide it in half and roll each section into an 8 inch oval shape. Brush with olive oil and press the garlic and thyme in with your fingers. Using the tip of a wooden spoon or your fingers, poke holes randomly throughout the dough. Sprinkle with sea salt.
Bake at 375 for 20-25 minutes or until bread is golden brown.
Nutrition Information:
Yield:

2
Serving Size:

1 grams
Amount Per Serving:
Unsaturated Fat:

0g
Recipe adapted from Momofuku Milk Bar by Christina Tosi