Ginger Vanilla Bean Ice Cream Sandwiches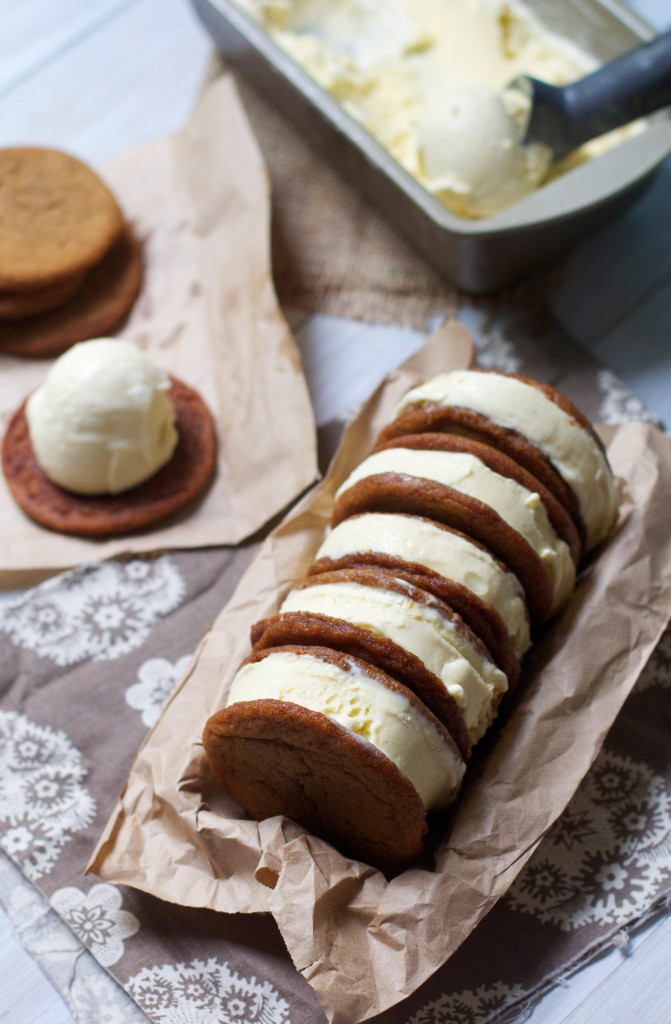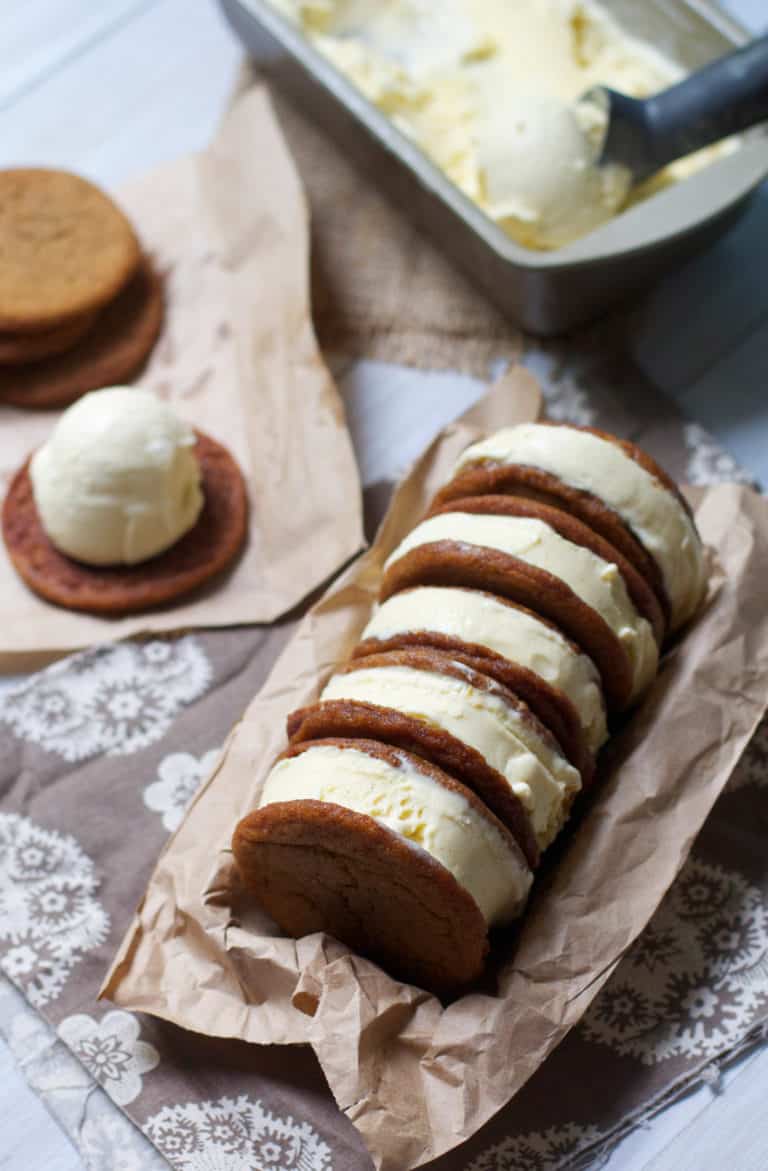 Maybe you disagree, but I personally find baking much more satisfying in the colder months. Now I definitely love eating sweets all year long, but when turning the oven on makes your home nice & toasty, it's preferable for it to have been chilly to begin with don't you think?
That being said, not even 90 and humid can keep me away from baking all summer long, but when I do I much prefer the end result to be something refreshing. Pies get topped with cold ice cream, brownies get eaten out of the freezer, and ice cream gets made more than ever. Ever since making these amazing cookies in December I've been dying for more ways to use them, and I knew they would be just perfect as an ice cream sandwich.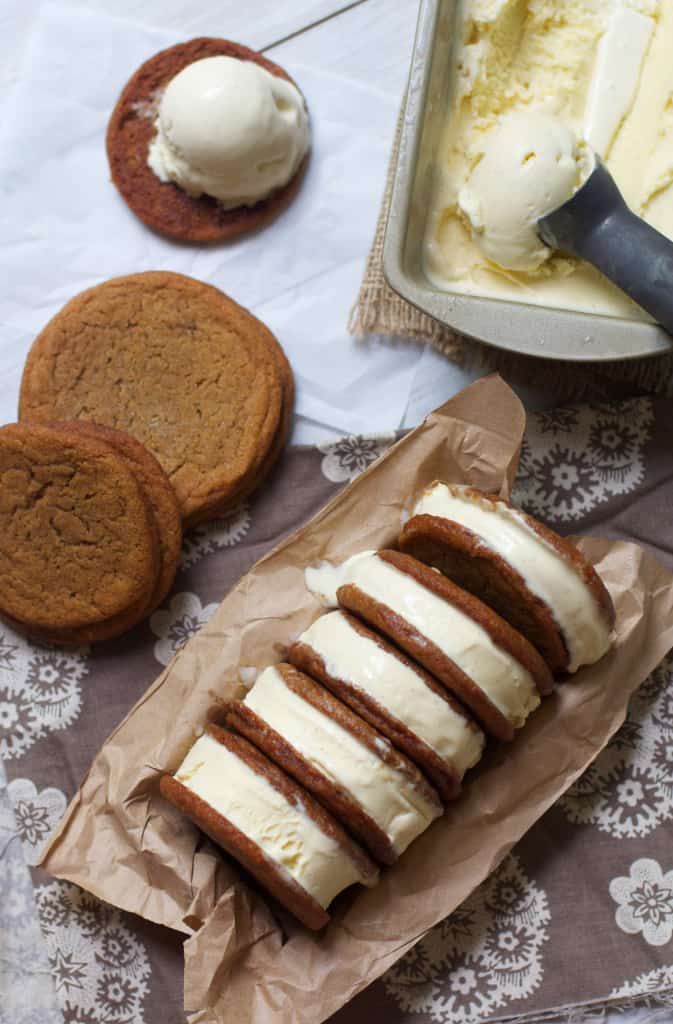 I have found that a soft & chewy cookies yields the perfect texture/consistency for biting right into the sandwich and avoiding the whole oozing out the side thing. These cookies are so incredibly soft & chewy I couldn't wait to pair them with a creative ice cream flavor. I actually polled my facebook page (see below) thinking the majority would choose something crazy and exotic to go inside these cookies, but the winner by a landslide? Simple old Vanilla Bean. I went with it, loving the classic flavor and more than happy to let the ginger and spices from the cookies shine.
If you want to be a bit for daring with your filling- I have a plethora of amazing ice cream recipes to choose from. Fresh Peach Ice Cream would be wonderful right? (you can skip the crumble,) or Salted Caramel, Cinnamon or Pumpkin sure would be great too! Whatever you choose- these cookies are just dying to house some ice cream. Make it happen!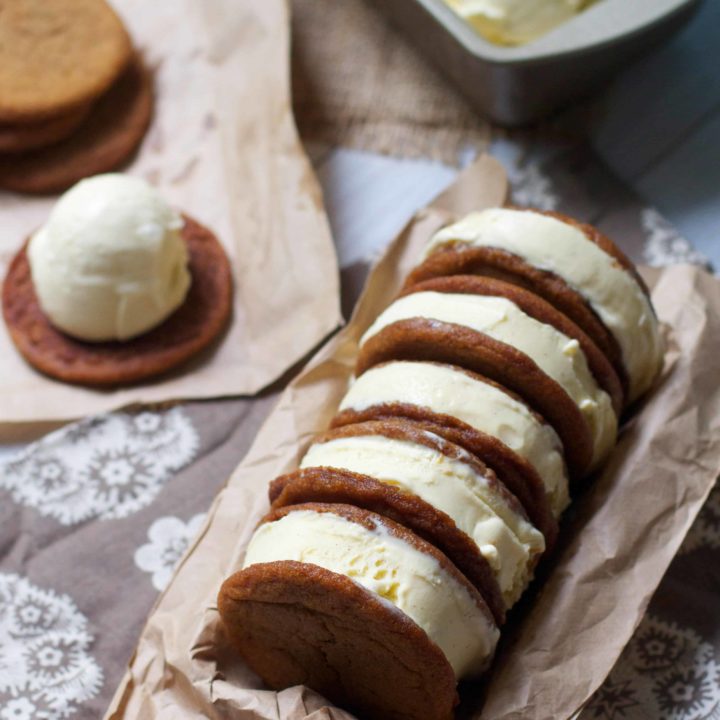 Ginger Vanilla Bean Ice Cream Sandwiches
Ingredients
1 batch Ginger Molasses Cookies
1 cup heavy cream
3 cups half-and-half cream
8 egg yolks
1/2 cup white sugar
1/8 teaspoon salt
1 tablespoon vanilla bean paste, or the seeds of a vanilla bean
1 teaspoon vanilla extract
Instructions
For the Ice Cream
In a heavy saucepan over medium heat, combine the cream and half and half heating until just simmering, stirring frequently. Turn the heat down to low.
Whisk together the egg yolks, sugar, vanilla bean paste, extract, and salt in a large bowl until thoroughly combined.
Slowly and carefully pour about 1/2 cup of the cream mixture into the egg yolk mixture with one hand, while whisking constantly with the other. Pour the egg mixture back into the saucepan with the remaining hot cream, and whisk constantly over medium-low heat until the mixture thickens and will coat the back of a spoon, 5 to 8 minutes. Do not let mixture boil.
Pour the custard base into a bowl and allow to cool, then cover the custard mixture and chill in the fridge for 6-8 hours or overnight.
When the custard is chilled- churn it according to your ice cream maker's instructions. Freeze for a few hours to firm it up, then scoop it into the cookies, then wrap each sandwich and freeze.
Nutrition Information:
Yield:

12
Serving Size:

1 grams
Amount Per Serving:
Unsaturated Fat:

0g