Glazed Grapefruit Bundt Cake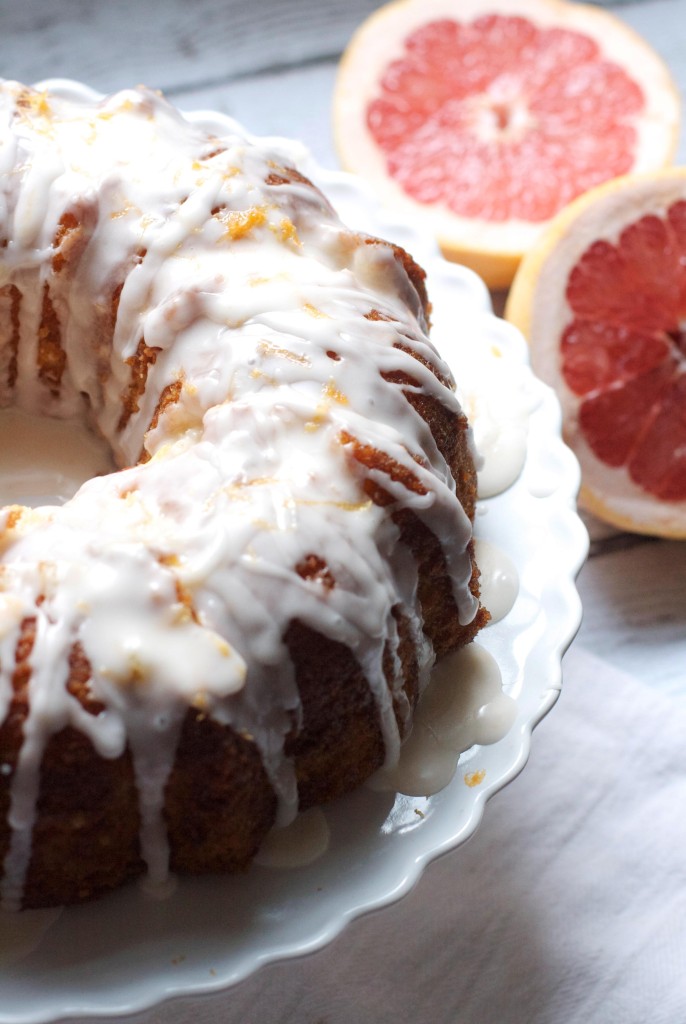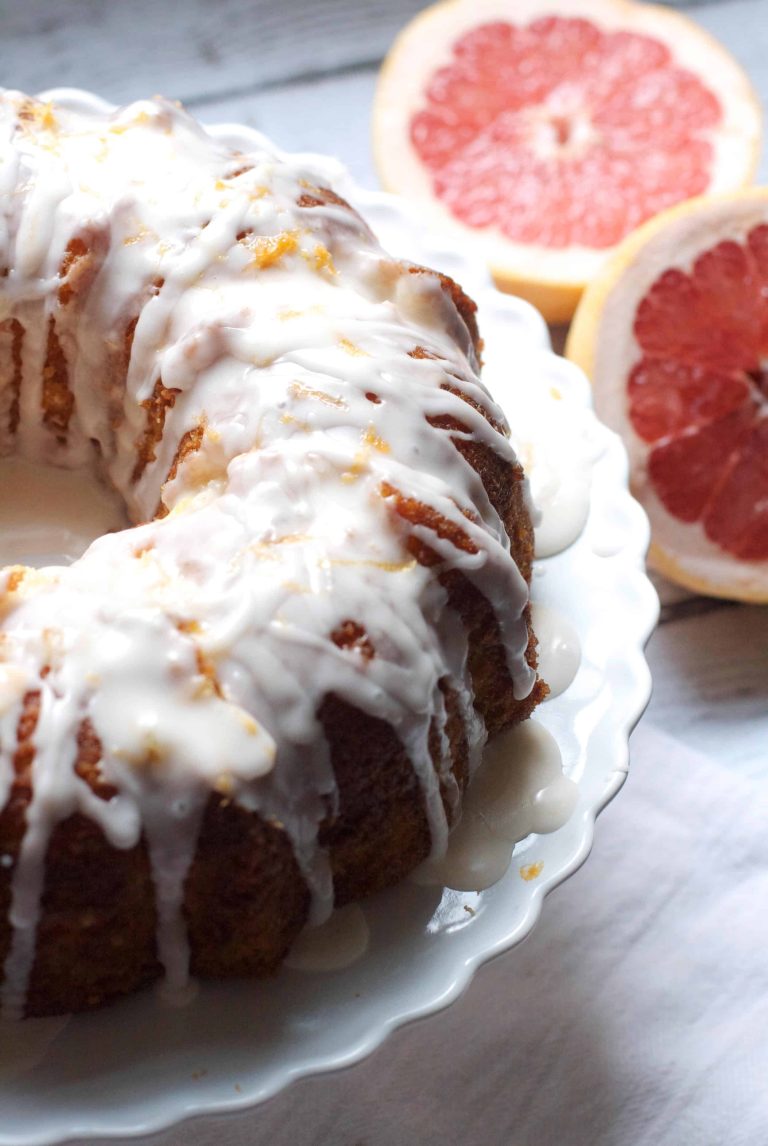 If you've ever been pregnant, you probably know that everyone loves to ask if you've had any cravings. For the most part- my pregnancy has been rather boring in that department as once my first trimester ended I've been into eating pretty much everything. For the last two weeks though, it has been all about one thing- citrus. I've been pretty obsessed. I always feel thirsty and a juicy orange or clementine or grapefruit seems to always sound good. I think I've gone through 3 of those crates of clementines in the last two weeks and I just got another. Thank goodness it's so in season right now because I truly can't get enough.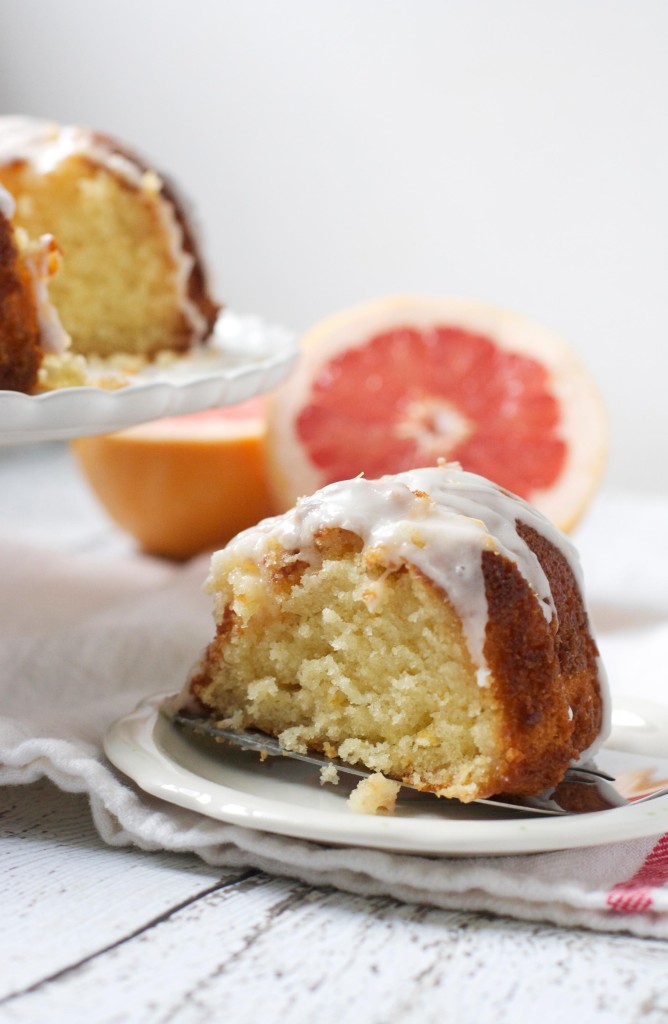 I made this cake a couple weeks ago for a dinner party where a "citrusy" dessert was requested. In my opinion, grapefruit gets highly overlooked in general and as it's one of my absolute favorite flavors I was thrilled to find this cake on my friend Tracey's blog. It's originally made in a loaf pan, but I decided to fancy it up a bit in a bundt. The cake is oh so good. I mean it's amazing. The texture is moist and flavorful and the grapefruit syrup that it soaks up makes it even more so. A grapefruit glaze on top adds that punch of flavor even more and adds a delicious extra sweetness.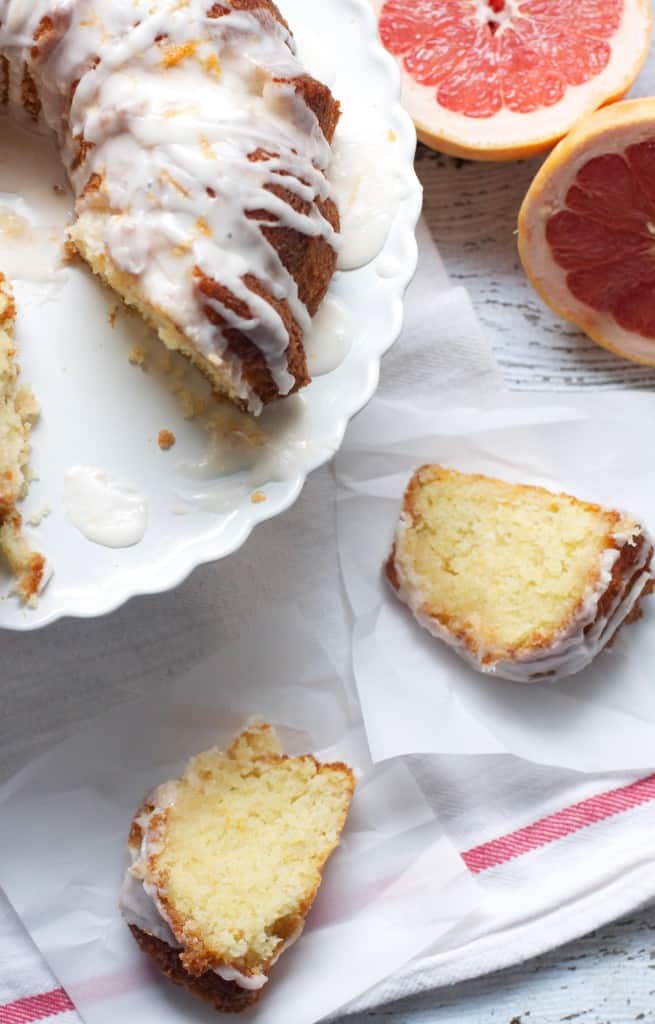 Though Andy loves and eats everything I bake, he went a little nuts for this particular cake. He told me that day it was one of his favorite things I've ever made and then requested it again a few days later when his parents were visiting us. Turns out that his Dad can't eat grapefruit though so I made it with lemon and it was also wonderful. (Though I think I prefer the grapefruit since it's such a unique, under-used flavor.) This is an excellent, easy, crowd pleasing recipe I can't wait to make again!
*Note- I tend to get impatient with bundt cakes and I try to flip them right away. This lead to bits of the cake sticking to the pan which is why the surface looks a bit crater-y. Please learn from my mistake and let it cool before you flip. The cake is so fluffy and tender it needs to cool to stay bound together :)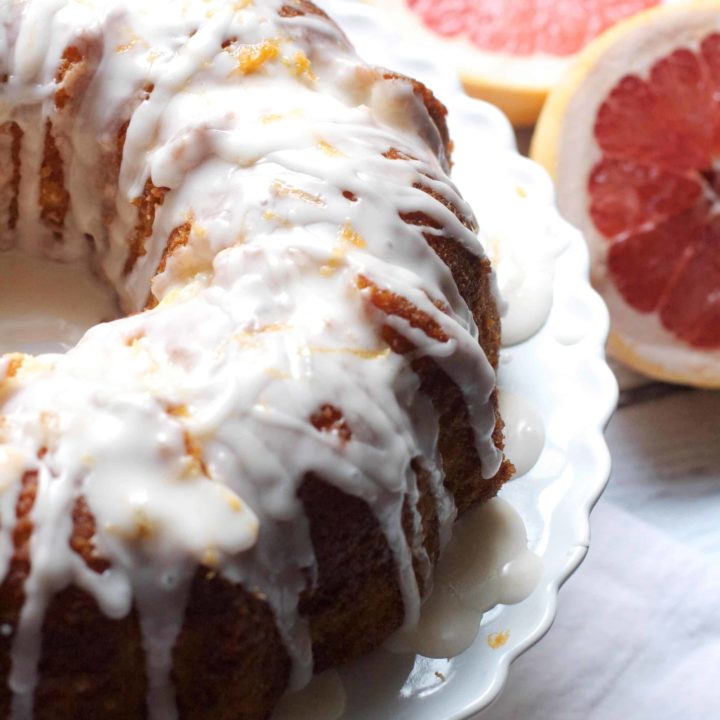 Glazed Grapefruit Bundt Cake
Ingredients
For the Cake:
2 cups all-purpose flour
1 3/4 teaspoons baking powder
1 teaspoon kosher salt
1 2/3 cups granulated sugar
1 tablespoon grapefruit zest
2 large eggs, at room temperature
1 cup whole milk, at room temperature
3/4 cup vegetable oil
1 teaspoon vanilla extract
Syrup
1/2 cup grapefruit juice
1/3 cup granulated sugar
Glaze
3/4-1 cup confectioners' sugar
1-2 tablespoons grapefruit juice
1 tablespoon of grapefruit zest for sprinkling, optional
Instructions
Preheat oven to 350 F. Generously butter and flour a 9-inch bundt pan. Set aside.
Whisk the flour, baking powder, and salt together in a medium-sized bowl and set aside.
In the bowl of a stand mixer fitted with the whisk attachment, use your hands to rub the sugar and zest together for a minute or two. Add the eggs to the bowl with the sugar mixture and beat on medium speed for about 3 minutes, or until the mixture is thick and creamy. With the mixer running, stream in the milk, then the oil and finally the vanilla. With the mixer on low speed, add the dry ingredients, beating just until combined.
Pour the batter into the prepared pan. Bake for about 45-60 minutes, or until a toothpick inserted into the center comes out clean.
Let cake cool completely on a wire rack before inverting onto a cake stand or platter. (You can speed the cooling process up a bit in the freezer.)
While the cake is baking, make the syrup: Combine the grapefruit juice and sugar in a small saucepan. Bring to a simmer, stirring to dissolve the sugar, then continue to simmer for 1 minute.
When the cake has been cooled and inverted, prick the top with a fork all over and brush it generously with the syrup.
To make the glaze:
Stir the powdered sugar and grapefruit juice together adding a tablespoon of the juice first, and then a bit more if needed until the glaze is a thick but pourable consistency.
Drizzle glaze generously over the cake, and sprinkle with zest if desired. Allow cake to set before serving.
Nutrition Information:
Serving Size:

1 grams
Amount Per Serving:
Unsaturated Fat:

0g