Gooey Cinnamon Roll "Cake"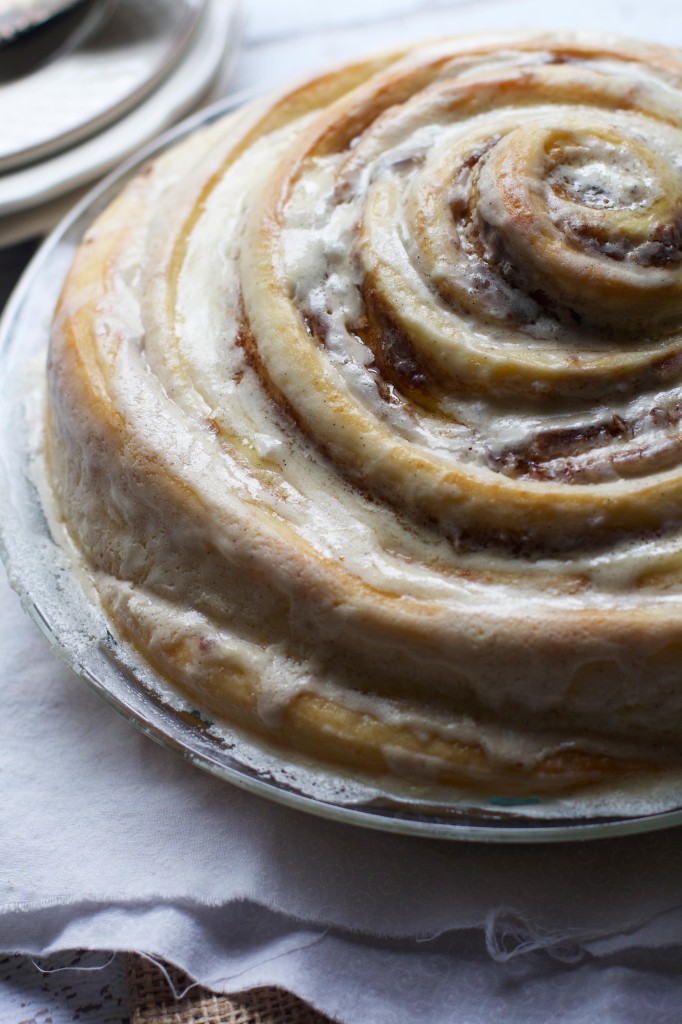 As a food blogger, we're always trying to come up with something new and creative to share and inspire our readers.
Sometimes we succeed and break ground with something amazing, but other times, after thinking we have achieved this, we realize that our idea isn't quite original at all and has already been done by a few bloggers.
So is the case with this Gooey Cinnamon Roll Cake. It turns out making one jumbo cinnamon roll and cutting it into slices isn't my original idea, but for a hot minute I thought it was and felt pretty darn proud.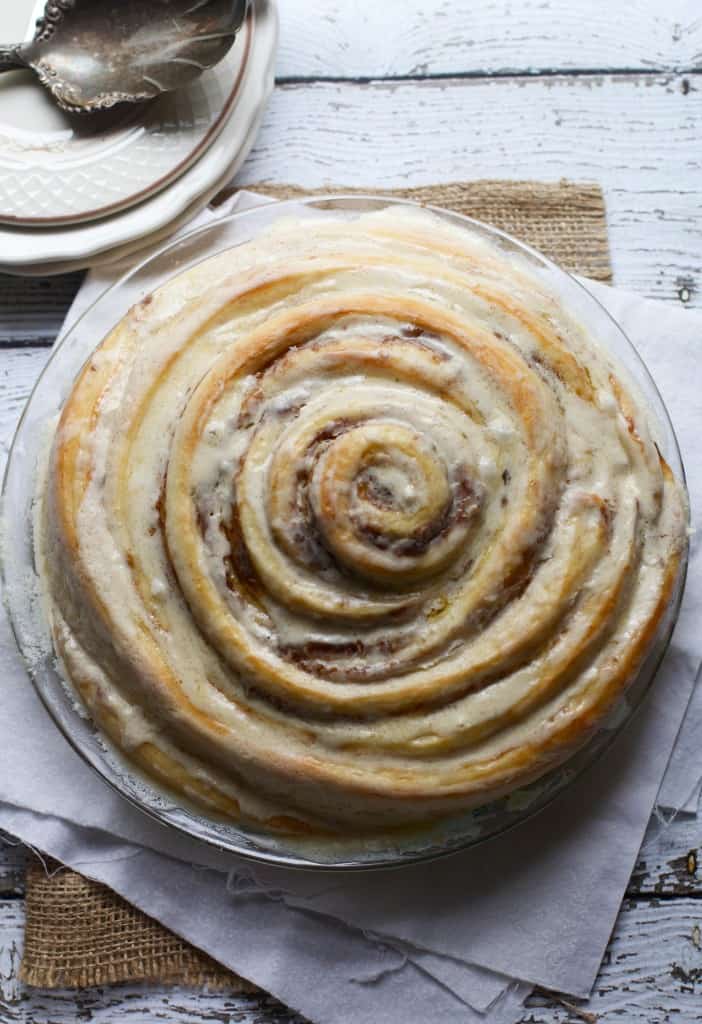 Either way, this recipe is the bomb. You know the gooey middle of the cinnamon roll that is just the best? The part that I personally save until the last possible moment to enjoy in its doughy melt-in-your mouth splendor?
Well that's the texture of this entire thing! The outer-most layer stays crisp while all the others layers are ooey-gooey.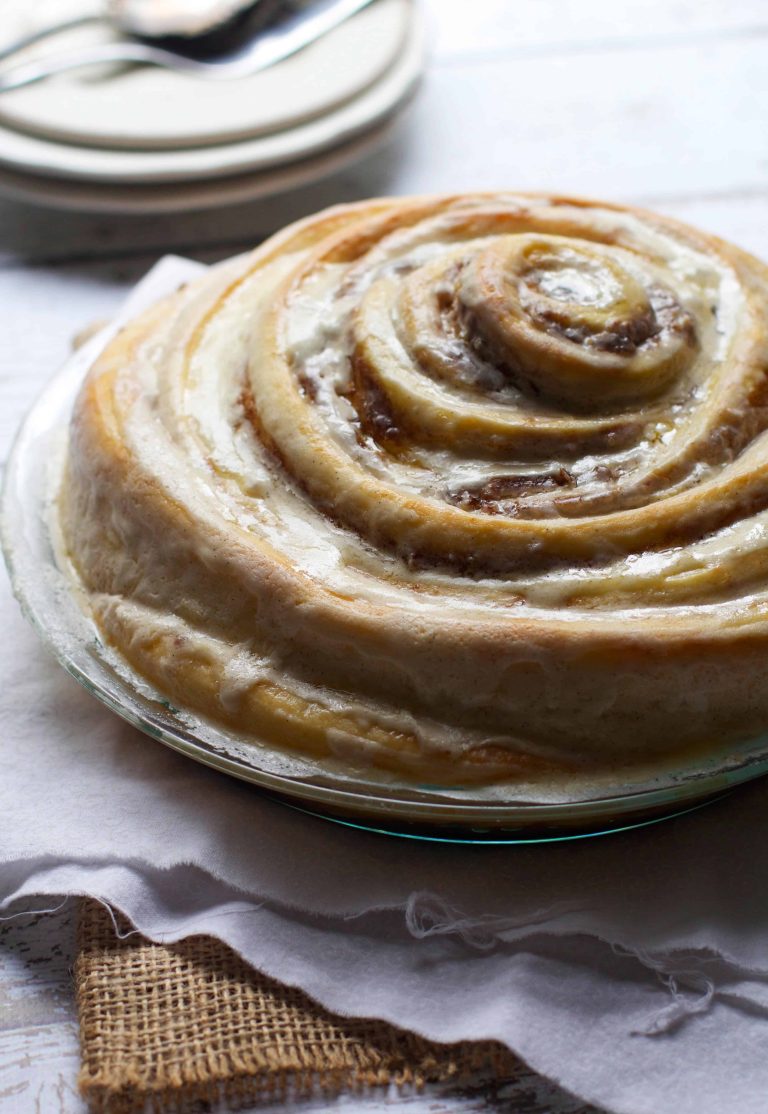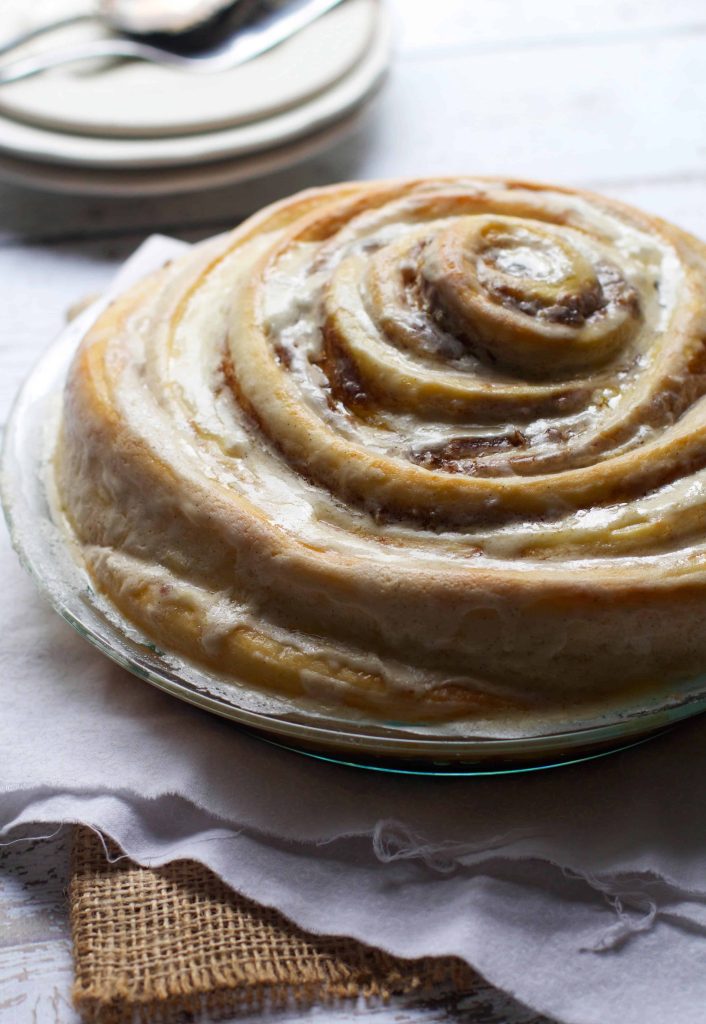 Wouldn't this be a wonderful addition to your Mother's Day brunch spread? I like it because you're not limited to the "one per person" standard of rolls.
My sisters tend to cut little fractions of the individual buns off and that always drives me crazy… who can resist a whole cinnamon roll right??? Well I am a bit embarrassed to admit that I finished this whole pan off with Andy and two of our friends who came over for brunch. I mean- how can you resist a slice of Cinnamon Roll middle gooey-ness?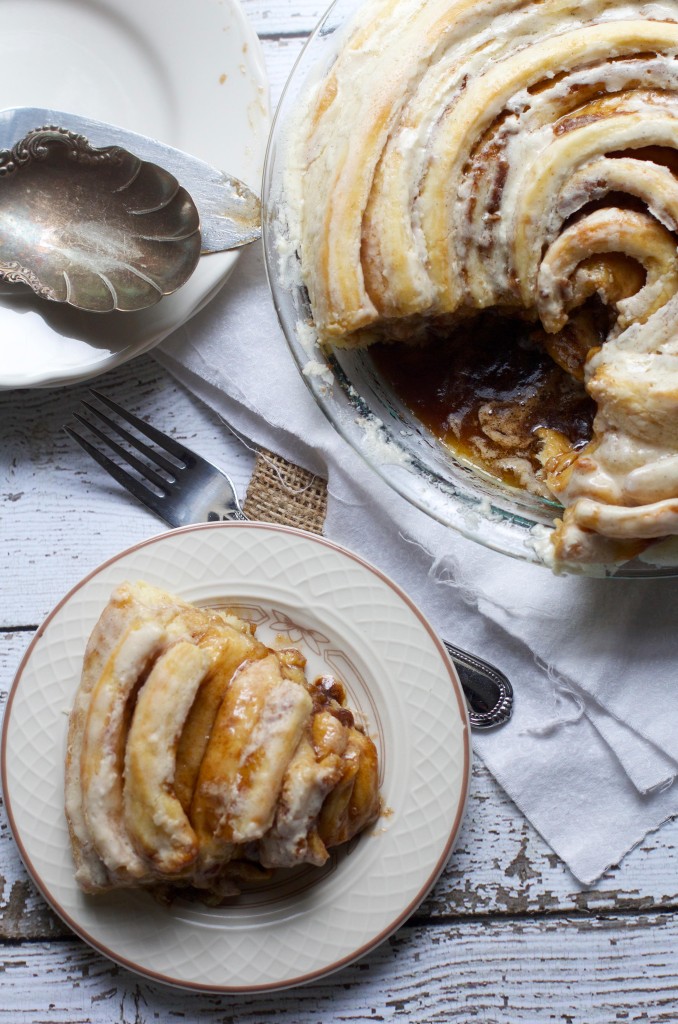 Forming this mega roll is easier than it may look. Instead of rolling all the dough and cutting it into individual rolls, I cut the dough into strips that I rolled from the inside out, starting with one roll and gently adding to the swirl. I know this would be easier in pictures, but after I took one of the first step, baby boy got hungry and I never got to it. Luckily this dough is very forgiving. Even if it doesn't look perfectly symmetrical before it proofs, it all puffs togethers after baking. :)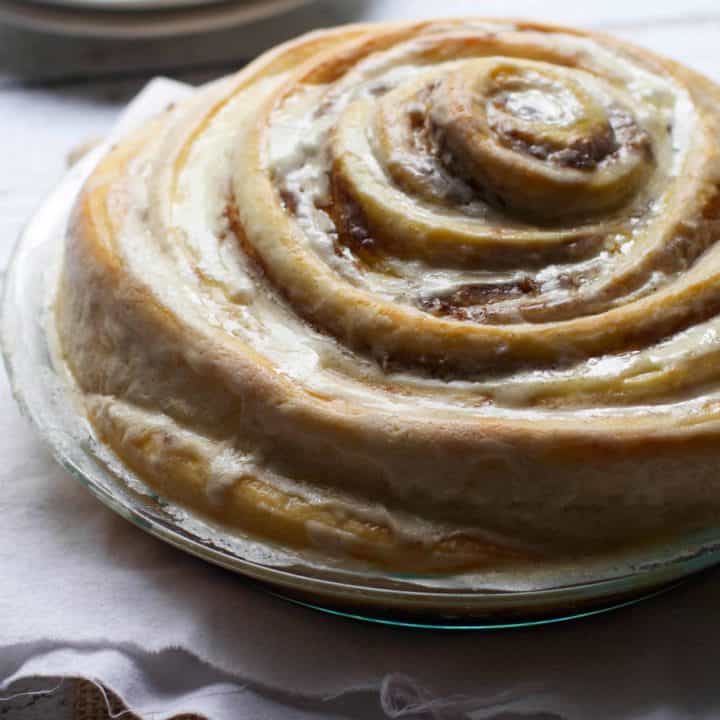 Gooey Cinnamon Roll Cake
Yield: 1 9-inch cake.

Prep Time: 1 hour 15 minutes

Cook Time: 20 minutes

Total Time: 1 hour 35 minutes
Ingredients
For the dough:
3/4 cup milk
1/4 cup butter
3 1/4 cups all-purpose flour
1 (.25 ounce) package instant yeast
1/4 cup white sugar
1/2 teaspoon salt
1/4 cup water
1 egg
For the filling:
1 cup brown sugar, packed
1 tablespoon ground cinnamon
1/4 cup butter (1/2 a stick)
1 teaspoon vanilla bean paste (or extract if you don't have)
For the icing:
1/2 a stick of butter (4 tablespoons)
1 cup powdered sugar
1 teaspoon vanilla extract (or vanilla bean paste)
a few drops of milk (if needed)
Instructions
In a glass measuring cup, warm the milk and butter in the microwave until warm with the butter melted.

Whisk together 2 1/4 cups of flour, yeast, sugar and salt. Add the milk mixture, egg and water, and mix until combined. (Dough will be very sticky.) Add the remaining cup of flour gradually, folding it in with a spatula (or gently kneading with your hands.)

When the dough comes together in a soft ball, knead on a lightly-floured surface until smooth and elastic. (When pressed with a finger tip the dough should bounce back.)

Return the dough to your bowl and cover with a damp cloth. Let rest for 10 minutes.
For the filling:
Melt the butter and stir in the vanilla. Combine the brown sugar and cinnamon in a small bowl.
To assemble:
Roll the dough on a floured surface into a rectangle measuring about 9x13. Brush the dough with almost all of the butter and pour the rest into the bottom of a 9-inch pie dish (or something similar.)

Sprinkle the cinnamon-sugar mixture over the dough and gently press it in.

Using a pastry wheel, pizza cutter or knife cut the dough into 2 1/2 inch strips. Start with one strip and roll it from one end to the other forming a swirl. Set that roll onto the next strip with the seam-side down and roll the strip onto it.

Repeat for 2 more strips, at which point the roll is probably too large to continue forming this way. Gently place it in the middle of the pan. Carefully pick up the remaining strips and swirl them around the roll in the pan. (The roll won't fill the whole pan but it will after proofing and baking!

Cover the pan with your damp cloth, and proof in a warm place for 30-45 minutes or until doubled in size.

Bake in a 350F oven for 20 minutes or until golden brown.
For the icing:
Cream the butter and powdered sugar until smooth. Add the vanilla and some milk if icing is too thick. Beat until light and creamy.

Spread on cake and serve immediately. (They are great room temp as well, I just don't think it will last that long. :)