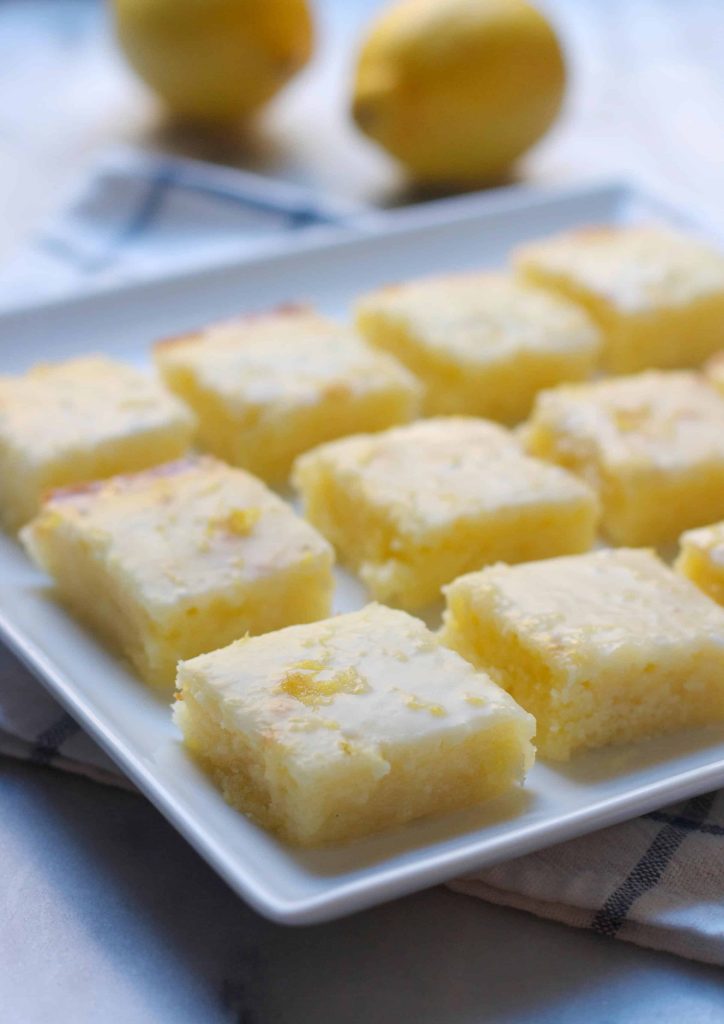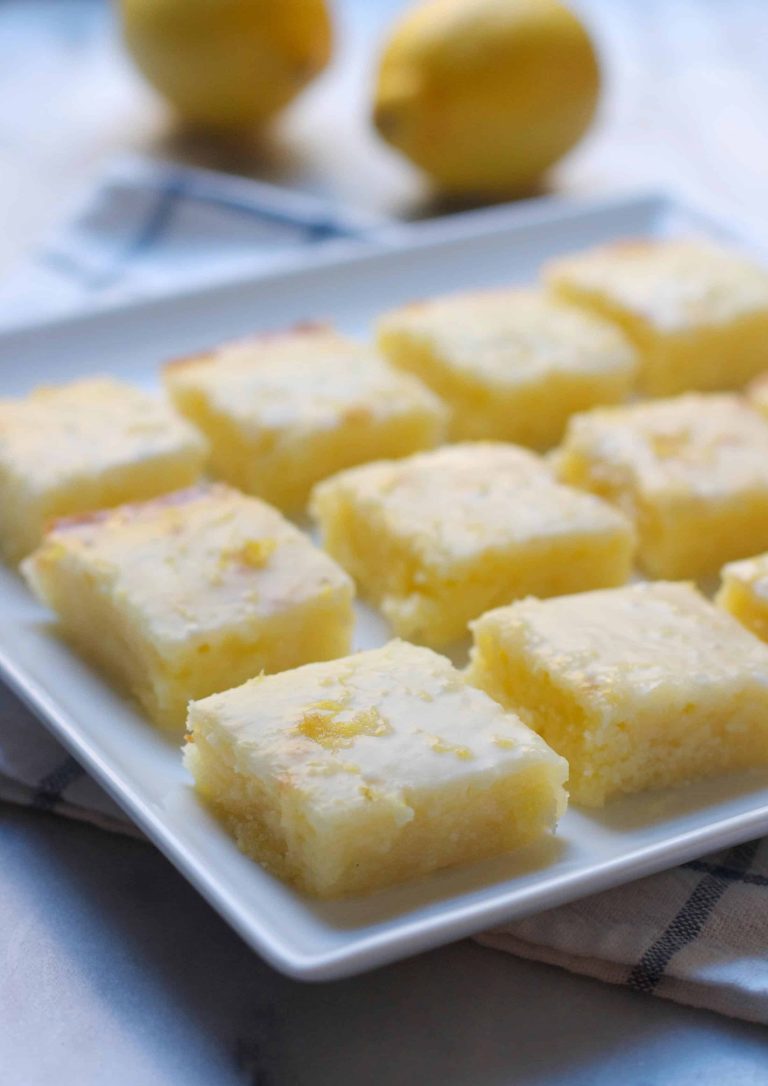 I couldn't let too many days of the new year go by without sharing a sweet treat now could I? To me- the winter months are always about citrus- bright, slightly tart and fruity desserts that somehow seem lighter than the rich, chocolatey alternative. Also, am I the only one who finds the brightness of citrus a ray of sunshine during the otherwise dreary weeks of winter?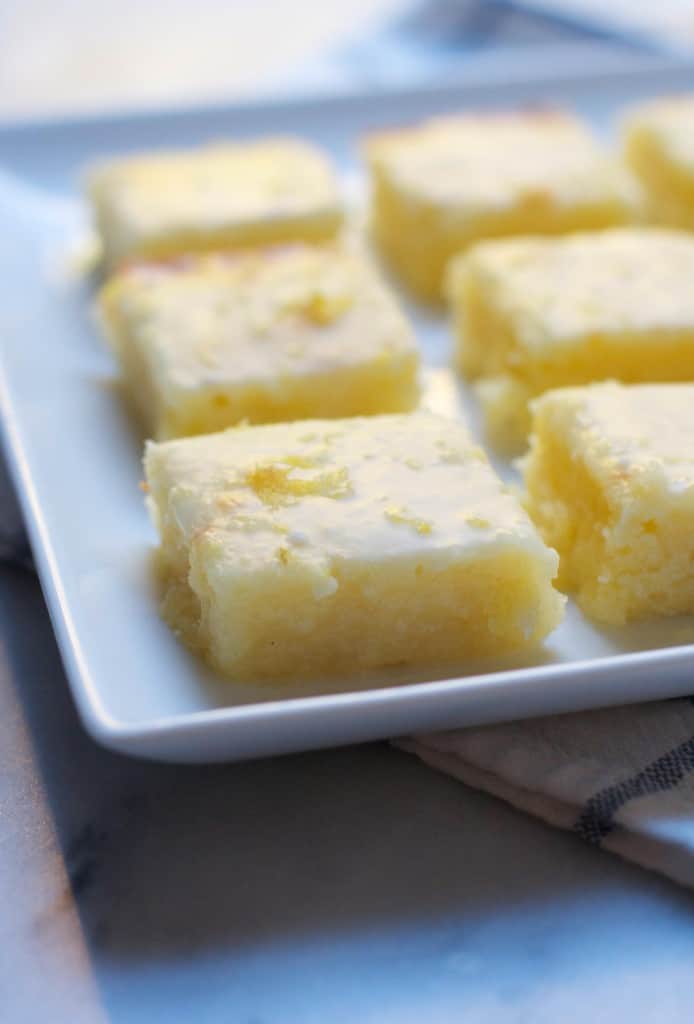 January always feels like the hardest month of the year to get through and this year may be the worst as the end of the month will bring my baby that I feel I've been waiting for forever. I'm doing my best to keep busy, nesting away, getting in naps when I can and stocking up on freezer meals and blog posts, but a burst of delicious tart citrus never fails to keep me perky and reminded of the sunnier days to come!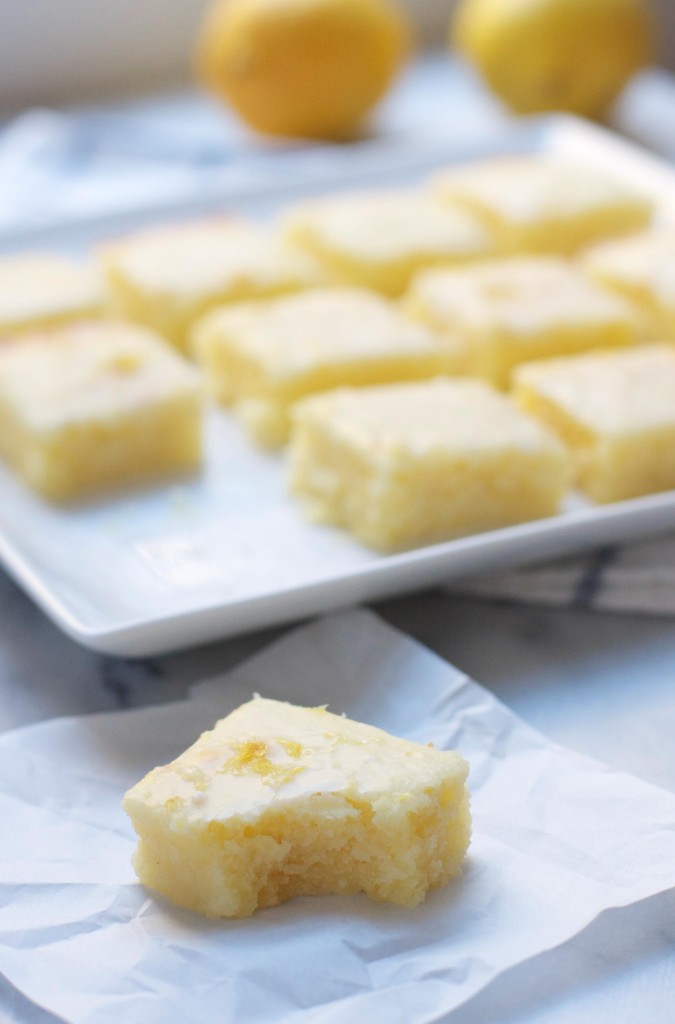 These bars have an almost brownie-like texture- crisp on the edges with soft and chewy middles. They are lemon-y to the max and are topped with a gooey lemon glaze that sends them over the top. They are delicious freshly glazed, but I also froze a bunch of them and then thawed them in the container at room temperature. You'd never have known they were frozen as they tasted absolutely perfect and the texture was spot on. Convenient and delicious- can't beat that right?
PS- Don't forget to enter to win a KitchenAid Stand mixer- the giveaway I shared yesterday is still going on until the end of the week!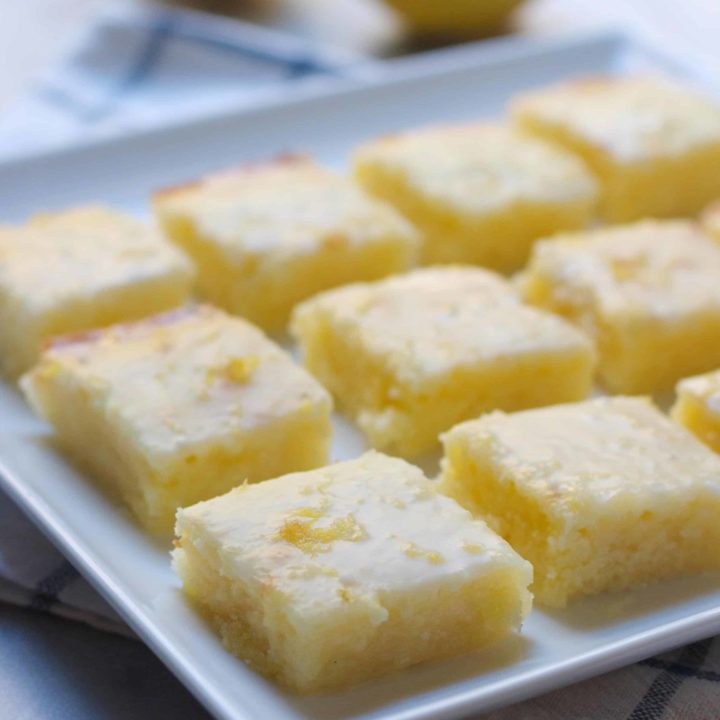 Gooey Lemon Blondies
Ingredients
3/4 cup flour
3/4 cup sugar
1/4 teaspoon salt
1 stick butter, soft
1 egg and 1 yolk
juice and zest from 1/2 lemon
For the glaze:
3/4 cup powdered sugar
1-2 tablespoons lemon juice
additional lemon zest for sprinkling
Instructions
In a large bowl, cream together the butter and sugar until smooth and pale. Add the egg, yolk, juice and zest and mix until well combined.
Sprinkle the flour and salt over the wet ingredients and mix on low until well combined - (do not over mix)
Pour batter into a greased 8x8 baking pan and bake at 350 for 25 minutes, or until the edges are just golden and the center of the pan is set. Cool bars before glazing.
For the glaze:
Stir the powdered sugar together with the lemon juice (1 tablespoon to start, adding more if needed) until a smooth consistency is reached.
Spread glaze over the bars and top with lemon zest.
Nutrition Information:
Yield:

16
Serving Size:

1 grams
Amount Per Serving:
Unsaturated Fat:

0g