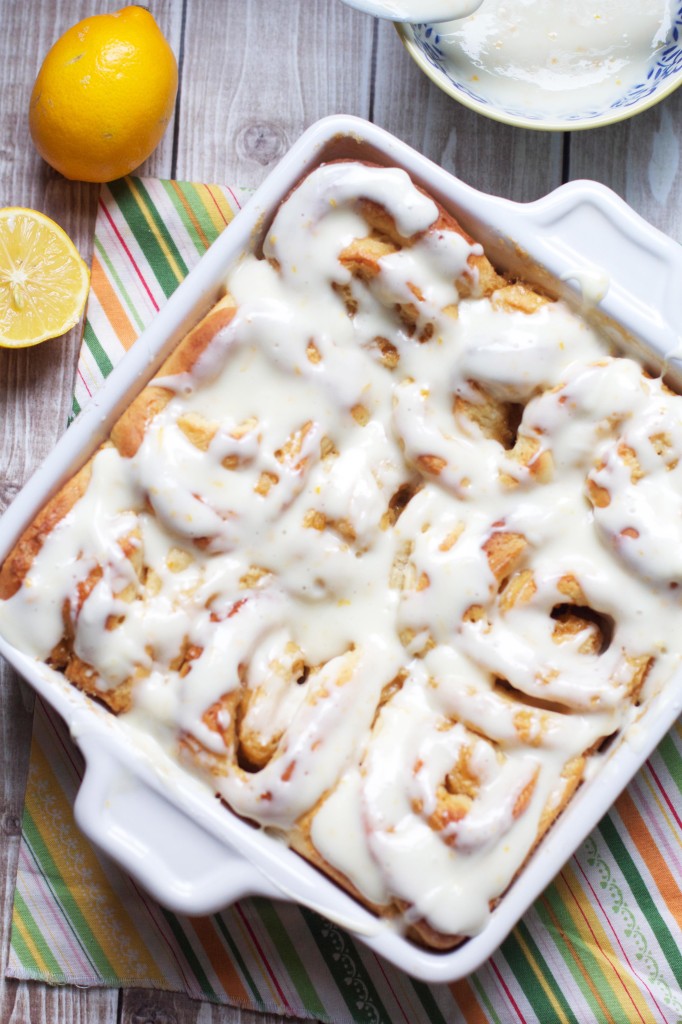 It's actually supposed to be kinda nice in NYC today you guys! 60 and sunny which feels like a dream after this winter that we have had. Andy and I are seriously considering what it will take to relocate somewhere warmer after yet another snow storm is supposedly on it's way later this week. So I'm planning to enjoy today as much as possible and be outside as much as Hugo will allow. (Just when I thought I had a baby who always loved been outdoors, he's had a few unnerving meltdowns the last few days when we attempt to go out. I hope that changes with the warmer weather!)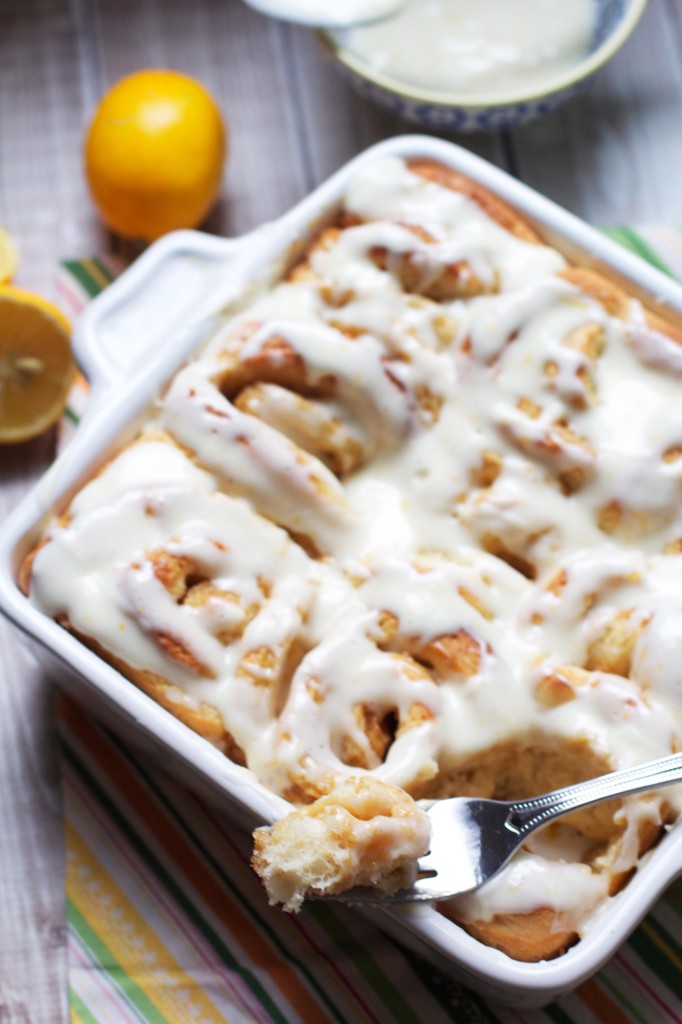 When the weather gets exceedingly dreary for too many days in a row, I can't help but bake something sunny and tart to take my mind off things. When I bit into these gooey, lemon-y rolls just for a second I imagined it wasn't nasty out. The dough is my favorite, one that I use often, which bakes up so puffy and tender. The insides are full of tart and sweet meyer lemon filling and topped with a lemon-y cream cheese glaze. They are perfect for a festive brunch spread or just enjoyed with a big mug of tea. I will never tire of gooey swirly buns- check out some of my other variations too: Salted Caramel, Caramel Apple, Blueberry, Cranberry Orange, and a savory Cheddar Garlic version as well!
Gooey Meyer Lemon Breakfast Buns
Ingredients
For the dough:
¾ cup milk
¼ cup butter
1 teaspoon vanilla extract
3¼ cups all-purpose flour
1 (.25 ounce) package instant yeast
¼ cup white sugar
½ teaspoon salt
¼ cup water
1 egg
zest of 1 meyer lemon*
For the filling
¼ cup butter very soft
½ cup brown sugar
¾ cup white sugar
Zest and juice of 1 meyer lemon
Zest of 1 regular lemon
1 teaspoon of vanilla extract
¼ teaspoon of ginger
For the icing
3 oz cream cheese, very soft
2 cups of powdered sugar
2-4 tablespoons of lemon juice
2 teaspoons of lemon zest
Instructions
For the dough:
Heat the milk in a small saucepan until it bubbles, then remove from heat. Mix in butter; stir until melted. Let cool until lukewarm- add vanilla extract
In a large mixing bowl, combine 2¼ cup flour, yeast, sugar and salt; whisk together. Add water, egg, zest and the milk mixture; beat well with an electric mixer or by hand with a whisk.
Add the remaining flour, ½ cup at a time, using a wooden spoon to stir well after each addition. (dough will be too thick and sticky to use the mixers or whisk at this point.)
When the dough has just pulled together, turn it out onto a lightly floured surface and knead until smooth, about 5 minutes. (dough will spring back when lightly pressed.)
Cover the dough with a damp cloth and let rest for 10 minutes.
Meanwhile prepare the filling:
In a small bowl combine the sugars, vanilla, lemon juice, zest and ginger
To assemble rolls:
On a lightly floured surface, roll out dough into a 12x9 inch rectangle. (use your 9x13 baking dish as a guide.) Using a pastry brush- slather the dough with the butter.
Spread the sugar/lemon mixture over the butter. Roll up dough starting with one of the short ends and pinch seam to seal. Cut into 12 equal size rolls and place in a 9x13 baking dish.
Cover and let the rolls rise in a warm place until doubled, about 30-45 minutes. Preheat oven to 375 degrees F.
Bake in the preheated oven for 20 minutes, or until browned. Let cool for about 10 minutes and then spread them with icing. (directions below) Serve warm.
Lemon Icing:
Whisk the cream cheese until it's smooth and creamy. Add the powdered sugar and continue to mix. Add a tablespoon of lemon juice and zest and continue to whisk. If the icing seems thick, add more lemon juice if needed.