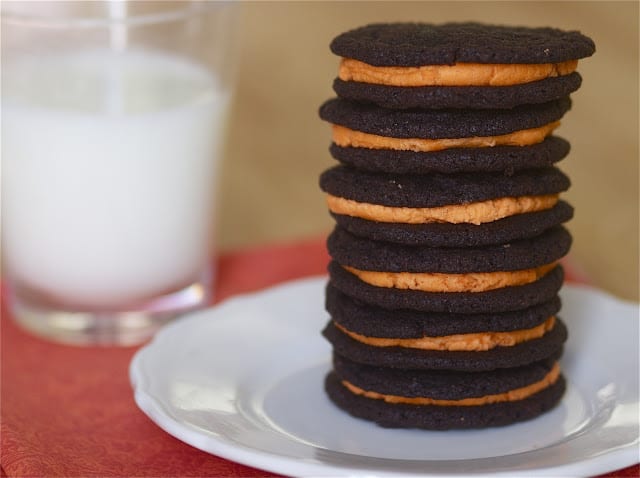 Halloween has always been one of my favorite Holidays. Even though I get to "play dress up" every time I do a play, I never get sick of it and still love going all out for this holiday. In New York, it's hard not to get sucked into the festivities. I feel like the buzz around me has already begun and everyone as everyone is getting ready. And on the 31st itself, nothing is more fun/insane than the Halloween parade which is basically a people-watching-fest of the most "out there" and outrageous costumes.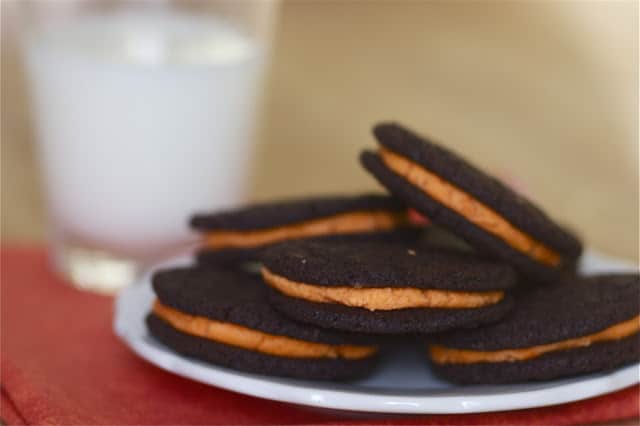 Since I just got back from Maine a couple days ago, I haven't had much time to prepare for a costume. Normally this is something I start planning for months in advance as I hate nothing more than those cheap looking costumes-in-a-bag. My favorites from years past include Cleopatra, Lara Croft Tomb Raider and Wonder Woman last year. On Monday I will post a few of my favorite Halloween moments!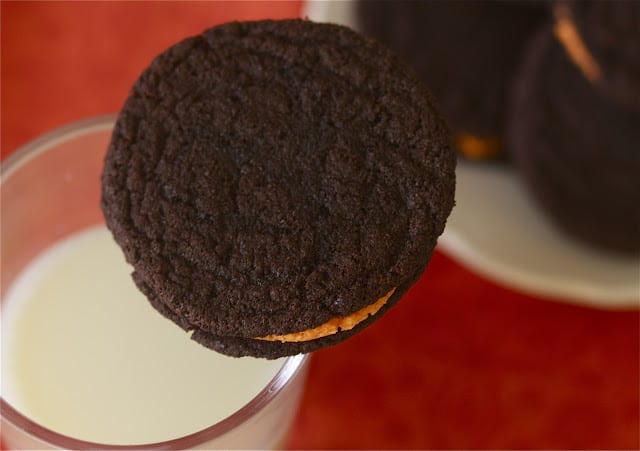 Onto the cookies: You may have seen these Oreos before when I made them earlier this summer. I simply couldn't resist re-craeating the festive cookies I've been eyeing in the stores since September. I made these a little chewier than the original recipe by baking them about a minute less than before. As you can also tell from the picture, these babies are huge. (I always forget how much this dough spreads- be prepared for it to at least double in size.) But what's better than huge, double-stufed chewy Halloween Oreos? Not much- these were pretty outstanding. Enjoy!
Halloween Oreos
Yield:
25 -30 sandwich cookies
Ingredients
For the chocolate wafers:
1 1/4 cups all-purpose flour
1/2 cup unsweetened Dutch process cocoa
1 teaspoon baking soda
1/4 teaspoon baking powder
1/4 teaspoon salt
1 to 1 1/2 cups sugar, depending on how sweet you want the cookies- I used 1 cup.
1/2 cup plus 2 tablespoons, 1 1/4 sticks room-temperature, unsalted butter
1 large egg
For the filling:
1/4 cup 1/2 stick room-temperature, unsalted butter
1/4 cup vegetable shortening, I used the Spectrum Organics Brand I've mentioned before.
2 cups sifted confectioners' sugar
2 teaspoons vanilla extract
Wilton Orange Food Coloring, optional
Instructions
Set two racks in the middle of the oven. Preheat to 375°F.
In a food processor, or bowl of an electric mixer, thoroughly mix the flour, cocoa, baking soda and powder, salt, and sugar. While pulsing, or on low speed, add the butter, and then the egg.
Continue processing or mixing until dough comes together in a mass.
Take rounded teaspoons of batter and place on a parchment paper-lined baking sheet approximately two inches apart. (yeah I thought using my smallest cookie scoop would be OK- but these were way big- next time I'll make em a bit smaller!) These cookies will spread a lot so give them plenty of room!
With moistened hands, slightly flatten the dough. Bake for 9-11 minutes, rotating once for even baking. Set baking sheets on a rack to cool. (9 minutes will make these nice and chewy.)
To make the cream, place butter and shortening in a mixing bowl, and at low speed, gradually beat in the sugar and vanilla. Turn the mixer on high and beat for 2 to 3 minutes until filling is light and fluffy. Slowly add drops of the food gel until filling is desired color of orange.
To assemble the cookies, in a pastry bag with a 1/2 inch, round tip, pipe cream into the center of one cookie. Place another cookie, equal in size to the first, on top of the cream. Lightly press, to work the filling evenly to the outsides of the cookie. Continue this process until all the cookies have been sandwiched with cream.
Nutrition Information:
Yield:

25
Serving Size:

1 grams
Amount Per Serving:
Unsaturated Fat:

0g
Source: Adapted from Smitten Kitchen