Harvest Cobb Salad with Maple Vinegarette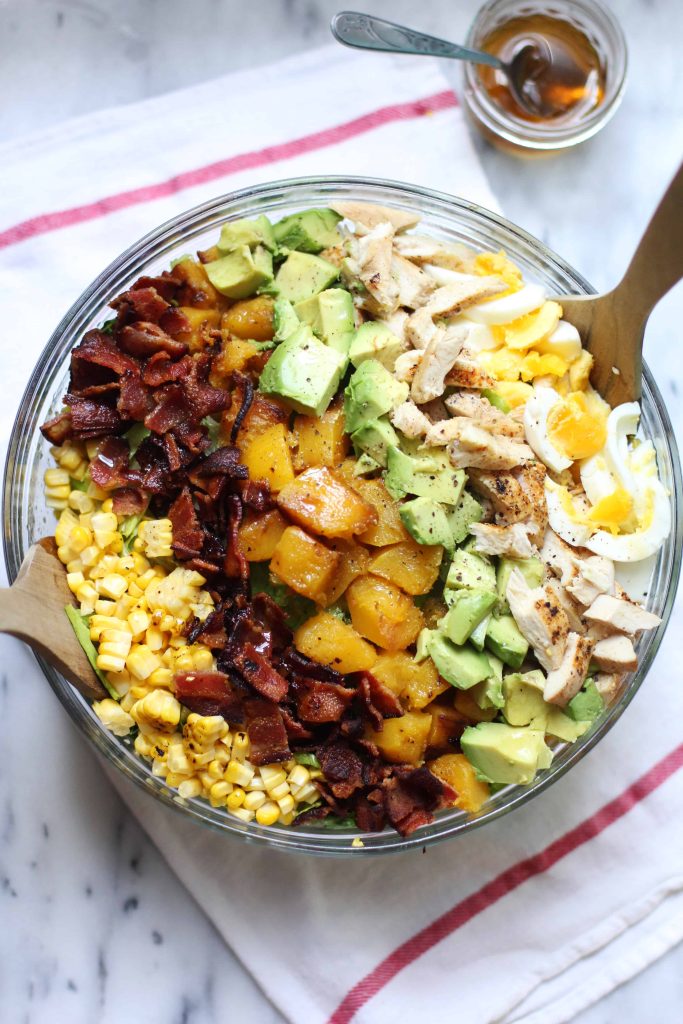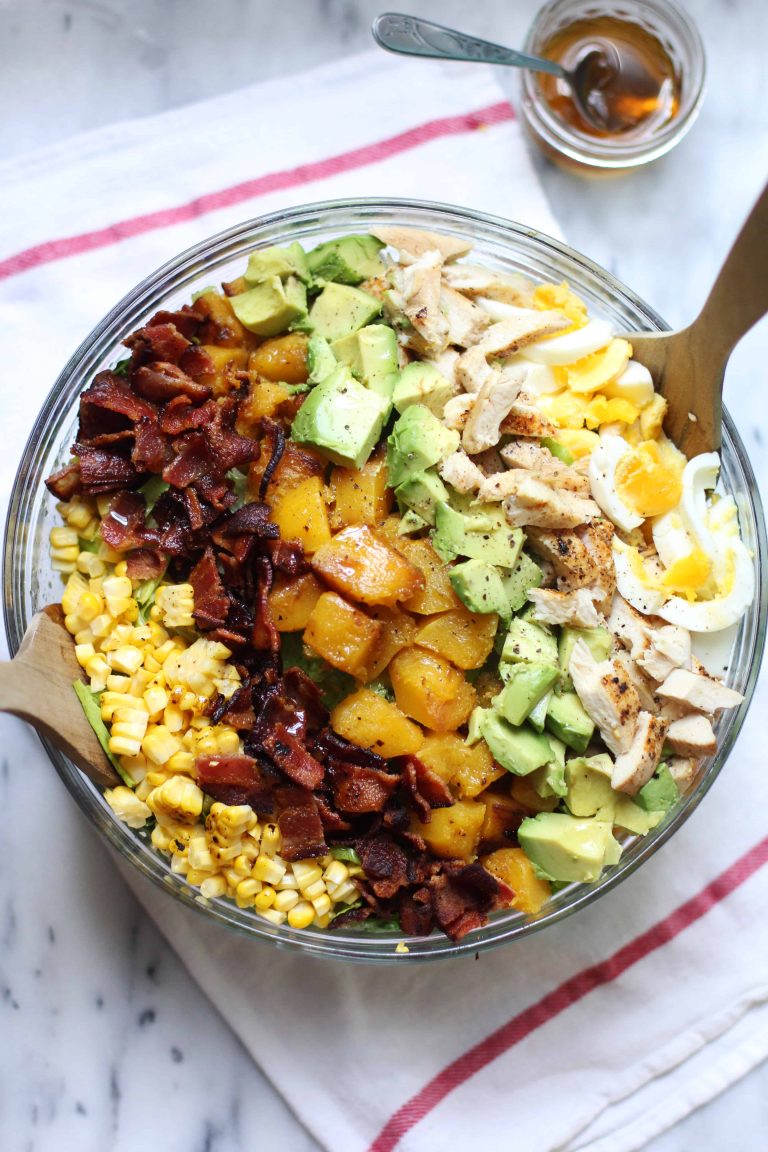 We're officially in that weird place between Summer and Fall, "Indian Summer" I suppose. At least here in New York the weather has been hotter than most of the actual summer and yet with Labor Day over and gone and school started around the neighborhood, I am itching to turn on my oven and bake cozy apple desserts. Yesterday, however, was 95 and humid and there is no way my oven was going on, so I decided to make this salad instead. Bits of fall flavors and some left from the summer in a refreshing and hearty salad.
We had a wonderful Labor Day weekend with friends in the country and our hosts made a fabulous salad that inspired this one. It was full of summer produce like heirloom tomatoes and sweet corn, and I couldn't get over how good all the flavors were together. So I switched out the tomatoes for some roasted squash and made the most amazing Maple Vinaigrette which really ties the whole thing together.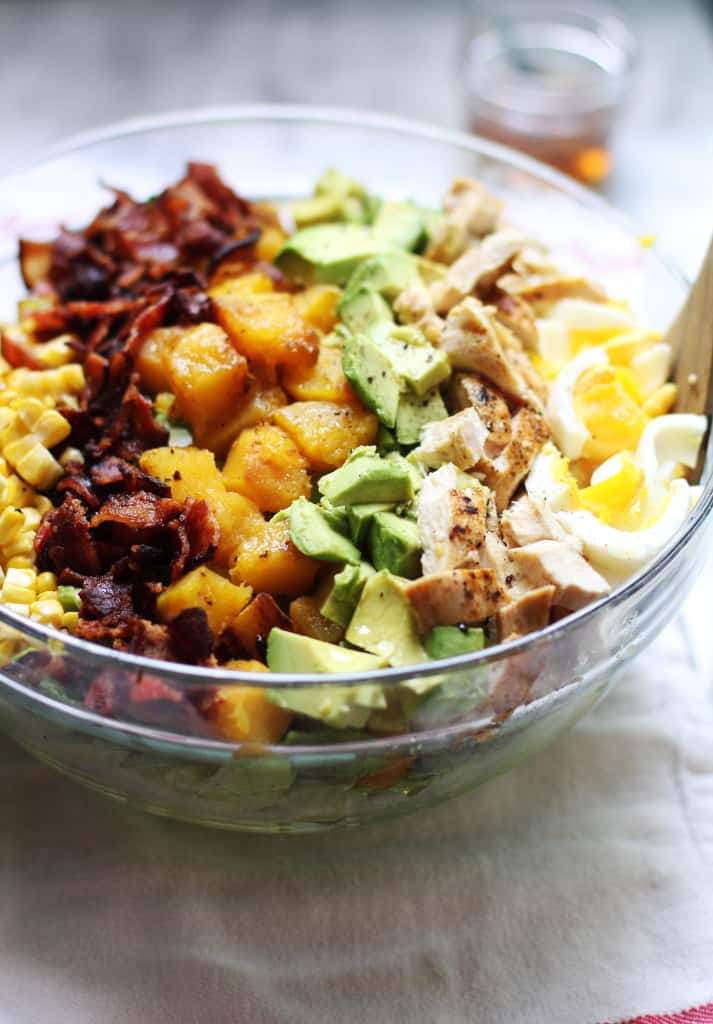 The nice thing about salads like this is how adaptable they are, and this one in particular has lots of options for toppings. Next time I may add roasted or raw apples to the mix and some pecans for added crunch. (Andy doesn't eat nuts so I always miss out too.) I have to say though that this particular combo was out of this world good. The crunchy salty bacon and crisp corn were the perfect pairing with the creamy avocado and tender squash. Even Hugo gobbled this up (well everything but the lettuce, he hasn't quite mastered that one yet…)
One more thing to note: If you have a grill and are still up for using it- the chicken and corn are fabulous on the grill. I used my large cast iron skillet to cook pretty much everything though. The squash, corn, bacon and chicken were all made in the cast iron and it helped to keep the heat down in my kitchen. Either way works though!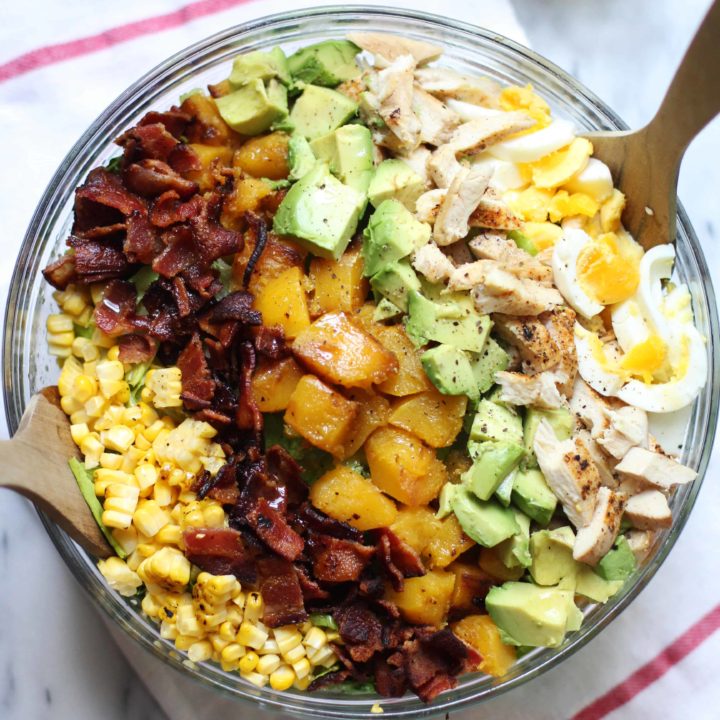 Harvest Cobb Salad with Maple Vinegarette
Ingredients
About 10 cups of lettuce/greens, your choice, I used romaine
1 small acorn squash
1 ear of corn
10 strips, or so or bacon
3 eggs
2 boneless, skinless, chicken breasts
1 avocado
3 tablespoons maple syrup
3 tablespoons apple cider vinegar
3 tablespoons extra virgin olive oil
Salt & Pepper to Taste
Instructions
Start with the squash:
Using a sharp serrated knife, Cut the squash into 1-inch strips. Use a vegetable peeler/ paring knife to remove the skin and scoop out the seeds.
Heat a cast-iron skillet to medium- high. Drizzle a little olive oil into the pan, and when hot add the squash rings in one layer. Add 2 tablespoons of water and cover the skillet. (I had a different cover that sealed it pretty well- you want to create steam- so use what you have.)
Allow the squash to steam/ cook for 3-5 minutes and then flip and repeat. When squash is browned and tender transfer to a cutting board and when cool, cut into chunks. Wipe out the pan.
Reheat the pan to medium/high. Add another drizze of olive oil. Place the ear of corn in the center of the pan and let it cook without flipping for 3-5 minutes, rotate slightly and repeat. (Letting it sit on the heat for a few minutes is what makes it char.) Keep flipping the corn until it is golden and a bit charred. Remove from heat and transfer to the cutting board. Wipe out the pan. When cooled a bit, use a sharp knife to remove the corn from the cob and set aside.
For the Bacon:
Cook the bacon in the skillet on medium heat, using tongs to flip/rotate until evenly cooked and crispy. (You may need to do this in 2 batches.) Set aside to cool and then coarsely chop or crumble.
Pour out the bacon grease and wipe out the pan about 75% of the way (you want a little of the bacon grease and bits to cook the chicken in.)
For the Chicken:
Season chicken breasts with salt and pepper. I added a bit of paprika as well for color- you can add other spices if you wish. Cook in the skillet on medium heat adding a touch of olive oil if pan seems dry, flipping each breast after 3-5 minutes depending on thickness, cook for another 3-5 minutes or until cooked through. Transfer to cutting board and chop into bite sized pieces.
For the Eggs:
This part should be done while some of the other ingredients are cooking, I think I started this while my first batch of bacon was cooking.
Add three eggs to a small pot of water and turn the heat on high. Once boiling, cook for 5 minutes. Drain out the hot water and quickly submerge in cold water. Peel and slice eggs.
For dressing:
Whisk together the syrup, vinegar and olive oil, tasting to see if you'd like it sweeter/more vinegary. Add salt and pepper to taste.
To assemble:
To the lettuce add all the prepared ingredients, (halve and cube the avocado right before serving,) and drizzle the dressing on top. I recommend waiting to throw the bacon in until right when you're serving as if it sits with the other ingredients it may lose it's crunch.
Notes
The ingredients for the salad that be prepped in any fashion/order you choose, but in the recipe I am laying out my exact process which I thought was pretty efficient both in terms of time and dishes used.
Nutrition Information:
Yield:

4
Serving Size:

1 grams
Amount Per Serving:
Unsaturated Fat:

0g