Scalloped Hasselbeck Sweet Potatoes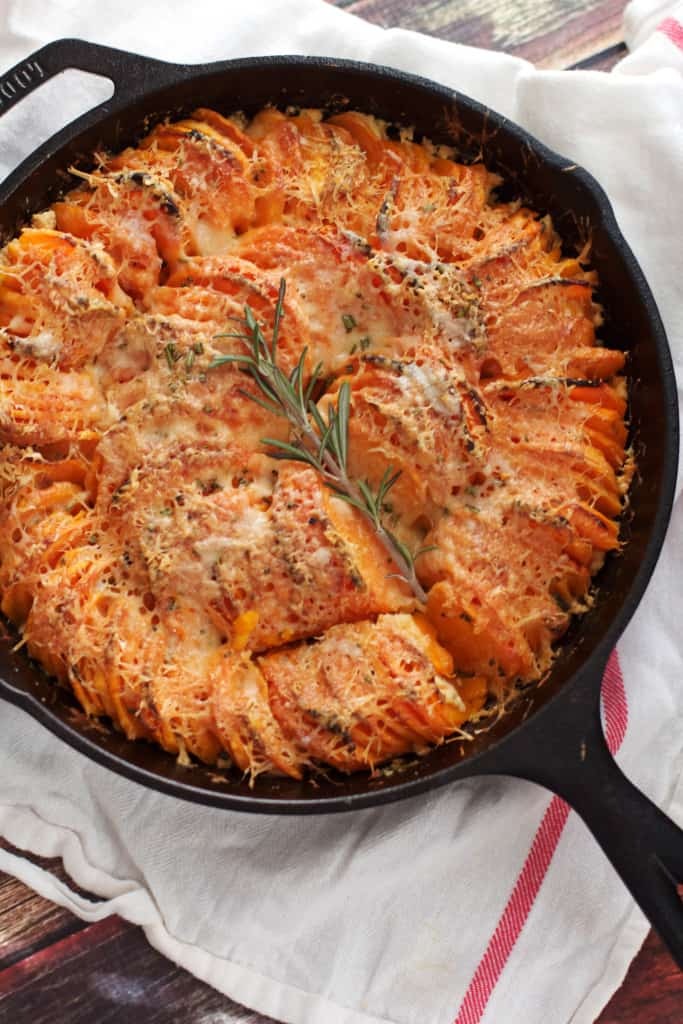 Its quite possible you have all your Thanksgiving menus set in stone, but in case you don't, I'm trying to squeeze a couple more in!
This one cannot be missed because it's just too good. Now, I have to admit that normally I'm not a huge sweet potato fan. I like my savory things to be mostly salty and then I like my sweet for dessert.
I'm really not too fond of the traditional marshmallow, brown sugar pairing and I've just never found a sweet potato side that I was head over heels in love with….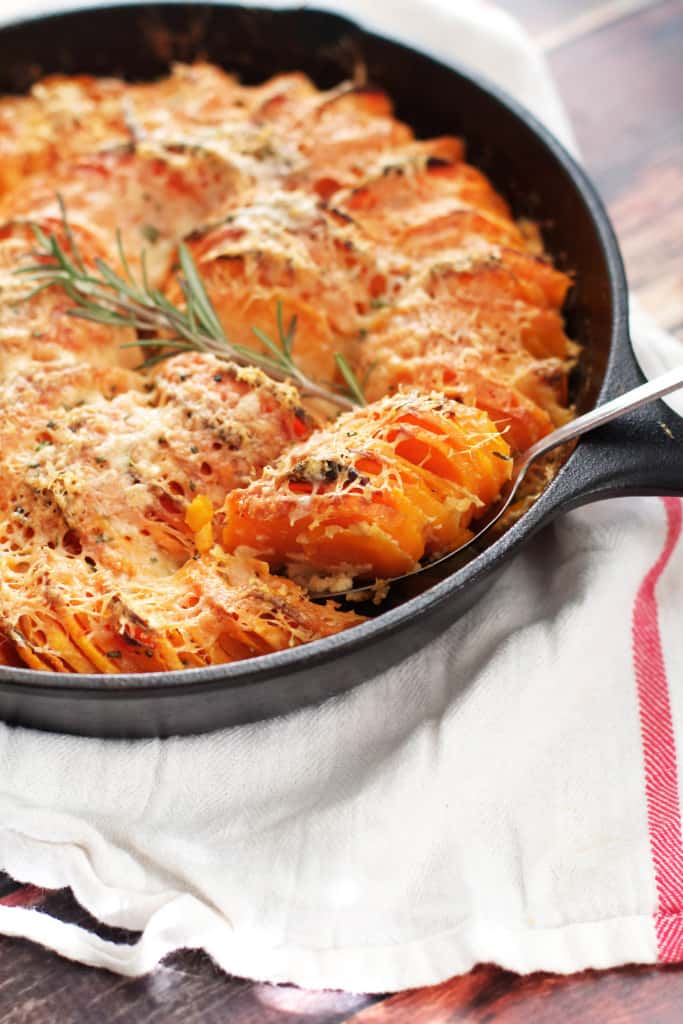 Until this! This to me is everything. Crispy, thin, sweet potatoes with lots of cheese, rosemary, and garlic.
Salty and of course a little sweet but 100% savory. I really love the presentation of this dish too, something about the assembling this dish was just so fun!
It reminding me of a craft project..stacking tiles or cards or something? Anyway- don't mind me I'm sleep-deprived.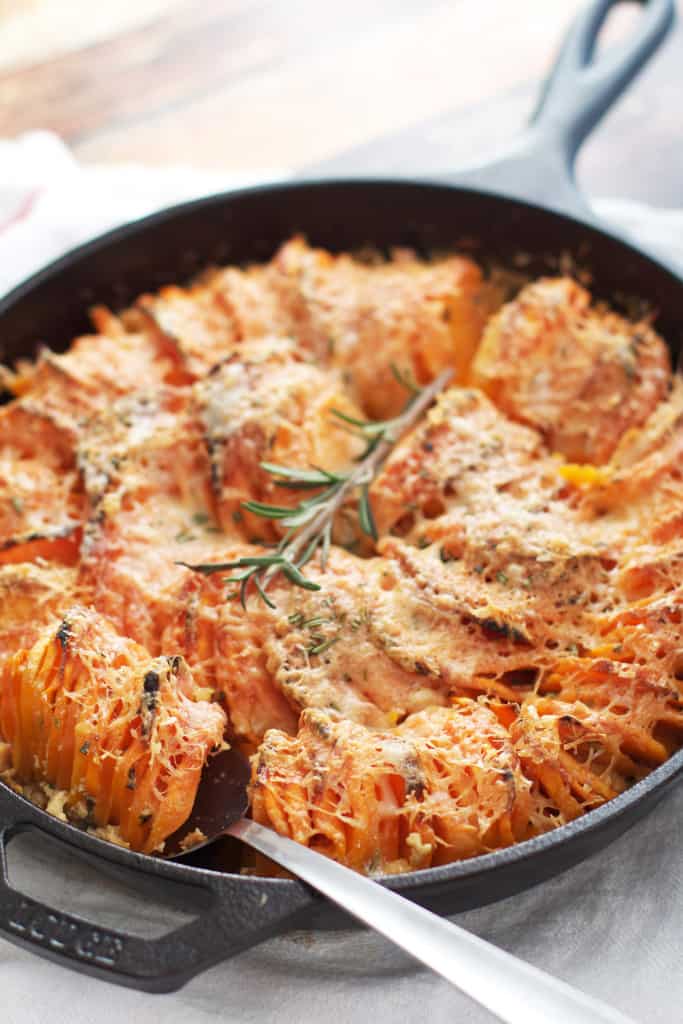 Back to this dish. It can be prepped the night before and baked before serving which is obviously always a perk. Also, like so many savory dishes, can be easily adapted to suit your tastes.
If you don't love garlic & rosemary use some caramelized onions & thyme. I used Parmesan and Cheddar cheeses, but Gruyere and Swiss would work well too. This is such a versatile side dish that I can't wait to make again!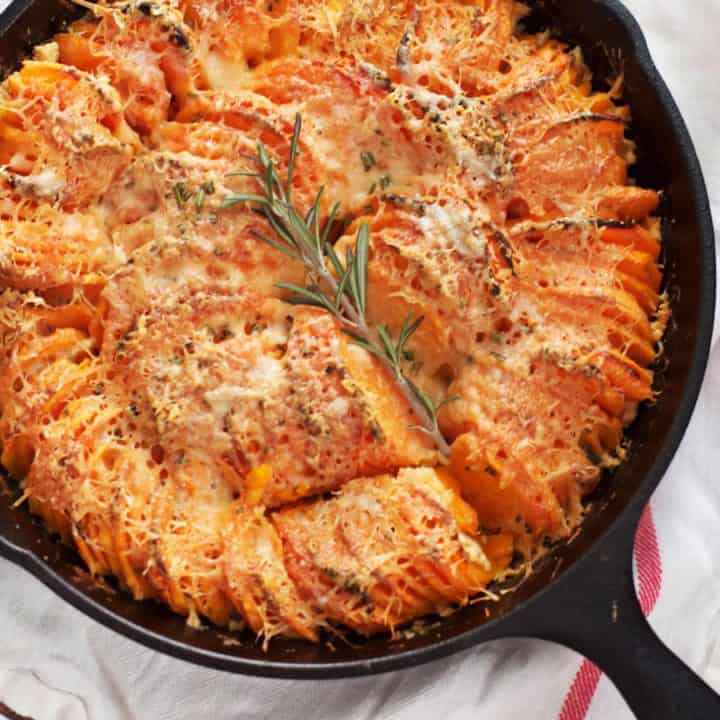 Hasselbeck Sweet Potato Gratin
Ingredients
3 oz. finely grated cheddar or Gruyere cheese
3 oz. finely grated Parmesan cheese
2 cups heavy cream
5- 6 medium sweet potatoes*
2 cloves of garlic, minced
1 tablespoon of fresh rosemary, roughly chopped
salt & pepper to taste
butter for greasing the pan
Instructions
Preheat oven to 400F.
Using a microplane or whatever else works for you, slice the potatoes to 1/8 inch thick. Soak in water until ready to use.
Combine the cheeses. Take about 1/3 out and set aside. To the rest of the cheese add the cream, garlic, rosemary, salt & pepper. Whisk together.
Drain & dry the potatoes and add them to the cheese/cream mixture. Make sure that each slice gets coated, using your hands to separate them.
Use the butter to grease a 9-inch skillet or other 2-3 quart sized pan. Grab a stack of the potato slices and arrange them vertically around the perimeter of the pan.
Continue, arranging the potatoes in the pan and then continuing onto the inside as well. Pour the remaining cream mixture over the potatoes, filling it about halfway up the side of the pan.
Cover with foil and bake for 30 minutes. Then remove the foil and bake another 30 minutes uncovered. Finally, add the remaining cheese all over the top and bake for a final 30 minutes, or until super golden brown with the cheese crisp.
Notes
*Since every potato is slightly different, you may need a few extra slices to wedge in to make the whole thing fit in snugly. I had one extra that I ended up using in the end.
Recipe adapted from Serious Eats