Hazelnut Macarons with Chocolate Frangelico Ganache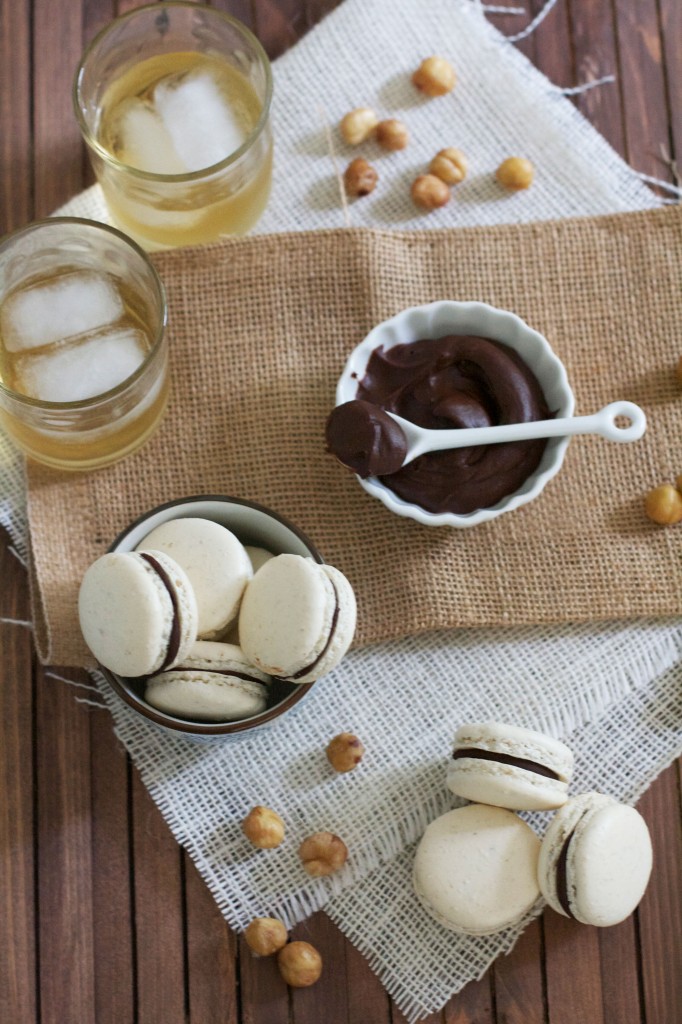 The time has almost come my friends. You know- when it gets so hot in NYC that my un-airconditioned kitchen becomes unbearable and I complain about it constantly? (Ok- maybe I should try to do that less this year!) Anyway- though some people were bummed that it was unseasonably cold Memorial Day weekend, I actually loved it. Nothing is more cozy to me than turning on the oven to bake when its cold and dreary, even if it's supposed to be summer out.
I thought a gloomy day would be the perfect chance to try my hand at a new variation on my favorite Macaron recipe, since you really can't make them when it's humid and warm. I've never made macs with a nut other than almonds and I was so excited to add some hazelnuts to the mix.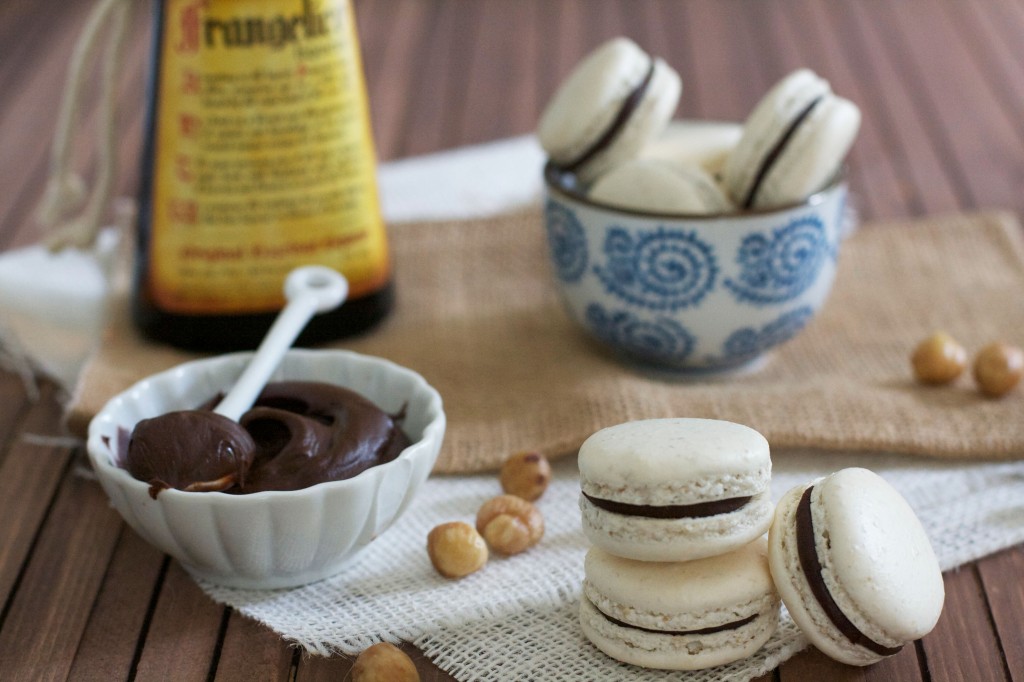 I was so surprised to take the first bite as these really tasted like hazelnuts! (I never get a strong almondy flavor from regular macarons.) Even though the shells were half almond flour as well- the strong hazelnut taste really came through which was the perfect pairing with the chocolate-Frangelico ganache. Are you familiar with Frangelico? It's an Italian hazelnut liqueur which I usually enjoy in my after-dinner coffee. In this case, I mixed some into the creamy ganache which added a little punch and enough hazelnut flavor to match the shells.
This is probably my favorite flavor combo of any macaron I've made! The ganache wasn't too sweet at all, but still perfectly rich and creamy. I blanched my hazelnuts which gave the macs a smooth even color and finish (though specks of brown from hazelnut skin would have been fine too!)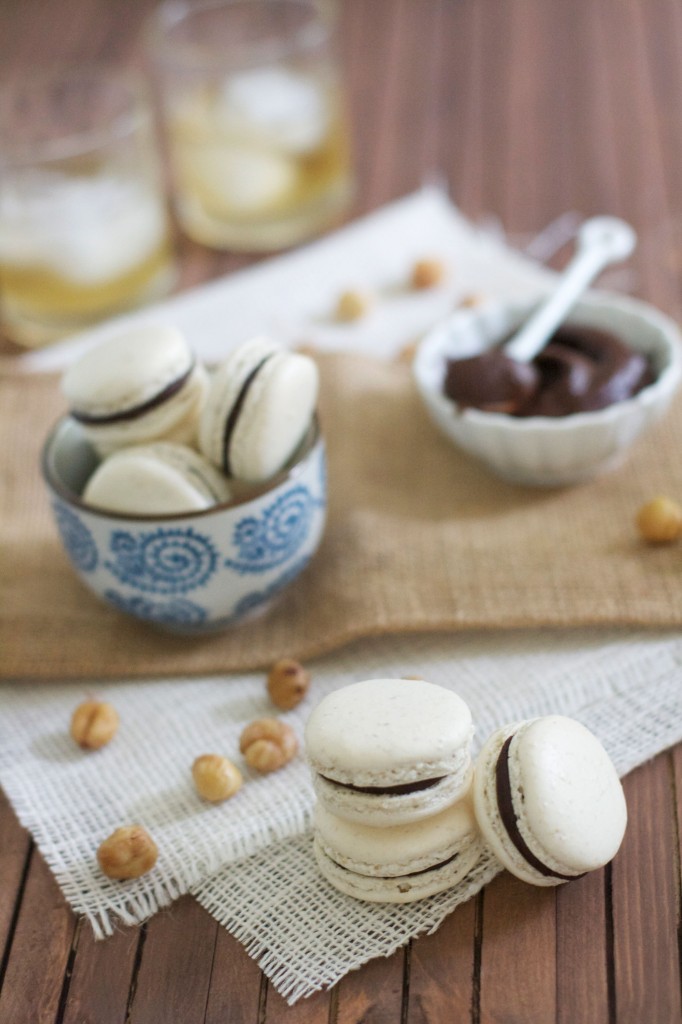 By the time the weather mellows out enough for me to make another batch of these, I hopefully will have come up with another flavor combo to compete with this one- it will be hard to beat!!
Disclaimer- this post is sponsored by Frangelico- all opinions are 100% my own.
Hazelnut Macarons with Chocolate Frangelico Ganache
Ingredients
150 grams almond meal, or ground blanched almonds sifted.
150 grams ground blanched hazelnuts, sifted
300 grams powdered sugar- sifted
110 grams egg whites
300 grams white sugar
75 grams water
110 grams egg whites
For the ganache:
8 oz high quality milk or dark chocolate, chopped
1 cup heavy cream
3 tablespoons Frangelico Hazelnut Liqueur
Instructions
In a large bowl, whisk together the sifted almond meal, hazelnut meal, and powdered sugar- breaking up any lumps or large bits.
Make a well in the center of the bowl and pour 110 grams of egg whites in. Fold them in gently until the mixture is well combined, thick and paste-like.
Meanwhile- place the other 110 g of egg whites into the bowl of a stand mixer fitted with a whisk attachment. Leave it be while you make the sugar syrup.
In a small saucepan, combine the sugar and water and stir together until dissolved. Clip a candy thermometer to the side of the pan. When the syrup reaches 225 degrees F- turn the stand mixer on high and start whisking the eggs. You want them to be at soft peak stage, so as soon as they are, turn the speed to low. The egg whites can wait for the syrup- but once the syrup is ready- it cannot wait.
When the syrup hits 239 degrees- carefully pour it into the side of the bowl while the mixer is running. You don't want the syrup to run down the bowl- or it will cool- so aim to pour it right at the spot where the egg whites meet the side of the bowl.
Whip on high for about a minute- and then reduce speed to low and continue beating until the bowl has cooled slightly, and glossy stiff peaks have formed.
Add 1/2 of the meringue to the almond mixture, and gently fold it in until combined and smooth. Gradually add the rest of the meringue until batter is smooth and it ribbons off the spoon.
Fill piping bags with a round tip and preheat oven to 300F.
Prepare baking sheets with parchment paper. If your oven has a strong fan- you may want to pipe dots of batter onto the corners to stick the parchment down. OR- you can weigh it down with butter knives along the edges.
Pipe small rounds with the bag perpendicular to the baking sheet. You'll need to develop a rhythm that works for you so that your macs are similar in size. I like to count out loud- "1, 2, 3- release."
Let the piped macs sit out until a trace of a shell is formed- 20-30 minutes will do- maybe less. This helps keep their shape while baking.
Bake for about 12 minutes. To test if done- open the oven and wiggle the top of a shell back and forth. If it's super "wiggly" they need more time. Perfect macs will be just a little wiggly- but overall firm.
When done, remove parchment from the sheet and let cool for 5 minutes on the counter top. Gently peel parchment paper off and cool completely before filling.
Macarons taste best when "ripened" in the fridge for 24-48 hours, and can last in the fridge for up to a week.
For the ganache:
Place the chopped chocolate in a large, heat-safe bowl. Warn the cream in a sauce pan until bubbly, and stir in the Frangelico. Pour cream mixture over the chocolate, and stir gently until the chocolate has melted and the ganache is smooth and shiny.
As the ganache cools it will become thick and perfectly pipeable for your macarons!
Nutrition Information:
Serving Size:

1 grams
Amount Per Serving:
Unsaturated Fat:

0g