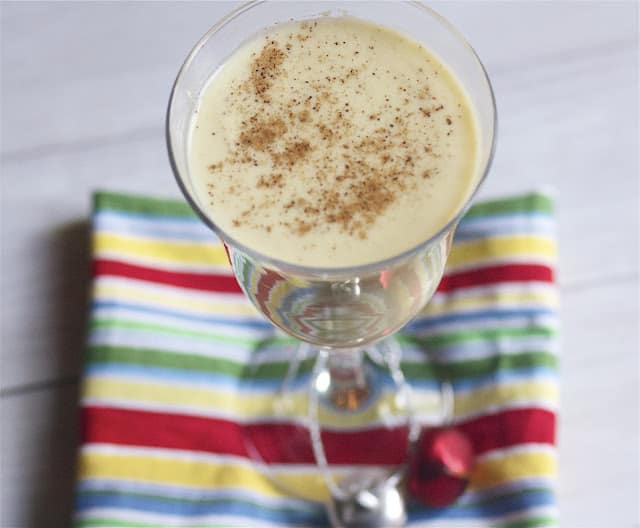 Earlier this week I shared my like for the nog. Though I'm a big fan of the stuff, I don't love all the chemicals and corn syrup found in the store bought kind. (I know there is organic stuff out there, but my local store doesn't sell it.) So, I thought that it would be a good idea to figure out how to make it from scratch since I like to complicate things like that.
Now before you guys start getting all protest-y about the raw egg stuff, I must point out that this is *cooked* homemade egg nog. I don't like the idea of raw eggs anymore than you do. However, this recipe is cooked to 160 degrees so all bacteria is killed and it is safe to drink. After that, all you have to do is chill it for a few hours and you're good to go. Let me tell you that it tastes way better than anything you'd find in the store! I used low-fat milk and it was still creamy and delicious. I also got to add my own vanilla and spices which is good for me since I like it super spicy to begin with. All in all- I'm very pleased with the discovery. Enjoy!!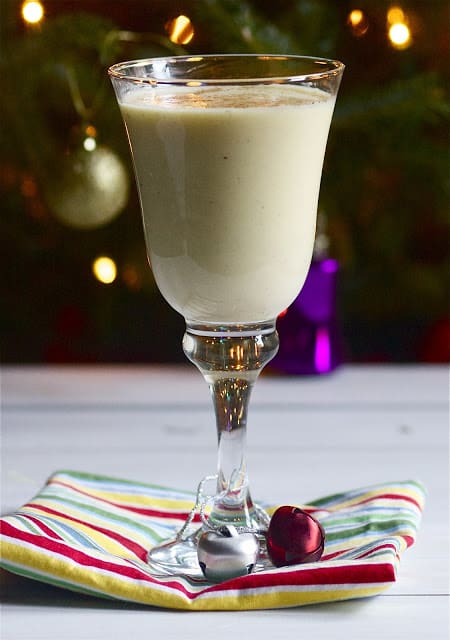 Ingredients
4 large eggs, room temperature
3/4 cup sugar
2 tsp vanilla extract
1/4 tsp freshly grated nutmeg, or to taste*
pinch of cinnamon
4 cups low fat milk
2 oz. brandy or bourbon, for serving (optional)
Instructions
In a large bowl, whisk together eggs and sugar until all of the sugar is dissolved, about 2 minutes.
In a medium saucepan, over high heat, combine the milk, vanilla and spices and bring just to a boil, stirring occasionally. Remove from the heat and gradually temper the hot mixture into the egg and sugar mixture. Then return everything to the pot and cook until the mixture reaches 160 degrees F. Remove from the heat, and pour mixture over a fine mesh strainer into a jar/pitcher/bowl, and set in the refrigerator to chill.
.
Pour into glasses, add liquor if desired, and sprinkle with additional nutmeg for serving.
Notes
*If not using freshly grated nutmeg, you may want to use more nutmeg.
Nutrition Information:
Serving Size: 8 grams
Amount Per Serving: Unsaturated Fat: 0g
Adapted from: Baking Bites