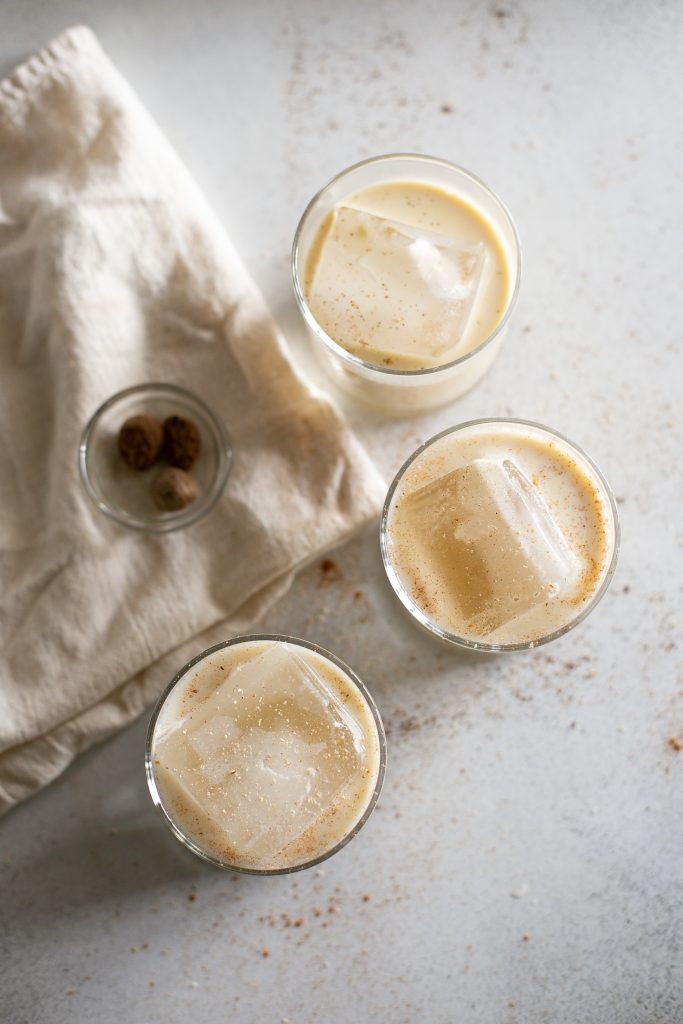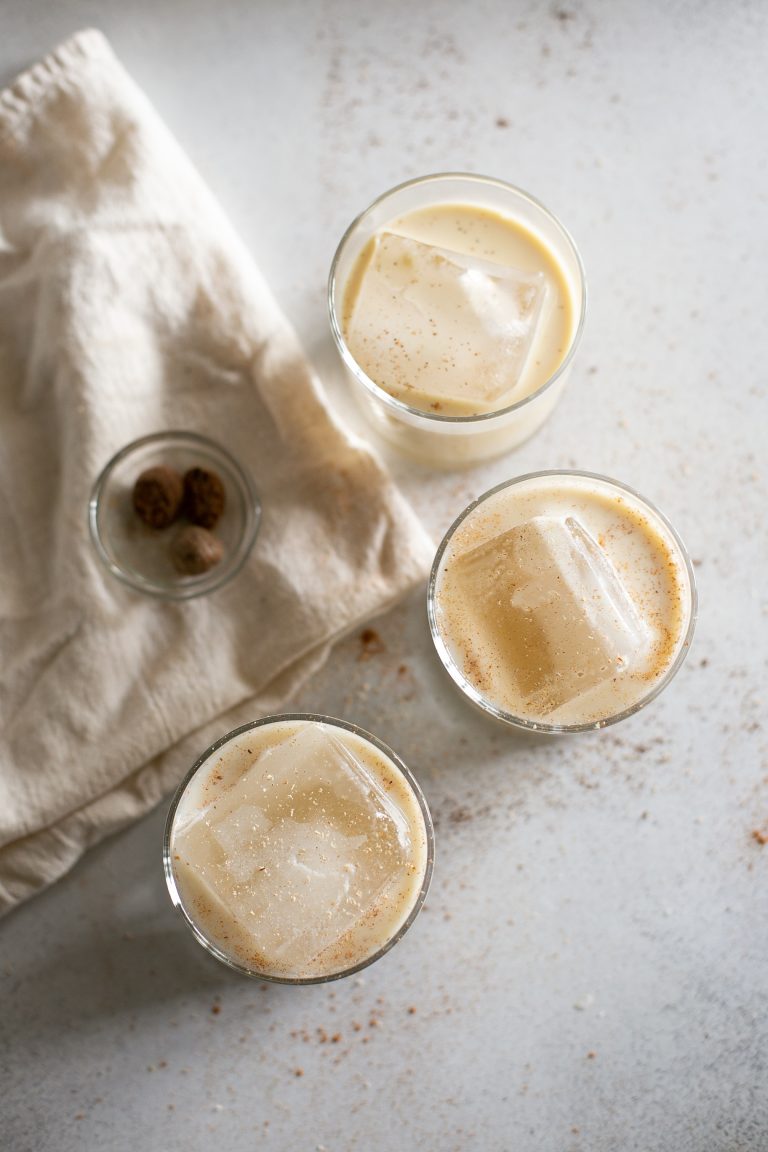 In my household it's not the winter holiday season until my husband Andy makes his famous boozy eggnog. We try to get our first batch made by mid November and and it sits in the back of the fridge for a couple weeks. By early December it's perfect and we enjoy it all month from Christmas Eve, our Christmas Party and all through the New Year. It's perfectly creamy and smooth with a boozy punch and warm spices.
This eggnog actually gets better the longer the nog ages in your fridge, even up to a full year! While I personally prefer the fresh stuff, as it ages in the fridge complexity of flavor just grows. Every year we try to save a small amount for a year to enjoy before or next year's batch is ready. (Emphasis on try, often there isn't any left!)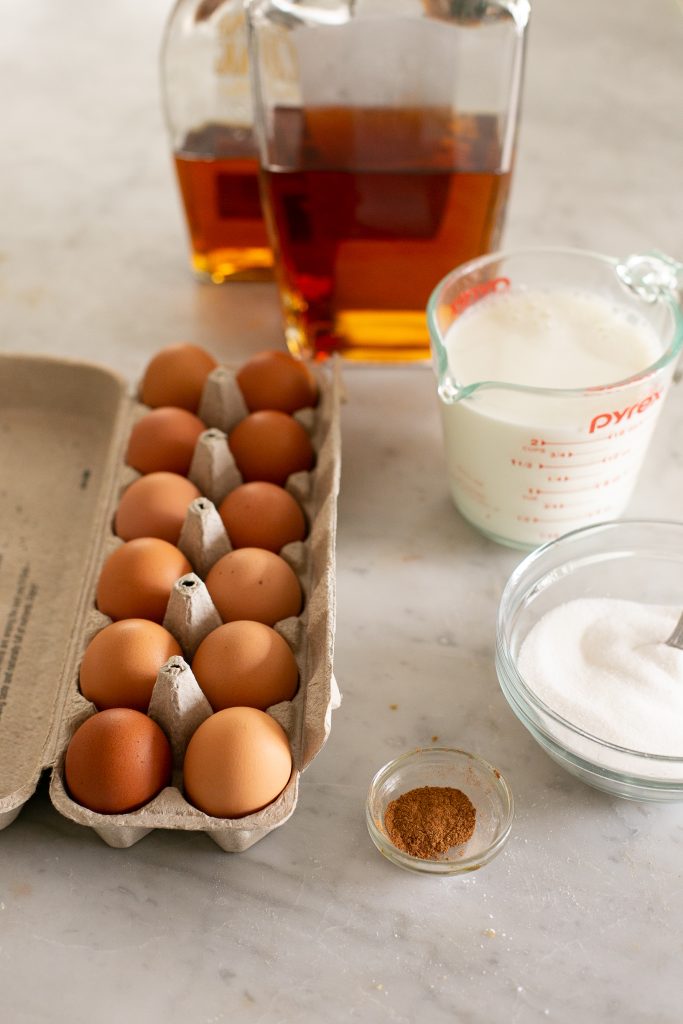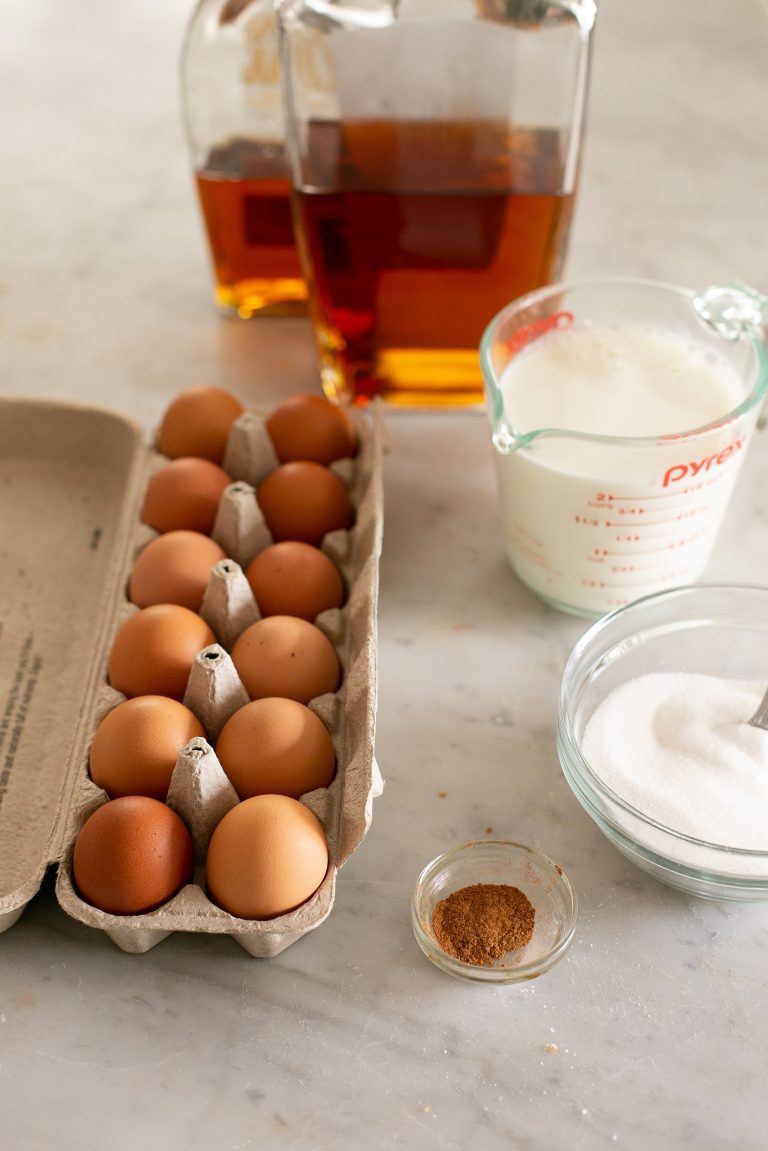 Ingredients needed for Aged Eggnog:
A dozen large eggs
Half and half
Sugar
Dark rum
Bourbon
Nutmeg
Vanilla Extract
Cinnamon
Pinch of salt
Supplies needed for Aged Eggnog:
Large bowl
Electric hand mixer or whisk
Mesh strainer (optional, but can help strain out any solids.)
Funnel (depending on jar size,)
Large glass jar, mason jar or other glass container for storing

How to make this Aged Eggnog Recipe:
Separate the whole eggs and save your egg whites in a separate bowl for another use.) In a large mixing bowl combine the egg yolks, spices, vanilla, salt and sugar. Use an electric mixer to thoroughly combine. To the egg mixture add the rum, bourbon and half and half. Continue to mix until smooth and creamy. Store in a cool place (I sometimes put it in a cooler on our back porch if we run out of fridge room!)
Serve as is or on ice with whipped cream if desired, and a little extra nutmeg or cinnamon sticks.
This eggnog contains raw eggs, is it safe to drink?
All eggs that you buy in stores in the United States are pasteurized which means heating them to destroy bacteria. That plus the high alcohol content in the eggnog makes it safe to drink.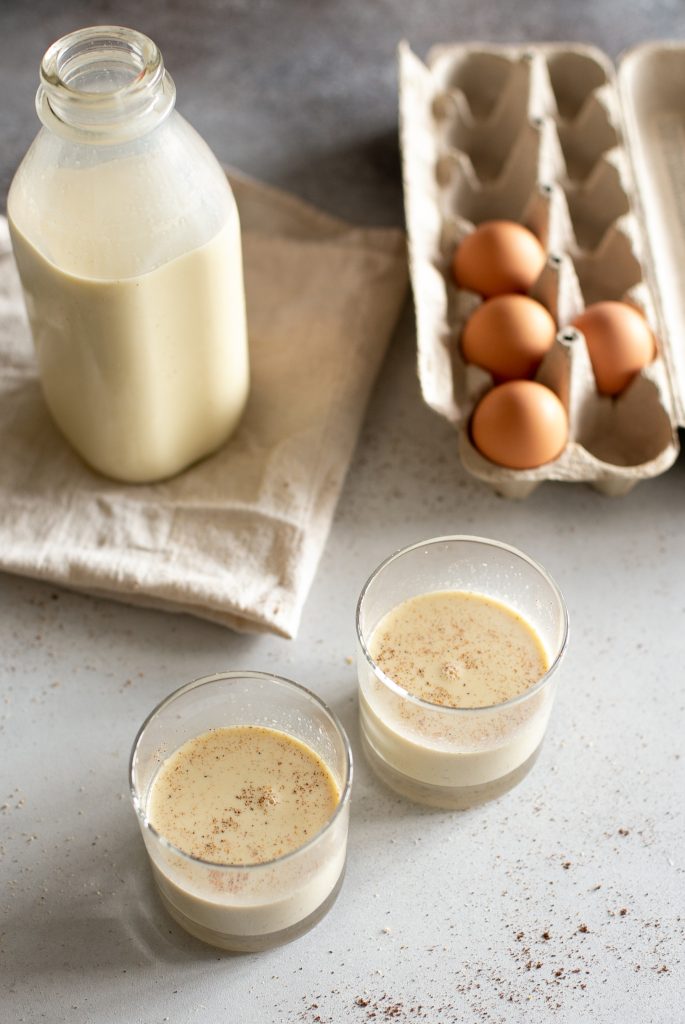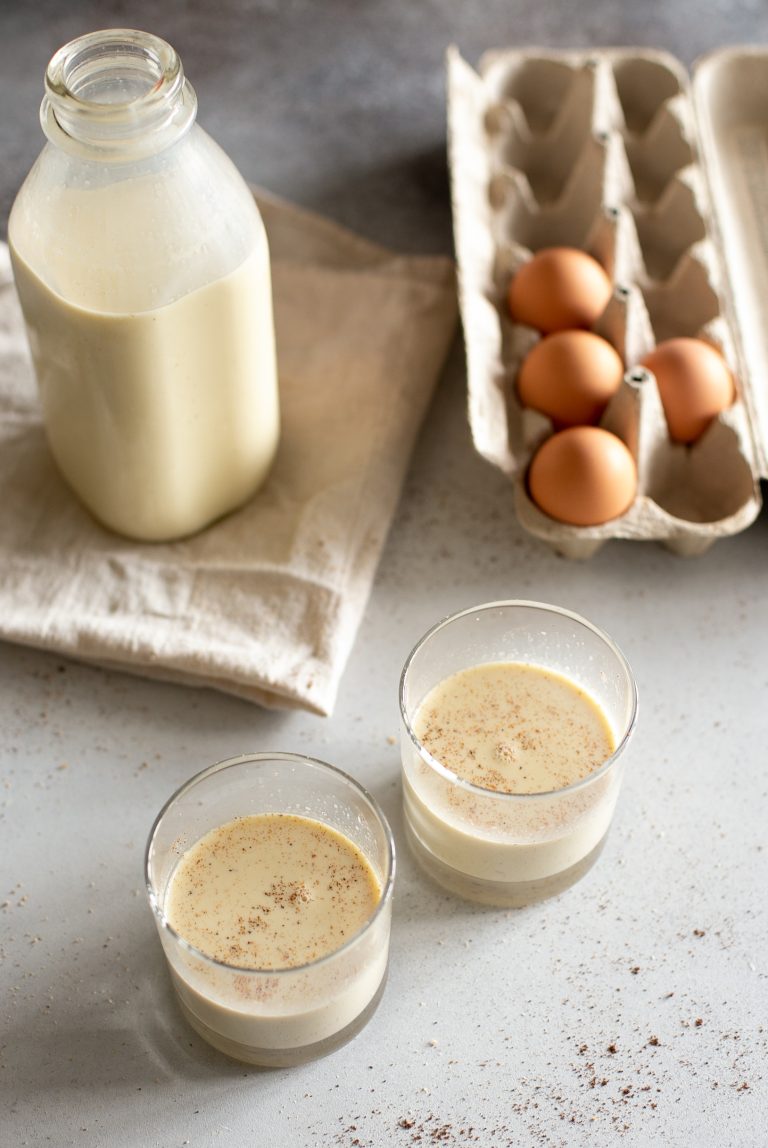 What is better, fresh eggnog or eggnog after the aging process?
Personally, I love this eggnog best after about 2-3 weeks. I feel like the flavors have developed a bit but it still has that fresh, creamy consistency. We tried our year-old eggnog from the back of the refrigerator and while it has depth and a more complex flavor our fresh batch of eggnog didn't, I still prefer the it after about a two – week period of aging.
What is the best type of alcohol to use in this recipe?
We like the aged dark rum from Costco and we also get their Kirkland brand bourbon. You could use any brand of either though, and I also think this recipe would be delicious with only rum or bourbon if that's why you have on hand.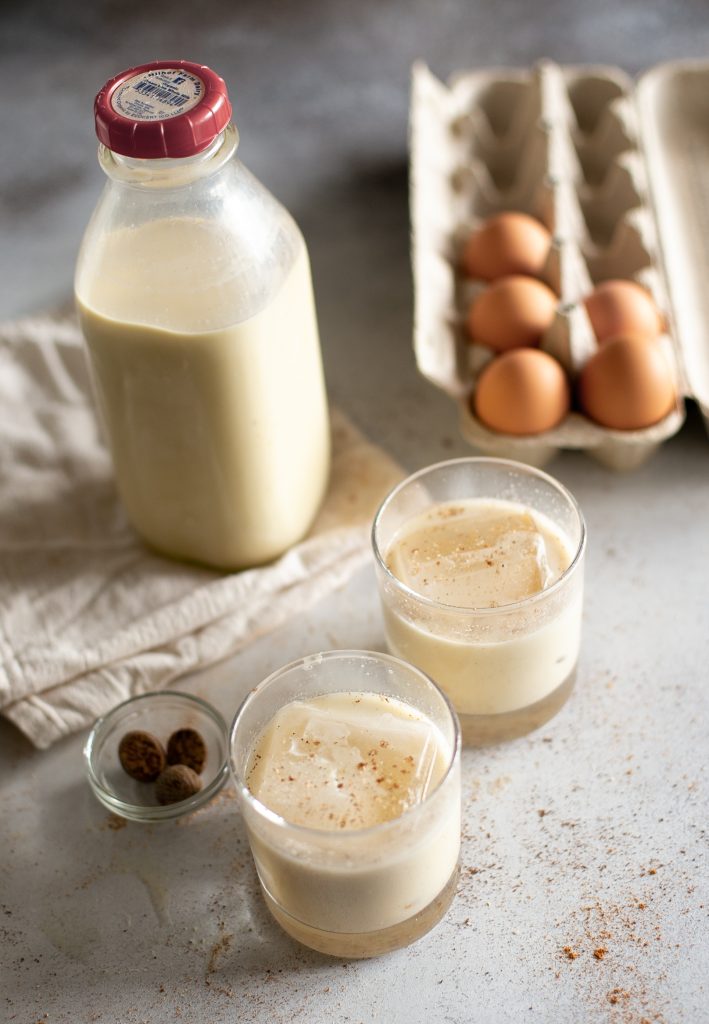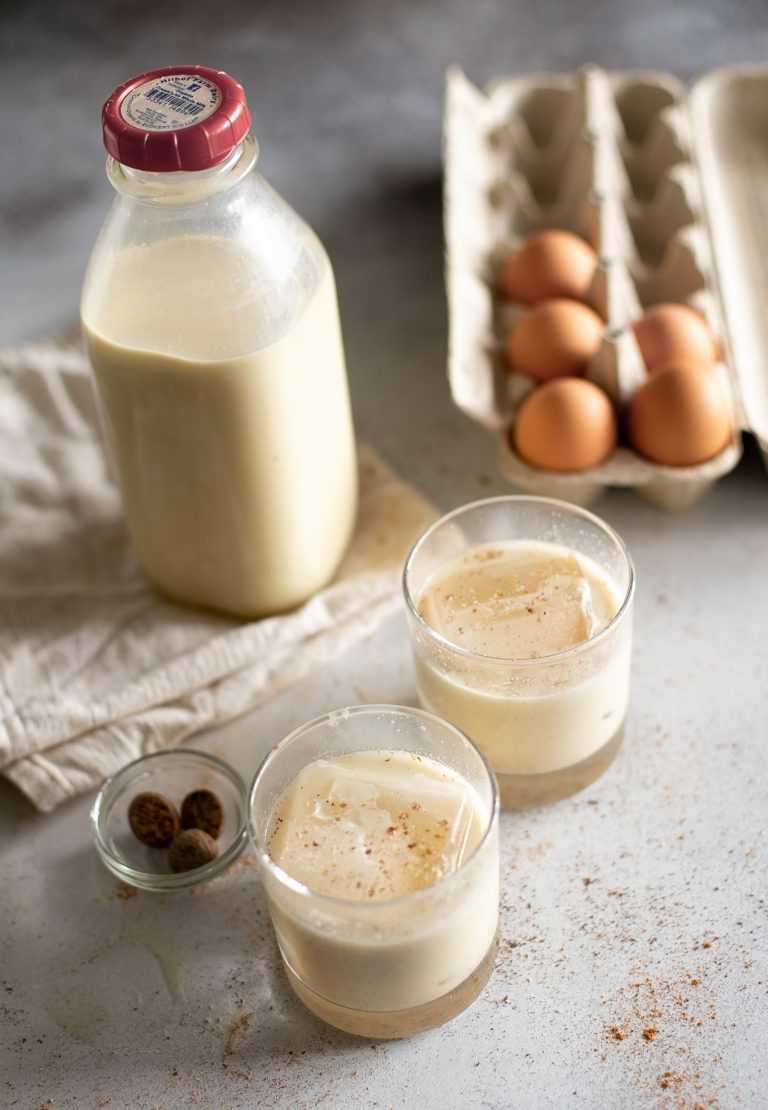 Can I make this recipe dairy free?
I honestly have never tried, but I think a coconut cream and coconut milk combo would be amazing with this recipe.
Want to make homemade Non-alcoholic eggnog? Try this recipe here.
Note: This recipe is adapted from Alton Brown's Aged Eggnog but we make a few changes. He recommends mixing heavy cream and milk, but we just an equal amount of half and half. We also like to add cinnamon and vanilla!
Other favorite holiday recipes: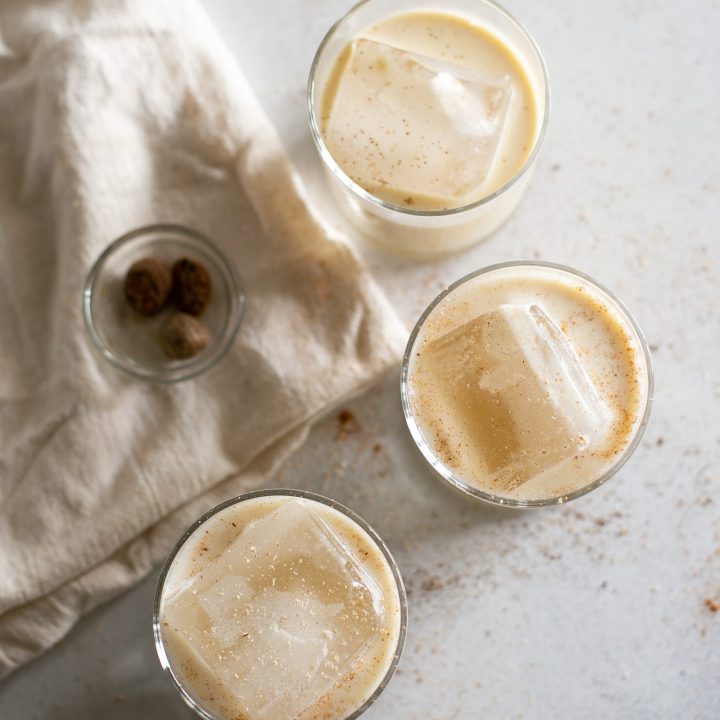 Aged Eggnog
Ingredients
12 large eggs
1 pound sugar (2 cups)
1 teaspoon freshly grated nutmeg
1/2 teaspoon ground cinnamon
1 teaspoon vanilla extract
2 pints of half and half
1.5 cups spiced rum (8 oz)
1.5 cups bourbon (8 oz)
1/4 teaspoon kosher salt
Instructions
Separate the eggs and reserve the egg white for another use.
Beat the yolks, sugar, salt, nutmeg, cinnamon and vanilla in a large bowl until the mixture is smooth and creamy.
Combine the half and half, rum, and bourbon in large liquid measuring cup and slowly mix it into the egg mixture.
Transfer to a large glass jar ( or a few small ones.) and store in the fridge for at least 2 weeks. Every additional week of storage makes it taste better, but yes you can drink it right away.
Top with whipped cream and extra nutmeg if desired, I also like it with a large ice cube (as pictured.)
Notes
Recipe adapted from Alton Brown