Homemade Greek Yogurt is easier than you think and oh so good! The Instant Pot makes the whole thing easy and can be and you're left with thick and creamy yogurt just waiting for your favorite mixins!

About a week ago a friend posted on Facebook with a picture of thick and creamy homemade greek yogurt she'd made in her Instant Pot. That night I got the supplies to make some and have been hooked ever since.
This is my 5th batch I've made in a week and we adore it. I've always loved yogurt, but this is the creamiest, dreamiest stuff I've ever had. Not only that, but it's ridiculously easy to make using my Instant Pot, an appliance I already use 2/3 times a week for dinner. Being someone that loves multi-functional kitchen tools, this recipe is a match made in heaven for my family's yogurt-loving habits.
What I love the most about this homemade greek yogurt is that I can make it using organic milk, sweetened with whatever I like. When my kids were small babies remember being so frustrated I couldn't find yogurt that was only sweetened naturally. Babies don't need sugar in their yogurt, mashed banana was enough- but now I have full control of what's mixed in (Which I admit I love a bit too much!)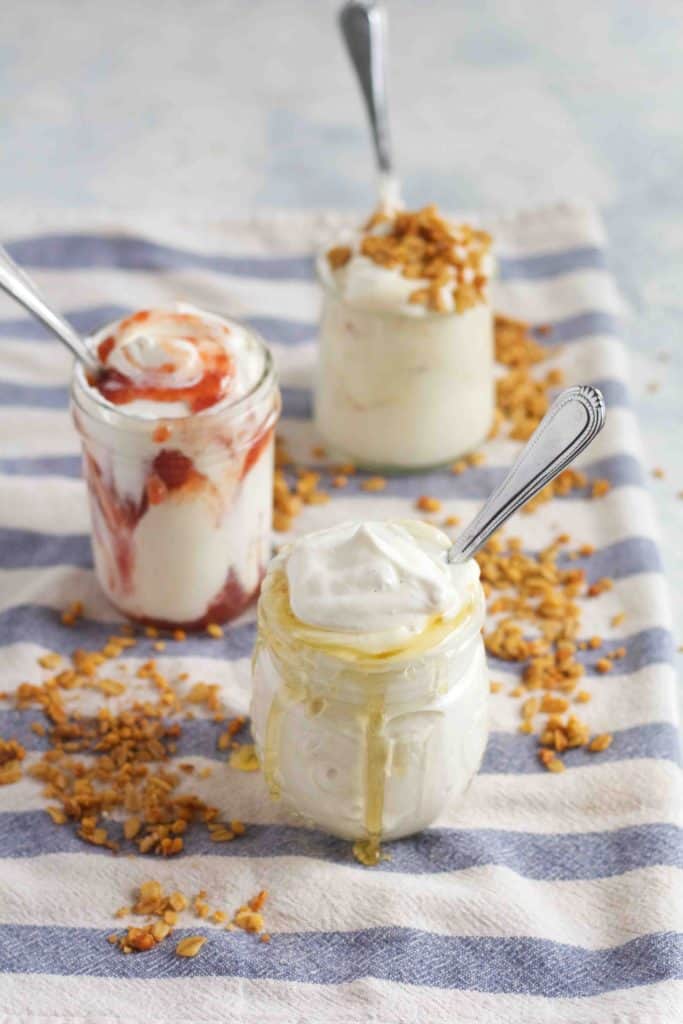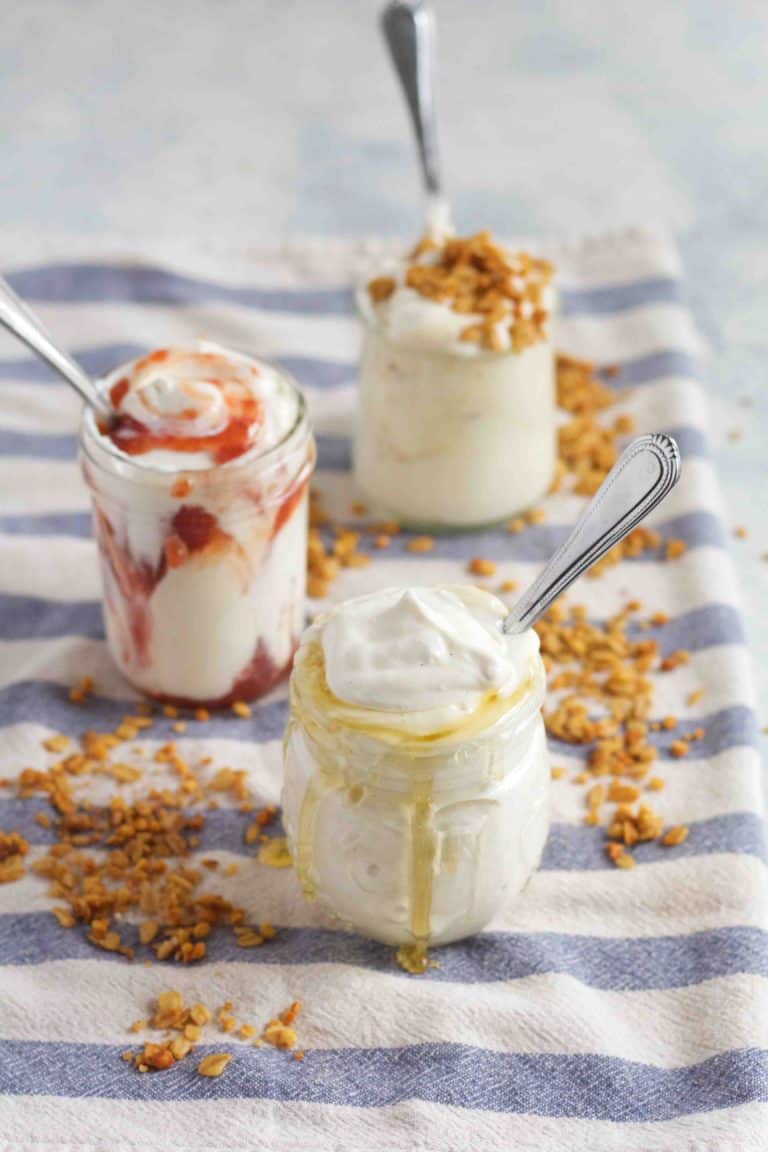 In terms of mix-ins, so far I've sweetened our yogurt with some fruit jam and vanilla bean paste. Sometimes we drizzle honey on top, or stir in some maple syrup, but really the possibilities are endless! I love lemon curd mixed with greek yogurt so I know I'll try that soon, and come summer I'm making all the seasonal fruit compotes!
So if you have an instant pot and like greek yogurt, trust me and make this homemade greek yogurt asap! I know you'll become as hooked as I am.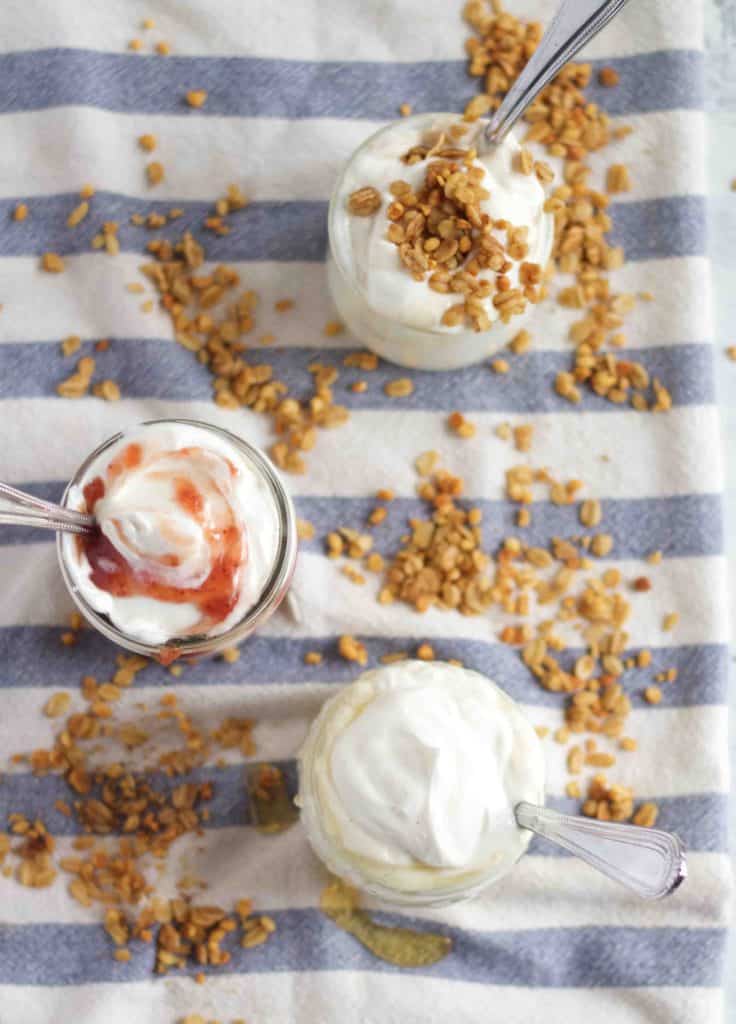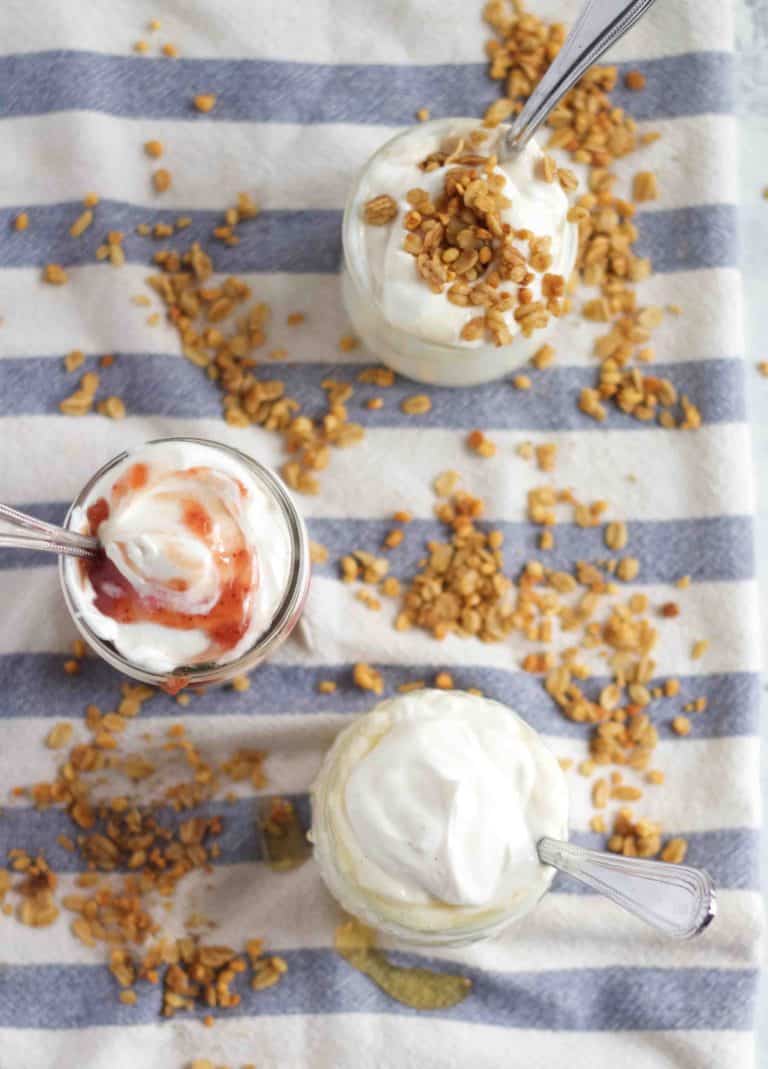 A few notes:
I don't shy away from fat in my cooking and baking, so I always prefer whole milk yogurt. What I really love is super rich and creamy European-style yogurt, and if you do too you can make this with a little heavy cream as well, (which is to die for.) If you prefer lower fat yogurt, you can use 2% milk or a mix.
I've made this using a store-bought yogurt starter as well as just some plain yogurt and I much prefer mixing in the plain yogurt! It can be greek yogurt or just regular plain yogurt, as long as it contains live and active cultures.
I always strain my yogurt for 1-4 hours to get that super thick and creamy greek yogurt consistency. I've been saving the liquid (whey) which is full of protein and nutrients, to add to our smoothies!
And finally: I have only made this with an instant pot, but with a thermometer you could probably attempt it without out. The key is keeping the yogurt at about 115F to incubate for 6+ hours. I read about some people using a food dehydrator for this, or wrapping it in a blanket and keeping it somewhere warm. With the instant pot it's just so easy and doesn't require much work at all, so I really suggest using that if you have one!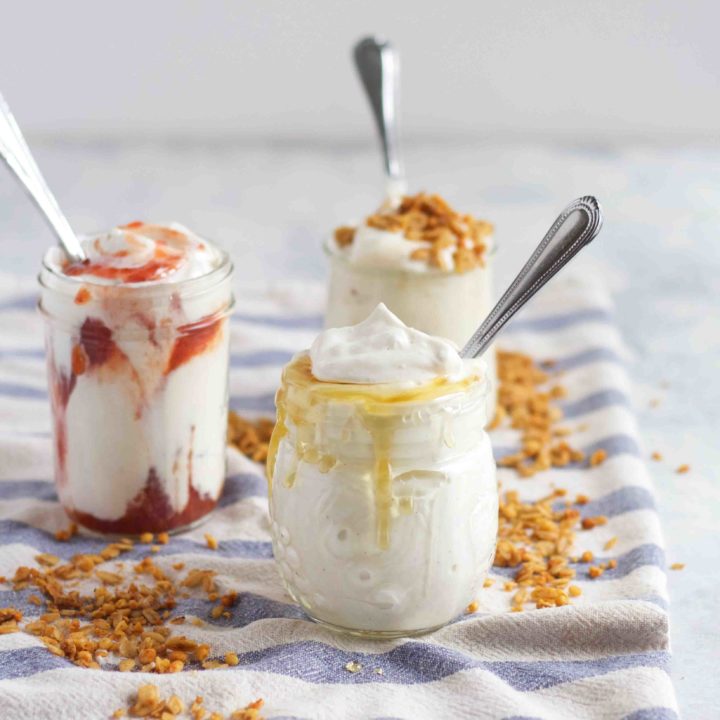 Homemade Greek Yogurt
Yield:
4-5 cups of yogurt
Ingredients
2 quarts whole milk*
1/2 cup heavy cream (optional)
2 tablespoons plain yogurt (that contains live and active cultures)
Instructions
Pour the milk and cream into your Instant Pot. Put the lid on* and press the "Yogurt" button. Press "adjust" until "boil" comes up on the screen. Let it be until machine beeps and "yogt" pops up on the screen (about 26 minutes.)
If you have candy or deep fry thermometer you can pop it in and make sure that the milk is heated to 180F. (I checked mine and it was, but it's a good idea to just make sure your machine is calibrated properly.) If it's not at 180F you can put on the sauté function until it reaches temperature.
Lift the inner pot and place it on a wire rack until it cools to between 110-115F. If you don't touch it, this took 35 minutes for me, but I usually whisk it up to speed up the cooling process.
When milk reaches 110-115F, stir the yogurt into a cup of the warm milk, and then add it back to the rest. Stir to combine.
Replace the inner pot, cover, and press the "Yogurt" button again. Make sure it's set to "normal," and then adjust the time as needed. Anything from 8-18 hours has worked for me. I like to leave it overnight.
After the incubation period is over, cover the inner pot and pop into the fridge until cold, 4 hours or more.
Strain the yougrt using cheesecloth, a coffee filter, or a paper towel inside of a mesh strainer for 1-4 hours or until yogurt is your desired consistency. Save the liquid whey if you want for smoothies/baking.
Sweeten/flavor as desired!
Notes
*The silicone ring in the lid of the liquid pot tends to retain the flavors/aromas of what you have cooked in there. If this is the case for yours, you can either order replacement rings to have a designated one for desserts/yogurt, or just use the lid of a different pot or even just a plate while making your yogurt.

Recipe adapted from "Dinner in an Instant" by Melissa Clark