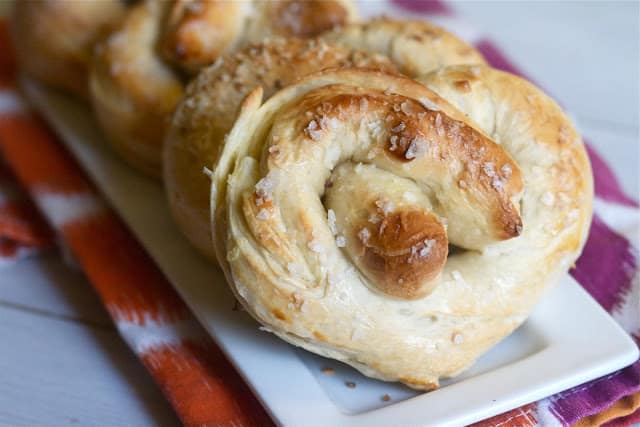 A few months ago, I never in a million years would have believed that I'd be comfortable making recipes that involve yeast. I rarely tried it, thought it was scary, and spent my time mastering any and every shortcut around it instead. I figured that when I get married and finallyhopefullymaybe get a stand mixer, I could use the dough hook and give it a try. Well, like always I get impatient waiting to try this the easy way, give them a try and end up surprising myself.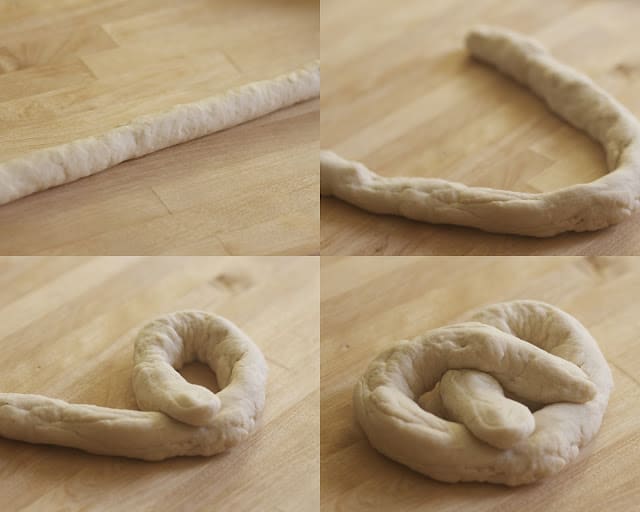 It really started when I made these Cinnamon Rolls. I was with my Mother-in-law (to be) and she makes yeasted bread all the time. She helped me knead the dough and make me feel like it was something I could actually conquer. Then those rolls ended up being amazing, and I made them 3 more times in two weeks, (giving me a chance to practice on my own.) Since then, I've been a little bit obsessed with seeing if it's something I can actually do! I made this pie, this bread and now these pretzels. All delicious, all pretty incredibly easy. (Who knew?)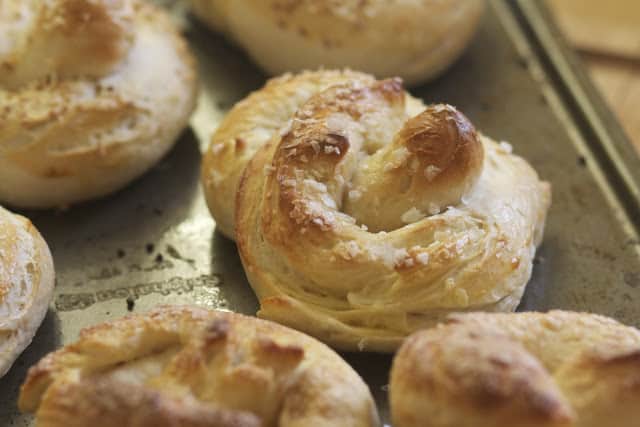 The impulse to make these delicious pretzels came when Maria posted about them a few weeks ago. I loved her variation and the Alton Brown recipe she had adapted looked so easy. The method was similar to the bagels I had made earlier, but with yeasted dough and of course the signature twist. The recipe called for pretzel salt which I didn't have, so I adapted the toppings a bit to my liking. I chose to sprinkle flaky sea salt on a few of them, a cinnamon sugar mixture on some, and garlic and parmesan on the rest. I loved each flavor a lot, but I'm such a salt-a-holic, the salty one was probably my fave.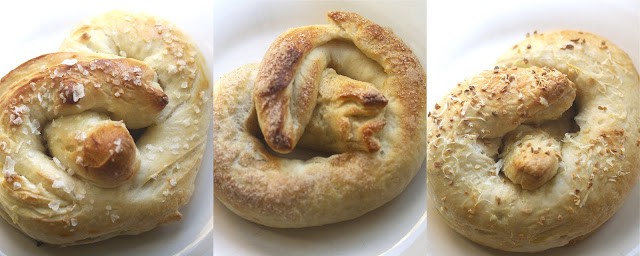 I am already getting excited for football season to start in the fall, (Go Packers!) and these would make an amazing game day treat. I love having friends over to watch the games and a batch of these with a variety of dipping sauces sounds pretty incredible! I also think I'll try another variation of this recipe and maybe make these into pretzel bites. *I'm anxious to make these again so I can master my pretzel twist- I know these could be cuter:)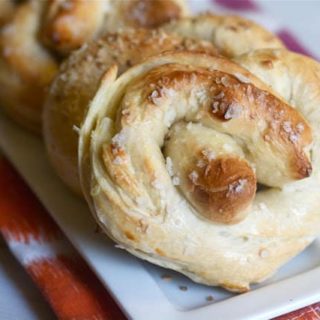 Homemade Soft Pretzels
Ingredients
1 1/2 cups warm, 110 to 115 degrees F water
1 tablespoon sugar
2 teaspoons kosher salt
1 package active dry yeast
22 ounces all-purpose flour, (about 4 1/2 cups)
1/4 cup unsalted butter, melted
Vegetable oil, for pan
2/3 cup baking soda
10 cups of water, for boiling
1 large egg yolk beaten with 1 tablespoon water
Sea Salt, Cinnamon Sugar, Parmesan Cheese or other toppings of choice
Instructions
Combine the water, sugar and kosher salt in a large bowl and sprinkle the yeast on top.
Allow to sit for 5 minutes or until the mixture begins to foam. Add the flour and butter, and either using the dough hook attachment of your stand mixer or just a wooden spoon, mix until all ingredients are well combined.
If using a stand mixer- change to medium speed and knead, or turn dough onto a lightly floured surface and knead until the dough is smooth- approximately 4 to 5 minutes. Remove the dough from the bowl, clean the bowl and then oil it well with vegetable oil. Return the dough to the bowl, cover with plastic wrap and sit in a warm place for approximately 50 to 55 minutes or until the dough has doubled in size. (I love warming my oven to about 200 degrees F and then turning it off- perfect warm place.)
Once the dough is ready, preheat the oven to 450 degrees F. Line 2 half-sheet pans with parchment paper and lightly brush with the vegetable oil. Set aside.
Bring about 10 cups of water and the baking soda to a rolling boil in an 8-quart saucepan or roasting pan.
In the meantime, turn the dough out onto a slightly oiled work surface and divide into 8 equal pieces. Roll out each piece of dough into a 24-inch rope (the only way I could stretch this dough out was to hold it between two hands and literally pull it. See what method works best for you!)
Make a U-shape with the dough, holding the ends of the rope, cross them over each other and press onto the bottom of the U in order to form the shape of a pretzel. Place onto the parchment-lined half sheet pan.
Place the pretzels into the boiling water, 1 by 1, for about 30 seconds. Remove them from the water using a large flat spatula. Return to the half sheet pan, brush the top of each pretzel with the beaten egg yolk and water mixture and sprinkle with the toppings of choice.
Bake until golden brown, about 12 to 14 minutes. Transfer to a cooling rack and let cool slightly before digging in. Enjoy!
Nutrition Information:
Serving Size:

1 grams
Amount Per Serving:
Unsaturated Fat:

0g
Recipe barely adapted from: Alton Brown