Homemade Hot Chocolate Mix with Homemade Marshmallows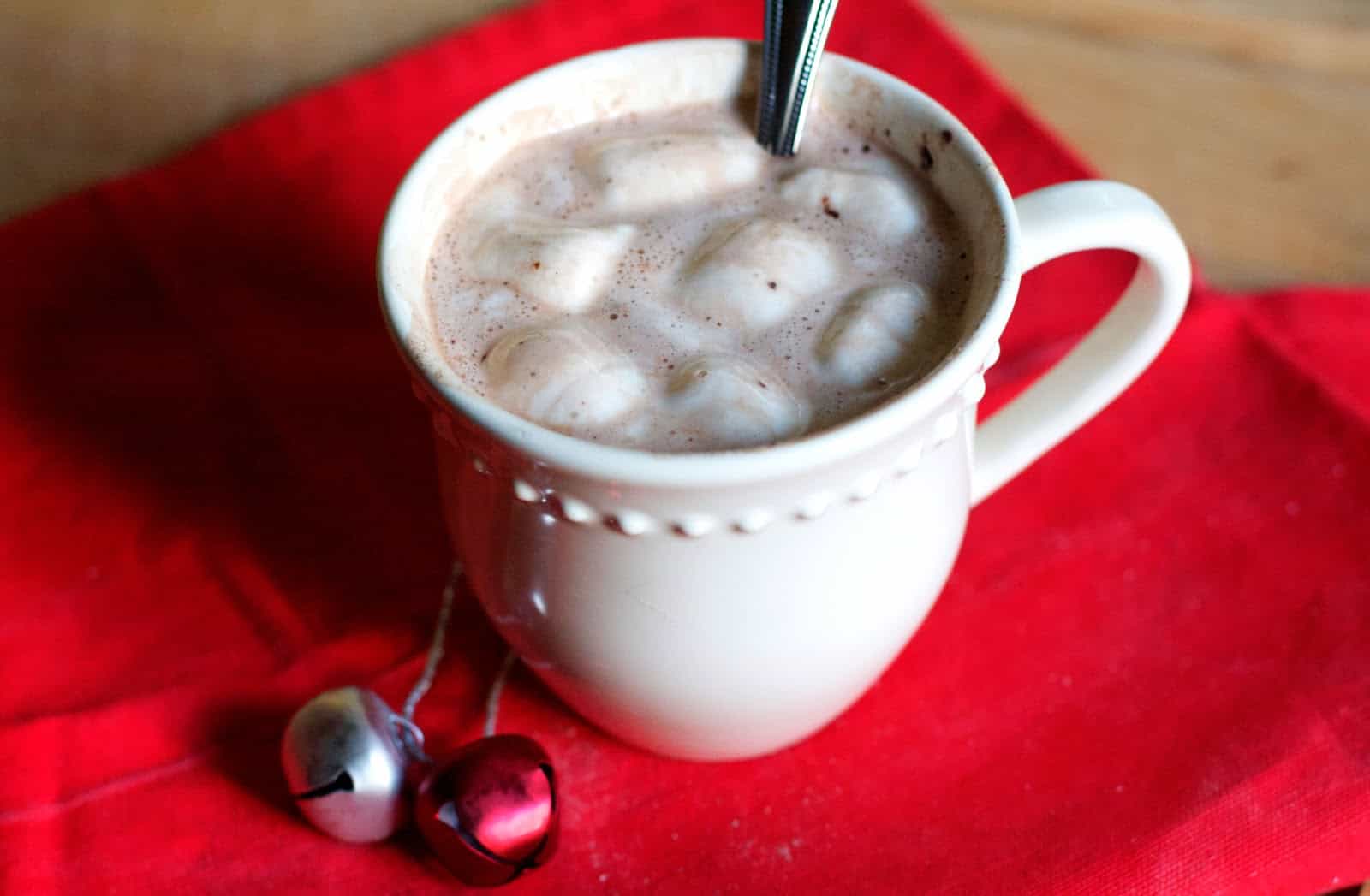 I really really love the Holidays you guys. I mean- I know that's a pretty common sentiment this time of year, but not much makes me happier than the feeling that everyone around is filled with a little extra good cheer. I can't get enough Christmas Music, (Oh Holy Night and Carol of the Bells are favorites,) Christmas Movies, (can't get enough of Love Actually, Home Alone and It's A Wonderful Life,) and of course giving presents. I actually get so excited when I find a gift for someone that is perfect for them, that I normally can't wait until Christmas to give it. I just can't handle the excitement!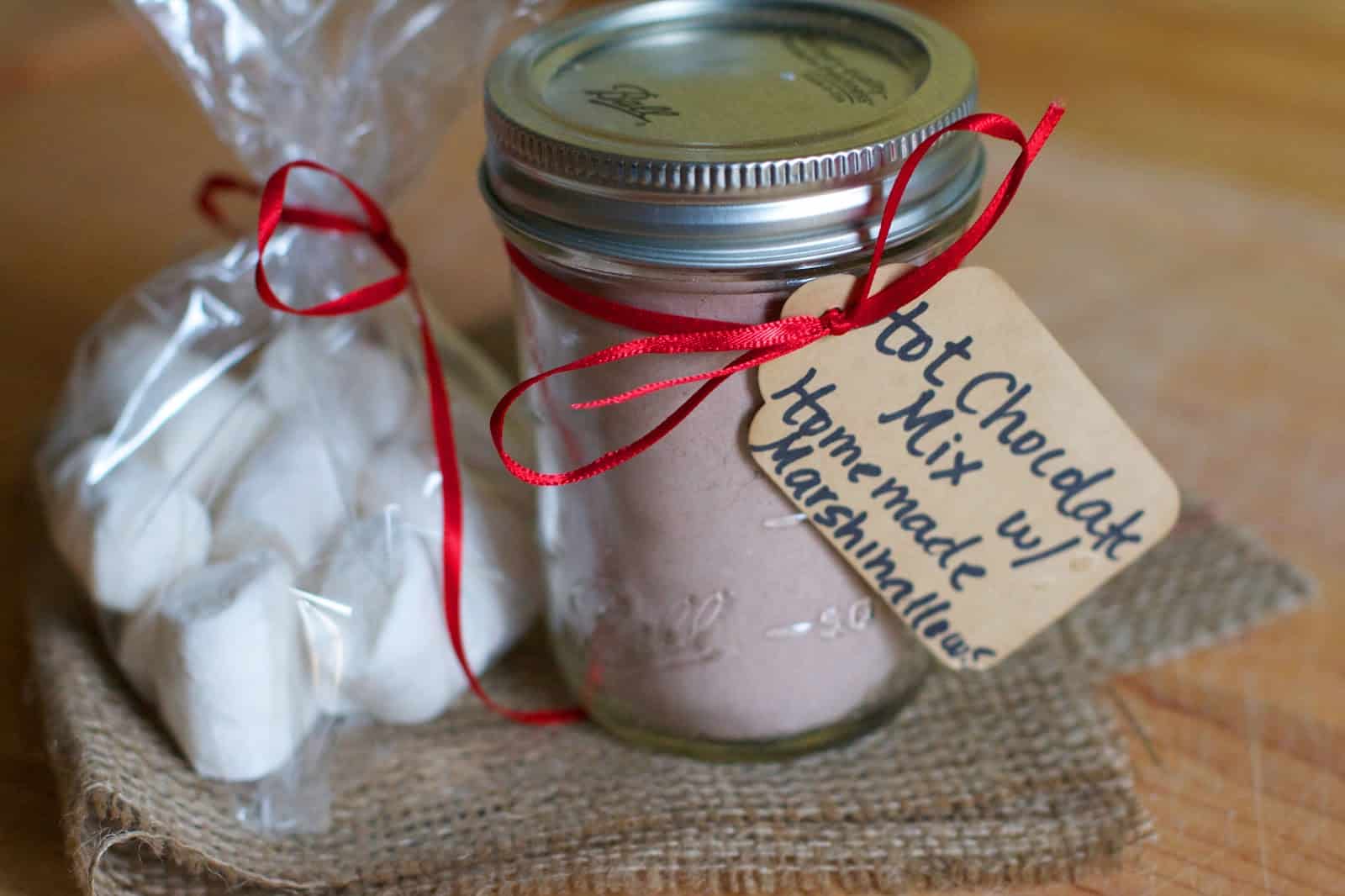 I feel like I struck gold with the discovery of the hot chocolate recipe. I always assumed homemade hot chocolate mix would just contain cocoa powder and sugar- dumb I know. But this has milk powder in it (which I luckily had on hand as it's a Milk Bar secret ingredient) and you actualy grind up chunks of dark chocolate into a powder! So the finished product has teeny granules of actual chocolate bits which turn into the creamiest, dreamiest hot chocolate when mixed with milk.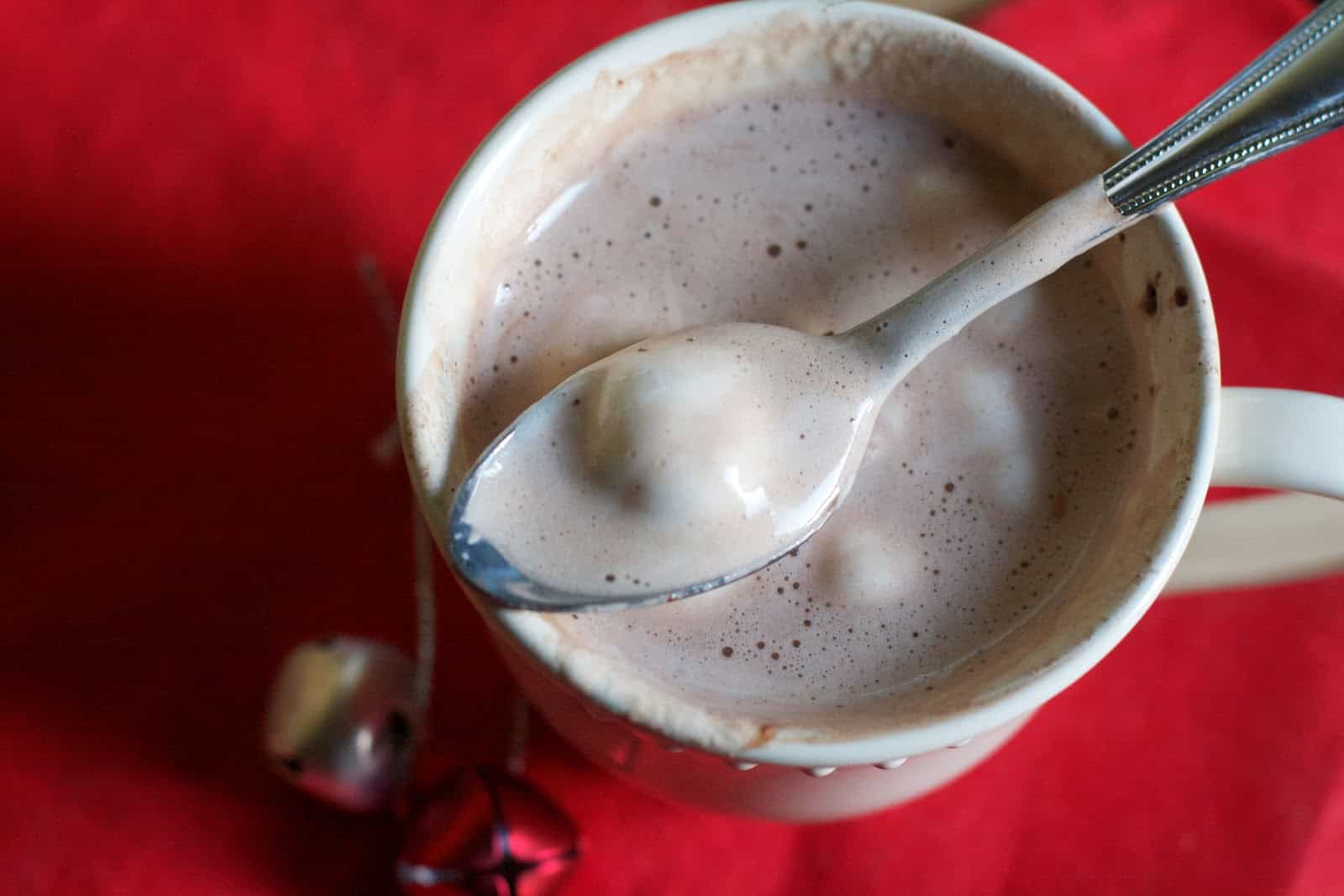 I couldn't resist making a batch of homemade marshmallows as well, because really what's cuter than giving someone hot chocolate and marshmallows from scratch? I have to say though- now that I have a stand mixer, making marshmallows is a cinch! I can't believe I ever attempted it without one!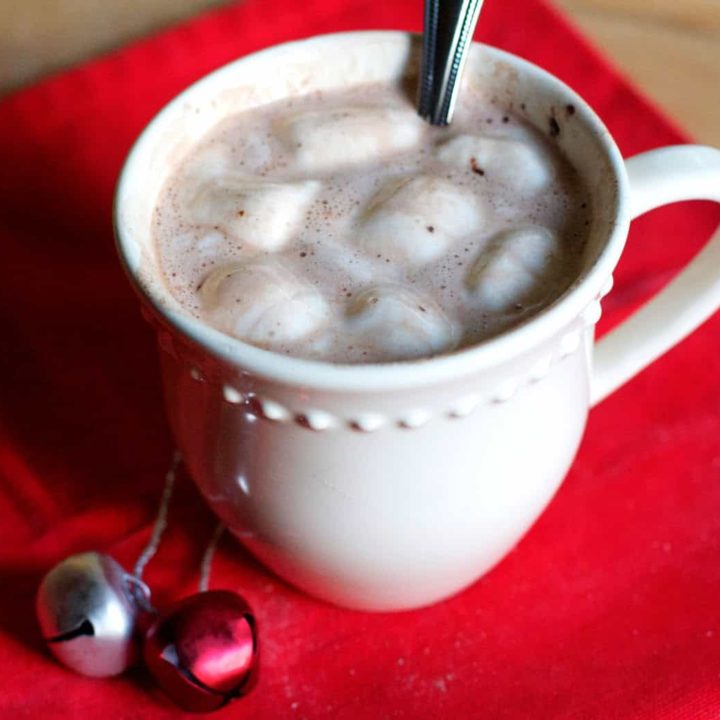 Hot Chocolate Mix with Homemade Marshmallows
Ingredients
3 cups nonfat dry milk powder
2 cups powdered sugar
1½ cups cocoa powder, Dutch-processed preferred, but regular okay
1½ cups chopped good quality dark chocolate
¼ teaspoon salt
vanilla marshmallows
for the coating:
3/4 cup powdered sugar
1/2 cup cornstarch or potato starch
for the marshmallows:
Cooking spray, for coating the baking pan
4 1/2 teaspoons unflavored powdered gelatin, about 2 [1/4-ounce] packets
3/4 cup cold water
3/4 cup granulated sugar
1/2 cup light corn syrup
1/8 teaspoon salt
2 teaspoons pure vanilla extract
Instructions
Whisk together all ingredients in a large bowl. Working in two batches, pulse the ingredients in a food processor until the chocolate is finely ground. Store in an airtight container for up to 3 months.
To make hot cocoa, put 1/3 cup of the cocoa mix in a mug and stir in 1 cup of hot milk. Top with marshmallows.
For the Marshmallows
For the coating: Sift the powdered sugar and cornstarch or potato starch together into a large bowl; set aside.
For the marshmallows: Lightly dust a baking sheet with coating, set aside.
Whisk together the gelatin and 1/2 cup of the cold water in a small microwave-safe bowl and let soften at room temperature for 5 minutes.
Stir together the sugar, 1/4 cup of the corn syrup, remaining 1/4 cup water, and salt in a medium saucepan over high heat.
Bring to a boil, stirring occasionally, until the temperature reaches 240°F on a candy/fat thermometer. Meanwhile, pour the remaining 1/4 cup of the corn syrup into the bowl of a stand mixer fitted with a whisk attachment.
Microwave the gelatin on high until completely melted, about 30 seconds. Pour it into the mixer bowl. Turn the mixer to low and keep it running.
When the syrup reaches 240°F, slowly pour it into the mixer bowl (the mixer should still be running). Increase the speed to medium and whip for 5 minutes. Increase the speed to medium high and whip 5 minutes more. Add the vanilla right before the 5 minutes are up.
Using a pastry bag with a large round tip, or a large zip-lock with the end snipped off, pipe long strips of the batter into paralell rows. Dust the top with more coating, and let set in the fridge for 6 hours of overnight.
Use a knife to loosen the marshmallow strips from the pan. Use a kitchen scissors to cut each strip into small pieces, and dip the sticky edges into the remaining coating- patting off the excess. Store in an airtight container at room temperature for up to 1 month.
Nutrition Information:
Serving Size: 1 grams
Amount Per Serving: Unsaturated Fat: 0g



Hot Chocolate Recipe adapted from: Brown Eyed Baker
Marshmallow Recipe from: Marshmallow Madness by Shauna Sever