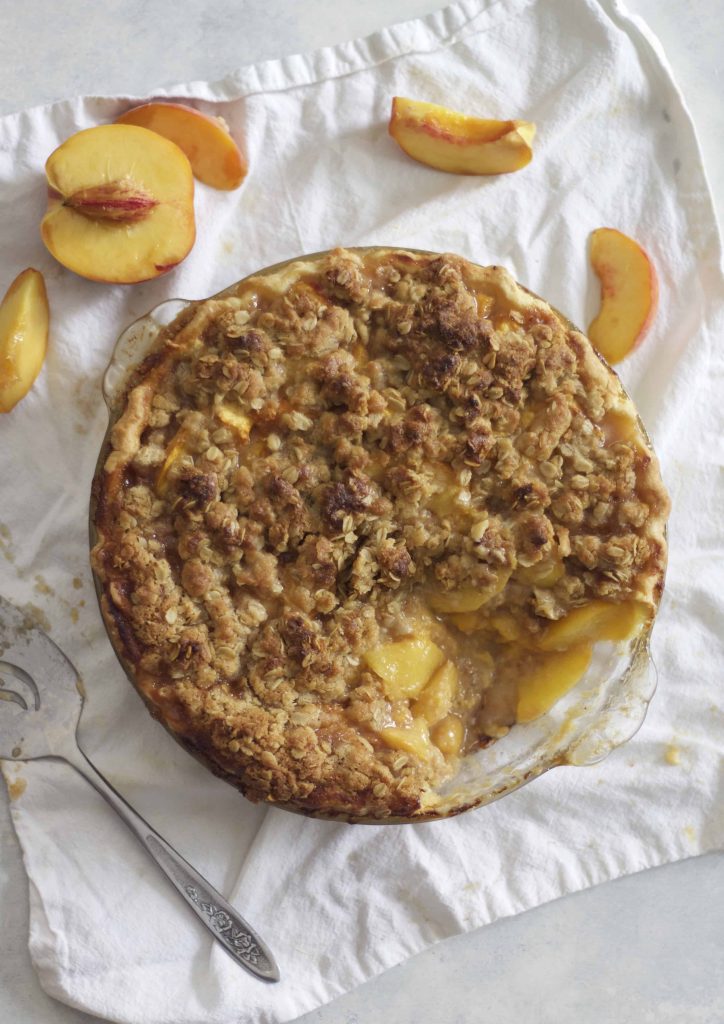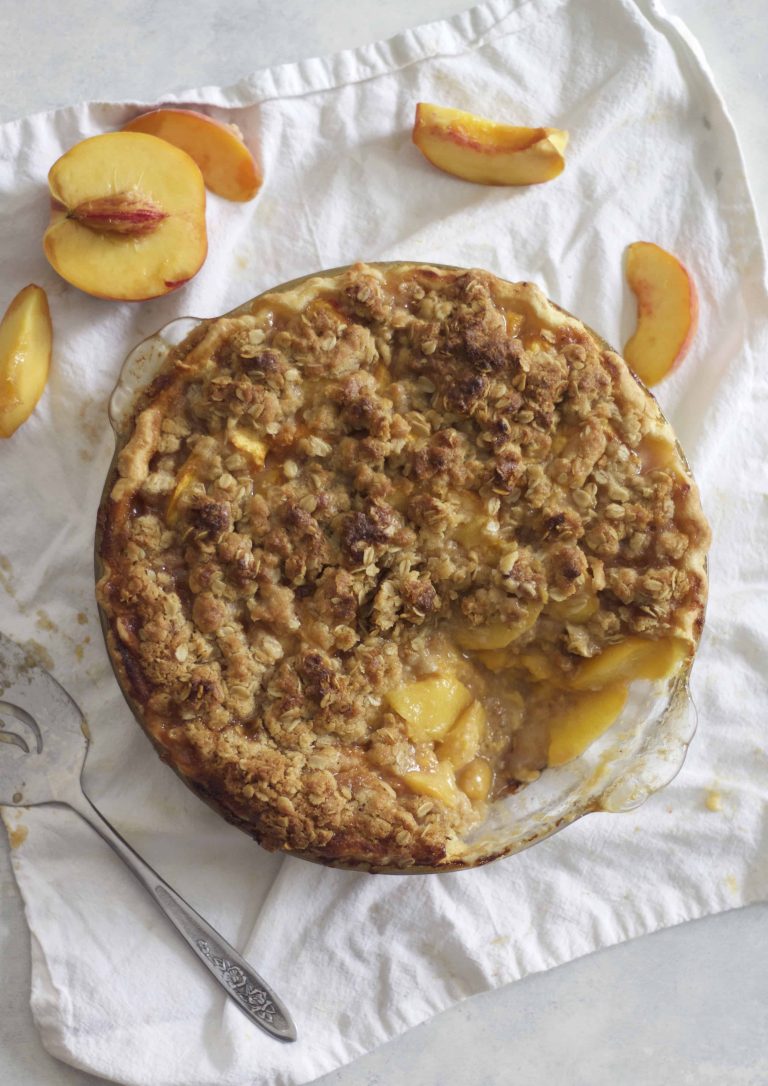 Hello there- it's been awhile hasn't it! My much needed July off turned into half of August off. Summer with my kiddos and what has turned into the wedding summer of all wedding summers has left me with my feet barely touching the floor. I have been in my kitchen constantly, stashing things to share, which I hopefully will in the next week or so. I've also developed a bit of a houseplant obsession. If you follow my personal instagram you have noticed but it's become my favorite new hobby! Keep your eyes out for a post about all my plant babies soon!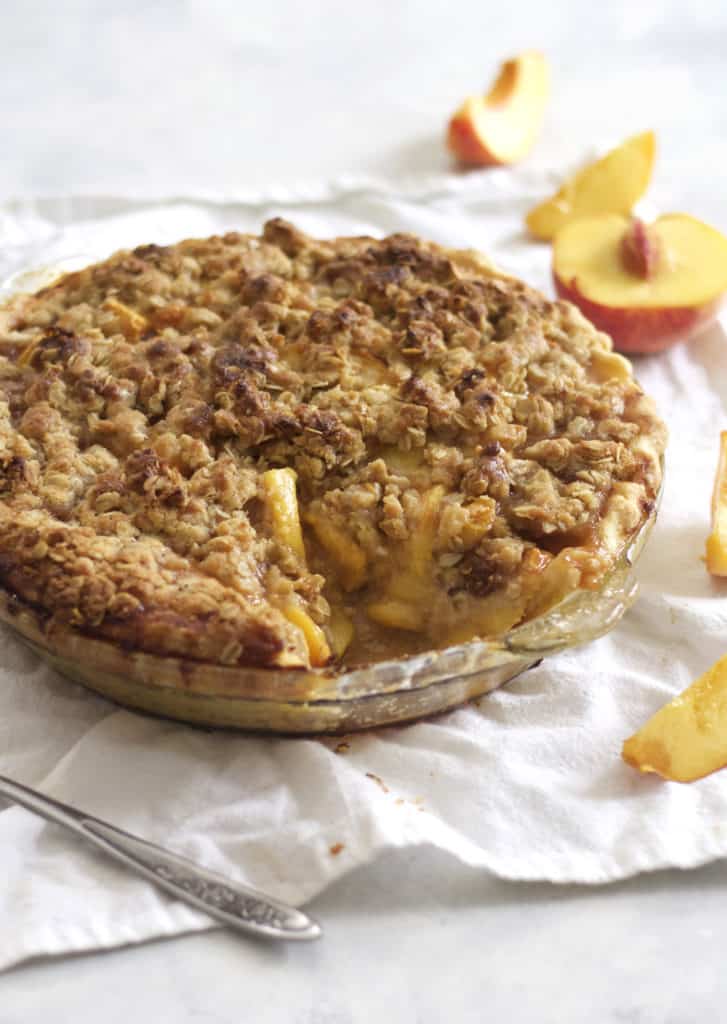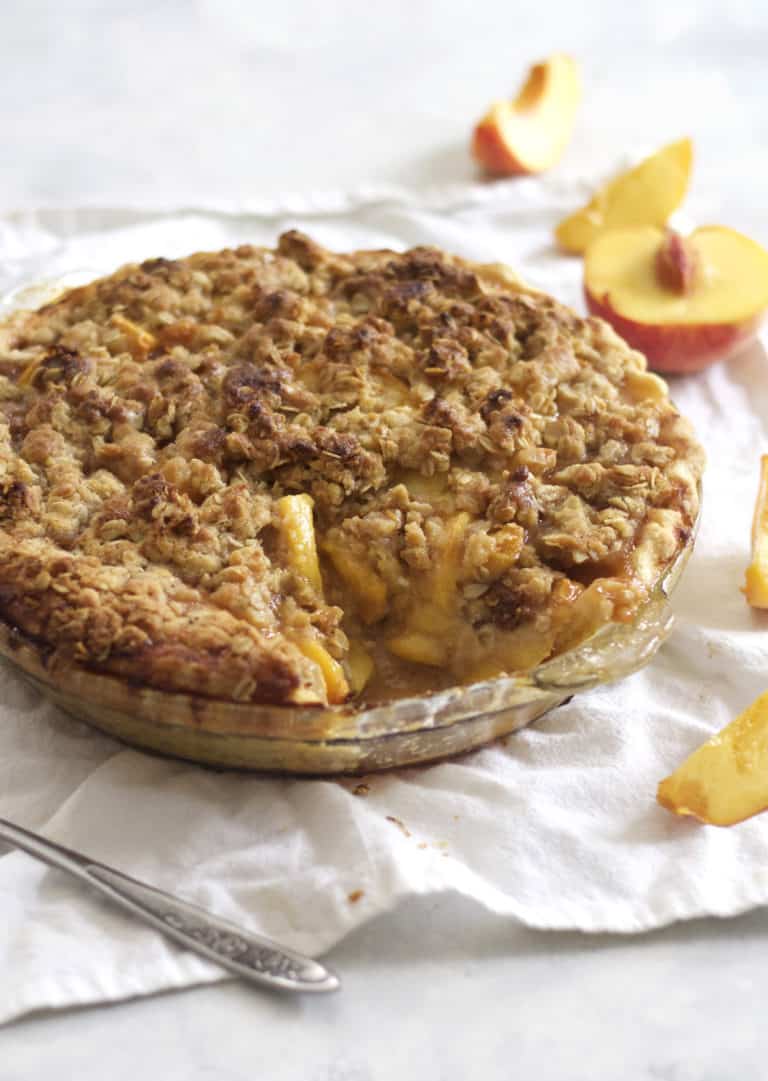 Peach season is here full force, well at least that's what I assume based on the bins of them at our local Farmer's Market. Baking with peaches is one of my all time favorites and I get giddy seeing the fuzzy beauties waiting to ripen up and make into something yummy. This pie is very simple but a classic I'm bookmarking for every summer. Buttery crust- juicy peaches tossed with brown sugar and vanilla, and a crisp crumble topping that adds the perfect texture to the filling. Topped with some melty ice cream and it's a match!
Per usual I use instant tapioca to thicken the filling. I am always so impatient when it comes to pie cooling and I cut into this a little too early, but once totally cooled the filling was solid and sliceable while not losing it's juicy perfection. Go use those peaches and you'll be so glad you did!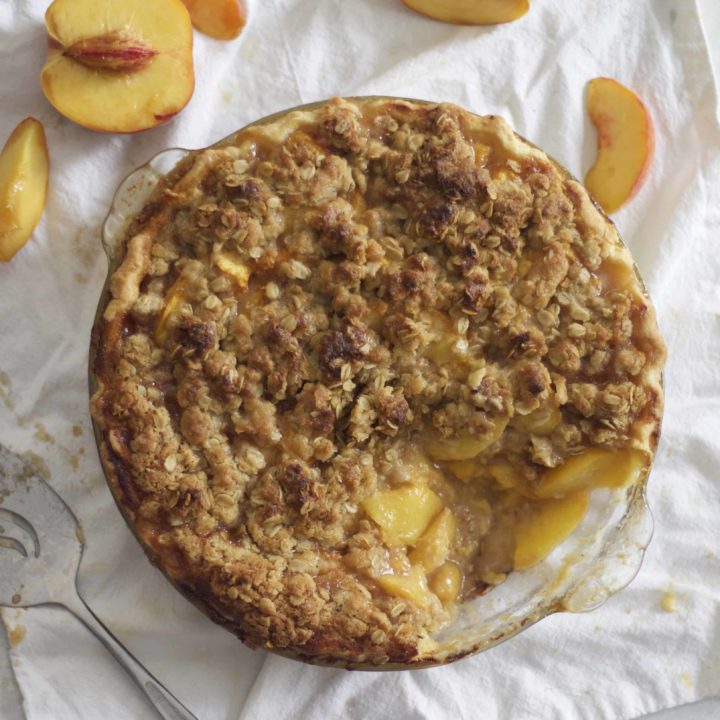 Juicy Peach Crumb Pie
Ingredients
For Filling:
10 large peaches, peeled and sliced
3/4 cup brown sugar
juice of 1 lemon
2 tablespoons instant tapioca
1/2 teaspoon vanilla extract
1/2 teaspoon cinnamon
1/4 teaspoon salt
For Topping:
1 stick plus 1 tablespoon of butter, melted (9 tablespoons)
¾ cup brown sugar
¾ cup old-fashioned whole-rolled oats (not quick cook or instant)
¾ cup all-purpose flour
pinch of cinnamon
pinch of salt
Instructions
In a large bowl toss the peaches together with the rest of the filling ingredients.
In a medium sized bowl combine the topping ingredients, using a fork to stir until well-mixed and crumbly.
Roll out the pie dough and gently drape over a 9 inch pie dish, trimming and crimping the edges if you'd like.
Pour the peaches/filling in and sprinkle the crumble on top.
Pop whole pie in the fridge to chill while you preheat your oven to 425F.
Reduce to 400F and place pie directly on a cookie sheet (for juicy drips,) and bake for 30 minutes. If the topping is starting to get too brown, drape a piece of foil on top and bake for another 20-30 minutes or until filling is bubbly and the crust is golden.
Cool thoroughly before eating.