Kabocha Squash Toast with Carmelized Onions & Ricotta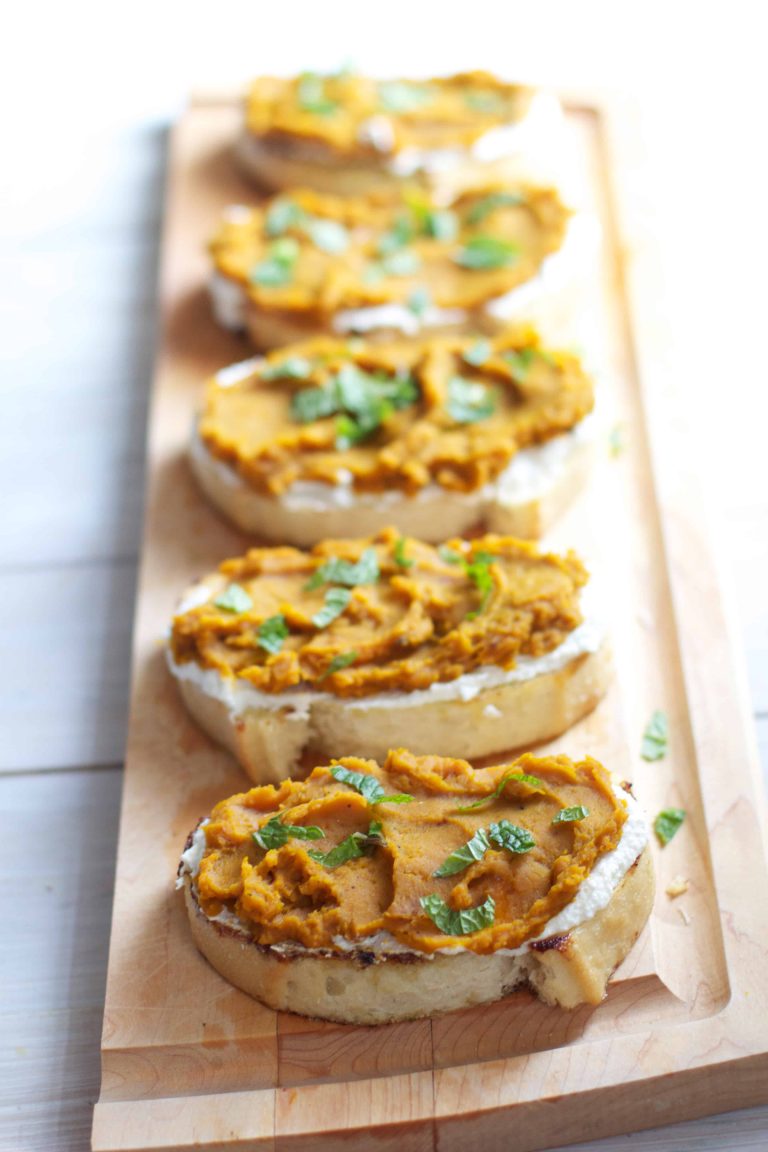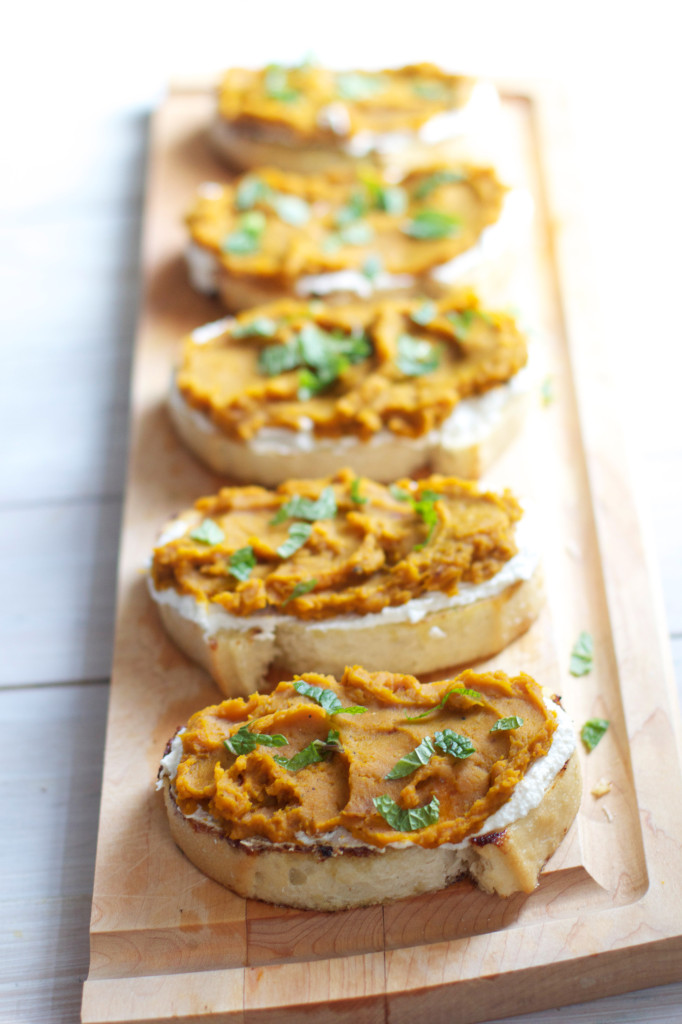 Every year I have visions of holiday parties I never actually get invited to. I don't think there are people out there having these parties and not inviting me, (at least I hope not,) but there seems to be a general shortage of bustling parties with seasonal snacks and general cheer. If I had my dream house with a huge space for entertaining I would love nothing more than hosting said party myself, complete with these delicious toasts on a tray for all to enjoy.
What is it about toast? It's never something I've had much of a vision for beyond ya know- avocados or eggs, but this combo is SO SO good. Imagine this: Crispy bread that's sauteéd in a little oil, (any crusty loaf will do,) creamy ricotta, and a crazy-delicious squash mixture that combines buttery kabocha squash with caramelized onions & maple syrup. The whole thing is sprinkled with fresh mint which adds the nicest touch.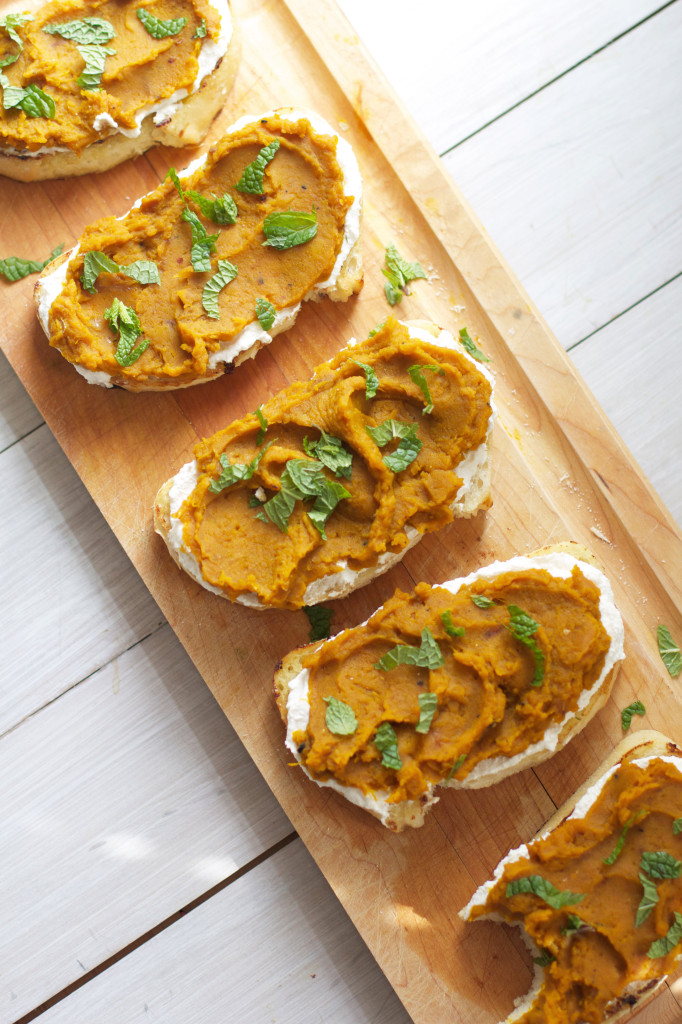 I can't take credit for this recipe- oh no- it's from the fabulous Jean Gorges, served at his popular NYC restaurant ABC Kitchen. But- I've made the recipe enough that it almost seems like mine- do you know how that is?
The original recipe suggests using a full slice of country bread, but I also love it on bite sized baguettes (also perfect for the autumnal party of my dreams!) Preparing the squash mixture takes a little prep, but it actually gets better as it sits in the fridge so you can make that and assemble the toasts right before serving! I highly suggest trying this amazing recipe and serving it at any holiday party of your choosing, (or even as a Thanksgiving appetizer!) Just make sure you invite ME! :)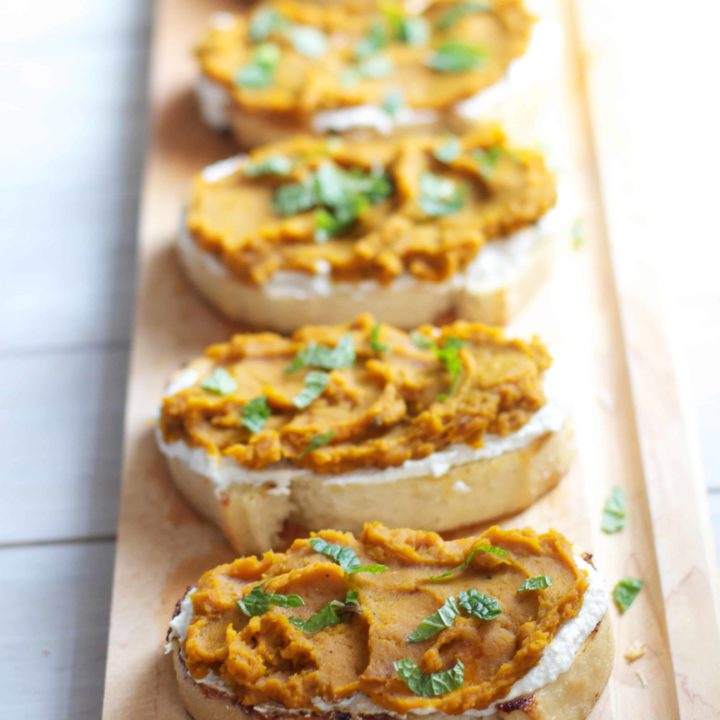 Kabocha Squash Toast with Carmelized Onions & Ricotta
* You can also use any yellow-fleshed squash like butternut
Ingredients
1 2 1/2- to 3- pound kabocha squash*
¾ cup extra-virgin olive oil
½ teaspoon dried chile flakes, more to taste
3 teaspoons kosher salt
1 yellow onion, peeled and thinly sliced
¼ cup apple cider vinegar
¼ cup maple syrup
4 slices country bread, 1-inch thick, or other crusty bread
½ cup ricotta, goat cheese, feta or mascarpone
Coarse salt
4 tablespoons chopped mint
Instructions
Preheat the oven to 375F. Line a cookie sheet with tin foil and set aside. Use a serrated knife to cut the stem off of the squash and pierce it all over with a sharp knife.
Place the squash on the cookie sheet and bake for 2 hours or until very soft, rotating half-way through.
Slice the squash in half and get rid of the seeds. Scoop out the flesh and place it in a large bowl. Stir in 1/4 cup olive oil , 2 tsp salt and the chile flakes, tossing to combine. Smash the squash with a fork.
While the squash is roasting, heat another 1/4 cup olive oil over medium-high heat, add the onions and remaining teaspoon salt and cook, stirring frequently, until the onions are softened and getting brown, at least 15 minutes. Add the vinegar and syrup, reduce the heat a bit, and stir until syrupy and broken down, again at least 15 minutes or so; the mixture should be jammy.
Mix the onions in with the squash and stir it all together, adding more salt or chili pepper if needed.
Add the remaining 1/4 cup of oil to the skillet on medium-heat. Toast the bread until crispy on both sides. Spread each piece of toast with ricotta, then some squash and a sprinkle of chopped mint.
Notes
Recipe from Chef Jean-Georges Vongerichten
Nutrition Information:
Yield:

4
Serving Size:

1 grams
Amount Per Serving:
Unsaturated Fat:

0g