Lactation Cookies: Salted Oatmeal Chocolate Chip with Butterscotch!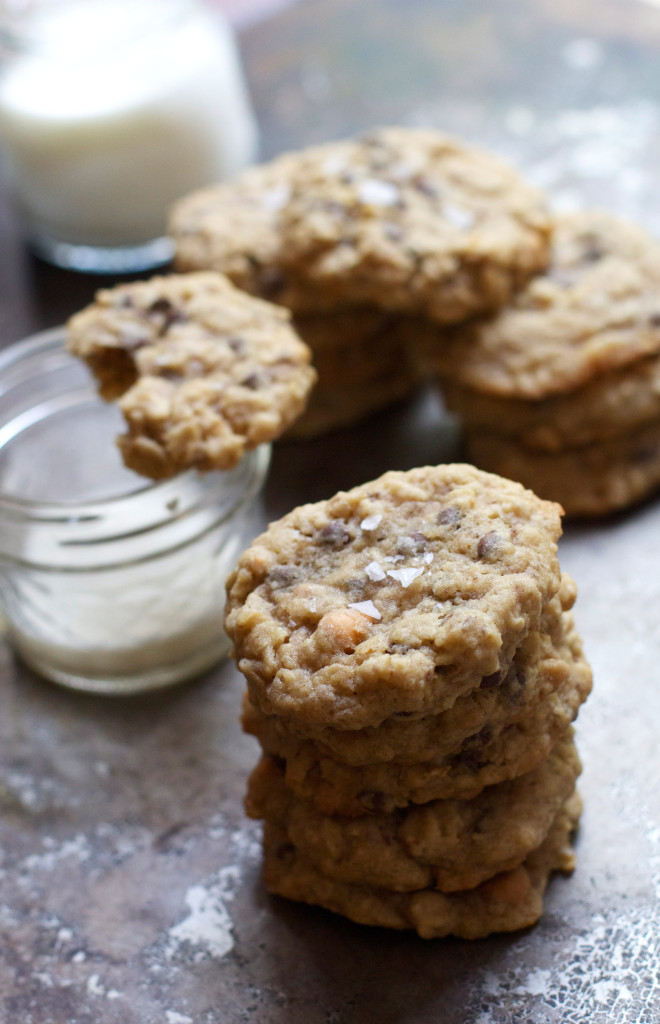 Ok- I admit this may be the weirdest cookie I've posted on The Baker Chick. I am aware that this recipe may only be appealing to a very specific demographic, but rather than emailing the recipe out with all my notes scribbled in, I figured this is my blog and I'll post breastfeeding cookies if I want to!! (Last week was breastfeeding awareness month so there ya go.)
A dear friend of mine has been working to up her milk supply and so I thought I'd bake her up a special batch of delicious, chewy, oatmeal, chocolate chip & butterscotch cookies that happen to have a few ingredients that help boost supply: Oatmeal, flax meal (easy to find,) and brewers yeast (harder to find but I bought a huge jar from Amazon.)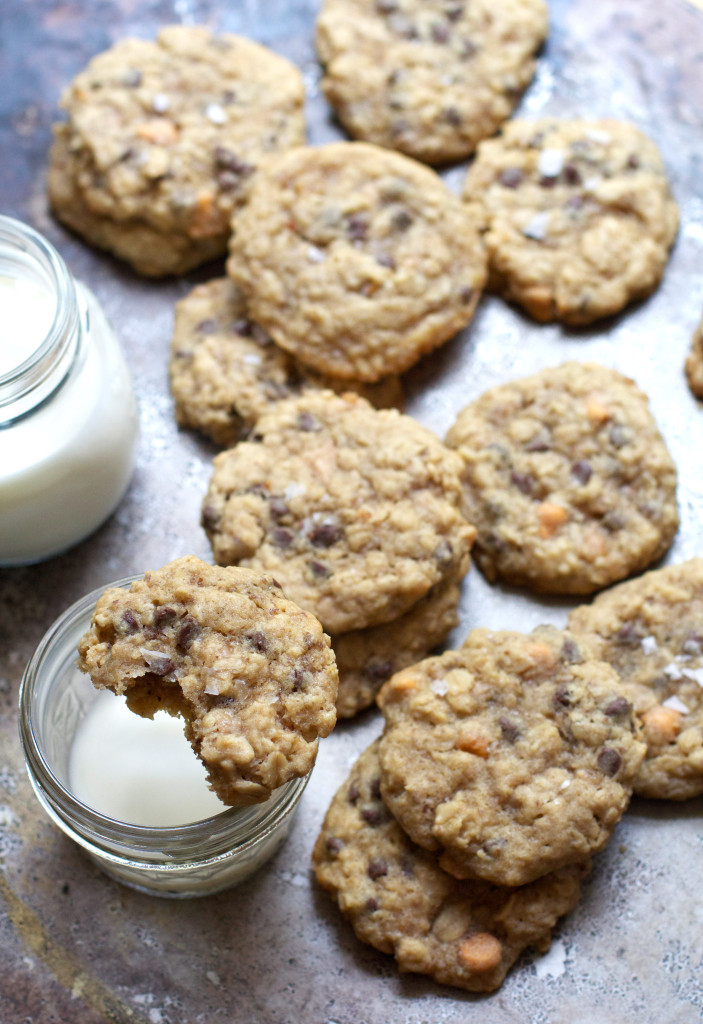 These cookies taste awesome and the extra ingredients don't seem to make much of a difference flavor-wise. Of all the ways to help a new Mama boost her supply- this has to be the most delicious. I of course added some flaky sea salt on top which made them even better!
A funny story is that I posted on my local Mom's group that I had a bunch of extra lactation cookies hanging around in case anyone needed some. Turns out lots of them did and 3 Mamas came over to pick them up- some even offering to pay me. (Black market lactation cookie business anyone?)
Now- I have to say that I don't necessarily need any help in the milk-making department, but I did have 3 of these cookies and they definitely made a difference! I think they totally work. I have a new special gift to send my new nursing Mama friends. (Though if the new Dads like these cookies as much as Andy did I may need to send extras!)
And if you made it this far- here is a bonus baby picture! :D
When should you eat lactation cookies?
You should start making/eating lactation cookies as soon as baby is born! I suggest baking them ahead of time and keeping the dough frozen until ready to bake. Or better yet- bake the cookies and store them frozen. I love these straight out of the freezer.
They are perfect to establish a milk supply or to give your supply a boost whenever you need it.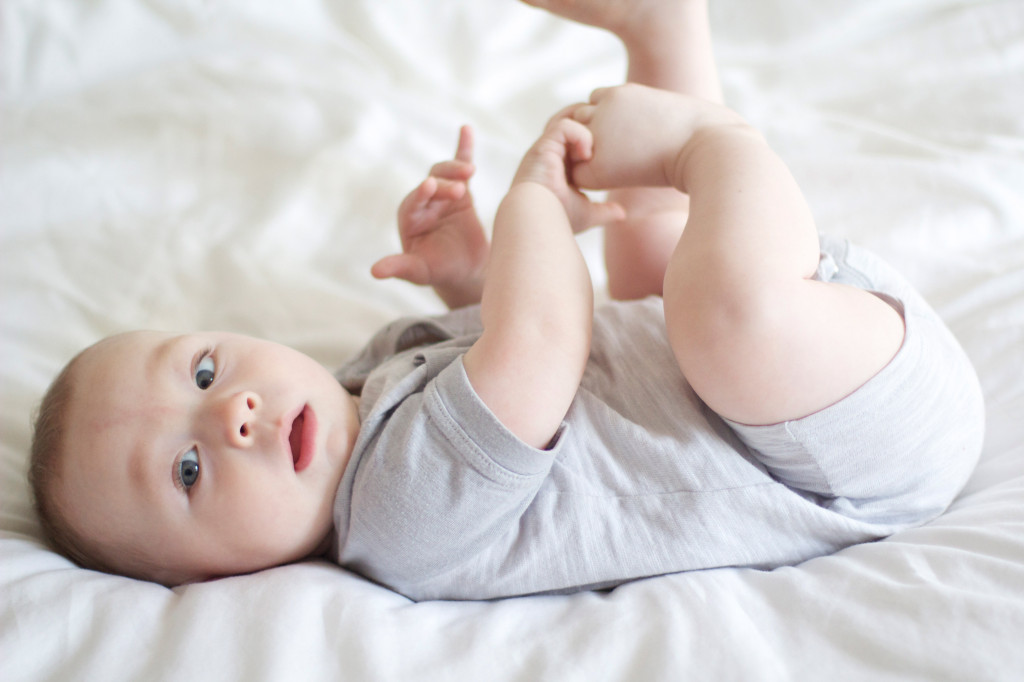 Lactation Cookies (Salted Oatmeal Chocolate Chip Cookies with Butterscotch)
Ingredients
1/4 cup water
2 tablespoons flax seed meal
1 cup butter, softened (2 sticks)
1 cup brown sugar, packed
1/2 cup white sugar
1 egg plus 1 yolk
2 teaspoons vanilla extract
2 cups all purpose flour
1/4 cup brewers yeast
1 teaspoon baking soda
1/2 teaspoon baking powder
1/2 teaspoon salt
2 1/2 cups old- fashioned oats
1 cup mini chocolate chips
1/2 cup butterscotch chips
Sea Salt for sprinkling, optional
Instructions
In a small bowl stir together the flax and water. Set aside.
In a large bowl, use an electric mixer to cream together the butter and sugars until smooth. Add the egg, yolk and vanilla and beat on high until creamy. Stir in the flax mixture.
Sprinkle the flour, brewers yeast, soda, powder, and salt over the butter mixture and mix on low speed until just incorporated. Fold in the oats, chocolate chips and butterscotch.
Scoop dough into rounded mounds and place a cookie sheet. Use your fingers to flatten the rounds slightly. Sprinkle with sea salt.
Bake at 350F for 10-12 minutes or until the edges are golden.
Notes
Don't skip the oats, brewers yeast or flax- those are the ingredients that help with lactation! Recipe adapted from: All Recipes
Nutrition Information:
Yield:

3
Serving Size:

1 grams
Amount Per Serving:
Unsaturated Fat:

0g