Layered Chocolate Chip Cookies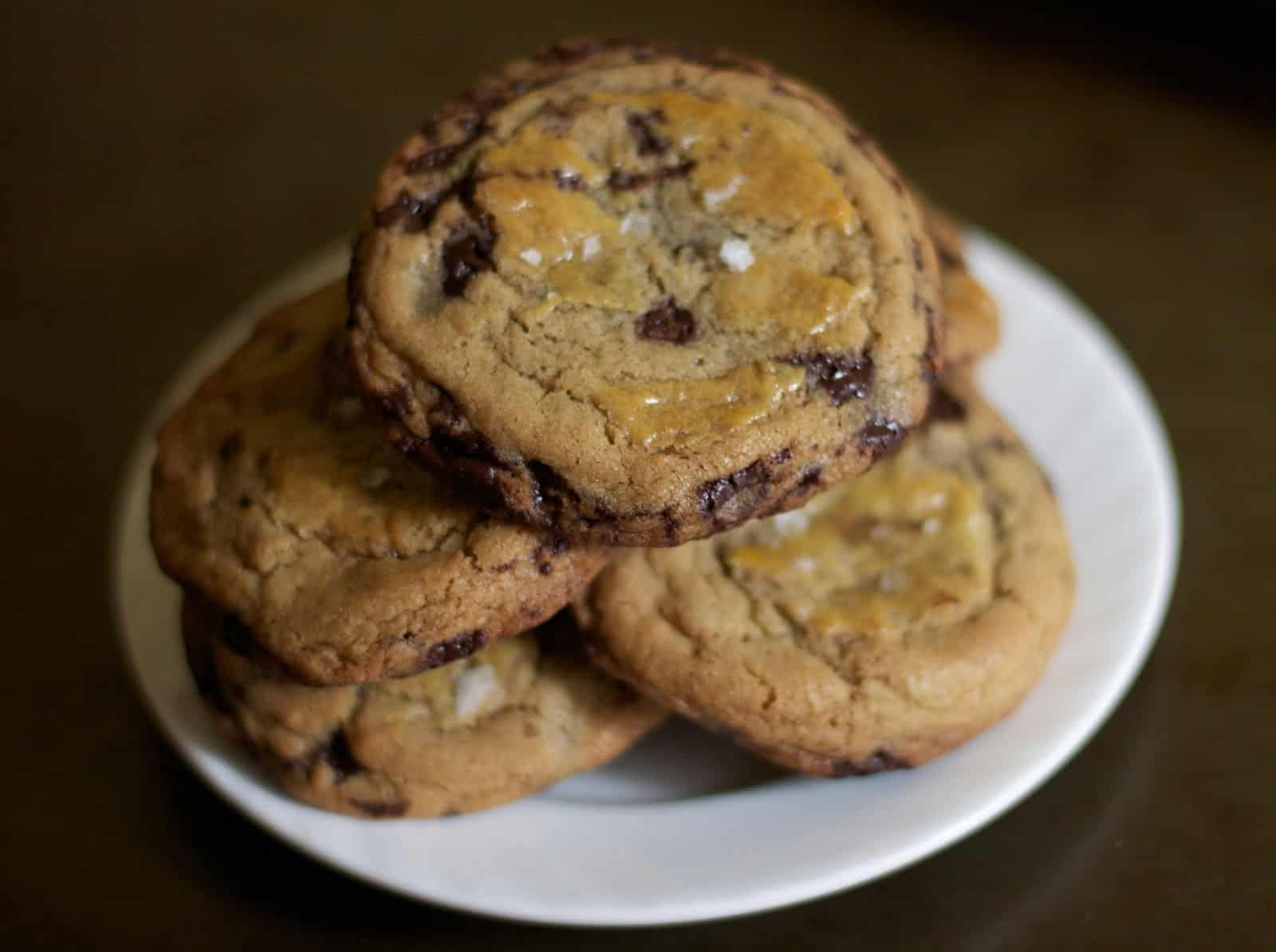 Even though I thought I discovered my perfect chocolate chip cookies ages ago, I'm always open to trying new things/complicating them. So, when I saw my friend Siri posted a chocolate chip cookie recipe that involved 3 layers of cookie dough with chopped up chocolate in between I was more than intrigued. What would happen with all these extra steps? And would it be worth the extra work? I of course had to find out…
Though the process takes a bit longer than normal chocolate chip cookies, it's still pretty easy. The dough is divided into three sections and chilled for a half hour. Then each layer is topped with the chopped chocolate and the whole mass is rolled out. Using a round cutter, cookies are formed that have perfect layers of chocolate and dough throughout. They are also so uniform and round that they look straight out of a bakery!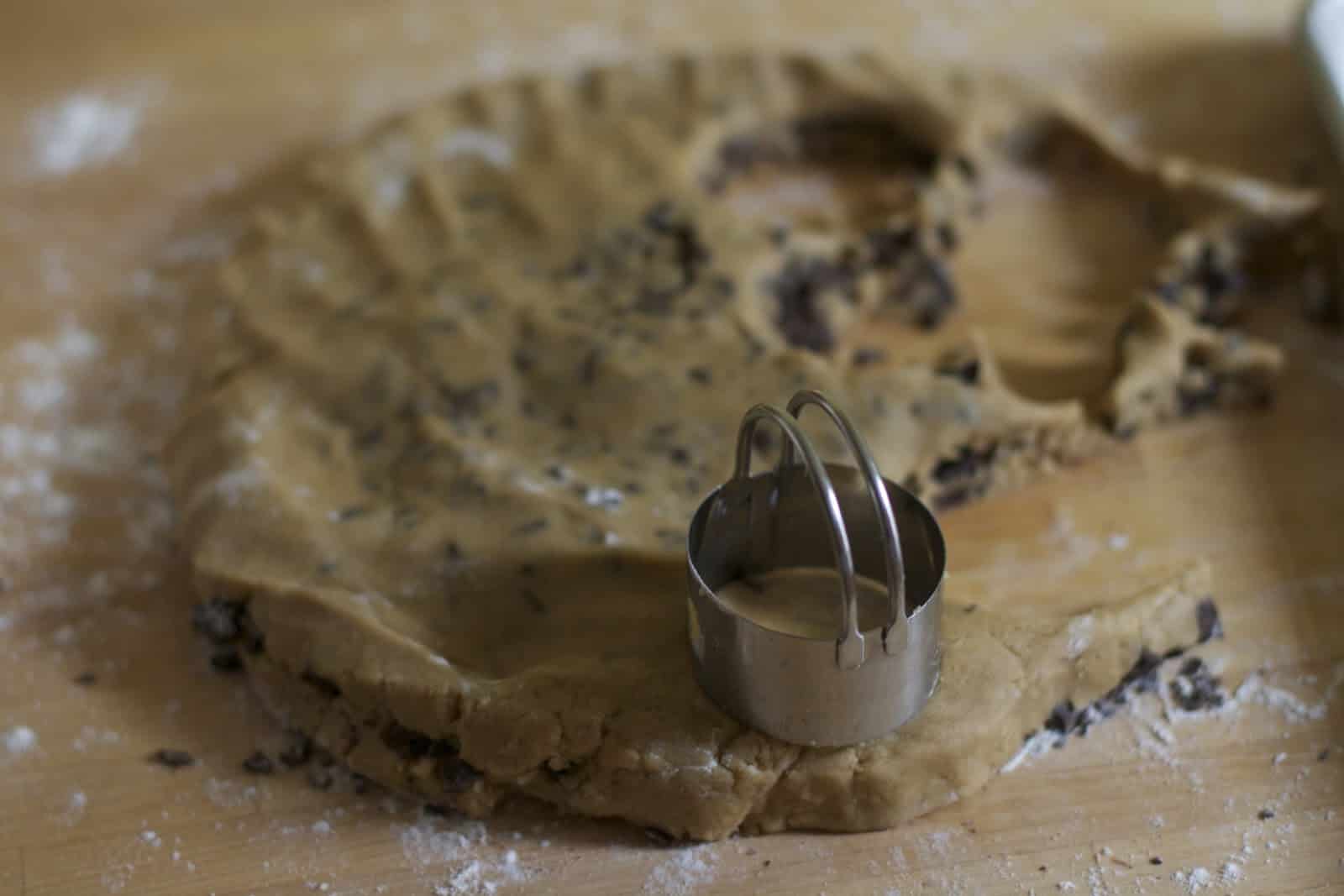 And if things aren't complicated enough- before baking you brush the tops with a beaten egg and sprinkle with sea salt. (I for some reason thought you were just supposed to brush the top with a yolk which is why mine look so yellow- oops!) The egg wash adds a nice golden shine and I don't have to tell you what the bits of sea salts adds. ;)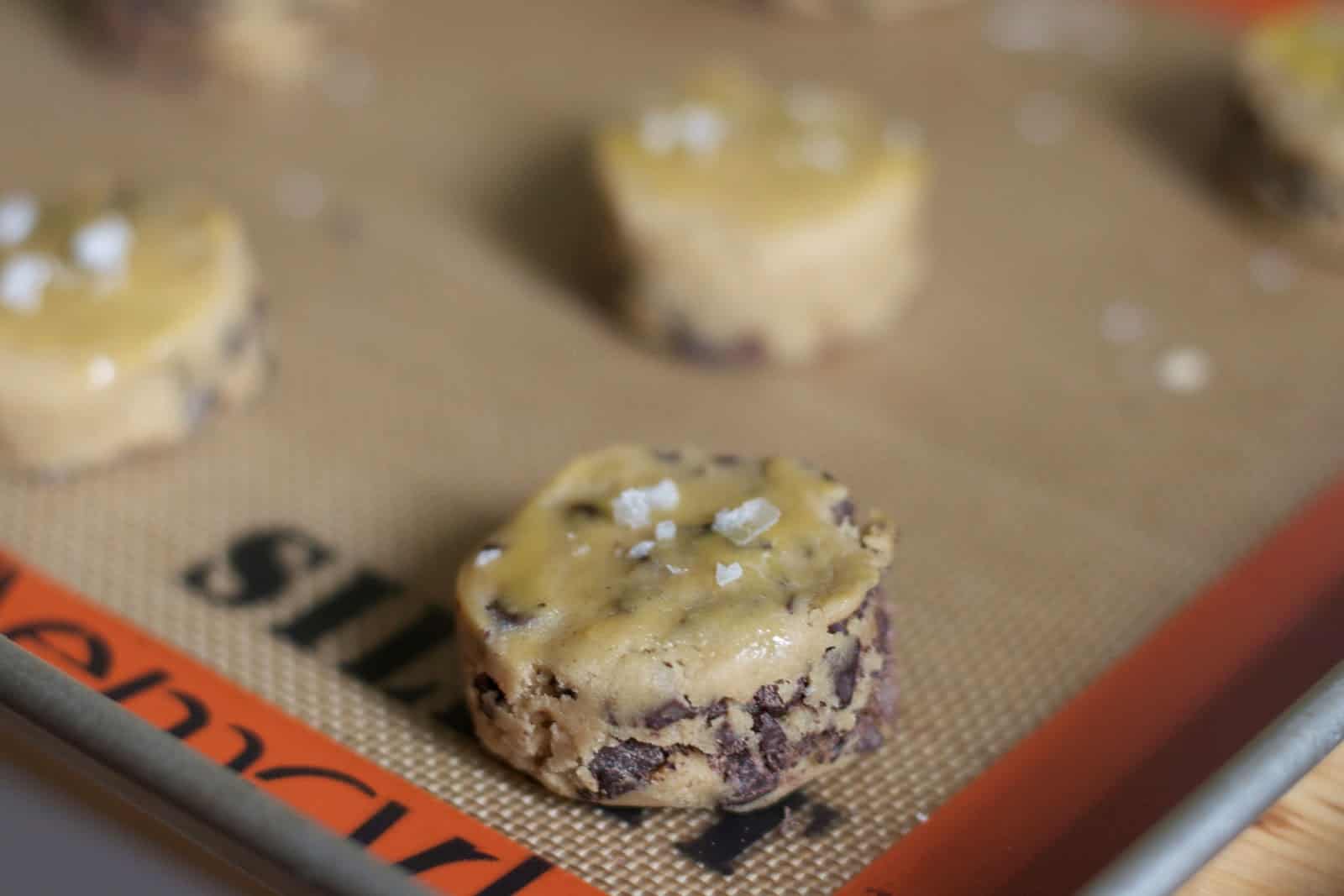 Overall- I think these were definitely worth the extra effort. The recipe on its own is wonderful, using all egg yolks and dark brown sugar which makes these perfectly crisp on the edges and so chewy in the center. They remind me very much in both taste and look of the famous chocolate chip cookies you get at City Bakery in NYC. (If you haven't been it's a must stop when you visit!) Though I will keep my other recipe around for a quick standby, these will absolutely be making an appearance in my kitchen again!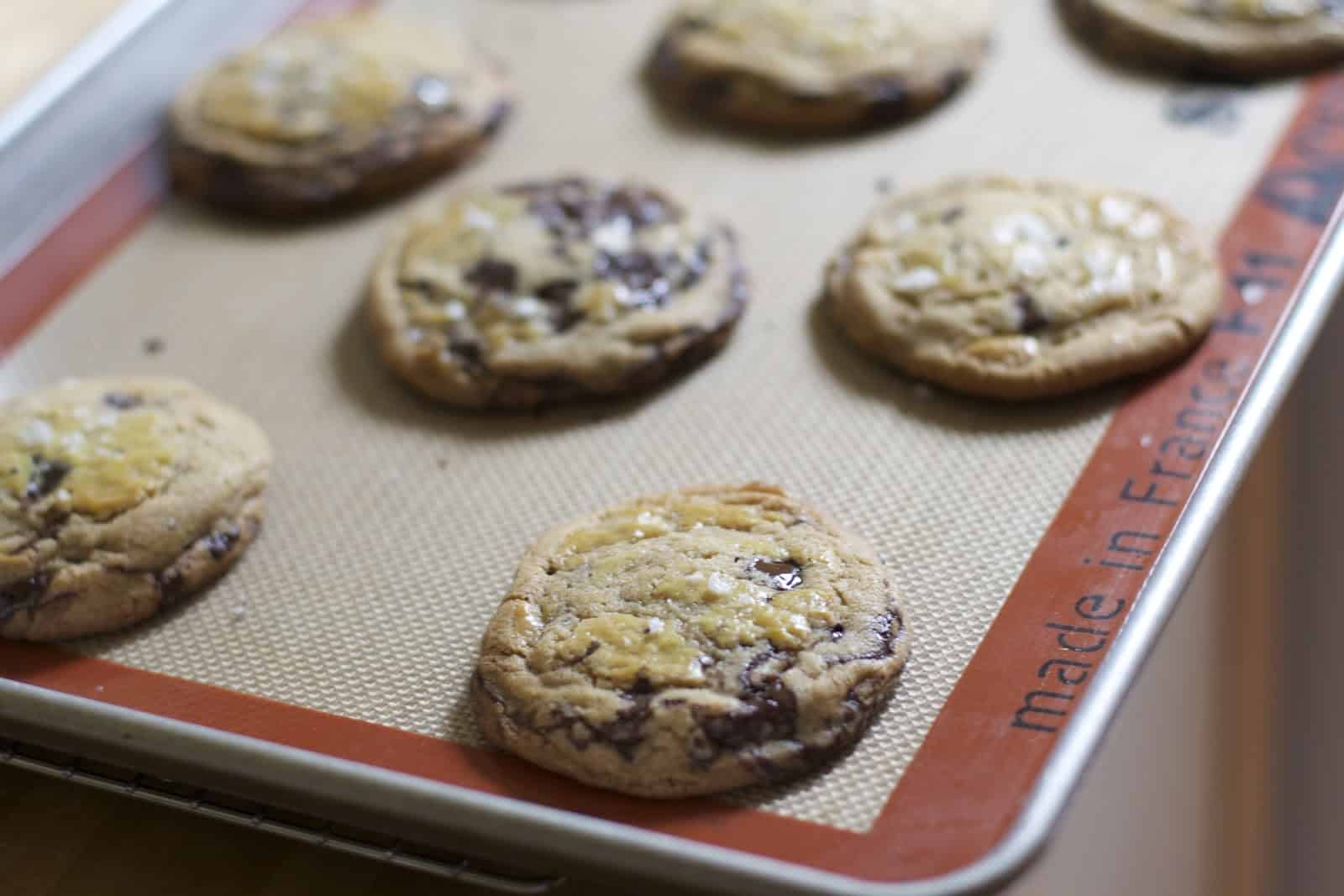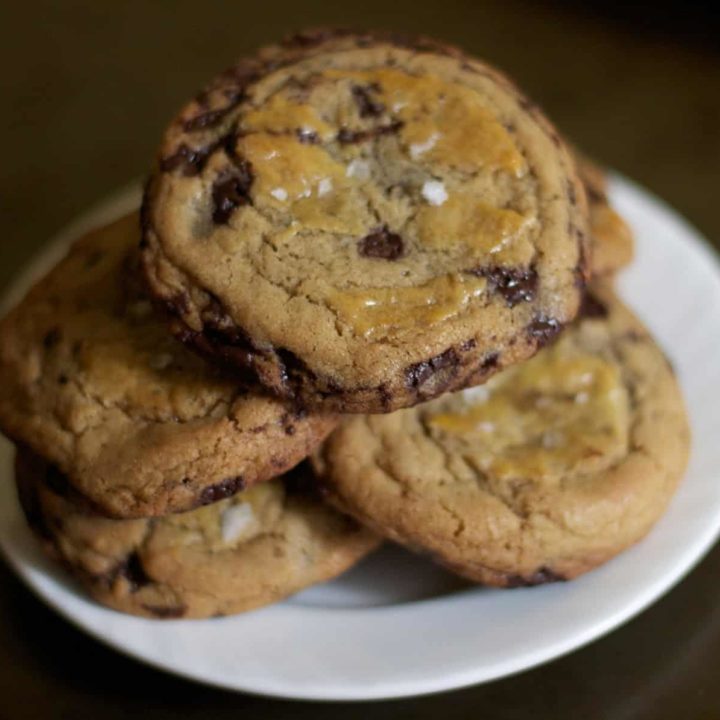 Layered Chocolate Chip Cookies
Ingredients
1 cup 2 sticks unsalted butter, room temperature
3/4 cup packed dark-brown sugar
3/4 cup granulated sugar
4 large egg yolks, room temperature
1 teaspoon pure vanilla extract
2 1/4 cups all-purpose flour, plus more for work surface
3/4 teaspoon baking soda
3/4 teaspoon fine sea salt or table salt
9 ounces bittersweet chocolate
1 large egg, lightly beaten
1/4 teaspoon fleur de sel, optional
Instructions
Preheat oven to 375 degrees. Line two baking sheets with parchment paper or a silpat; set aside.
In the bowl of an electric mixer fitted with the paddle attachment, cream together butter and both sugars on medium-high speed until light and fluffy, about 3 minutes. Beat in egg yolks, two at a time; add vanilla and mix to combine.
In a large bowl, whisk together flour, baking soda, and salt. With the mixer on low, add flour mixture; mix until just combined. Scrape down sides of bowl and mix to combine.
Divide dough into three equal portions. Wrap each portion with plastic wrap and transfer to refrigerator; let chill for 30 minutes.
Meanwhile, using a serrated knife, coarsely chop chocolate into thin shards. Set aside. (I chopped mine into chunks- but will try to shave it more next time)
Unwrap one portion of chilled dough and place on a lightly floured work surface. Flatten it slightly.
Sprinkle with half the chocolate and top with a second portion of chilled dough. Sprinkle with remaining chocolate and top with remaining portion of dough.
Lightly dust with flour and gently roll out dough to a 9-by-6-inch rectangle, about 1 1/2 inches thick. Using a 2-inch-round cutter, cut out 10 rounds of dough. Gather scraps and lightly pat into another 1 1/2-inch-thick rectangle and cut out remaining cookies.
Place on prepared baking sheets about 3 inches apart and brush with beaten egg. Sprinkle with fleur de sel, if desired.
Transfer cookies to oven and bake until cookies are set, 12 to 15 minutes, switching baking sheets from top to bottom halfway through baking.
Let cookies cool slightly on baking sheets, about 3 minutes, before transferring to a wire rack to cool completely. Cookies can be stored in an airtight container for up to 4 days.
Nutrition Information:
Yield: 18 Serving Size: 1 grams
Amount Per Serving: Unsaturated Fat: 0g

recipe seen on Siriously Delicious via Sarah Copeland's "The Newlywed Cookbook."