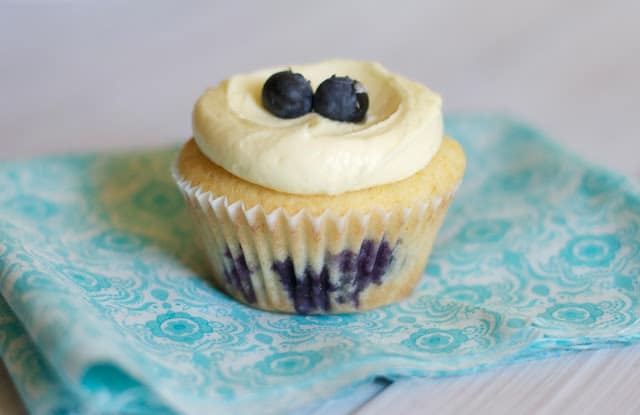 Happy Monday! I have to admit that I'm a bit brain dead as I write this. I just got home from a red eye after the most amazing weekend in Wine Country. Andy was the best man in his best man's wedding and it was truly unforgettable. (I'll post some pics from the weekend in the next couple days!)
Anyway- before I make myself a little cocoon and sleep the morning away, I thought I'd share this delicious cupcake recipe with you. I made these a couple weekends ago when a few friends were celebrating Andy's birthday at the huge outdoor beer garden in Astoria. I brought a dozen of these and they were the perfect picnic-y summery treat.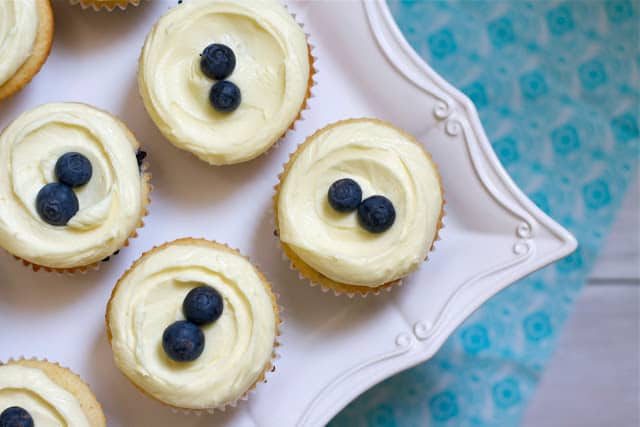 I struggle sometimes to think of desserts that are refreshing in the summer while not being frozen. The key for me is usually fruity, not too sweet, and light in texture. I thought that a citrus-based cupcake with some berries tossed in would be perfect, and they really were.
These cupcakes look like muffins but are definitely cake-like in their light, crumb-y texture. The berries added bursts of tart juicy-ness, and the frosting was perfect it that it wasn't too much or too sweet. (I find that when I swirl the frosting on rather than pipe it, I am able to make it look cute without piling it on so high.)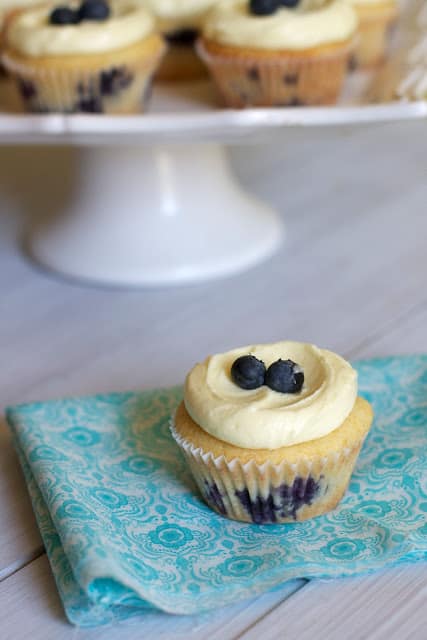 So there you have it. I am off to hibernate. Also- my wedding is 2 months from today- what do you think about that? I am pretty excited/nervous/thrilled. Not gonna lie. :)
Ingredients
3 cups all-purpose flour
1 tablespoon baking powder
1/2 teaspoon salt
1 cup 2 sticks unsalted butter, room temperature
2 cups sugar
4 large eggs, room temperature
Finely grated zest of 3 lemons, about 3 tablespoons, plus 2 tablespoons fresh lemon juice
1 teaspoon pure vanilla extract
1 cup buttermilk
2 cups fresh blueberries plus more for garnish
1 cup 2 sticks of unsalted butter, room temperature
4 oz cream cheese, softened
4-5 cups of powdered sugar
zest of one lemon
1-2 tablespoons lemon juice
Instructions
Preheat oven to 325 degrees. Line standard muffin tins with paper liners. Set aside.
Whisk together flour, baking powder, and salt.
With an electric mixer on medium-high speed, cream butter and sugar until pale and fluffy. Add eggs, one at a time, beating until each is until incorporated, scraping down sides of bowl as needed. Beat in zest and vanilla.
Add flour mixture in three batches, alternating with two additions of buttermilk and lemon juice, and beating until just combined after each. Gently fold in blueberries.
Divide batter evenly among lined cups, filling each three-quarters full. Bake, rotating tins halfway through, until golden brown and a cake tester inserted in centers comes out clean, about 25 minutes. Transfer tins to wire racks to cool completely before removing cupcakes
For the Frosting:
Cream together the butter and cream cheese until thick and creamy.
Add the powdered sugar one cup at a time until mixture is thick and dense. (You make only need 4 cups.)
Add the zest, and juice, one tablespoon at a time until consistency is smooth and spreadable. Swirl or pipe frosting as desired and garnish with blueberries.
Nutrition Information:
Yield:

24
Serving Size:

1 grams
Amount Per Serving:
Unsaturated Fat:

0g
Cupcake recipe slightly adapted from Martha Stewart