Lemon Champagne Bars with Strawberry Bruleé Topping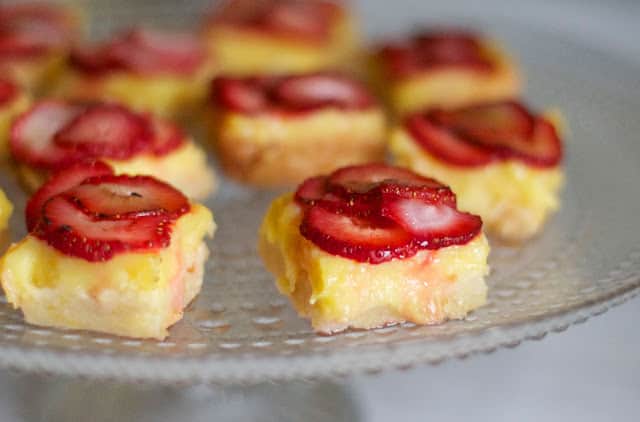 Sometimes we need a dessert that feels extra-specially festive. You know- something for those times you really want to celebrate. For me- nothing feels quite as fun and festive as champagne. A little something bubbly to ring in a New Year, toast good news, or in my case- celebrate getting married.
I'm a wife of two days, and I'm currently on my way to Costa Rica for a honeymoon with my new husband. So- I thought I'd share with you a treat that matches my current mood perfectly. Bright, fun and worthy of some great news!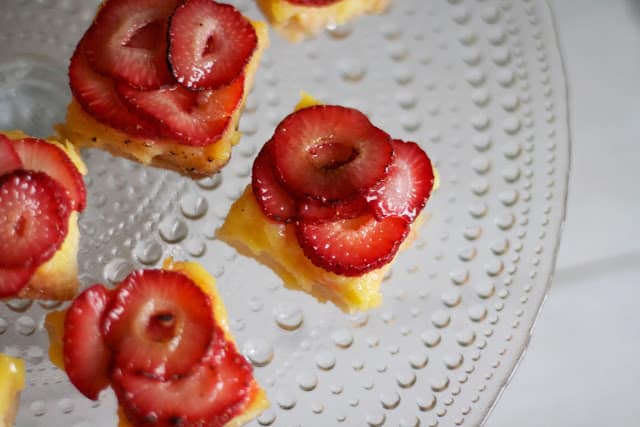 These lemon bars are extra creamy and rich, with the perfect tart finish. (Yes- they contain a dozen eggs- but it makes the most amazing custard!) Thinly sliced strawberries are spread on top of the cooled bars and after sprinkling them with sugar and using a torch or broiler to caramelize it- the end result is fabulous!
I'll have a couple guest posts as well as a couple posts of my own for you over the next 2 weeks until I come back! xoxo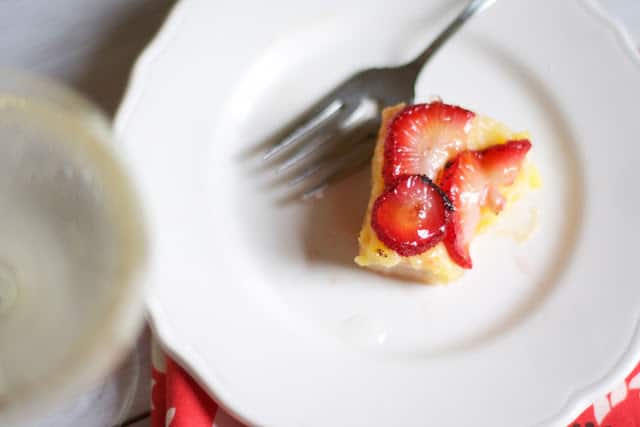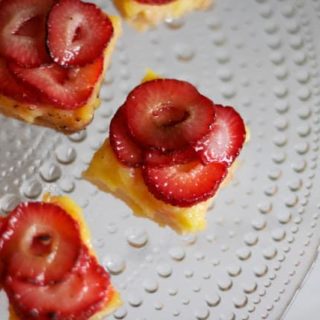 Lemon Champagne Bars with Strawberry Bruleé Topping
Ingredients
Crust:
1 cup unsalted butter, at room temperature
1 cup sugar
2 cups flour
1/4 teaspoon salt
zest of 2 fresh lemons
Filling:
6 large egg yolks
6 large eggs
1 3/4 cups sugar
1 cup fresh lemon juice
1/2 cup champagne or 1/2 cup brut sparkling wine
3/4 cup chilled unsalted butter
brulee topping
1 pint fresh strawberries, hulled
1/2 cup sugar
Instructions
To make the crust, preheat the oven to 375°F. Coat a 9x13-inch baking pan with cooking spray.
Using a mixer fitted with a paddle attachment, beat the butter and sugar in a large bowl about 3 minutes, until creamy. Add the flour, salt and zest. Beat just until incorporated. Press the dough evenly into prepared pan.
Bake for 12-15 minutes until golden brown. Let cool about 10 minutes.. Leave oven at 350°F.
Whisk the egg yolks for the filling with the eggs, sugar, lemon juice and champagne in a large bowl set over a pan of simmering water. (make sure the water does not touch the bottom of the bowl). Cook about 15 minutes, whisking occasionally, until the mixture thickens. Cut the cold butter into bite sized pieces. Whisk the butter, one piece at a time into the lemon mixture. Cook about 10 minutes longer, whisking occasionally. The mixture will be thick and puddinglike.
Pour the filling over the prepared crust and bake for 10-12 minutes. Refrigerate the bars at least 2 hours or overnight. Slice the strawberries thinly and arrange them in a single layer over the top of the lemon filling. Sprinkle the sugar evenly over top of the berries. (it will seem like a lot- but use it all.)
Use a kitchen torch to melt the sugar until it is brown and crackly, or put the bars under a hot broiler for about 1 minute, until the sugar melts and browns. (Watch carefully- any spot not covered in sugar will burn!)
Nutrition Information:
Yield:

2
Serving Size:

1 grams
Amount Per Serving:
Unsaturated Fat:

0g
Recipe adapted slightly from The Pastry Queen by Rebecca Rather.