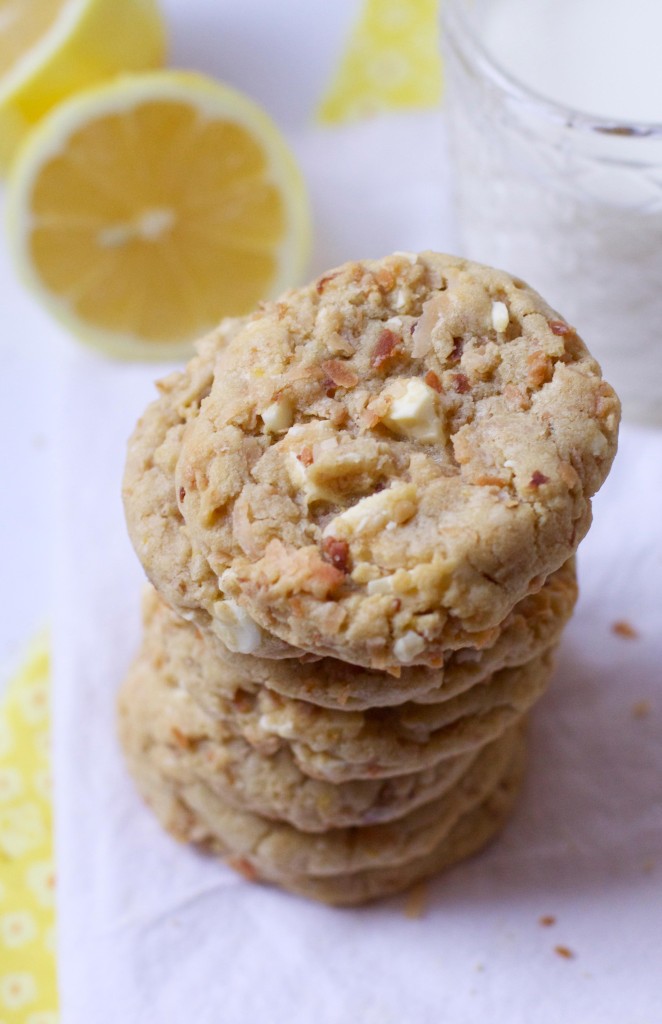 This post is part 2 in my new "old-post-makeover" series. I hope you guys don't mind, but I really think it's worth it for me to bring back some of those oldies but goodies from my early days. Not only did I have about 10 readers back then, but my photos left much to be desired. I'm proud of how far I've come in that time, and some of these amazing early recipes deserve their time to really shine don't you think?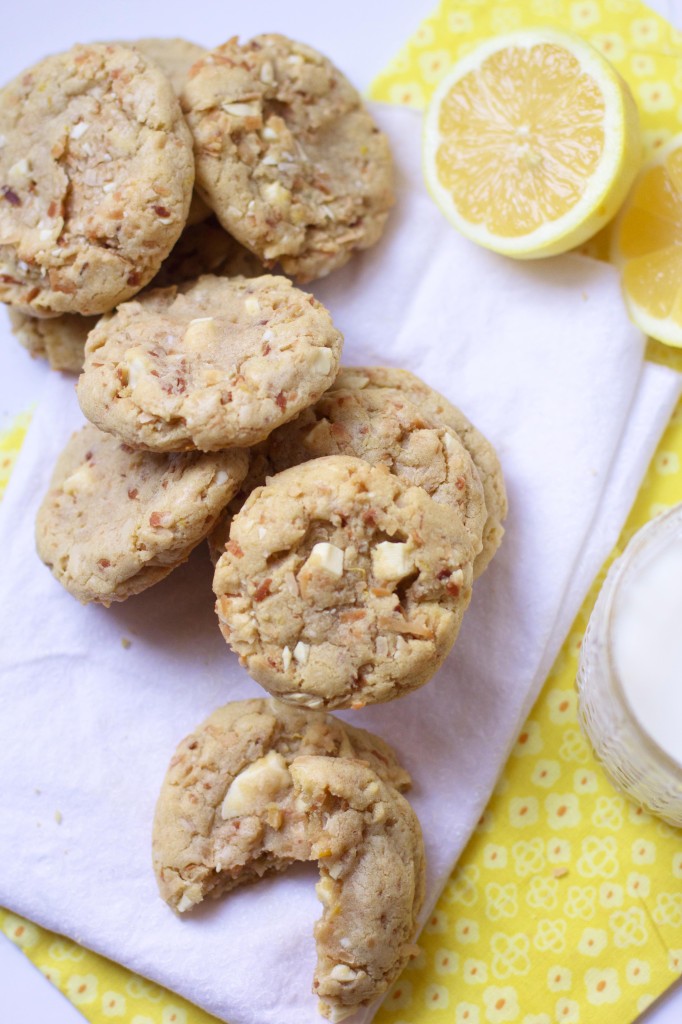 I made these cookies for the first time exactly 3 years ago, and I've been wanting to remake them ever since. Guys these cookies are nothing short of amazing. They have super crisp edges, chewy middles, and 3 of my favorite cookie flavors. Toasty coconut, tart lemon, and sweet white chocolate. Not only that, but they're easy as can be to throw together, (which is the only way baking gets done around here!) If I'm lucky, I can execute an hour or so long baking project while Hugo sits in his bouncy chair in the kitchen watching me. I'm so happy I got to enjoy these cookies again, and more importantly- share them with you!
Lemon White Chocolate Chunk Cookies with Toasted Coconut
Ingredients
1¾ cup flour
½ teaspoon baking soda
¼ teaspoon salt
1 stick of unsalted butter, softened
½ cup brown sugar
½ cup white sugar
1 egg plus 1 egg yolk
1 teaspoon vanilla extract
zest from one lemon
1 tsp lemon extract, (or) 2 Tablespoons lemon juice
1½ cups sweetened coconut flakes
4 ounces white chocolate, chopped
Instructions
Preheat oven to 350F. Spread coconut on a baking sheet and toast for 5-10 minutes, stirring every minute or two, until golden. Set aside.
Line cookie sheets with silicone baking mats or parchment paper.
In a medium sized bowl, stir together the flour, baking soda and salt.
In a large bowl, cream together the butter and sugars until light and fluffy. Add the egg, yolk, vanilla, zest and lemon extract (or juice.) Mix until creamy and smooth.
Add the dry ingredients, mixing on low speed until just combined. Use a wooden spoon to fold in the coconut and white chocolate until well mixed into the batter.
Use a cookie scoop or spoon to evenly portion dough and use your hands to flatten each dough ball slightly.
Bake for 10-12 minutes or until the edges are set. Cool on a wire rack.