Lemon White Chocolate Chunk Cookies with Toasted Coconut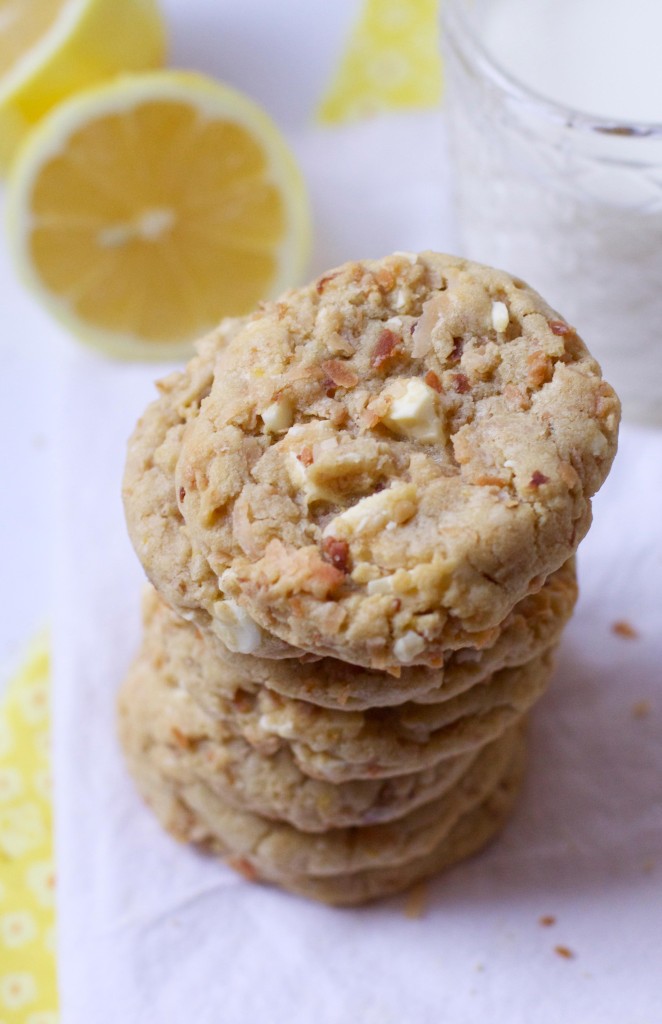 This post is part 2 in my new "old-post-makeover" series. I hope you guys don't mind, but I really think it's worth it for me to bring back some of those oldies but goodies from my early days. Not only did I have about 10 readers back then, but my photos left much to be desired. I'm proud of how far I've come in that time, and some of these amazing early recipes deserve their time to really shine don't you think?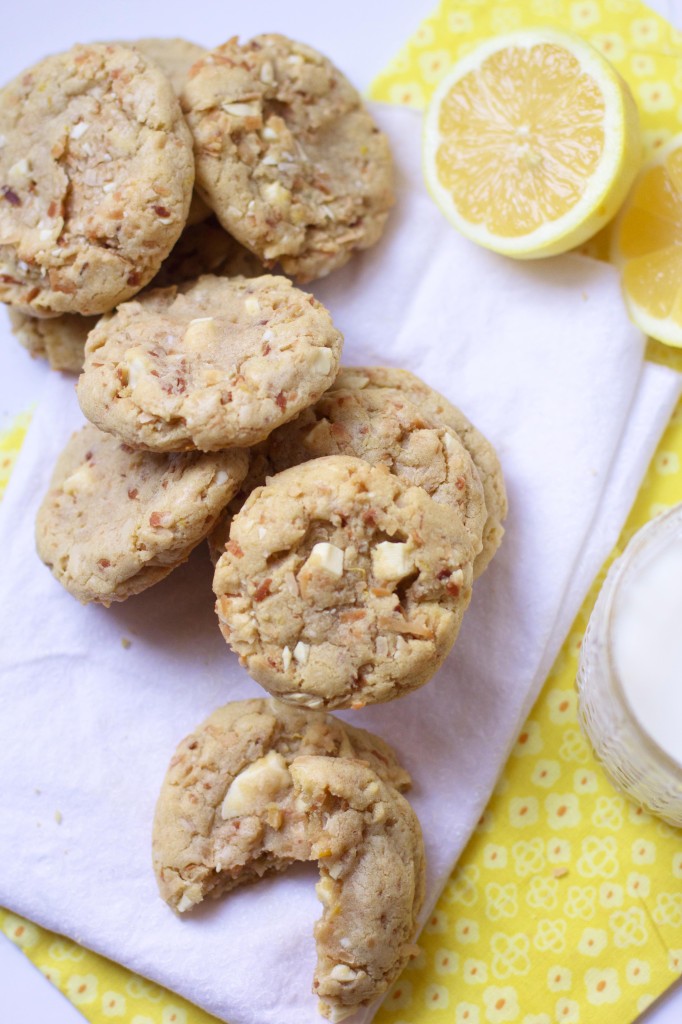 I made these cookies for the first time exactly 3 years ago, and I've been wanting to remake them ever since. Guys these cookies are nothing short of amazing. They have super crisp edges, chewy middles, and 3 of my favorite cookie flavors. Toasty coconut, tart lemon, and sweet white chocolate. Not only that, but they're easy as can be to throw together, (which is the only way baking gets done around here!) If I'm lucky, I can execute an hour or so long baking project while Hugo sits in his bouncy chair in the kitchen watching me. I'm so happy I got to enjoy these cookies again, and more importantly- share them with you!
Lemon White Chocolate Chunk Cookies with Toasted Coconut
Ingredients
1 3/4 cup flour
1/2 teaspoon baking soda
1/4 teaspoon salt
1 stick of unsalted butter, softened
1/2 cup brown sugar
1/2 cup white sugar
1 egg
1 teaspoon vanilla extract
zest from one lemon
2 Tablespoons lemon juice
1 1/2 cups sweetened coconut flakes, toasted
4 ounces white chocolate bar, (I use Ghirardelli)
Instructions
Preheat oven to 350 degrees. On a baking sheet spread out the coconut flakes in a thin layer. Toast for 5-8 minutes stirring frequently. Watch carefully so they don't burn. Once they are golden remove from the oven and set aside.
Zest the lemon and set aside.
Chop the chocolate coarsely and set aside.
In a medium bowl sift together flour, baking soda and salt.
In another bowl, cream together butter and sugars. Add egg, vanilla, lemon zest and lemon juice. Mix until incorporated.
Add flour mixture and blend. Stir in toasted coconut flakes and white chocolate pieces.
Line baking sheet with parchment paper. Drop cookie dough onto baking sheet. (I used a medium sized scoop.)
Bake for 10-12 minutes. Do not over bake. You want them to be soft in the middle and just firm enough to hold their shape when transferring to a cooling rack. (Please note that to make my cookies look the way they do I removed them half-way through and pressed them with the bottom of a glass.)
Allow to cool on a cooling rack for 10 minutes.
Nutrition Information:
Serving Size:

1 grams
Amount Per Serving:
Unsaturated Fat:

0g