Lemony Greek Orzo Pasta Salad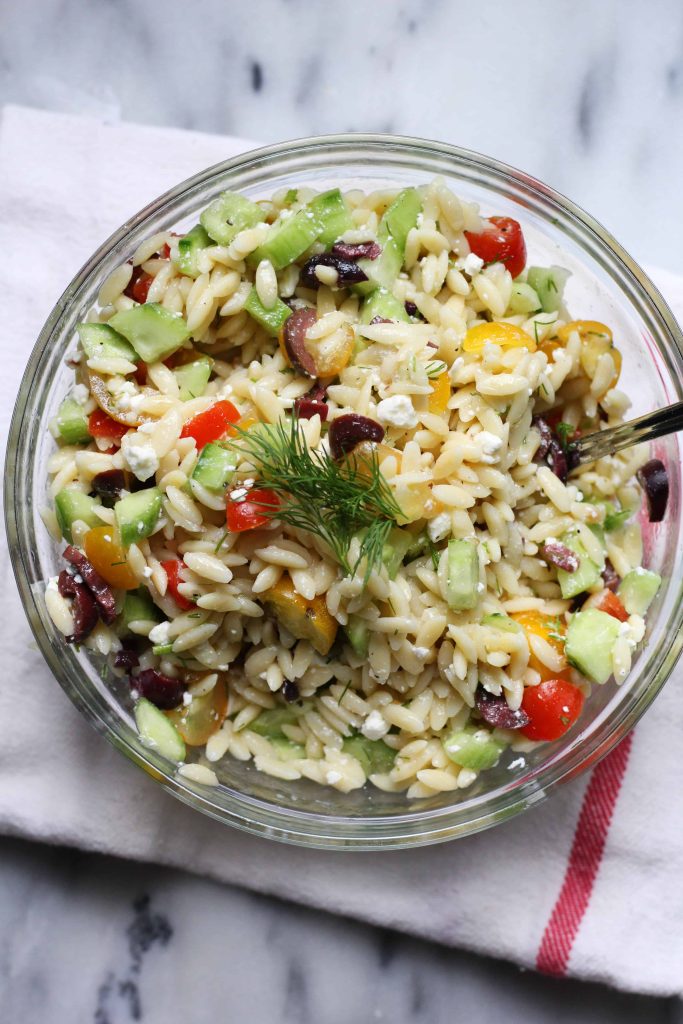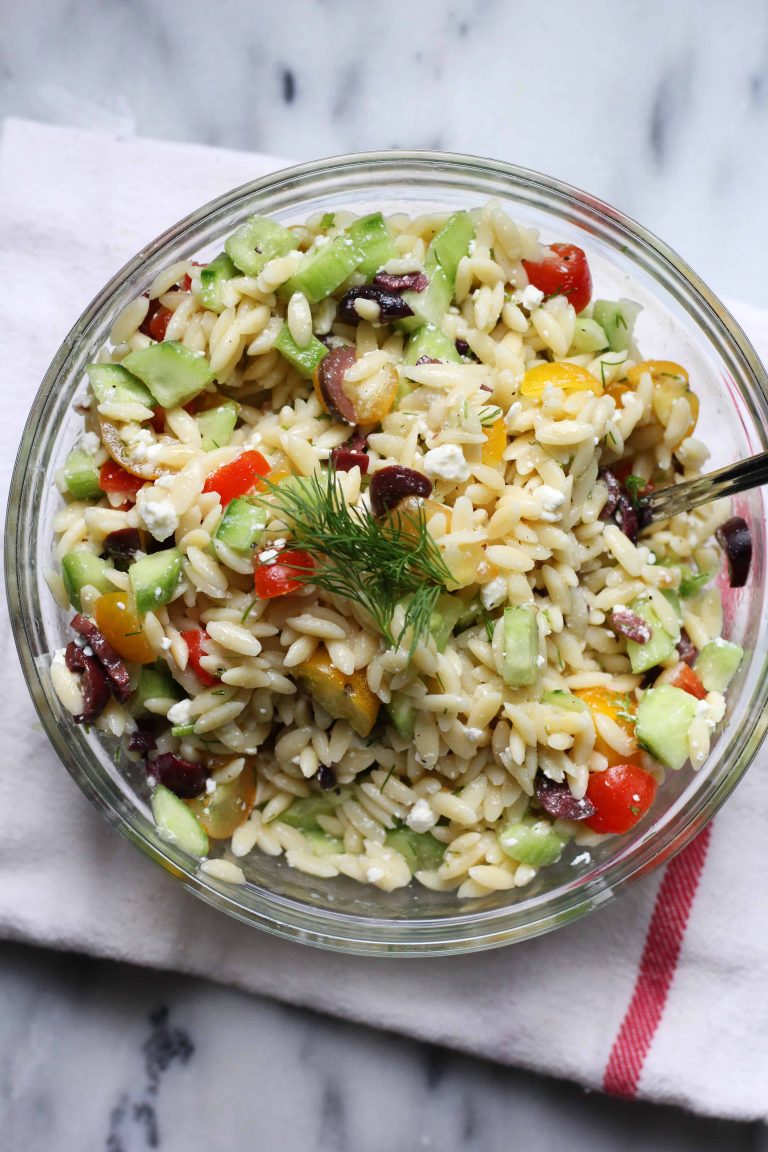 Last pregnancy I only had one craving- mashed potatoes. I needed their bland carby-ness and it was the only thing that settled my stomach. This time- I crave 3 things: fresh squeezed OJ, bowls of cereal with lots of milk, and this. This lemony, crunchy, salty deliciousness is pretty much my favorite thing these days so I just had to share it with you. This isn't a particularly seasonally appropriate recipe, or even anything too fancy to groundbreaking, but as I said- I'm obsessed.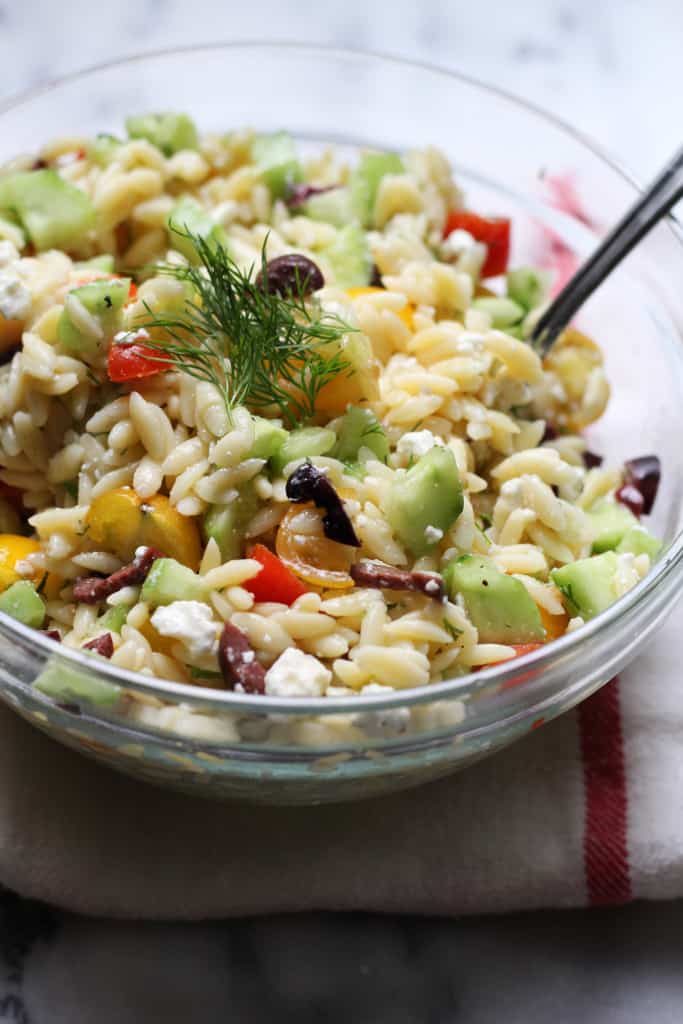 Truth be told, I've been making this pasta salad for years, and I never really use a recipe. I toss the orzo with lemon & olive oil, add some crunchy cucumbers, grape tomatoes, kalmata olives, feta cheese and dill. Sometimes I add red onion, other times I have added some grilled shrimp. It is super adaptable, yielding, and better the longer it sits in the fridge. I did pay attention to what proportions I used for this version just because…you know…recipe blog, but just know that you can be flexible with it and taste here and there to add more/less of what you like. I hope you enjoy this light and delicious dish as much as I do- I promise a decadent dessert is up next!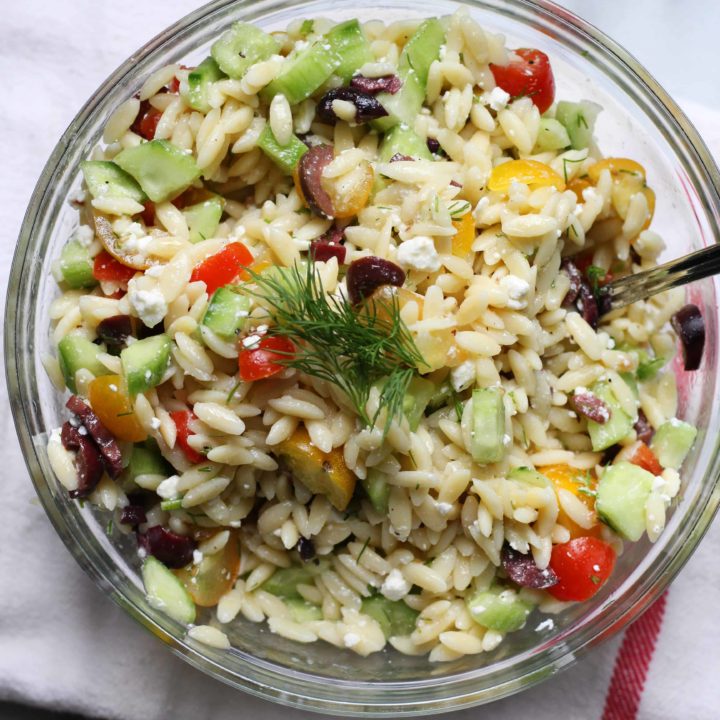 Lemony Greek Orzo Pasta Salad
Ingredients
2 cups cooked orzo
juice of 1 lemon
2 tablespoons extra virgin olive oil
2 Persian cucumbers*, chopped
1/2 cup of grape tomatoes, quartered
1/4 cup of kalmata olives, chopped
1/4 cup of crumbled feta cheese
1 tablespoon of finely chopped fresh dill
salt & pepper to taste
Instructions
Toss the Orzo with the olive oil and lemon juice.
Add the cucumbers, tomatoes, olives, feta and dill. Toss well to combine.
Add salt and pepper to taste.
Store in the fridge- serve room temperature or cold.