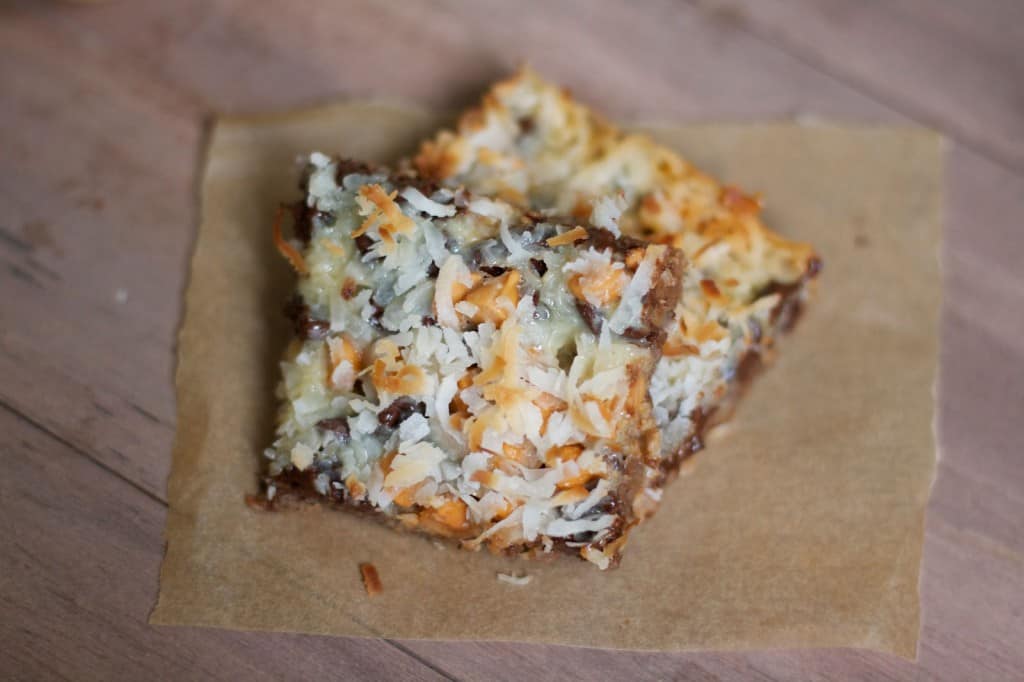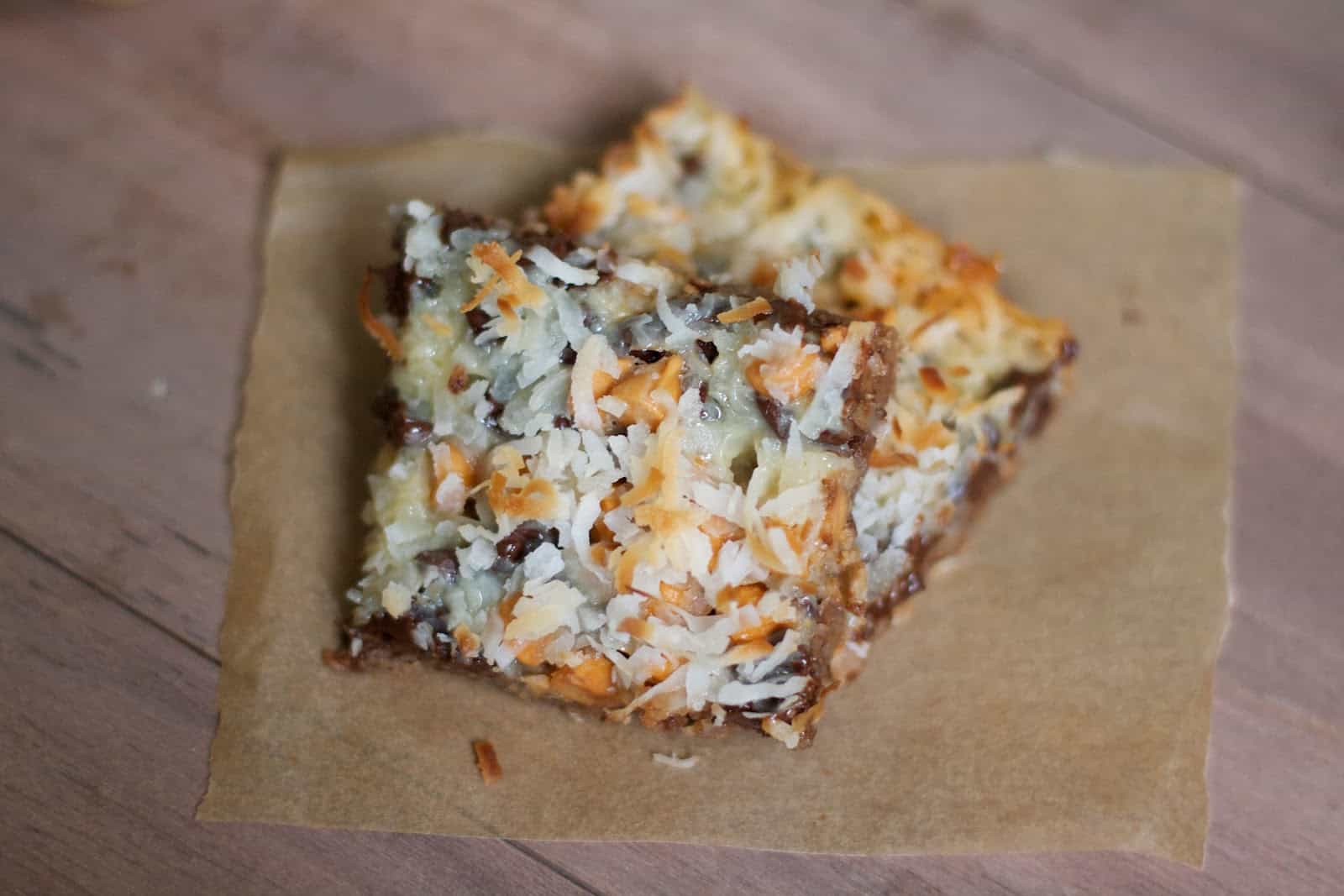 It's possible that you've seen these bars before. I think they're pretty popular. They have other names like Hello Dolly bars or 7 layer bars, but I think Magic Bars makes the most sense. I mean isn't it pretty much magic that you can create such a delicious and decadant treat without having to do much work at all? Seriously, I have loved these bars for ages, but I never knew how simple they really are.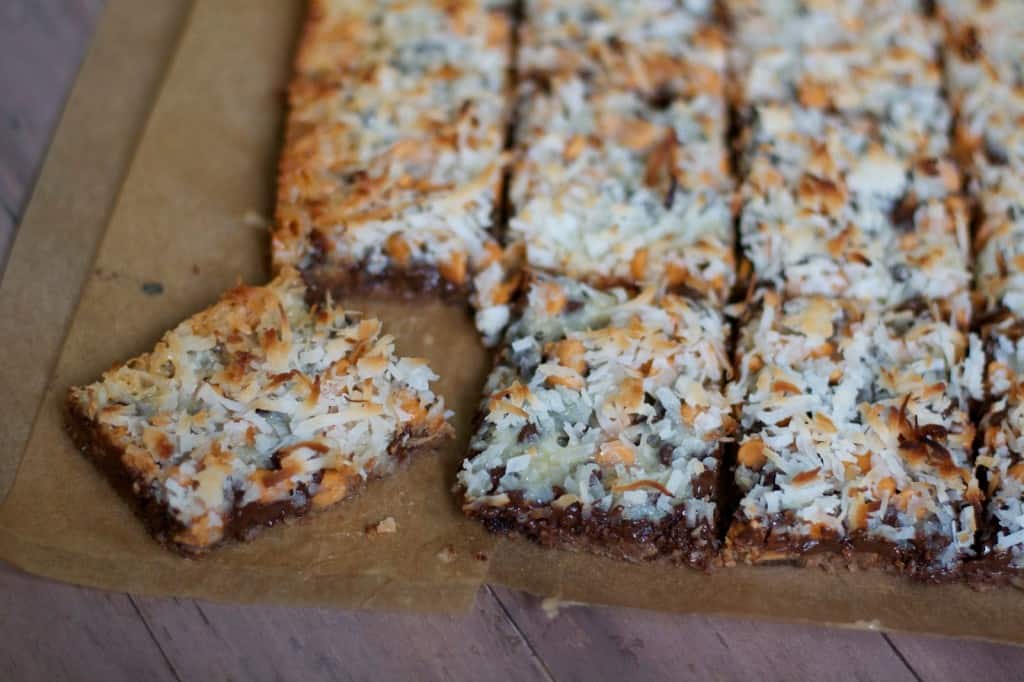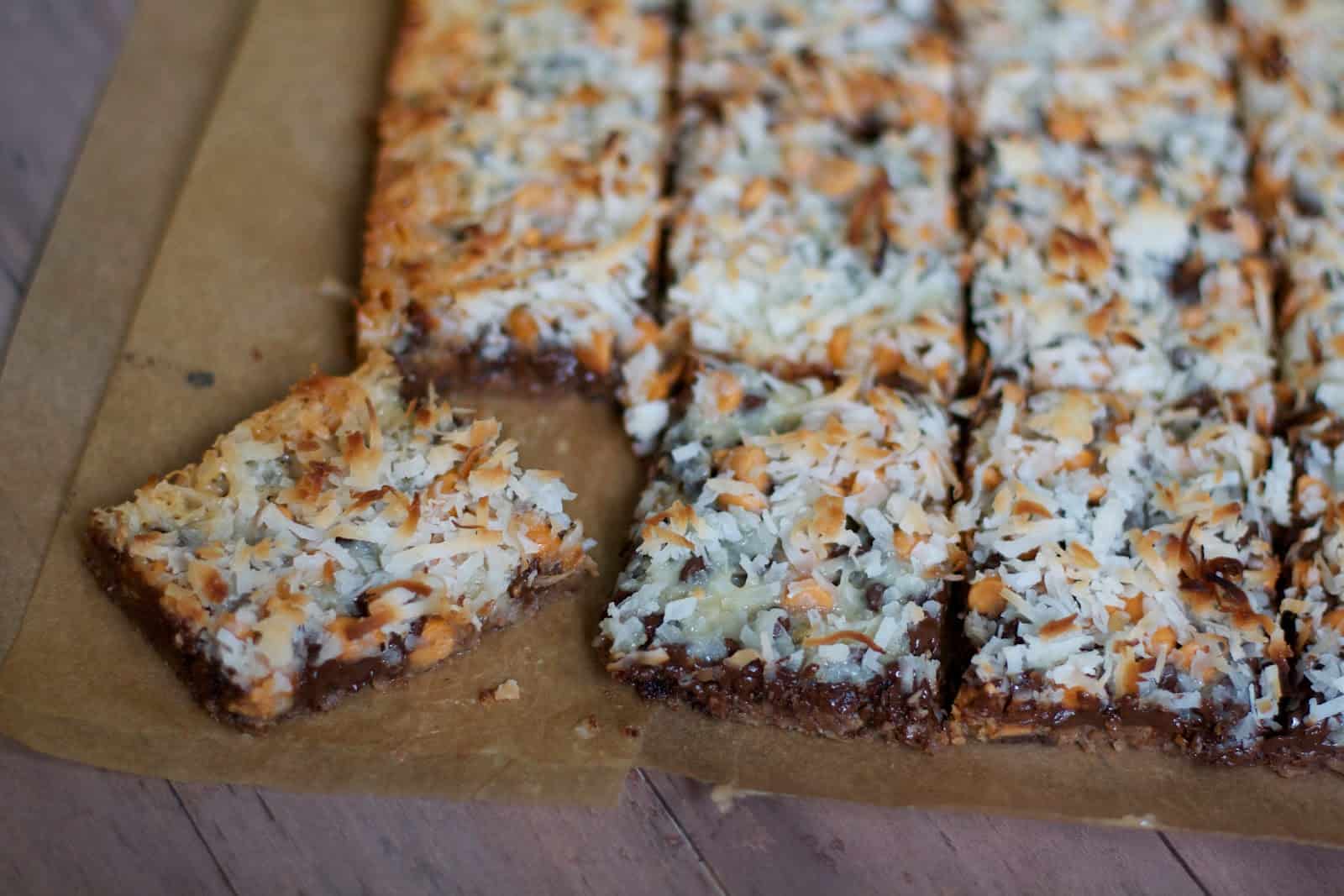 Whipping up a batch of these crowd-pleasing delicious bars is so easy, that the most novice "non-baker" out there could easily conquer them. I wouldn't even really consider baking a skill you need to make these. No baking soda, or powder, or flour. No real quantities to stick to, and an infinite amount of creative freedom. It's as simple as mixing some cookie crumbs with butter and sugar, baking that crust for 10 minutes, and then just throwing everything else in on top of that. Simple.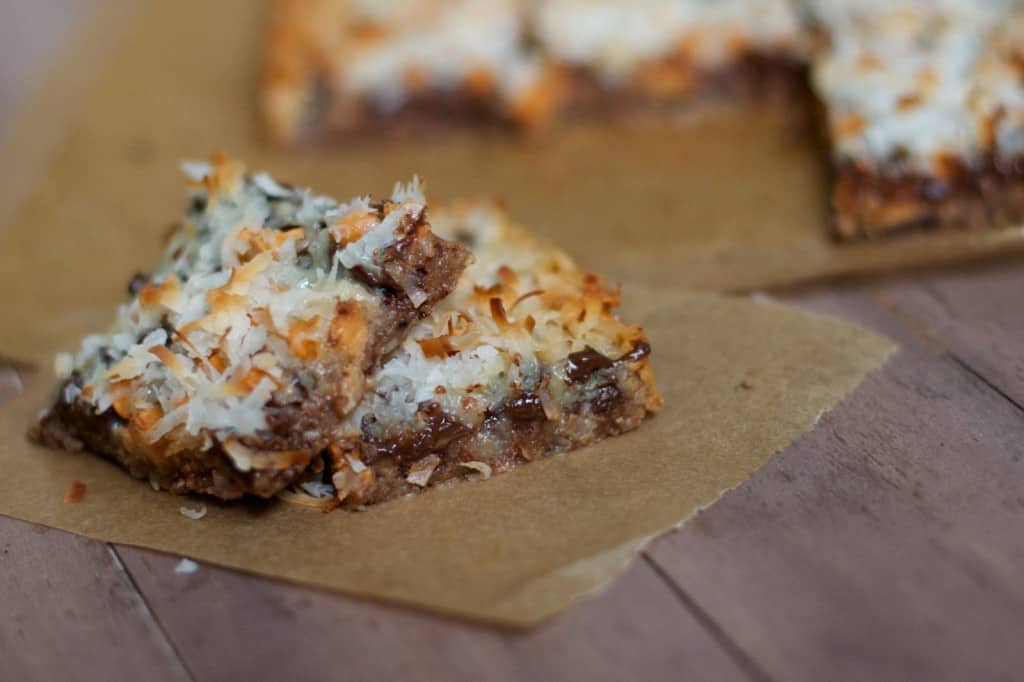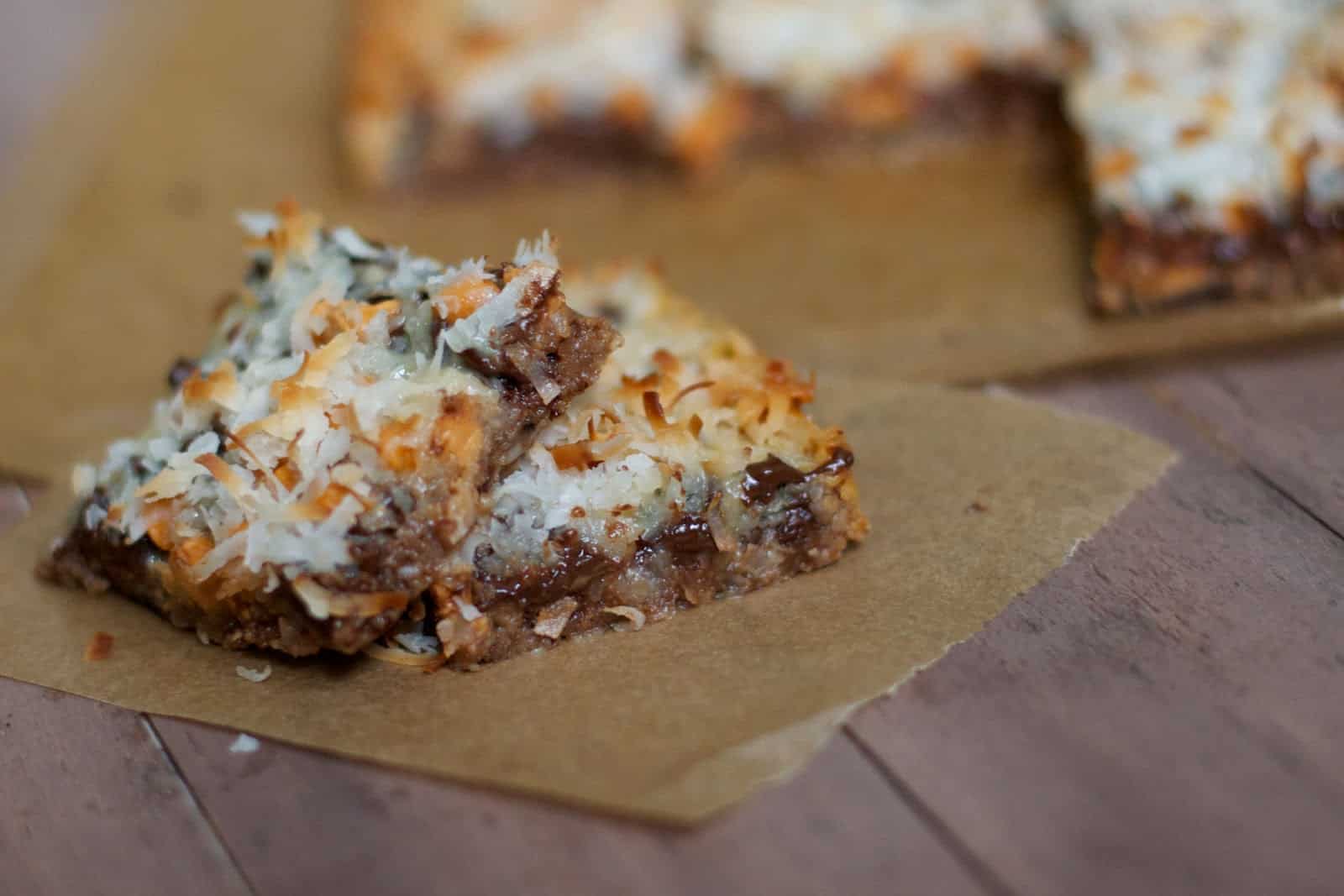 This recipe normally contains nuts, but since I married a "nuts-ruin-baked-goods" man, I skipped them. I added butterscotch chips, but you could also add M&Ms, white chocolate, peanut butter chips or more. So many options. This way, they tastes kinda like Samoas, but way easier. Enjoy! :)
note: For the crust, any kind of cookie will do. I had leftover Vanilla Wafers and Chocolate Cookies in the freezer and used those. Graham Crackers or other wafer cookies are fine too!)
Ingredients
3 cups ground cookie crumbs
1 to 1 1/2 sticks of butter, melted
1/4 cup sugar
1 can sweetened condensed milk
1 cup chocolate chips
1 cup butterscotch chips
1 1/2 cups sweetened shredded coconut
Instructions
Preheat oven to 375. Line a quarter sheet pan (or a 9x13 baking dish) with parchment paper.
Place cookie crumbs into a bowl and stir in the sugar and 1 stick of the butter. (I found that one stick was enough for me, but add the rest if your mixture seems dry.) Press crust mixture into the bottom of the pan and bake for 10 minutes or until firm.
Let crust cool on a wire rack for 10-15 minutes, and then sprinkle the chocolate and butterscotch chips over it. Pour the condensed milk evenly over the chips and top with the coconut. Bake for 15 minutes or until the coconut gets toasty. Allow bars to cool completely and then cut into squares.
Nutrition Information:
Yield: 20 Serving Size: 1 grams
Amount Per Serving: Unsaturated Fat: 0g
Recipe adapted from: Martha Stewart