Making Macarons: What I learned in Paris.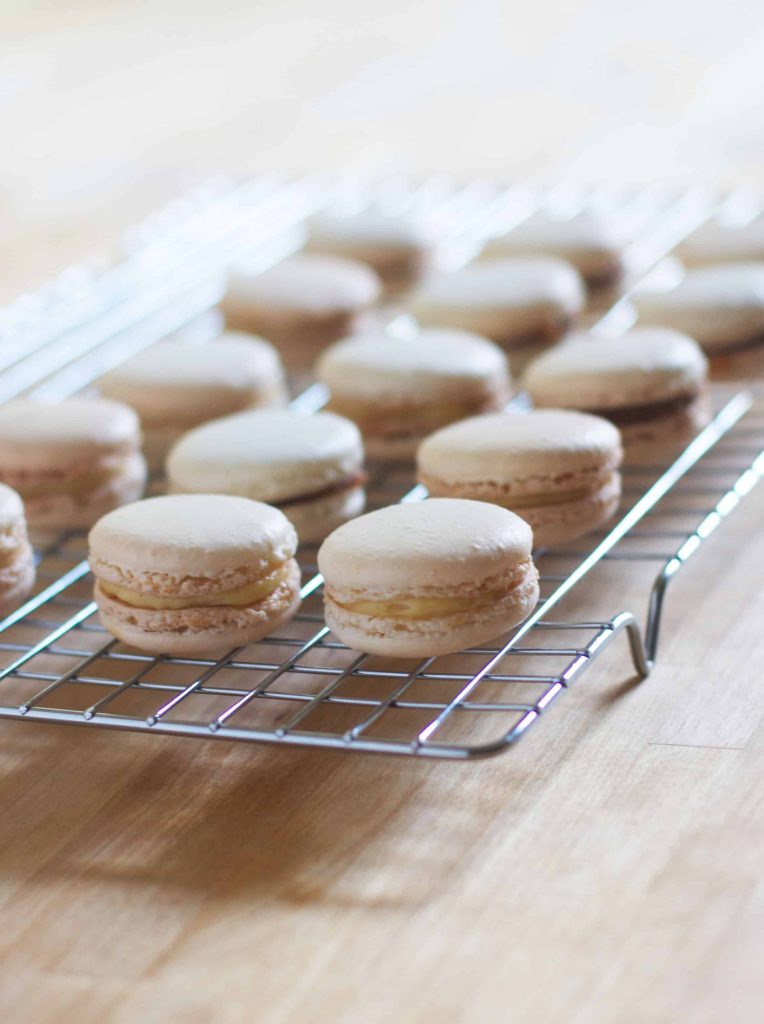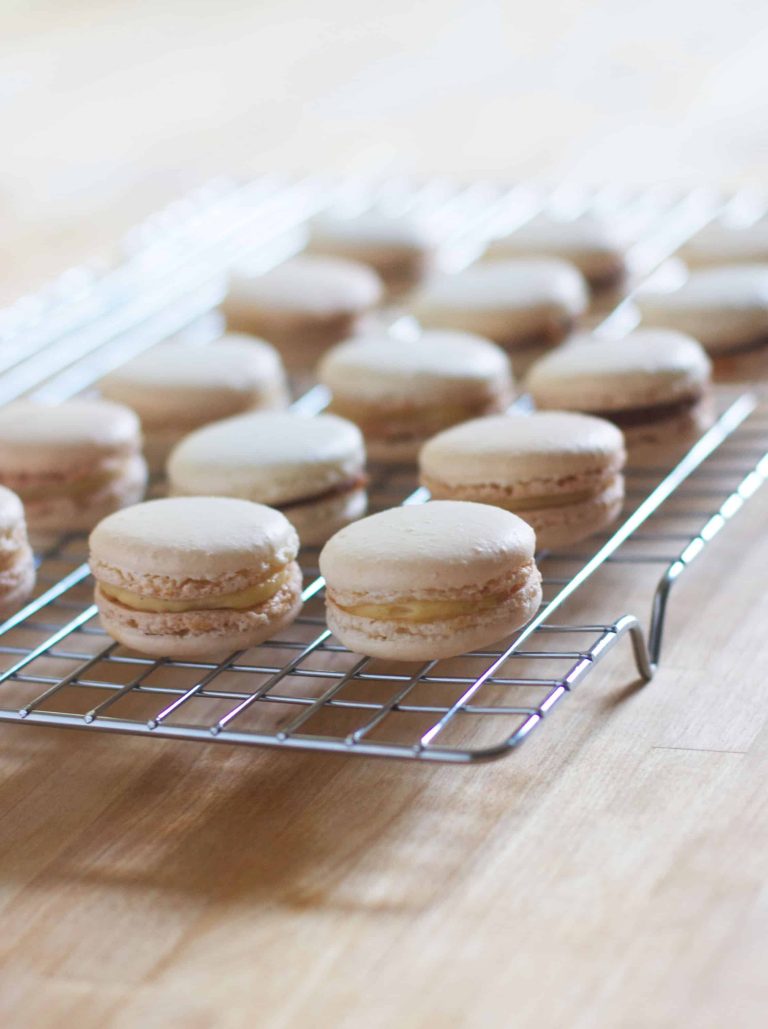 Ok get ready for a long one folks. I debated all weekend how much macaron info I should share- but decided on all of it- so here you go.
I've been wanting to post this since the day I took my Macaron Class in Paris a few weeks ago, but have been waiting to gather some information from my at-home attempts at making them before sharing what I know with you.
Let me start by telling you this- making perfect macs is a lot easier in a huge classroom kitchen with all the ingredients pre-measured, weighed and sifted with a professional pastry chef at the helm than in a minuscule kitchen all alone.
Nevertheless, I've now made these twice since coming home, using two slightly different methods, and I feel pretty good about sharing what I learned with you. My teacher in Paris answered lots of questions that I thought both you guys (and I) may have, so I'm including that as well!
I took my class from a lovely cooking school in Montmarte called Cookin' with Class. The classes are all taught in English, and the subjects range from making macarons, croissants, baguettes and other French desserts.
Briony, the pastry chef who taught our class was wonderful and very very knowledgable. (I felt like the most annoying student though, as I literally asked a question after every step she explained.
What can I say- I wanted to have a thorough knowledge of this stuff!)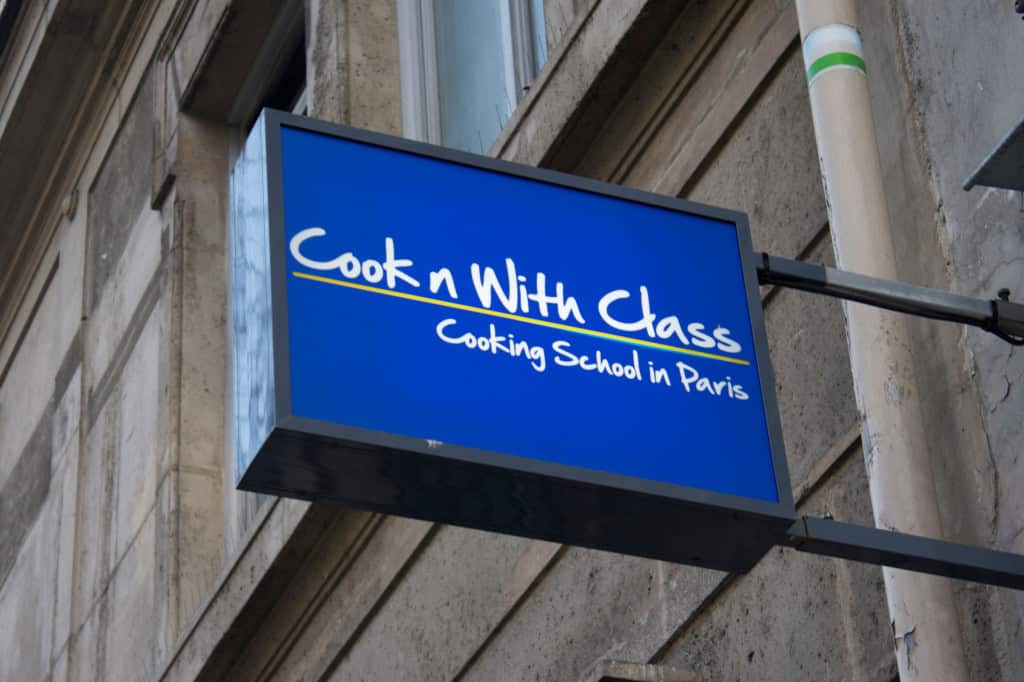 The method that we learned was the "Italian Meringue" version, which involves making a sugar syrup that gets poured into the egg whites to create a very stable meringue. Though this process may be slightly more difficult, I like it leaps and bounds better than the "French Meringue" method I've tried in the past. The sturdy meringue results in a much more consistent cookie, and I desperately need to know that if I put all the work required into these that they will turn out well. We made three different flavors of macs and they turned out pretty beautifully if I do say so myself. Mine at home aren't quite so perfect- but I'm getting there!
If you're at all familiar with macaron making- you know there are a few schools of thought when it comes to a few different (slightly time consuming) factors. In my class- we were taught to basically do ALL of them. I'll give you the run down:
-Start by aging your egg-whites 24-48 hours. Strain them with a fine mesh seive to get rid of any globby weird bits- resulting in purely liquid egg whites. (This results in a smoother, shinier macarons.)
-Triple sift your almond flour- discarding any larger bits. Then double sift the almond flour together with the powdered sugar.
-Let macaron shells sit out on the counter for 30- an hour to develop a shell before baking.
-Bake with a wooden spoon in the oven to keep the door slightly ajar and reduce possible humidity.
Whew. Right? I mean- that's a lot of details. Are you completely put off from EVER trying macarons after that?
I came home and did exactly this stuff. Every last bit of it. (Well actually no- I only sifted my almond flour once. I just couldn't do it 3 times.) The macarons turned out well, maybe not quite as smooth and shiny as in Paris (my fault for skipping the 2nd and 3rd sift.)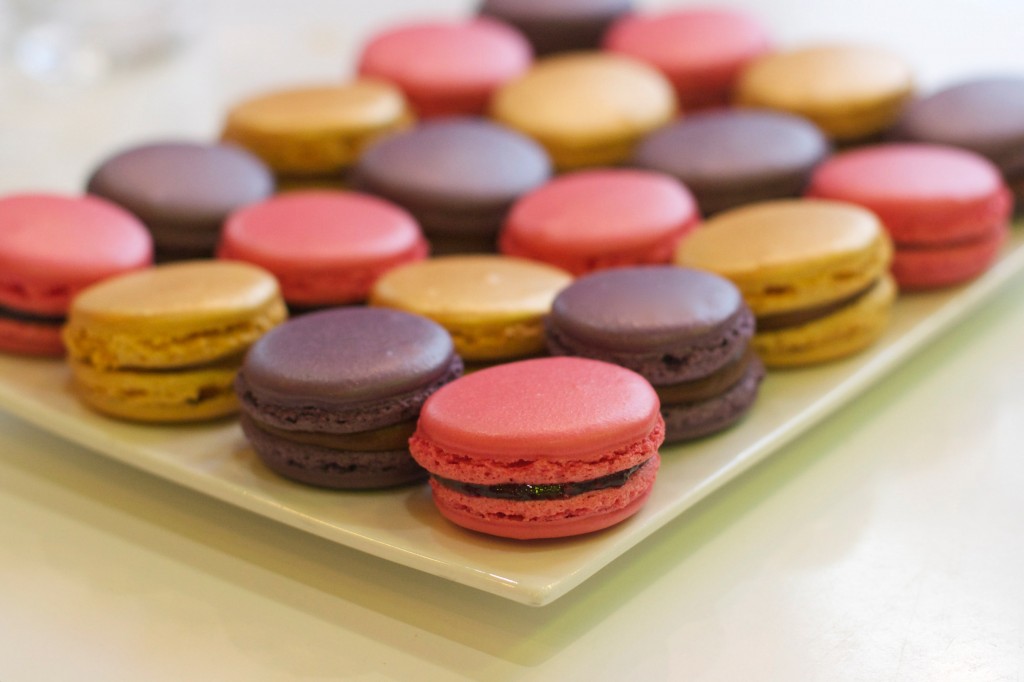 I couldn't help but wonder if all those steps were really neccesary. I remember seeing Annie's post about the Bouchon recipe for Italian meringue macs- (which didn't require any of that stuff) So- I tried that version yesterday to compare my results.
Truth be told- they turned out almost exactly the same. No egg white aging or straining, no sifting of the flours etc. There were a couple things I would keep from the first version- just because it worked better for me, but all in all- I think the more simple recipe is generally the way to go. Were my shells as smooth and shiny as the ones I made in class pictured above? No. Would they be if I did all the things Briony suggested? Probably- but I don't mind all that much. I still think they look pretty and taste great.
This is actually the recipe that we used in my class, but made in the more simple way. My friend Jessica came over while I was making these and snapped some pictures of the process to help give a visual of how it went down. (Don't mind my makeup-free pajamaed self.)
I'm only giving the recipe for the shells themselves, because there are endless possibilities for the fillings. In class we made, salted caramel, blackberry and chocolate passionfruit. At home- I filled mine with a simple vanilla pastry cream as well as a few with the salted caramel filling. You can use any sort of ganache, jam, preserves, curd or buttercream. (Though many of the macarons I had in Paris stay away from heavy buttercreams- more flavor can be achieved with a potent ganache or fruit preserves.
I hope this is helpful. At the very bottom of the post- after the recipe, I've included a few FAQ, Tips and Troubleshooting Topics that may also be of help!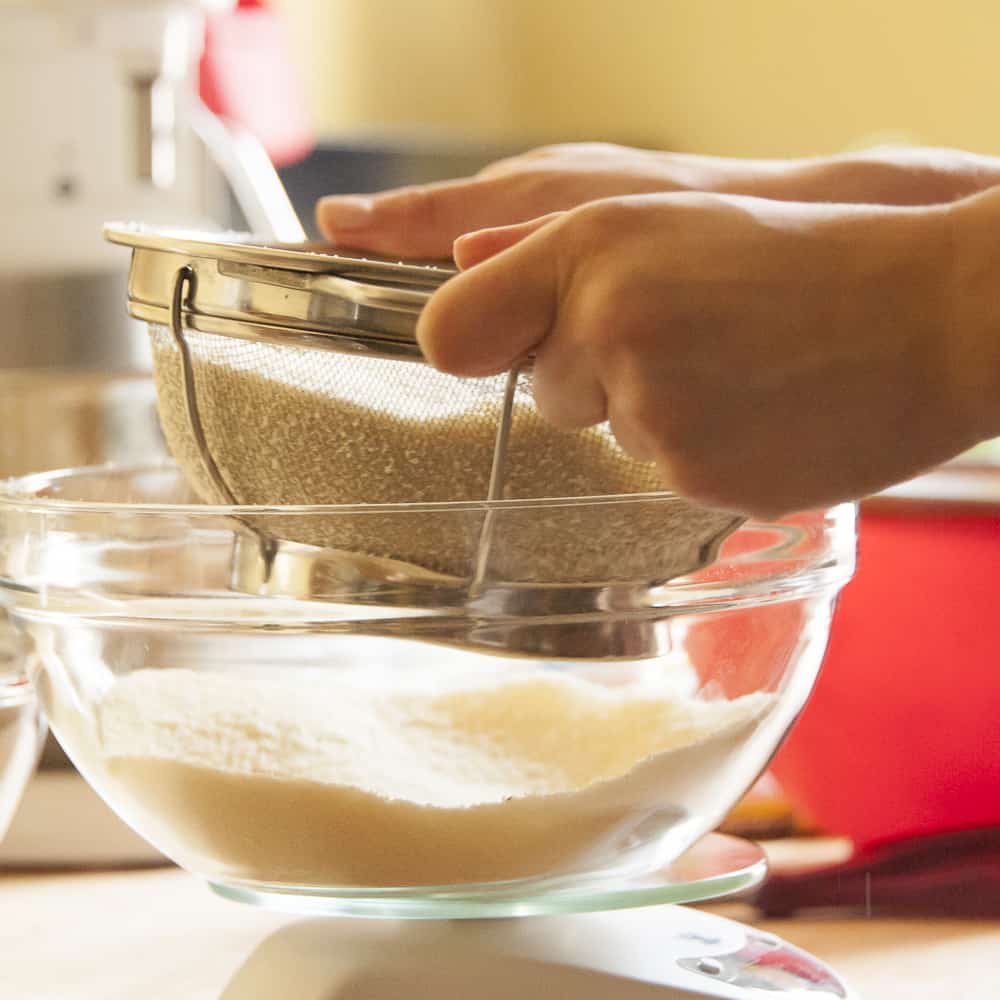 Sifting almond meal. I suggest doing it at least once to weed out some big lumpy pieces.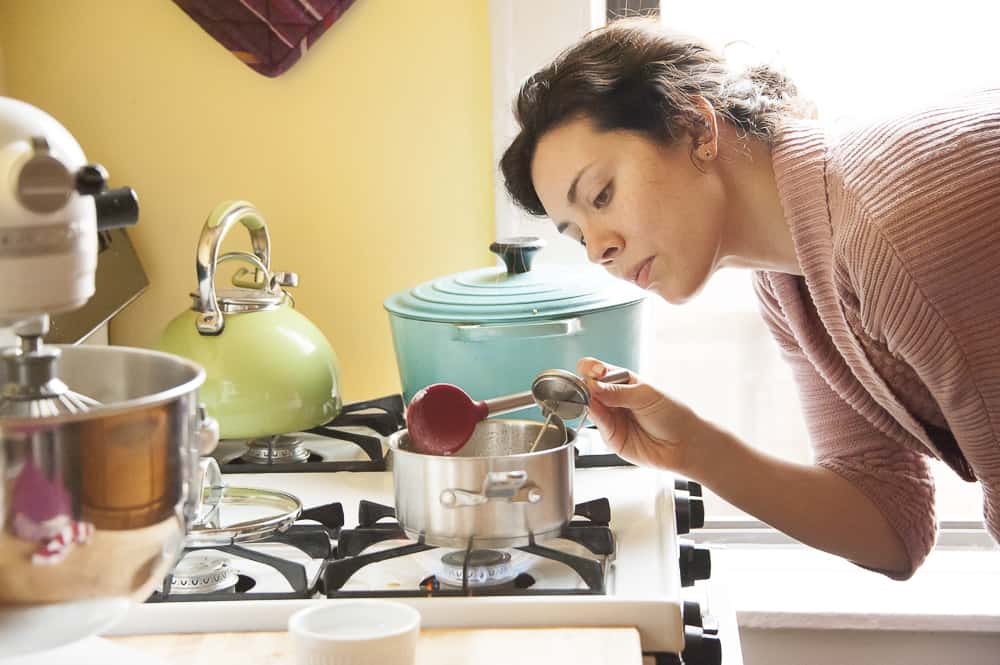 There's my itty bitty kitchen! And me checking the temp of the sugar syrup.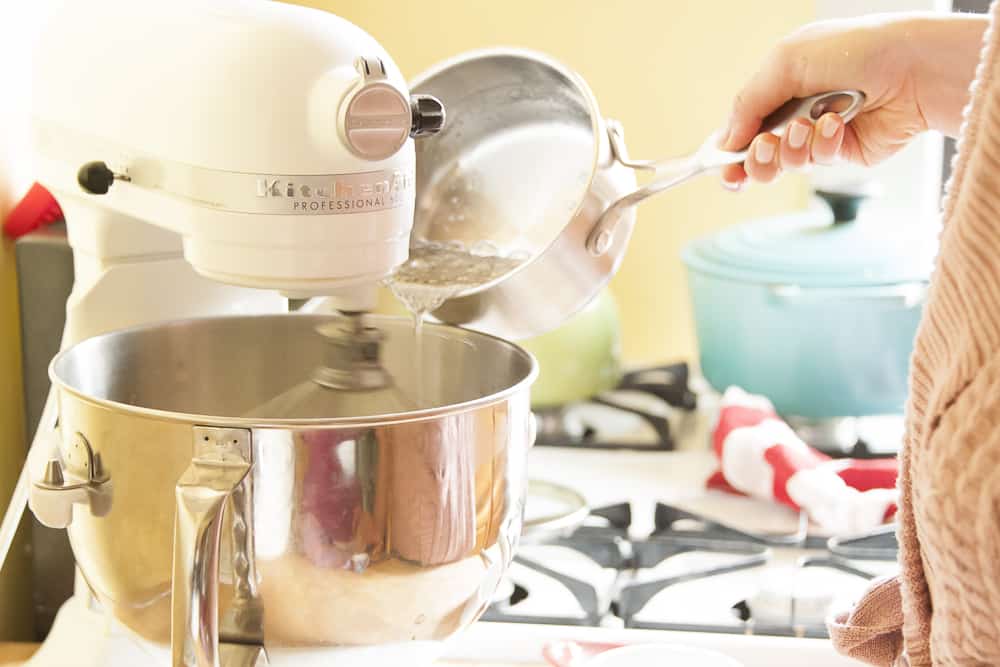 Carefully pour the syrup in a steady stream. You want to aim for the spot where the egg whites meet the bowl so it doesn't cool too much before getting whipped.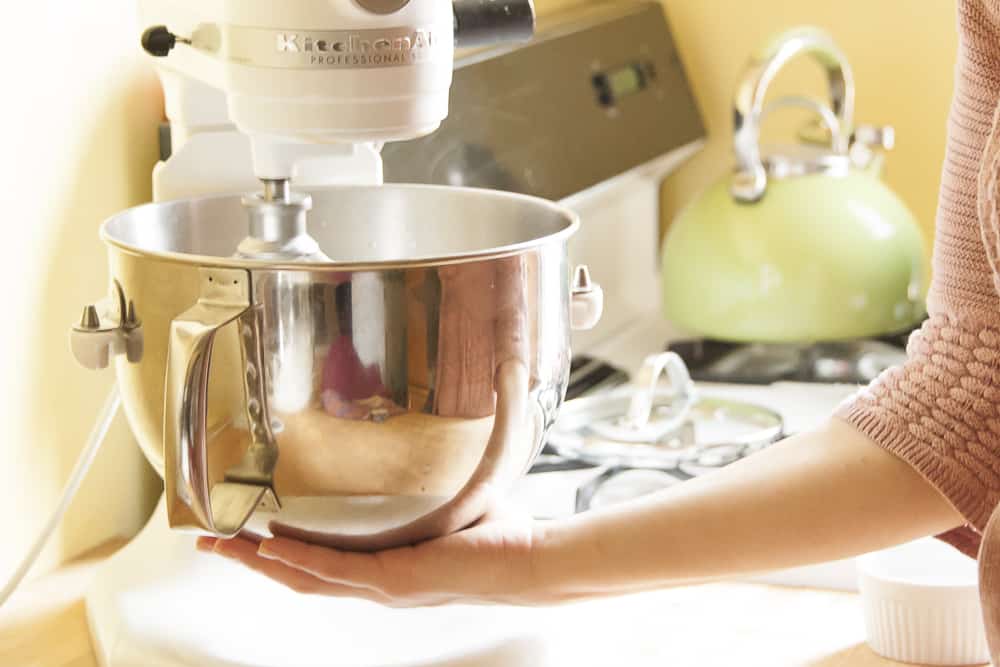 The bowl will cool a bit before the meringue is ready.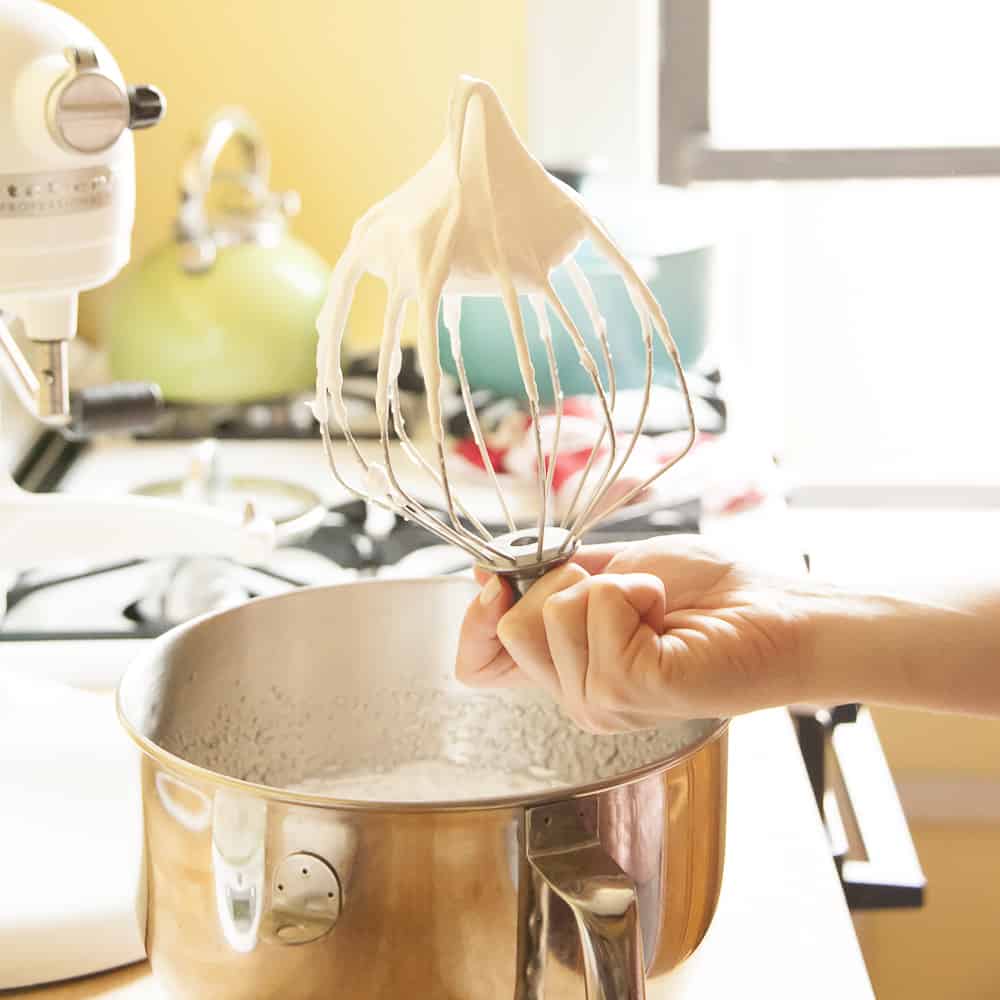 Stiff and glossy!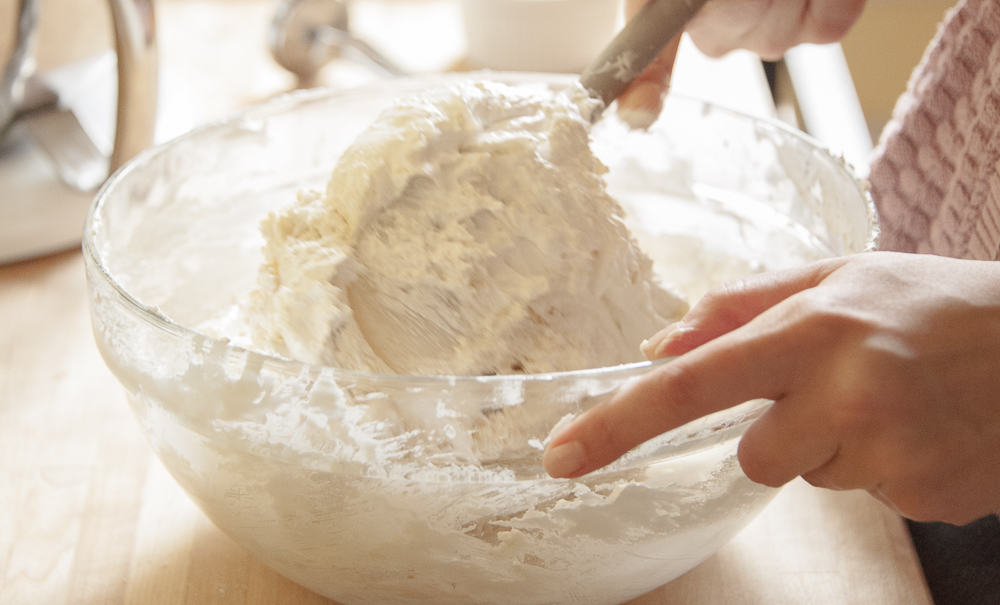 Folding.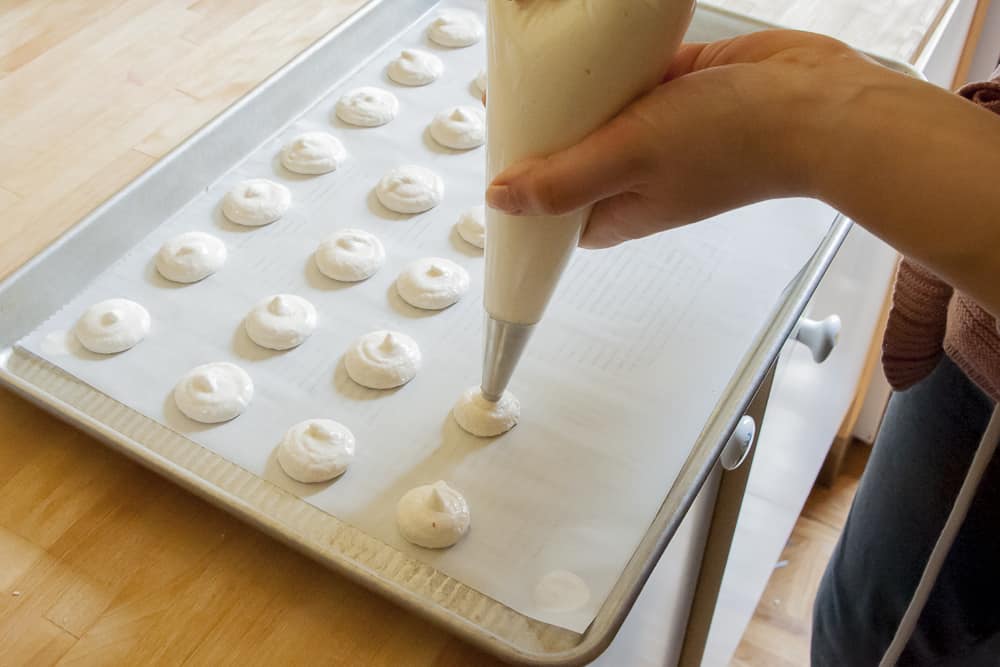 Piping- keep your bag stright up and down. The little dots on tops will disappear on their own if your batter was mixed enough.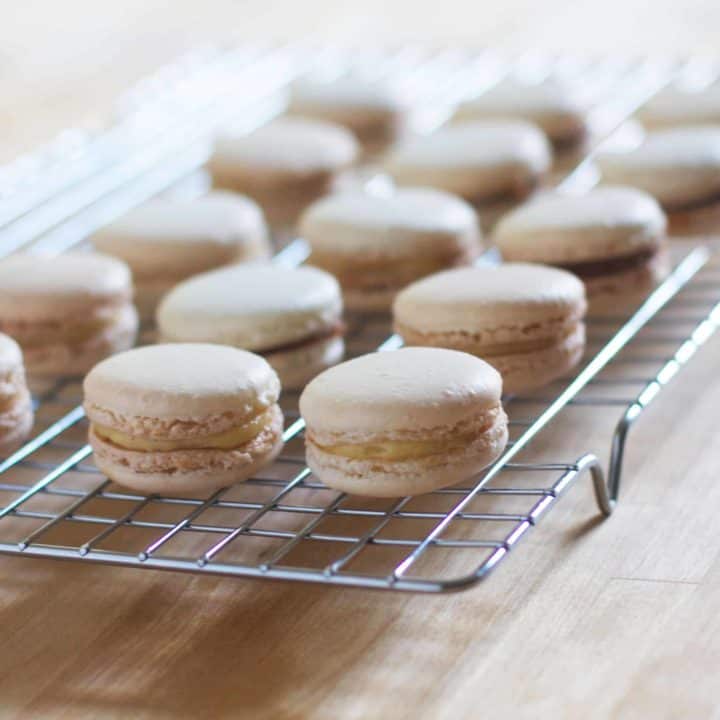 Basic Macarons
Yield:
About 50 sandwich cookies.
Ingredients
300 grams almond meal (or ground blanched almonds.) sifted.
300 grams powdered sugar- sifted
110 grams egg whites
300 grams white sugar
75 grams water
110 grams egg whites
Instructions
In a large bowl, whisk together the sifted almond meal and powdered sugar- breaking up any lumps or large bits.

Make a well in the center of the bowl and pour 110 grams of egg whites in. Fold them in gently until the mixture is well combined, thick and paste-like.

Meanwhile- place the other 110 g of egg whites into the bowl of a stand mixer fitted with a whisk attachment. Leave it be while you make the sugar syrup.

In a small saucepan, combine the sugar and water and stir together until dissolved. Clip a candy thermometer to the side of the pan.

When the syrup reaches 225 degrees F- turn the stand mixer on high and start whisking the eggs. You want them to be at soft peak stage, so as soon as they are, turn the speed to low. The egg whites can wait for the syrup- but once the syrup is ready- it cannot wait.

When the syrup hits 239 degrees- carefully pour it into the side of the bowl while the mixer is running. You don't want the syrup to run down the bowl- or it will cool- so aim to pour it right at the spot where the egg whites meet the side of the bowl.

Whip on high for about a minute- and then reduce speed to low and continue beating until the bowl has cooled slightly, and glossy stiff peaks have formed.

Add 1/2 of the meringue to the almond mixture, and gently fold it in until combined and smooth. Gradually add the rest of the meringue until batter is smooth and it almost ribbons off the spoon.

If you want to divide the batter and add gel coloring to any/part of it this is the time. After adding a bit of color, continue to fold it in until the batter is smooth and shiny and totally ribbons of the spoon.

Fill piping bags with a round tip and preheat oven to 300F.

Prepare baking sheets with parchment paper. If your oven has a strong fan- you may want to pipe dots of batter onto the corners to stick the parchment down. OR- you can weigh it down with butter knives along the edges.

Pipe small rounds with the bag perpendicular to the baking sheet. You'll need to develop a rhythm that works for you so that your macs are similar in size. I like to count out loud- "1, 2, 3- release."

Let the piped macs sit out until a trace of a shell is formed- 20-30 minutes will do- maybe less. This helps keep their shape while baking.

Bake for about 12 minutes. To test if done- open the oven and wiggle the top of a shell back and forth. If it's super "wiggly" they need more time. Perfect macs will be just a little wiggly- but overall firm.

When done, remove parchment from the sheet and let cool for 5 minutes on the counter top. Gently peel parchment paper off and cool completely before filling.

Macarons taste best when "ripened" in the fridge for 24-48 hours, but can last in the fridge air-tight for up to a week.

FAQ:
Can I use a silicone baking mat instead of parchment? Briony says no- the batter doesn't stick to the silicone as well so it tends to spread more.
Can I use liquid egg-whites? No – never. The preservatives used to give them a long shelf-life doesn't bode well for macs.
Do I need a stand mixer? Yes- I wish the answer was No- but for this recipe- you need the egg whites to move in their own while you pour the syrup. Maybe it would work if you had a helper in the kitchen- but I had an epic fail trying this with a hand mixer.
This is a huge recipe-can I cut it in half? I don't think so- reducing the amount of egg whites to would mean your whisk attachment may not reach them to whisk them into a meringue. UPDATE: So a few of you commented that you have successfully halved this recipe- awesome! I will try again even though I didn't have luck. Read the comments for some tips of how to help your whisk attachment reach them.
My shells are hard and crunchy- what do to? It's your lucky day- it's WAY better to over bake your shells than under-bake them. They will soften after you fill them and they ripen in the fridge.
Must I use a kitchen scale? Yes- I really think that weight vs. volume measurements is the way to go. They really do better when everything is precise.
Tips:
It may be tempting to try to flavor the shells a lot to make them whatever flavor you are going for- but I don't really suggest it. (though I will share the chocolate shells at a later day.) You'd be amazed at how strong of a flavor the filling can give the whole cookie once it has ripened. Test it and give them a taste tight away and then after 48 hours- the flavor of the filling really comes through!
Everything that touches those egg whites needs to be clean as a whistle. A trace of oil or grime on your whisk or mixing bowl will mess up your meringue. Also- yes- even the smallest trace of yolk can be a disaster.
Humidity is the death of macarons. Don't try these on an overly humid day or your shells may crack or not develop feet!
PS- After I had already planned on making these, Lindsay announced that macarons where the "Kitchen Challenge" for April. How perfect for me since I want to participate whenever I can!