Mama's Cheesy Vegetable Soup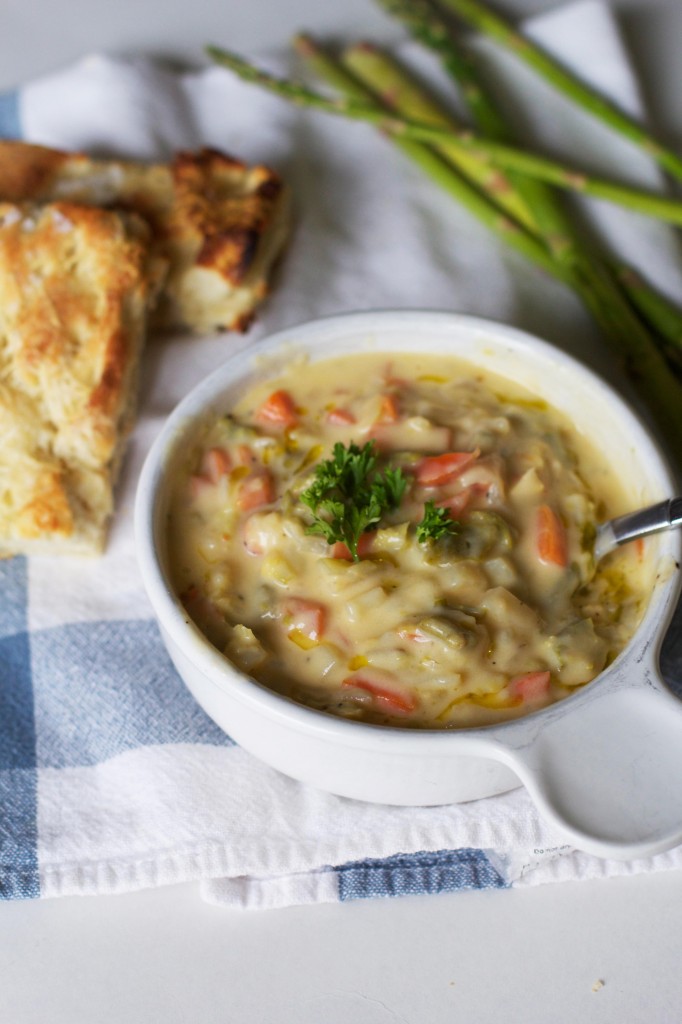 We all have them- the childhood meals that are so comforting and special that taking a bite brings you right back to the good old days. My good old days were when I'd get home from school to an empty house with a note from my Mom that we were all supposed to look at as we rolled in. Each girl usually had their own bullet point with instructions for the afternoon in addition to homework- like, "Please put away your laundry!" or "Practice piano!" The good part of the note though was where my Mom would outline what was for snack. My favorite days were when the bottom of the note read: "PS- Cheese soup on the stove!!"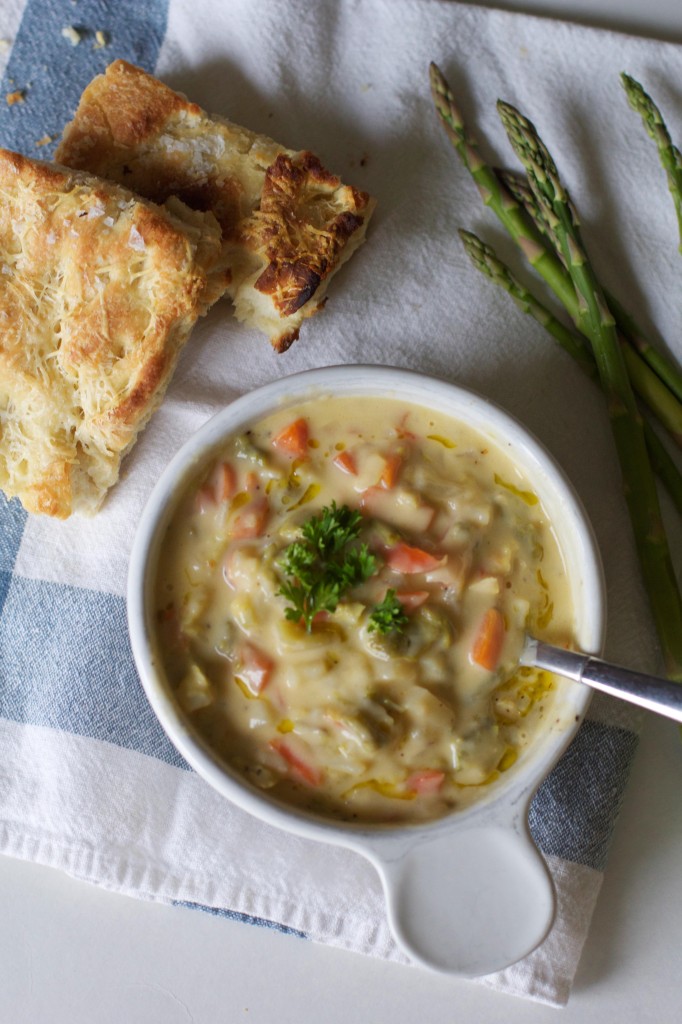 I have loved this soup for as long as I can remember. We always called it "Cheese Soup," but since there are really more veggies in it than cheese I thought our title may be a bit deceiving. It's really just a creamy cheesy soup full of tons of different veggies, (totally adaptable based on what you have on hand!) Over the years I've seen this soup full of carrots, broccoli, cauliflower, regular/sweet potatoes, white beans, asparagus, brussel sprouts and more. You can totally make it work with what's in your fridge which is another reason it's so great.
"Soup season," may be in the past, but I love this recipe all year round. I hope that my kids love it as much as we always did. I wonder what special things I'll make that they'll feel this nostalgic about you know? It's a strange thing to think about. :) Maybe they will always ask me for "Mimi's Cheese Soup," (What my mom is going by to her grandkids,) served with Mama's foccacia, (which was just wonderful on the side!)
Mama's Cheesy Vegetable Soup
Ingredients
2-2 1/2 cups of diced vegetables, many different veggies will work- this version had broccoli, asparagus, potatoes, carrots and brussels sprouts
1 medium onion, diced
1 clove of garlic, minced
2 tablespoons butter
2 tablespoons flour
1 cup whole milk
1 cup grated cheddar cheese
salt and pepper to taste
Instructions
In a large pot, sauteé the onion and garlic in a little butter until soft, about 5 minutes. Add the rest of the veggies, cover about halfway with water and add a heavy pinch of salt. Cook veggies on low until they are tender, about 20 minutes.
While the veggies are cooking, prepare the cheese sauce. In a small saucepan, melt the butter. Add the flour and stir constantly until golden. Slowly pour the milk into the pan and continue to whisk until smooth and thickened.
Add grated cheese and whisk until it has melted. Season with salt and pepper.
When the vegetables have cooked, drain them, reserving the water (It's a veggie stock of sorts, full of flavor and nutrients!)
Pour the cheese sauce over the vegetables, and gradually add the water back to the pot, a little at a time, until your desired consistency of soup is reached. (We like it very thick and creamy.) Add more salt and pepper if needed.
Enjoy with a big hunk of bread!
Notes
This recipe is highly forgiving so don't be shy to experiment and find out how you like it best!
Nutrition Information:
Yield:

4
Serving Size:

1 grams
Amount Per Serving:
Unsaturated Fat:

0g