Massaged Kale Caesar Salad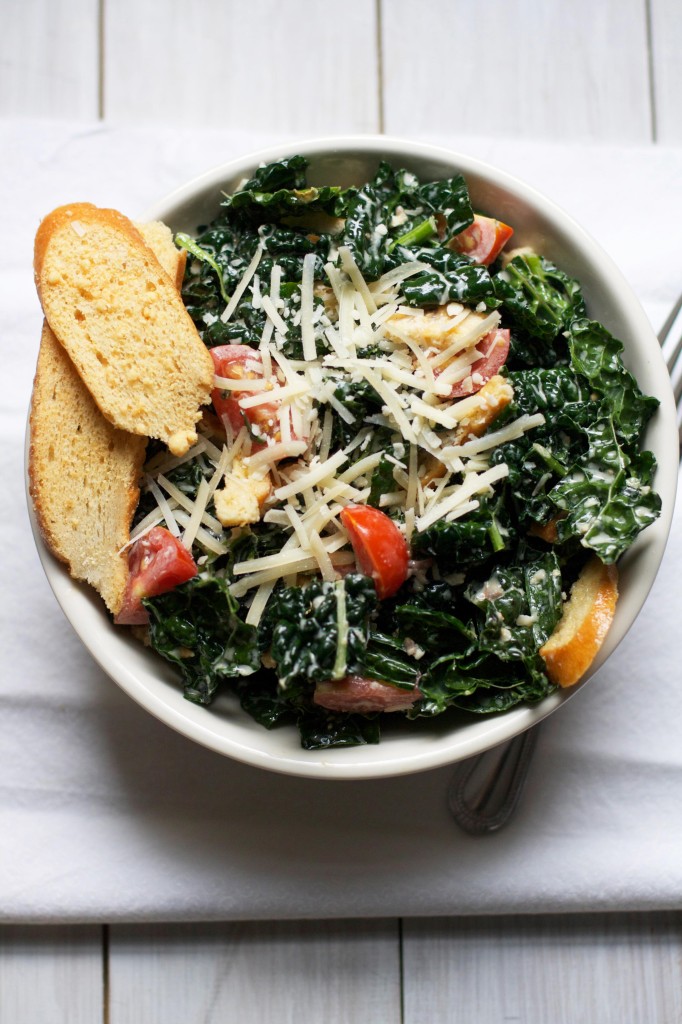 You guys- hell may have frozen over. I'm posting a non dessert as my first post of 2014! I actually had a sweet recipe originally planned for today, but I posted a poll on my facebook page and majority ruled a salad recipe first and back to treats next week. :)
Luckily this salad is not only full of healthy dark, leafy greens, but it is so so good. I love this enough to have made it several times already and I pretty much crave it daily. There is a great salad place in the city called sweetgreens that makes a kale caesar that I used to go to every week or so for my fix but now I don't have to! Their version is half kale/half romaine but I love the all kale version and I need those greens so there ya go!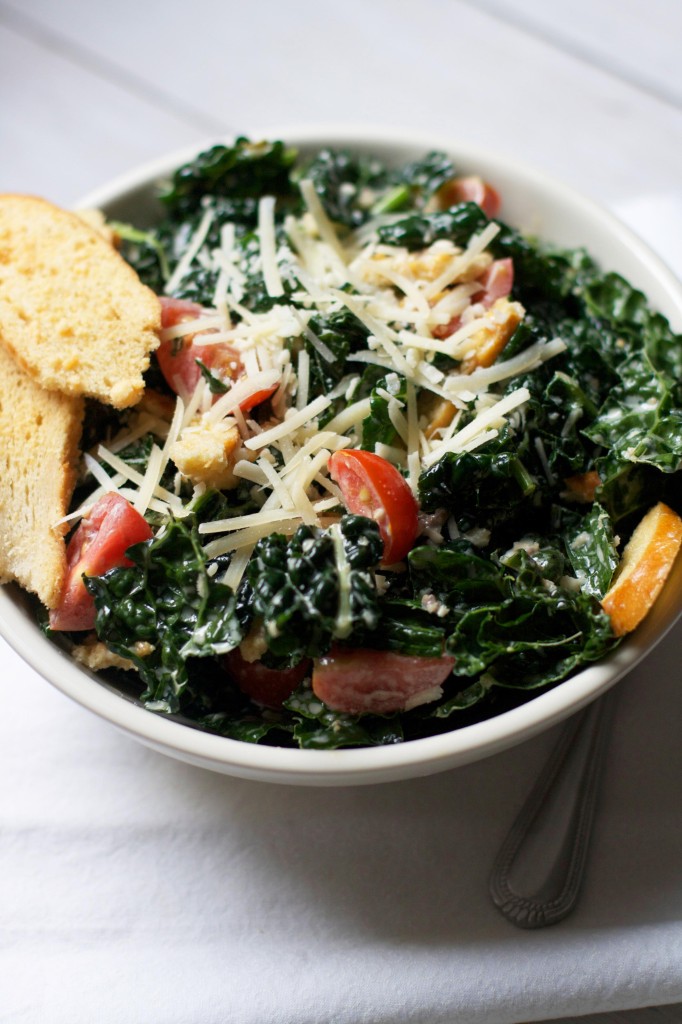 This was my first time making my own caesar dressing and also my first time making a "massaged" kale salad which results in super soft tender greens that aren't the least bit tough or rough like I always assume kale salads to be. The dressing is perfectly flavored and some delicious crunch is added from topping the salad with "parmesan crisps" which are crunchy toasts with crispy parmesan on top. (They add a great touch but regular croutons work too!)
As I get closer to baby time I've found myself craving sweets. A lot. My midwife wants me to try to cut back on them in the final stretch so I hope you don't mind a greater mix of sweet and savory as we go forward. I genuinely loved this salad and felt so good to be getting all those vitamins and nutrients from the kale. It's a new favorite for sure! :)
Massaged Kale Caesar Salad
Yield:
2 large (dinner sized) or 4 (side) portions
Ingredients
1 For the dressing:
¼ cup extra virgin olive oil
2 tbsp. freshly squeezed lemon juice
¼ tsp. Worcestershire sauce
3-4 cloves garlic, finely minced or pressed
3-4 anchovy fillets
2½ tbsp. mayonnaise
Freshly ground black pepper, to taste
1 oz. Parmesan cheese, finely grated
For the salad:
1 bunch kale, about 8-12 oz., with ribs removed, cut into bite-sized pieces
1 tbsp. olive oil
Parmesan crisps or croutons
1/2 cup grape/cherry tomatoes., optional
Grated Parmesan cheese, for serving
Instructions
For the dressing:
Use a fork to mash the anchovies into a paste and add to a small bowl along with the mayo, garlic, lemon juice, oil and Worcestershire sauce. Whisk together until well combined. Add the pepper and parmesan and continue to whisk until a smooth (ish) dressing has formed. Add more pepper or salt to taste.
For the kale:
In a large bowl, drizzle oil onto kale. Use your hands to massage the oil into the greens for a few minutes until they are shiny and tender.
Add the parmesan crisps or croutons and tomatoes.
Toss with the dressing and top with grated parmesan.
Notes
*If you don't add the croutons/crisps the salad can actually sit in the fridge for few hours and the kale will hold up just fine. Toss the croutons in before serving so they don't get soggy. Recipe adapted from: Annie's Eats via Three Many Cooks
Nutrition Information:
Yield:

2
Serving Size:

1 grams
Amount Per Serving:
Unsaturated Fat:

0g