It's Milk Bar Monday! In case you are new to these parts, MBM is a project I started last year with a few other bloggers to bake our way through the Momofuku Milk Bar Cookbook by Christina Tosi. So far, it's proven to be one of the most rewarding and challenging projects I've taken on- I really love these Mondays so!
The majority of the recipes in the cookbook are sugary sweet, so I always get a little excited when we make something savory. Last time we made Bagel Bombs which I loved, and today I'm sharing a recipe I loved even more. (if that's possible.)
It begins with the same basic dough with Christina Tosi calls "Mother Dough" as it used in every bread-based recipe in her book. Flattened out dough rounds are filled with a scoop of caramelized onions, and a slab of scalloped potatoes with bacon. The whole thing is sealed up and rolled into a ball, which we cut a small opening into before stuffing it with cheese.  I mean I don't need to describe much more to convey how delicious these are right?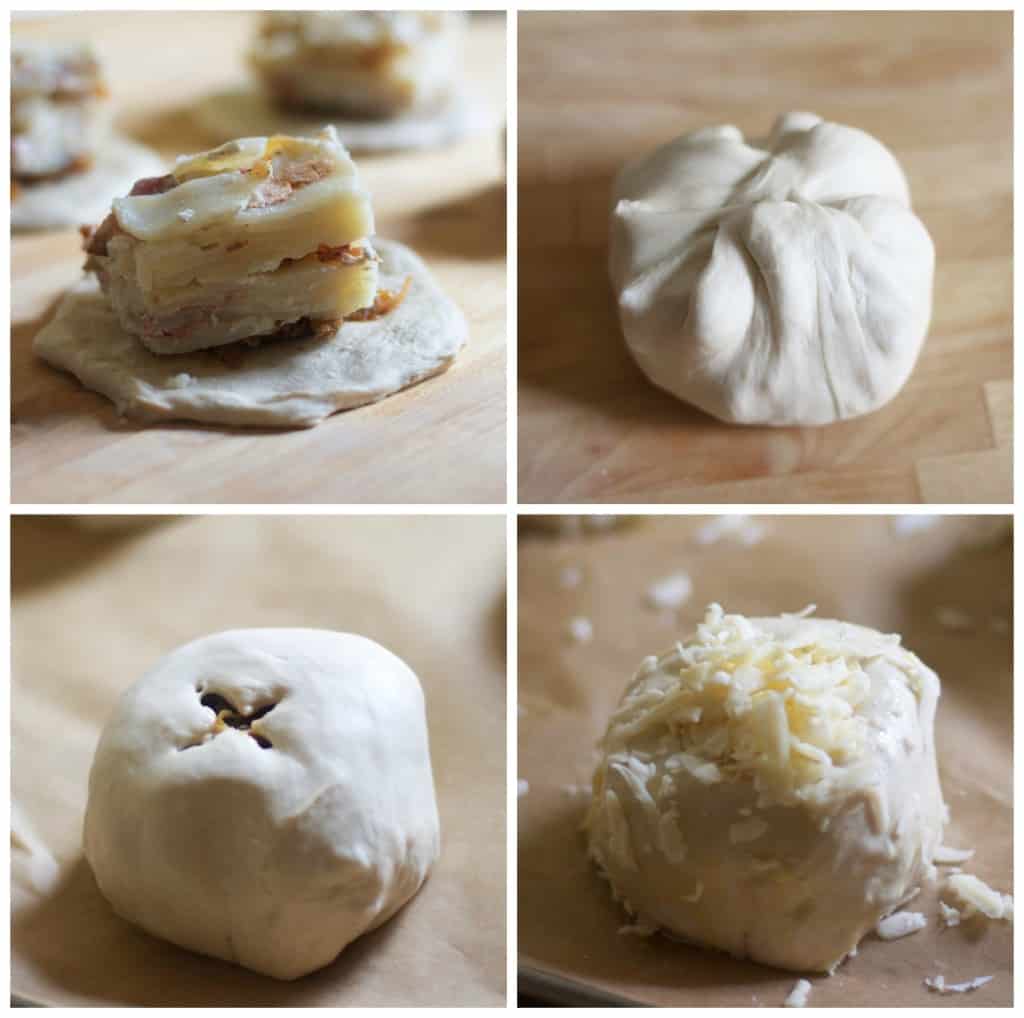 We stretched the dough so thin, that I assumed it would explode while baking making it even more "volacno"- like.  But everything stayed put- the potatoes getting soft and creamy, the cheese melting and getting crisp and caramelized on top. We enjoyed these for a mid-Saturday snack and couldn't get over how great they were. The dough is thin and crispy, letting the ingredients inside really shine. The sweetness of the onions was a great contrast to the salty bacon and rich potatoes. This is definitely a concept I'll be trying again. What else can I stuff inside these babies?
It's just Erin and I posting today- but make sure to check out her gorgeous Volcanoes here
. 
Caramelized Onions

Yield: makes enough for 1 recipe Volcanoes

Ingredients
2 tablespoons vegetable oil
2 medium Spanish onions, halved and thinly sliced
1½ teaspoons kosher or sea salt
Instructions
Heat the oil in a large heavy-bottomed frying pan over medium-high heat for 1 minute, or until it's very hot but not smoking. Add the onions and let them cook for 2 to 3 minutes without stirring.
Toss the onions with a large spoon or spatula while seasoning them with the salt. Lower the heat to medium-low. The rest of the caramelization process happens slowly over medium-low heat for 20 minutes. You don't have to stand over them the whole time, but stay nearby. Toss the onions over on themselves every 3 to 4 minutes so they all get their time on the bottom of the pan. The onions will weep and then slowly take on color as they release their liquid. When your onions are the color of a brown paper bag, they are done. Cool completely before using in the volcanoes, or store in an airtight container in the fridge for up to 1 week.