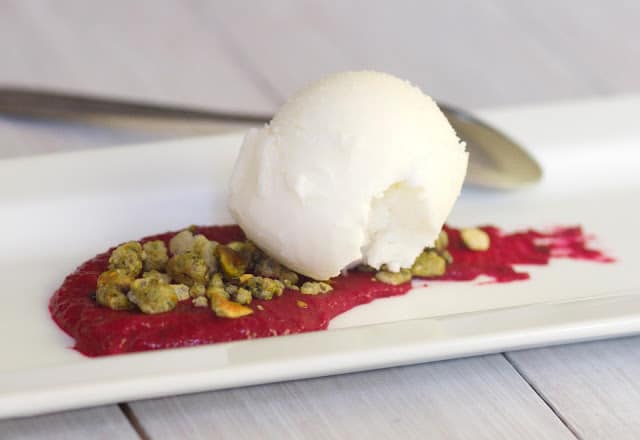 Christina Tosi described this dessert as the "final exam" of her cookbook and I'd have to agree. As I was making it, I felt like a more advanced pastry master than I actually am! Now don't get me wrong, all of the recipes I've tried from The Momofuku Milk Bar Cookbook so far are involved, but this one is the big winner I must say. It is also (in my opinion) the most unique, considering that many of the ingredients would be more likely found in a salad than a dessert. All of that being said, this was very cool to make and I'm very glad I did.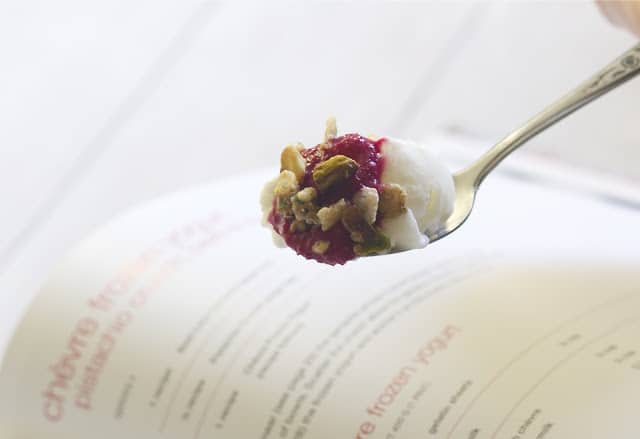 I felt like a pastry chef as I "schmeared" the beet-lime ganache on the chilled plate and placed my scoop of yogurt on top. (I haven't quite mastered the beautiful egg-shaped "quenelle.") As I finally tasted all the components of the dessert, I actually stood there pondering for a few minutes. "Do I like this?" "Ooh- what's that flavor?" "Yes, I do like it…I think." "Let me have another bite to see…." The end consensus found by me and the others that sampled it was: this dessert is weird but good. Pretty darn good actually.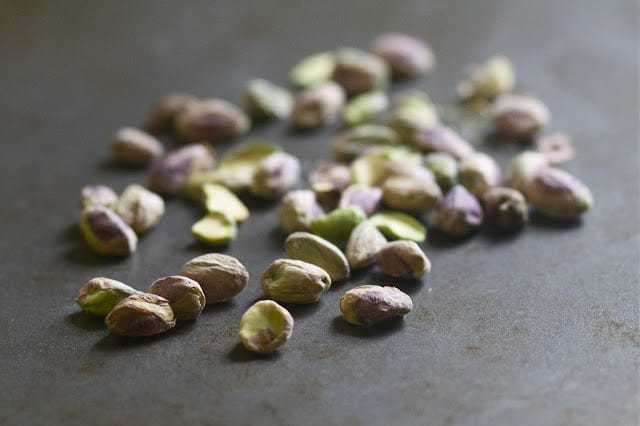 I actually think I would make the goat cheese frozen yogurt again, as I think it would be lovely on top of a summer cobbler. As for the beet-lime ganache, it tasted out of place to me on it's own. Sweet, tart, and savory all at the same time. With all the components in place though, this dessert was really interesting, tasty and worth making. If you're ever in NYC with the ability to go to Milk Bar- give it a try!
Only a few of the girls were able to post this recipe today, but make sure to visit our host Jaqueline at The Dusty Baker for her Gluten/Dairy free version, as well as Meagan from Scarletta Bakes and Erin from Big Fat Baker.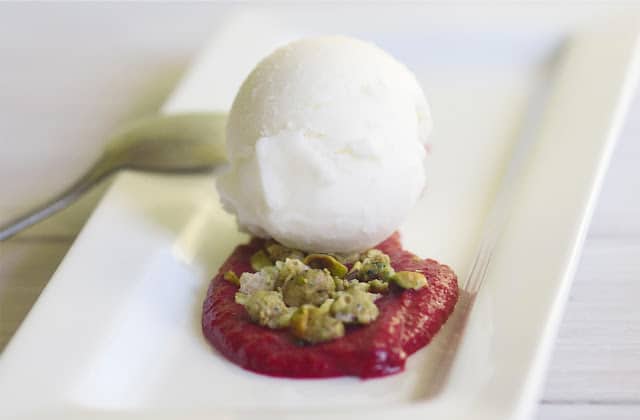 chévre frozen yogurt
(makes about 1 pint)
1 teaspoon of unflavored powdered gelatin
1/4 cup milk
1/4 cup fresh chévre (goat cheese)
1/4 cup buttermilk
2 tablespoons yogurt
1/4 cup glucose (or corn syrup in a pinch)
1/4 cup sugar
1/2 tsp. kosher salt
1/8 tsp. citric acid *
*also know as sour salt- this can be found at some grocery stores or specialty baking stores. I wasn't able to get it, so I added a teaspoon of lemon juice instead. I didn't find the extra liquid to be a problem.
1. Sprinkle the gelatin over 2 tablespoons of cold water and allow to bloom for a few minutes.
2. Warm a little bit of the milk and whisk in the gelatin to dissolve. Trasnfer to a blender or food processor and add the remaining milk, the chévre, the buttermilk, yogurt, glucose, sugar, salt and citric acid. Puree until smooth.
3. Pour the base through a fine mesh strainer into your ice cream machine and freeze according to the manufacturer's instructions. The frozen yogurt is best spun just before serving or using, but it will keep in an airtight container in the freezer for up to 2 weeks.
beet lime ganache
makes about 3/4 cup (I cut the original recipe in half to match the quantity of ice cream.)
1 medium beet peeled and cut into chunks (use gloves!)
1 lime
milk if needed
2 oz white chocolate
1 tablespoon of butter
1/8 cup glucose (or corn syrup in a pinch)
1/8 cup cold heavy cream
pinch of kosher salt.
1. Heat oven to 325.
2. Wrap the beet chunks up in a big sheet of foil and put on a sheet pan for easy handling and clean up. Roast for 2 to 2 hours or until beets are on the mushy side of tender. give them addition 30 minute intervals in the oven if they aren't.
3. Meanwhile, grate the zest from about half the lime and set aside. Squeeze 1 tsp of juice from the lime and set aside.
4. Transfer the beets to a blender and puree them. (Add a bit of milk if they aren't blending easily. ) Pass the puree through a fine-mesh strainer, it should have the texture of pumpkin puree or baby food. Measure a scant 1/4 cup of the beet puree and let it cool.
5. Combine the white chocolate and butter a microwave-safe dish and gently melt them in the microwave in 15-second intervals- stirring between blasts. The result should be warm to the touch and totally homogenous.
6.Add the glucose to the warm chocolate mixture and whisk together with a fork until smooth and well-incorporated. Stream in the heavy cream and continue to mix with the fork. The mixture will come together into something silky, shiny and smooth.
7.Blend in the beet puree, lime zest and salt. Put the ganache in the fridge for 30 minutes to firm up.
pistachio crunch
makes about 1 cup of crunch (again I cut the recipe in half and this will still leave you with some leftovers.)
ingredient notes: I had to make some adaptations to the original recipe because there were certain ingredients I just couldn't find. I'll indicate what I used in parenthesis.
1/4 cup raw unsalted pistachios (I used the in-shell roasted kind and just skipped the roasting step.)
1/4 cup pistachio paste (I could not find so I used almond butter.)
3/8 cup feuilletine (this is a special ingredient I will be getting on amazon. I used rice krispies.)
1/8 cup powdered sugar
1/2 tsp kosher salt.
1. If your pistachios are raw, preheat the oven to 325
2. Put the pistachios on a sheet pan and toast in the oven for 15 minutes. Cool to room temperature.
3. Put the toasted pistachios in a clean kitchen towl and, with a rolling pin, bash them into smaller pieces, ideally halving the pistachios or breaking them down to no smaller than one-eight their original size.
4. Combine the broken pistachios with the paste (or almond butter,) feuilletine, confectioners' sugar, and salt in a bowl and paddle on a medium-low speed for about 1 minute until homogenous. The crunch can be stored in an airtight container at room temperature for 5 days or in the fridge for 2 weeks.