{Milk Bar Mondays} Chocolate Malt Layer Cake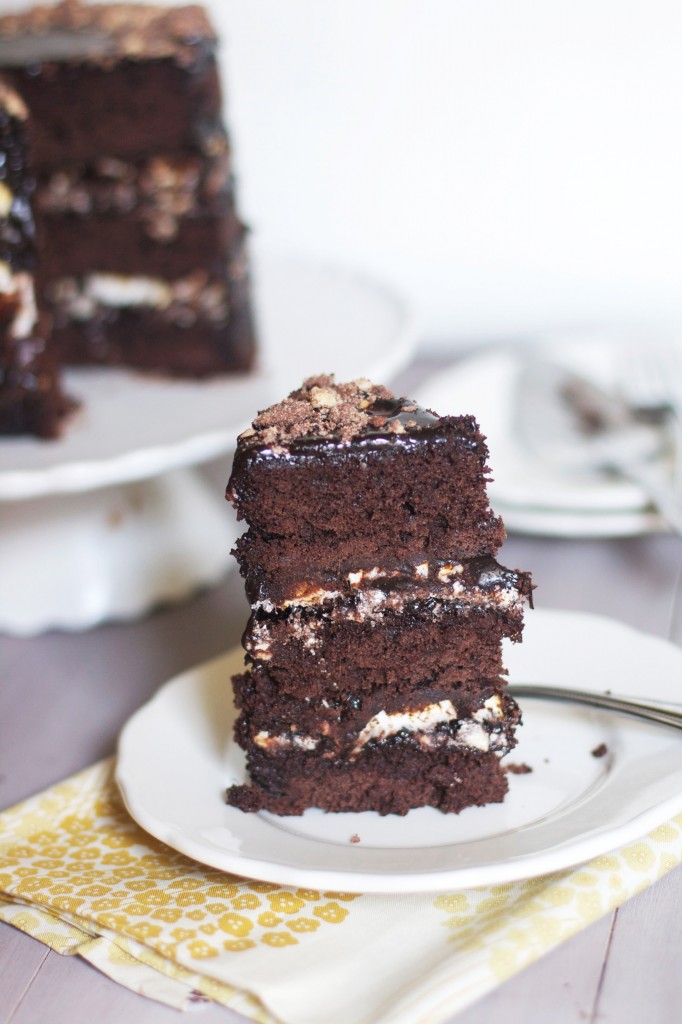 It's my favorite day- Milk Bar Monday!! Man oh man did we pick a good one to share with you today. Maybe not the simplest recipe we've done- but it is so delicious and totally worth it. In fact, Andy claimed that this was his favorite recipe I've made from the Milk Bar Cookbook so far! (He even liked it better than the Sweet Corn Cereal Milk Ice Cream Pie which used to be his reigning fave.)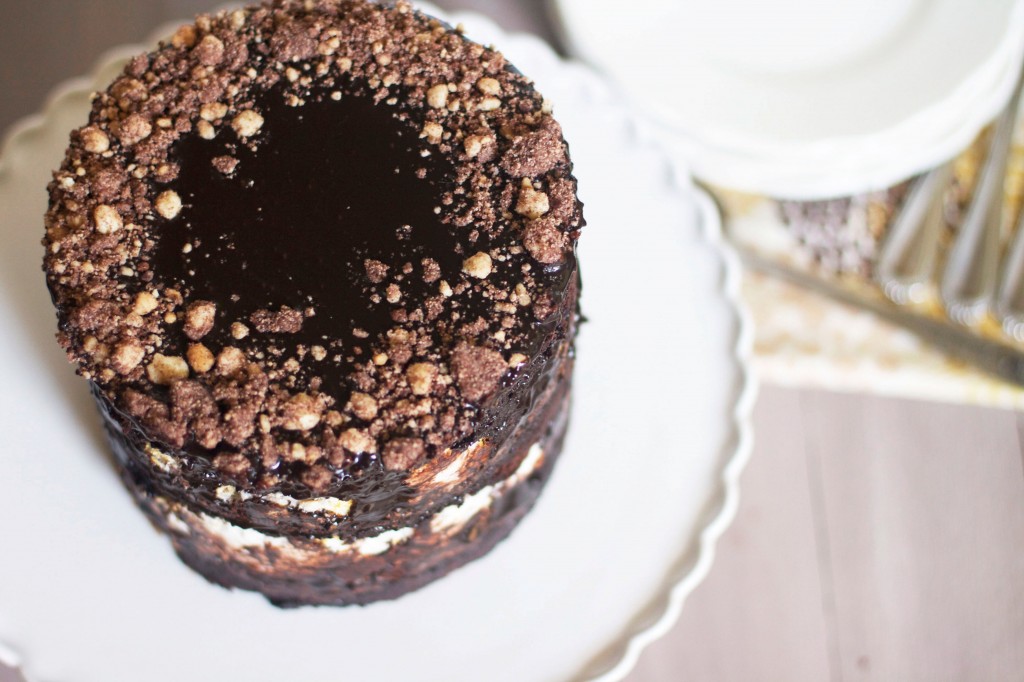 Like always with Christina Tosi's cakes, this one has many different layers and fillings making each bite taste better than the one before. The base is a rich chocolate cake with thick fudge filling, charred marshmallows, malted milk "crumb" and Ovaltine "soak" which keeps each layer of cake extra moist and flavorful.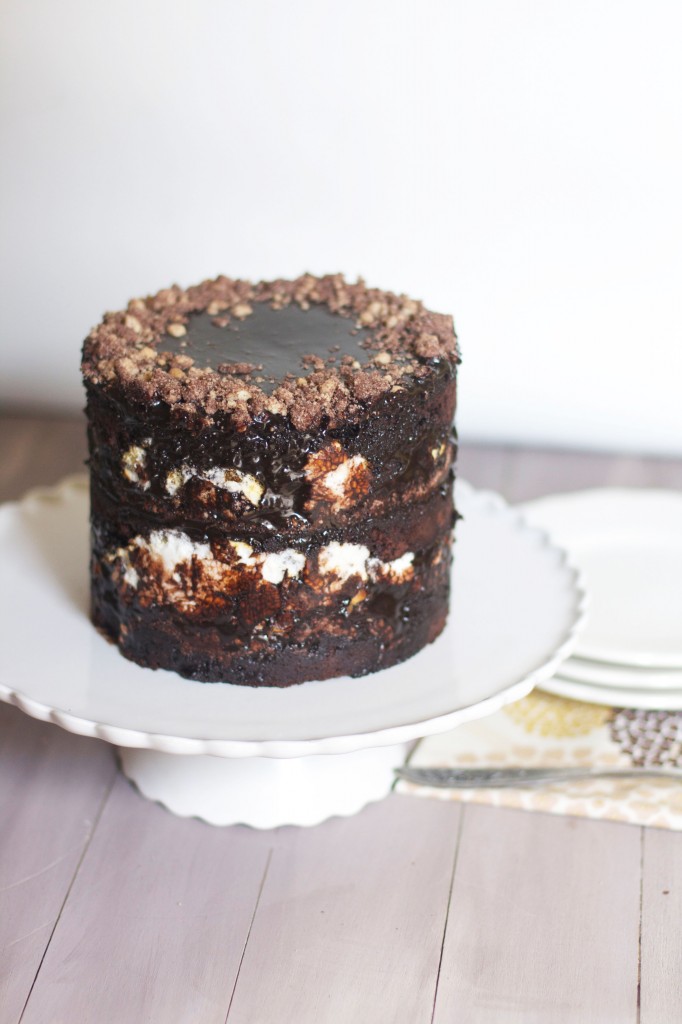 From the outside, my cake got a little smudgy as the fudge seeped out a bit, but for some reason I kind of loved the gooey messy look of it. The fudge was used in place of frosting so the whole thing was a bit ooze-y.
Once I cut into the cake though, I was so relieved to see that everything had more or less stayed in place, and that the gooey fudge only make the cake richer and more delicious. I tried the cake right out the fridge, but after I photographed it and let it sit out for a few minutes, and the fudge got soft and almost melty, it was even better.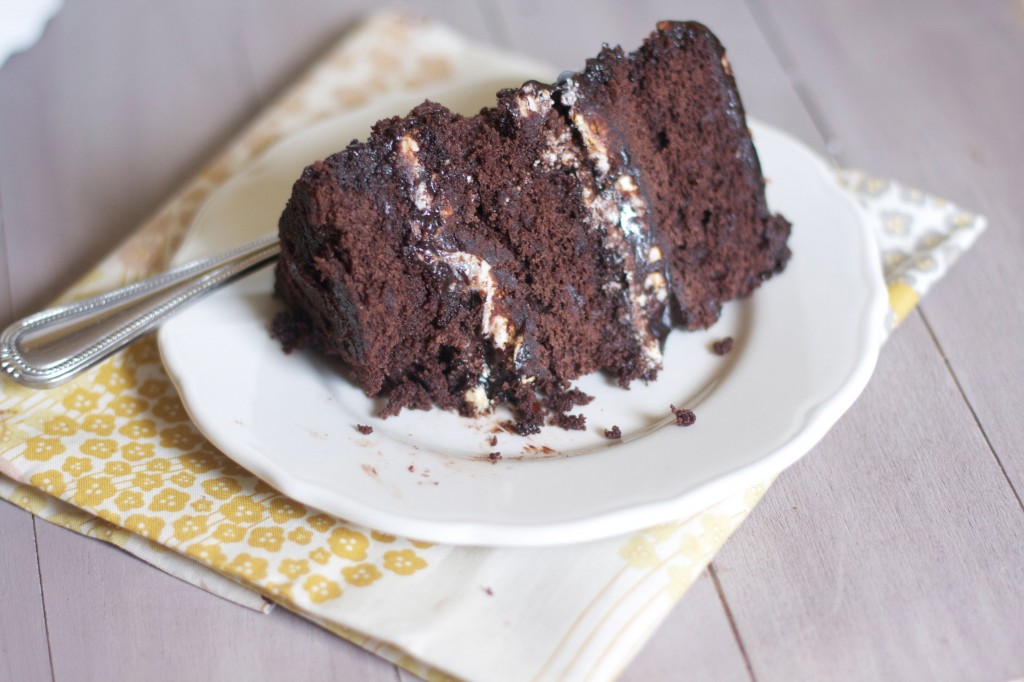 I only made one small change to the original recipe which was to use all her recipe for classic hot fudge instead of making an additional batch of "malt hot fudge." Erin mentioned that she liked the classic better, so I thought I'd save myself one step and avoid making two batches. I'm sure using the other makes it taste "maltier," but I am really glad I made it as I did. That fudge sauce was to die for!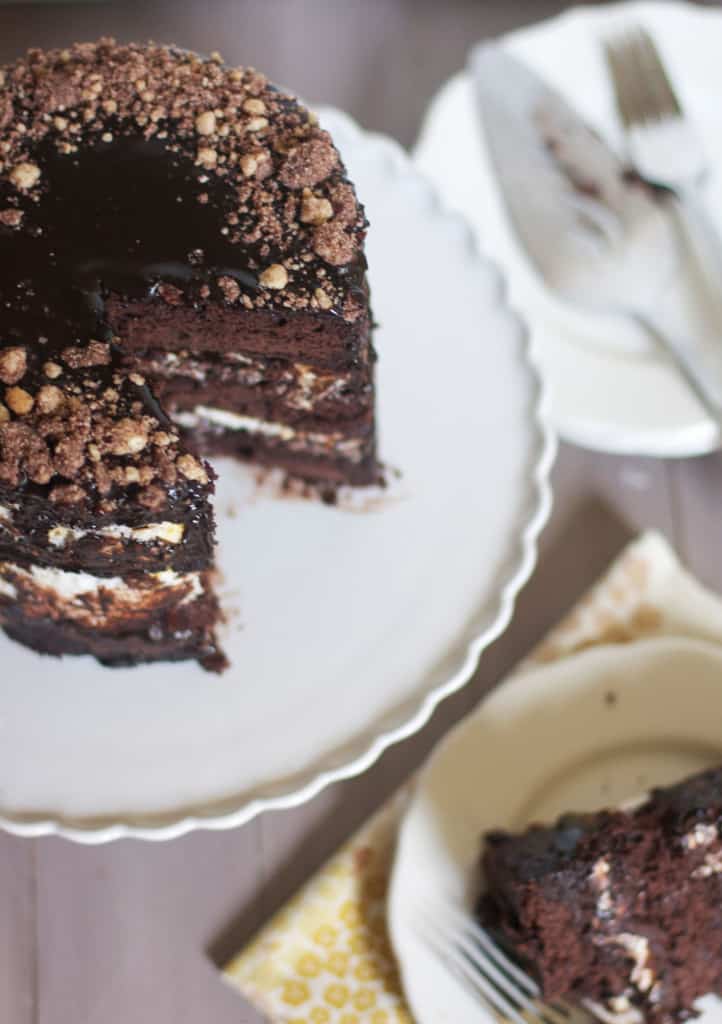 It's just a small group of us posting today, but Erin from Big Fat Baker has posted the whole original recipe for you with all it's steps. Jacqueline from The Dusty Baker also made the cake, but gluten and dairy free!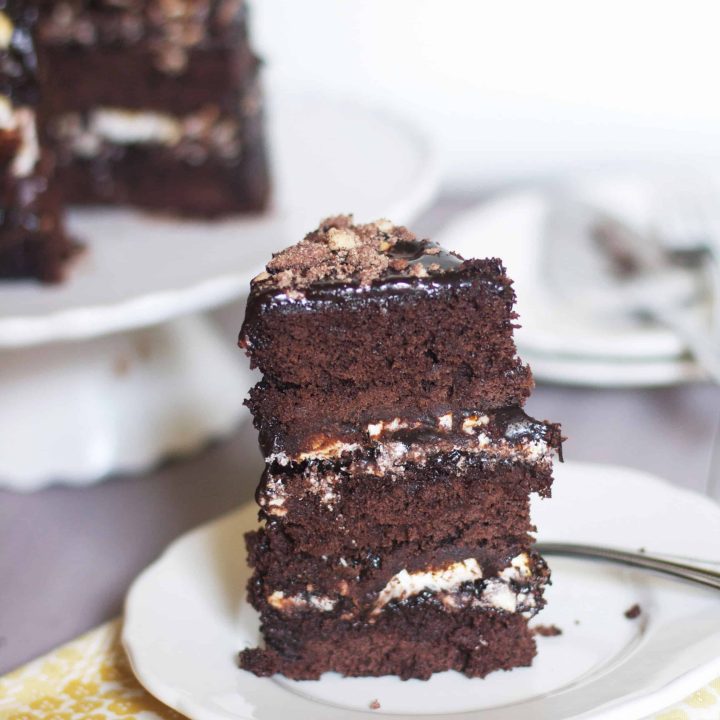 Chocolat Malt Layer Cake
From the Momofuku Milk Bar Cookbook, by Christina Tosi
Ingredients
1 recipe Chocolate Cake, recipe follows
1 recipe Ovaltine Soak, recipe follows
1 recipe Hot Fudge Sauce, minus the 3 T used for the cake. (recipe follows)
1 recipe Malted Milk Crumbs, recipe follows
1 recipe Charred Marshmallows, recipe follows
Instructions
Invert the chocolate cake onto a sheet of parchment paper or silpat, and peel off the parchment paper backing. Using the 6-inch cake ring, stamp out two circles from the cake. These will be the top and middle layers. The remaining cake "scrap' will come together to make the bottom layer of the cake.
Clean the cake ring and place it on a sheet of parchment paper or silpat atop a baking sheet. Use one strip of acetate to line the inside of the cake ring. Put the cake scraps in the ring and use the back of your hand to press the scraps together into a flat even later.
Dunk the pastry brush in the ovaltine soak and give the layer of scraps a good, healthy bath of half of the soak.
Spread one fifth of the fudge sauce over the base layer using the back of a spoon. (Warmer fudge sauce is easier to spread.)
Then sprinkle half of the malted milk crumbs crumbs and 1/3 of the marshmallows evenly over the top of the fudge. Use the back of your hand to anchor them in place.
Top with another fifth of the fudge, using a spoon to spread it as evenly as possible.
With your index finger, gently tuck the second strip of acetate between the cake ring and the top 1/4 inch of the first strip of acetate, so that you have a clear ring of acetate 5-6 inches tall- high enough to support the height of th finished cake. Top with a full circle of cake (save the nicest one for the top layer), brush the rest of the ovaltine soak over this layer, and repeat the process of layer 1.
Nestle the remaining cake round into the fudge. Cover the top of the cake with the last fifth of the fudge. Garnish with extra crumbs or marshmallows.
Freeze the cake for at least 12 hours to set the cake and filling. (And to make the unmolding much easier.)
Three hours before serving, pull the pan from the freezer, and using your fingers and thumbs, pop the cake out of the cake ring. Gently peel off the acetate and transfer the cake to a platter or cake stand. Let it defrost in the fridge for a minimum of 3 hours. (wrapped well in plastic, it can be refrigerated for up to 5 days.)
Nutrition Information:
Yield:

1
Serving Size:

1 grams
Amount Per Serving:
Unsaturated Fat:

0g