*Milk Bar Mondays* Carrot Cake Truffles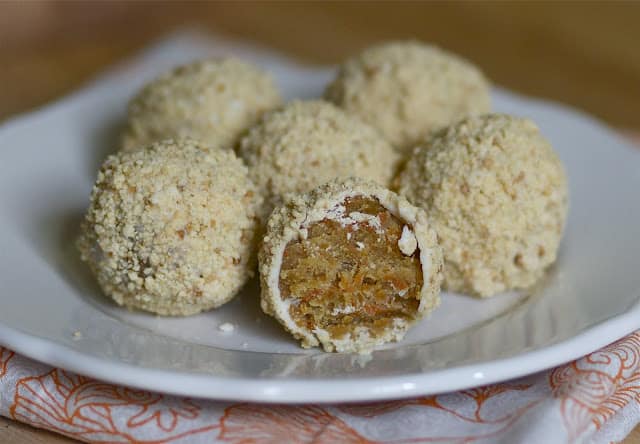 Remember earlier this year when I mentioned I was given the Momofuku Milk Bar Cookbook for Christmas? Well once I paged through it, and saw how challenging and interesting the recipes were, I knew I wanted to make it a goal to tackle them. The recipes all include lots of steps and prep and many ingredients I've never used. My first instinct was to shy away and stick it on the shelf, but instead I thought I'd rally with some other amazing bloggers and start a fun thing called "Milk Bar Mondays." Along with 6 other talented Ladies- I will bake my way through this cookbook and try everything from Crack Pies to Cereal Milk. Bake along with us if you like! If the results of this recipe are an indicator- the long winded recipes are totally worth it. These truffles were insanely good.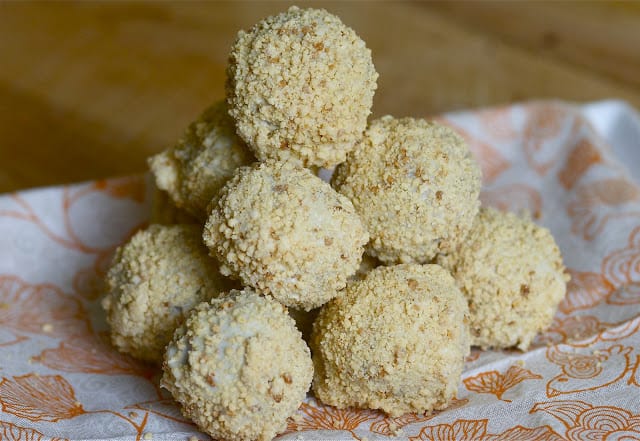 This week I got to choose the recipe and I'm so happy that I chose these! They start with a soft and fluffy Carrot Cake. After it is baked and cooled you smash it up, add an amazing concoction called liquid cheesecake (kinda like thick, creamy, cheesecake gooey-ness,) roll it into a ball, coat it in white chocolate, and top it all off with crunchy, sweet and slightly salty "milk crumb." These were insane. So many flavors combined to make something really unique and delicious. Everyone I shared them with couldn't get over all the pops of flavor in one little bite.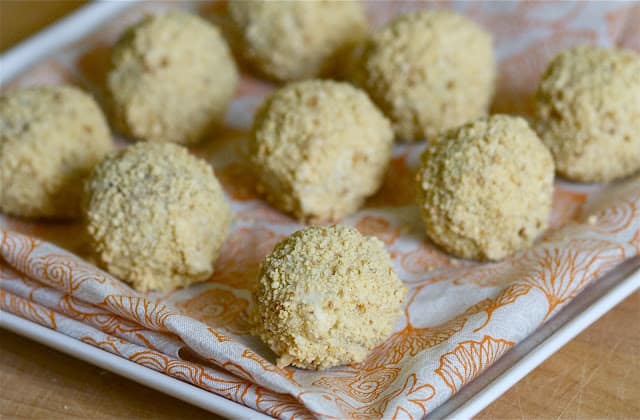 At first I thought there may have been some shortcuts to make this whole process a bit simpler, (like maybe just using frosting like other cake truffles,) but all the small details are really worth it. There isn't a single part of this whole recipe I'd change, and I couldn't urge you more to spend a few hours making these.
Make sure to check out the other lovely ladies that are participating in Milk Bar Mondays with Me!!
Krissy from Krissy's Creations
Cassie from Bake Your Day
Meagan from Scarletta Bakes
Nicole from Sweet Peony
Erin from Big Fat Baker
and Jaqueline from Dusty Baker (hers are gluten and dairy free!)
Follow our fun on Twitter #milkbarmondays


Ingredients
3 cups Carrot Cake Scraps, recipe below
2-4 tablespoons Liquid Cheesecake, recipe below
1/2 recipe Milk Crumb finely ground in a food processor, recipe below
3 oz. White Chocolate
Instructions
Combine the crushed up cake with 2 tablespoons of the liquid cheesecake. Using your hands mush it all together. If it is moist enough to knead into a ball it's great- if not, add some more liquid cheesecake until it's ready. Portion out 12-15 balls of the mixture- roll them together with your hands and set them aside on a cookie sheet.
Melt the white chocolate and put it in a shallow bowl. Using a spoon, dip each ball of cake into the white chocolate and tap it on the side of the bowl until all the drips are off. (Christina says to do this with gloved hands, but I didn't have gloves so I used this method instead.) Then toss it in the milk crumb until well coated. Put them in the fridge for at least 5 minutes to fully set the chocolate. The truffles can be stored in an airtight container for unto a week in the fridge.
Nutrition Information:
Yield: 12 Serving Size: 1 grams
Amount Per Serving: Unsaturated Fat: 0g


Recipe from Milk: The Momofuku Cookbook by Christina Tosi