Mini Baked Mac & Cheese Bites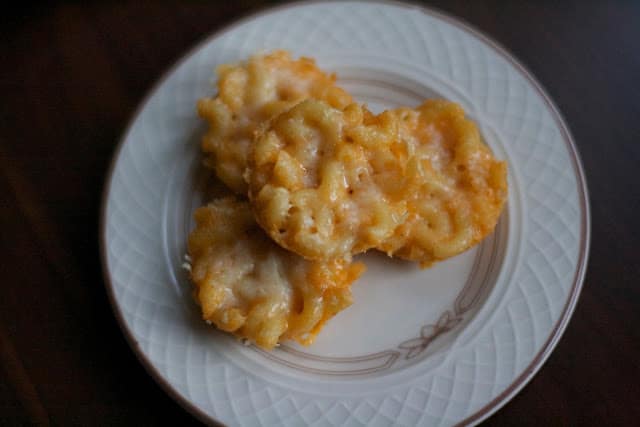 As I mentioned yesterday, these bites were a favorite from my Tiny Food Party that I recently hosted. I wanted to round out my menu with a warm, savory, app that would feel satisfying next to other lighter snacks. Though the Tiny Food Party cookbook had a fried version, I knew I wanted to make something at least a little bit healthier, (but really who am I kidding?)
These are easy to throw together, and best of all- you can have them in the muffin tins ready to go until right before your guests arrive. (In fact- I highly recommend this as chilling them helps to solidify the cups so they keep their form after you remove them from the pan.)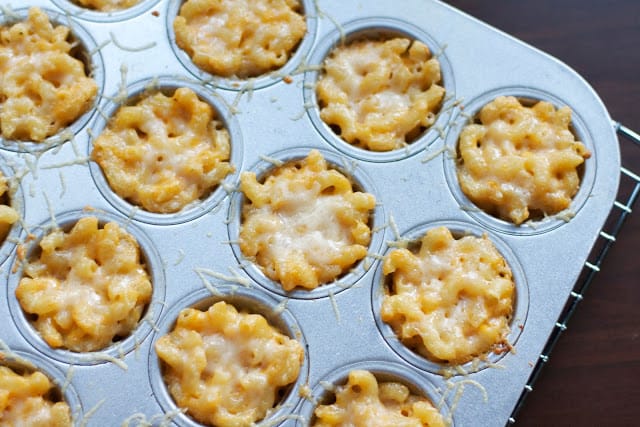 This recipe calls for cheddar, american and parmesan cheese, and while of course you can adapt it a bit, I don't suggest making too many changes. The parmesan sprinkled on the bottom of the cups creates a bit of a shell that makes these stay together much better. The american cheese really gives these that creamy texture we know and love. Of course you can change those two if you want, but the flavor with this combo was pretty great.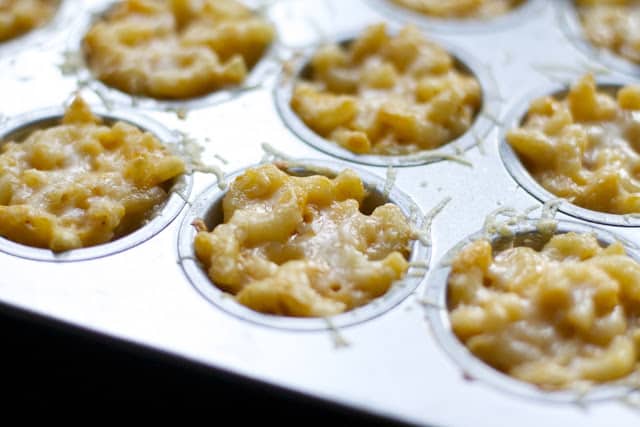 Mini Baked Mac & Cheese Bites
Ingredients
1/2 pound elbow macaroni
1 1/2 tablespoons unsalted butter, plus more for brushing
1/4 cup freshly grated Parmigiano-Reggiano cheese
2 tablespoons all-purpose flour
3/4 cup milk
4 ounces cheddar cheese, shredded (1 packed cup)
4 ounces deli-sliced American cheese, chopped
1 large egg yolk
1/4 teaspoon smoked Spanish paprika
1/2 teaspoon salt
pinch of cayenne pepper
Instructions
In a large saucepan of boiling salted water, cook the macaroni until al dente, about 5 minutes. Drain.
Brush four 12-cup, nonstick mini muffin tins with butter. Sprinkle 2 tablespoons of the Parmigiano into the wells. (Just to coat the insides.)
In a large saucepan, melt the 1 1/2 tablespoons of butter. Whisk in the flour over medium heat for 2 minutes. Whisk in the milk and cook, whisking constantly, until boiling, about 5 minutes. Add the cheddar and American cheeses and whisk until melted. Off the heat, whisk in the egg yolk, salt, cayenne and paprika. Fold in the macaroni.
Spoon slightly rounded tablespoons of the macaroni into the prepared muffin cups, packing them gently. Sprinkle the remaining 2 tablespoons of Parmigiano on top.
Cover with foil and chill for at least 30 minutes or until you are almost ready to serve.
Bake the mini macs in the upper and middle thirds of the oven for about 10 minutes, until golden and sizzling. Let cool for 10 minutes. Using a small spoon, carefully loosen the mini macs, transfer to a platter and serve.
Notes
If they don't hold their shape when you pop them out, let them cool for just a couple more minutes. They are delicious served just-warm and will stay intact when they've had a chance to solidify.
Nutrition Information:
Yield:

48
Serving Size:

1 grams
Amount Per Serving:
Unsaturated Fat:

0g
Recipe adapted from:
Food & Wine