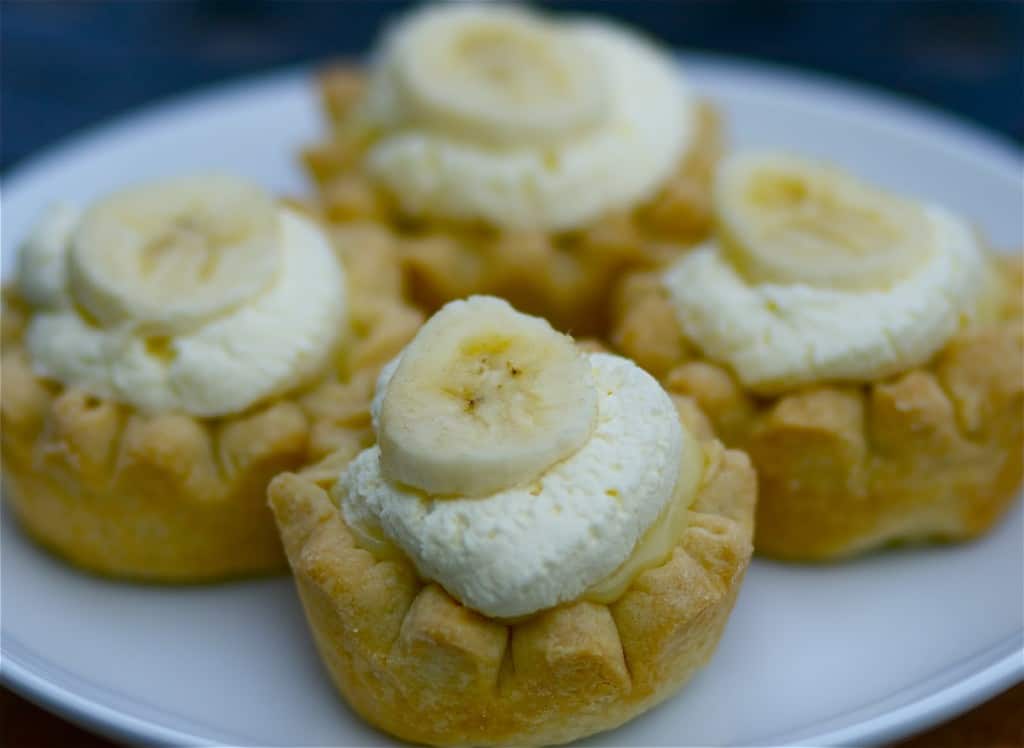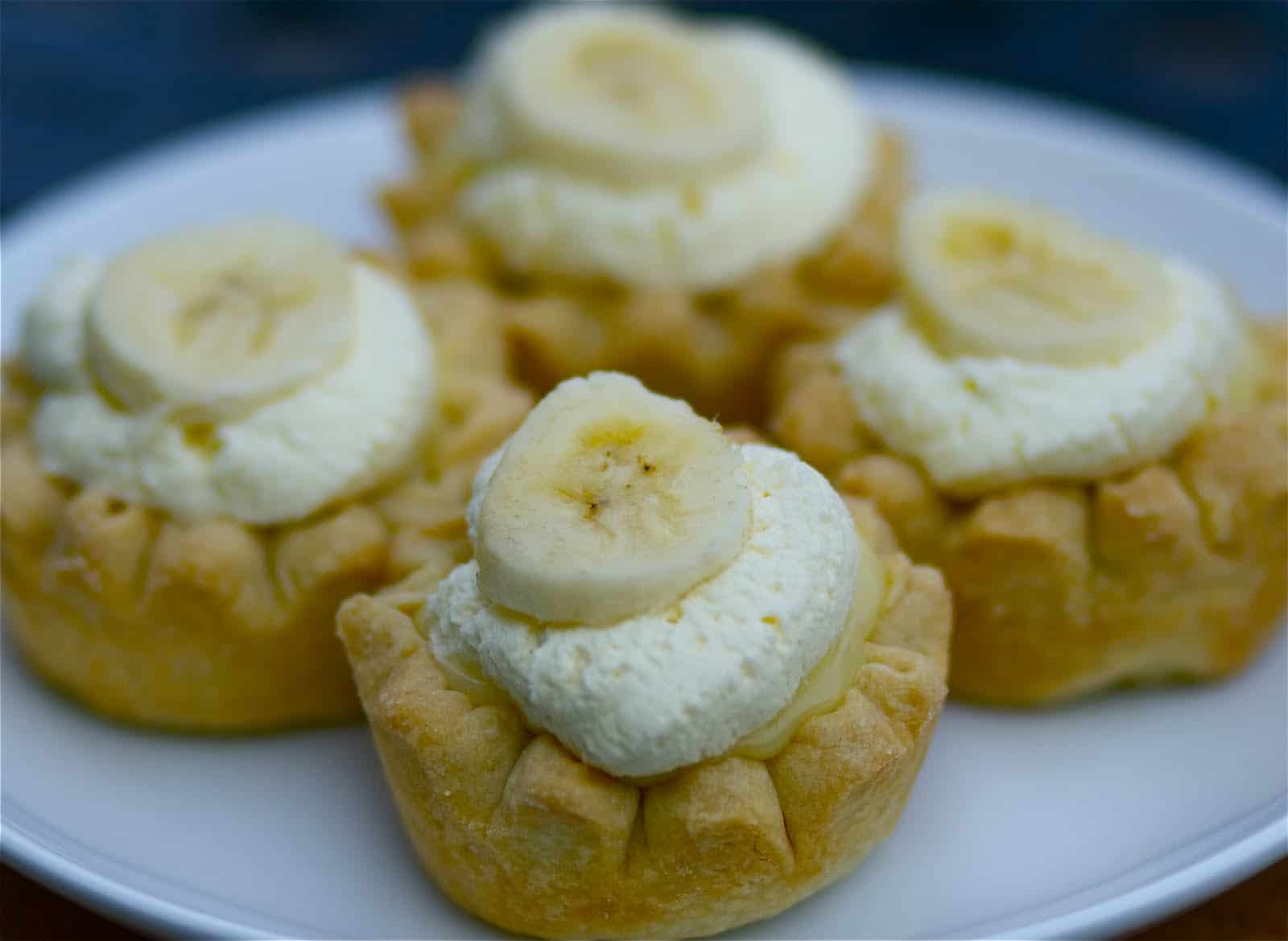 What is it about anything "Mini" that I love so much? Seriously it's ridiculous. Babies, puppies… grape tomatoes, cupcakes, those little mini bananas. I love them all! So cute and little. It reminds me of when I was 13 and had a huge and detailed sticker collection. My favorites were the teeny little cute fruits, vegetables. I would just sit there and ooh and ahh. (Disclaimer- I was a very un-cool 13 year old.)
Anyway- last weekend I was in my hometown of Milwaukee, WI for my youngest sister's High School graduation. It was a great weekend….I brought a boy home for the first time EVER. Also, I had some time to bake with my sis Ameara. I asked her what she wanted to make and before I even finished asking she said Banana Cream Pie. Ooh….I started think….what would be an interesting twist?? I'd been wanting to try making pies in muffin tins for awhile and this seemed as good a time as ever. Especially since I had access to my parents huge kitchen for once.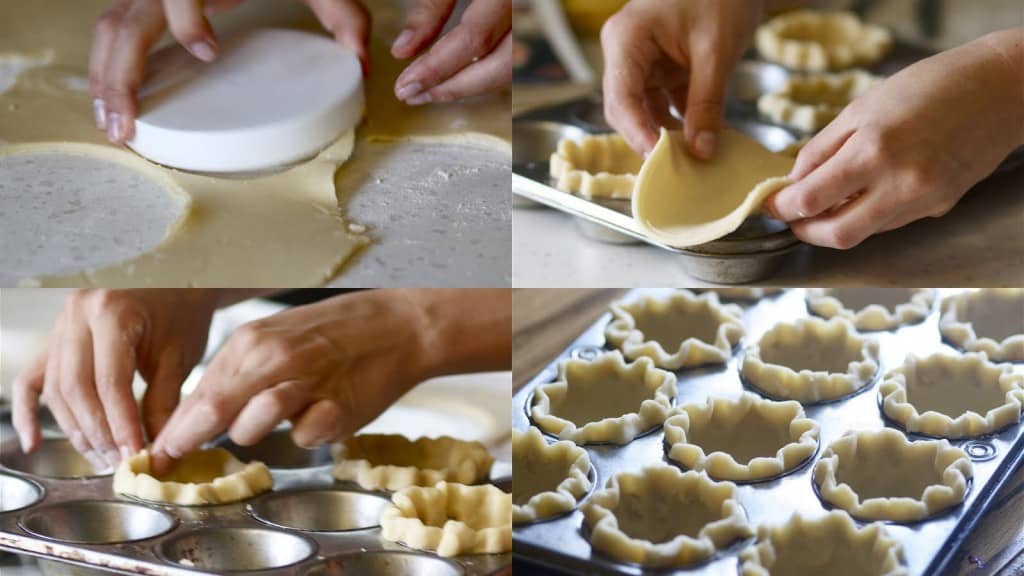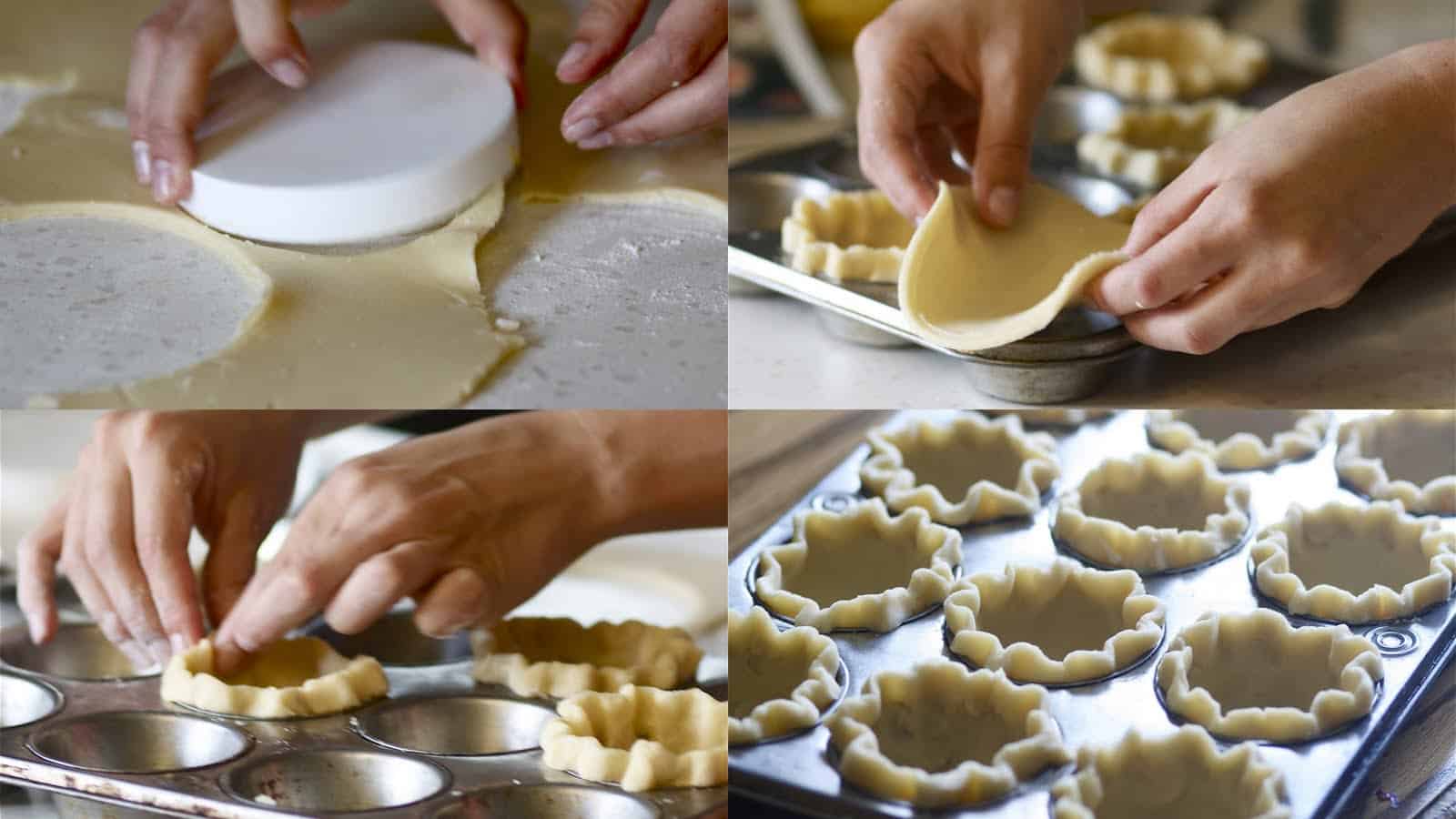 Guys. These turned out so well! I feel like I now have a huge door opened for me. Instead of making cupcakes every time I want something cute and individually portioned, I can just make a dozen mini pies instead! Think of the possibilities! I already want to make mini pumpkin pies, apple pies with a double crust, and peach pies. Other ideas?The process was slightly time consuming as you have to make the dough, chill it, roll it, cut it, shape it, chill it again, bake it and cool it. Ok wow. I swear it wasn't as complicated as it sounds. But it is so worth it. And since the pudding for the filling has to chill anyway, it didn't seem like we spent a lot of time waiting.I used my favorite Martha Stewart pie crust recipe. To cut out the rounds (should be about 4.5 inches,) I used the lid of a large container I found sitting around. I 'm sure there is something in your kitchen that will work. The filling recipe is actually from a kids cookbook I gave Ameara when she was little called Kids Can Cook (I think.) I'm sure I could have found another one, but she loved that recipe and it was pretty standard vanilla pudding layered with bananas. I loved this idea and I'm sure you'll see more mini pies from me soon!
Ingredients
Crust
2 3/4 cups all-purpose flour
2 teaspoons sugar
1 1/4 teaspoons coarse salt
2 1/4 sticks, 18 tablespoons cold unsalted butter, cut into small pieces
4 to 6 tablespoons ice water, plus more if needed
Filling:
5 egg yolks
1/4 cup cornstarch
3 cups half-and-half
1 3/4 cups granulated sugar
2 teaspoons of vanilla
3 Bananas Topping:1 1/2 cups heavy cream
3 tablespoons of powdered sugar
Banana slices to garnish, optional
Instructions
Pulse flour, sugar, and salt in a food processor to combine. Add butter, and process until mixture resembles coarse meal, about 10 seconds.
With machine running, add ice water in a slow, steady stream through the feed tube until dough just holds together (no longer than 30 seconds).
Divide dough in half, and shape into disks. Wrap each in plastic. Refrigerate for at least 1 hour (or up to 2 days).
While dough is chilling make the Pudding- whisk together the egg yolks, cornstarch, and 1 cup of the half and half in a medium bowl.
Place the remaining 2 cups of half and half and the sugar in a large saucepan and bring to a boil. Slowly whisk about 1/2 cup of the hot half and half mixture into the egg yolks and then whisk the egg yolks and half and half into the hot half and half.
Cook over medium high heat, whisking constantly, until the mixture just comes to a boil. Continue to cook whisking constantly for 1 minute or until thickened. Add the vanilla and the whisk until smooth.
Strain the custard through a fine meshed sieve into a medium bowl. Place the bowl of custard into the ice water and stir occasionally until cool. Refrigerate until thoroughly chilled.
When the dough is chilled roll on a lightly floured surface until it is about 1/4 inch thick. Using a 4-5 inch round cutter, cut circles of dough and transfer them to the muffin tins. Smooth the rounds into each tin and crimp the edges with your fingers or the back of a knife. (See picture above.)
Trim excess dough if needed. Chill the dough to set for about 15 minutes. Meanwhile pre-heat oven to 375.
Bake Mini-pie shells for 15-20 minutes or golden brown. (Note: this crust would normally require the use of pie weights. It seemed silly to do that for each small pie, but the crust did puff up a bit. If you don't want to use weights, just flatten the dough a bit after baking.)
When the pudding is almost ready, put your mixing bowl and beaters in the freezer for about 5/10 minutes or until very cold. Then, whip together the heavy cream, powdered sugar, and vanilla extract until peaks form, about 5 minutes at the most.
When crusts are cooled, remove them from tins. (mine came out very easily.)
Fill with a few thin slices of banana, a spoonful of the chilled pudding, another layer of banana and then a final dollop of pudding. Spoon or pipe whipped cream on each pie and top with a banana slice. Chill for an hour before serving. Enjoy!
Nutrition Information:
Serving Size:

1 grams
Amount Per Serving:
Unsaturated Fat:

0g
Pie Crust: Martha's Stewart