Mini Flourless Chocolate Cakes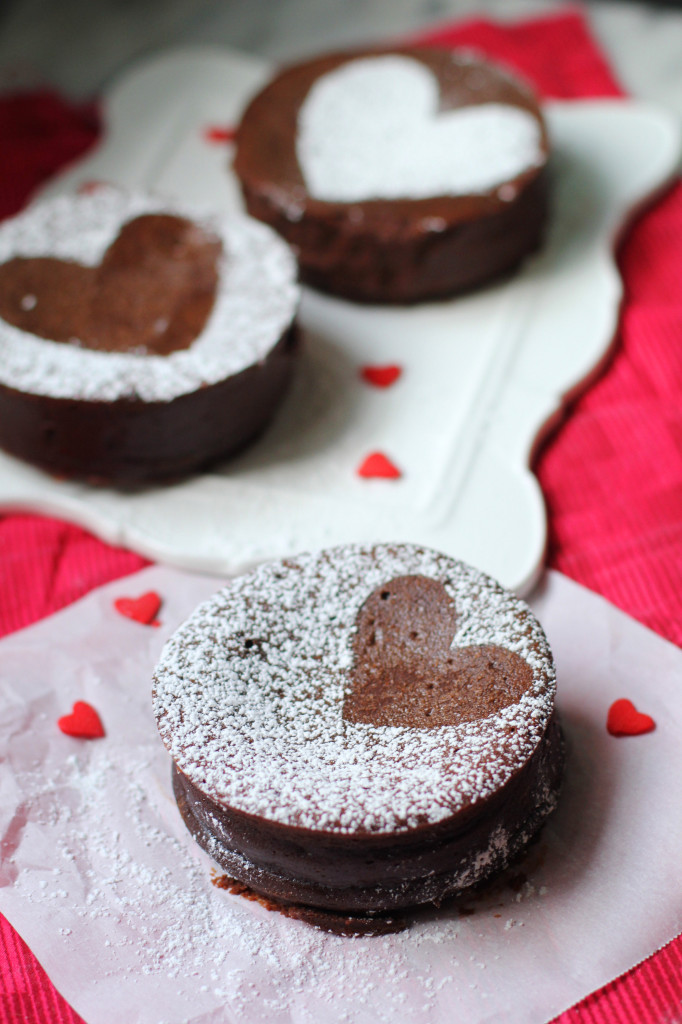 Valentine's Week is officially here! Chances are you fall into one of the following camps- into V-Day or not into V-Day. I'm not really into the holiday in general, but I'm extremely into chocolate and any holiday that celebrates with hearts and sugar may be my favorite. I couldn't let a year go by without something over-the-top rich and decadent for this occasion so I hope you're as excited as I am!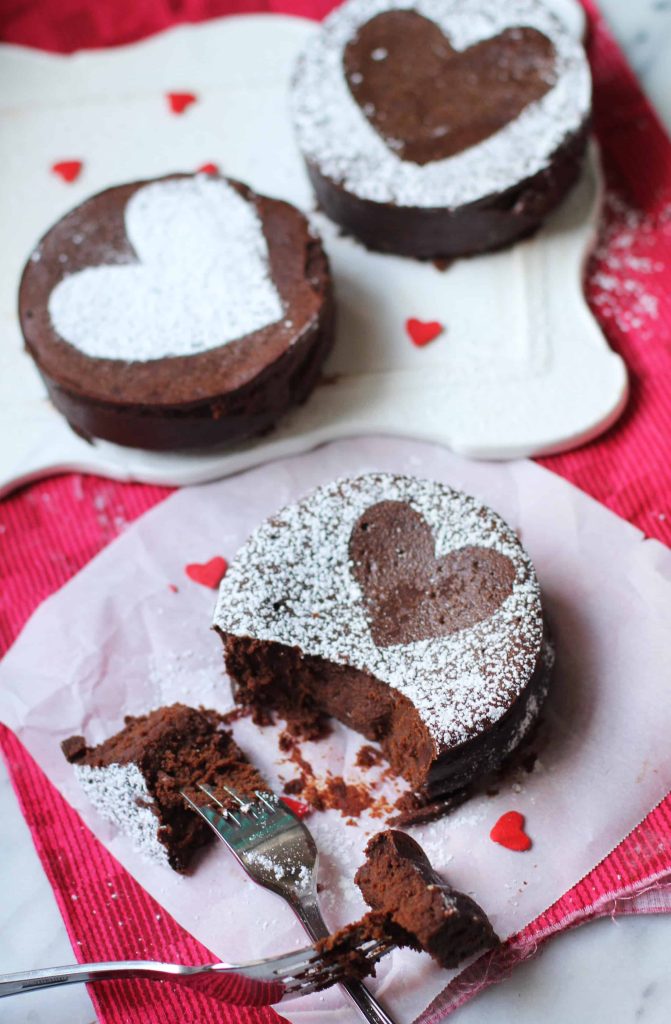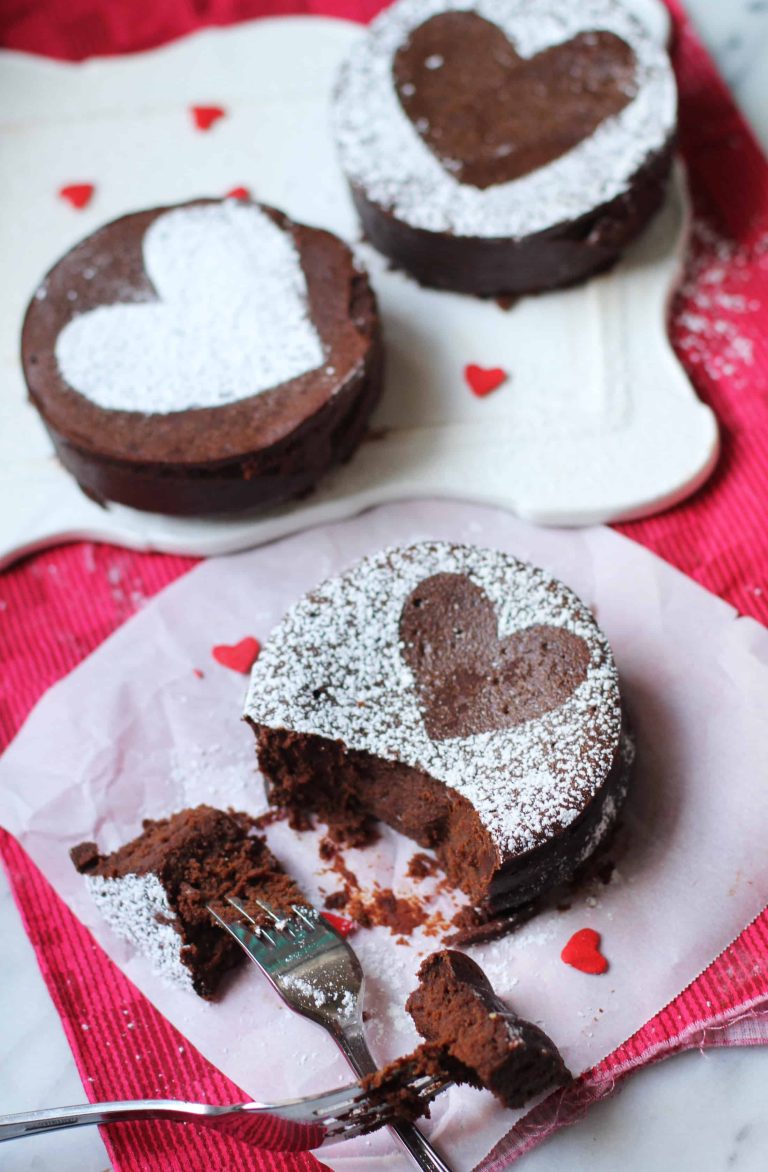 For some reason I've always been a bit scared of Flourless Chocolate Cake. Maybe it's because last year I attempted making one and it stuck to the edges, collapsed in the middle and though was tasty, was a general flop. It's one of my all-time favorite "order at a restaurant" desserts though , so I braced myself this time around, knowing I really wanted to master it, but was prepared it may take a few tries.
I'm happy to say that this recipe seems pretty foolproof, and it's really and truly incredible. Because I like all things mini, I made these into smaller "cakelets," but one normal sized 9-10 inch pan would work too. I also think a bunch of small ramekins would be awesome for serving these at a dinner party. I wanted to make enough that I could gift a few of them to family/neighbors and keep one at home for us. Being a rich cake, I thought the 3 inch size was perfect for two people. A dollop of whipped cream or ice cream and you have yourself one beautiful V-day treat!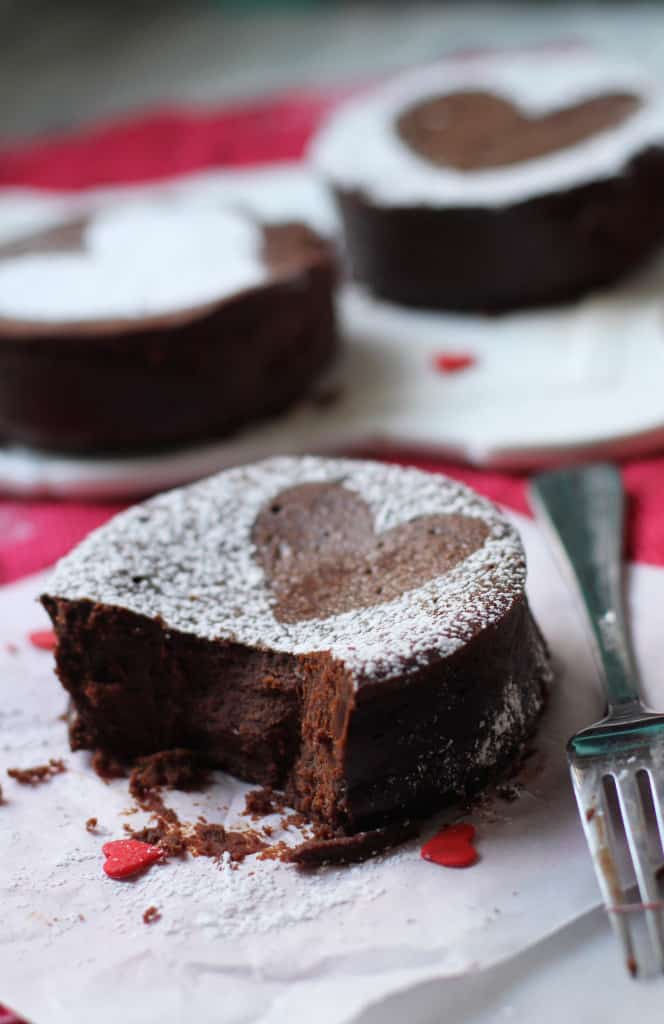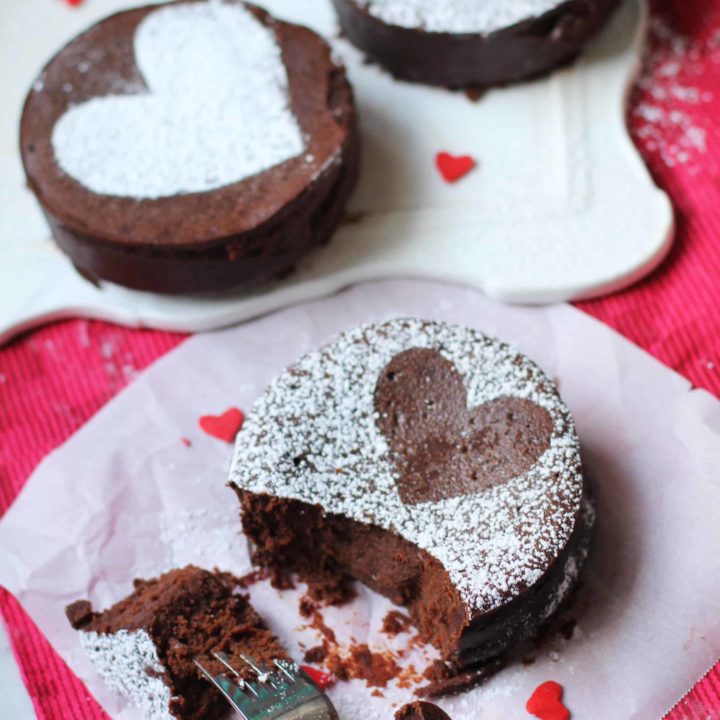 Mini Flourless Chocolate Cakes
Yield: 4 mini or 1 9/10 inch cake
Ingredients
1/2 cup hot coffee, the stronger the better!
1/2 teaspoon salt
1/2 cup white sugar
18 ounces of bittersweet, dark, or semisweet chocolate*- chopped
1 cup unsalted butter- softened
6 eggs- room temperature
Instructions
Preheat oven to 300F. Butter 4 3-inch or 1 9-10 inch springform pan. Line the bottom(s) with a parchment round. (I just traced and cut them out,) Set aside.
Stir the salt & sugar into the hot coffee until dissolved. Set aside.
Using a double boiler or microwave, melt the chocolate. (I microwaved mine for 3- 30 second stints)
Transfer the melted chocolate to a large mixing bowl and add the softened butter, a chunk at a time. Mix on high until smooth.
Add the eggs one at a time, beating well after each addition.
Slowly pour in the coffee mixture and mix on low until batter is smooth and shiny. Don't over-mix!
Divide the batter into the prepared pans.
Boil some water and pour it into a shallow pan. Place the pan on a bottom shelf of the oven, and place the filled springform pans onto a higher shelf.
If making small cakes- Bake for 35 minutes or until the cake is set on the outside but still wet on the inside. (Bake for an additional 15 or so minutes if using a larger pan.)
Let the cakes cool in the oven for about an hour, and then pop them into the fridge or freezer until totally cooled.
Serve cold with powdered sugar, berries, whipped cream or ice cream.
Notes
* If you use all bittersweet chocolate- I would add an extra 1/4 cup sugar using 3/4 total. If you use all semi-sweet- I would cut it down to 1/4 cup. Any combination works, just adjust the sugar accordingly. Also: The original recipe suggested baking the cake in a water bath. (Wrapping the pan in heavy duty foil first) I didn't do this, but added a steam pan to the oven instead. My cakes came out perfectly and crack free. I made minis though, and if you make a full sized cake the water bath may be a good idea. Recipe adapted from: All Recipes
Nutrition Information:
Yield: 4 Serving Size: 1 grams
Amount Per Serving: Unsaturated Fat: 0g