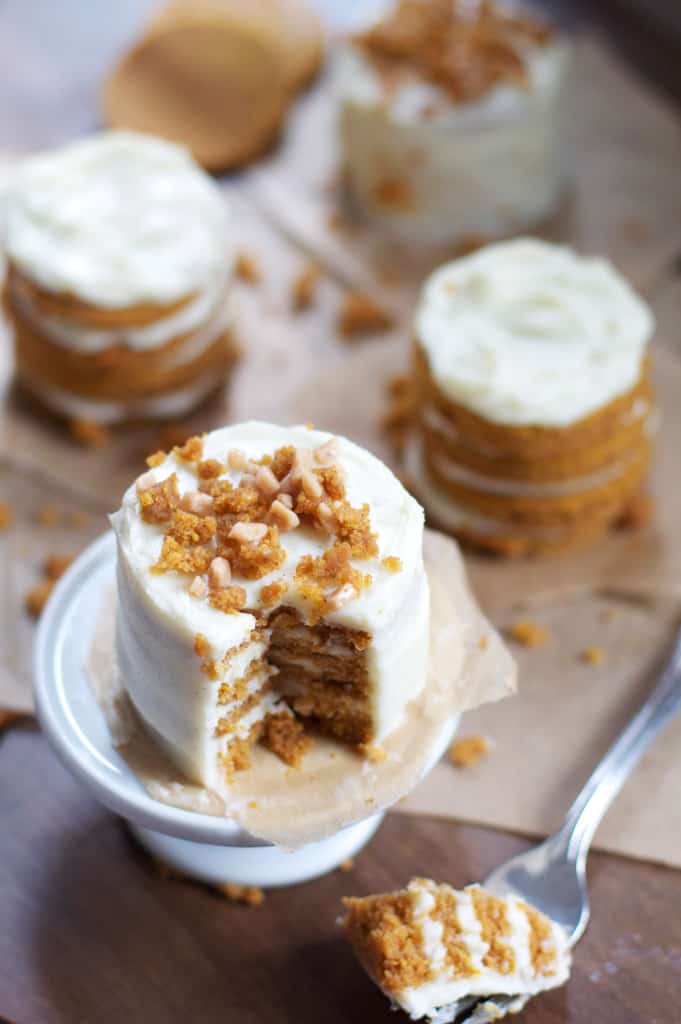 We've already discussed how everything is better when it's mini right? I mean come on- mini=cute and I love cute things. So, whenever given the chance to shrink things down to itty bitty proportions- I take it! This is my favorite pumpkin cake, made into teeny 3-inch layer cakes. I think they are just about the cutest things ever and it doesn't hurt that they are also delicious.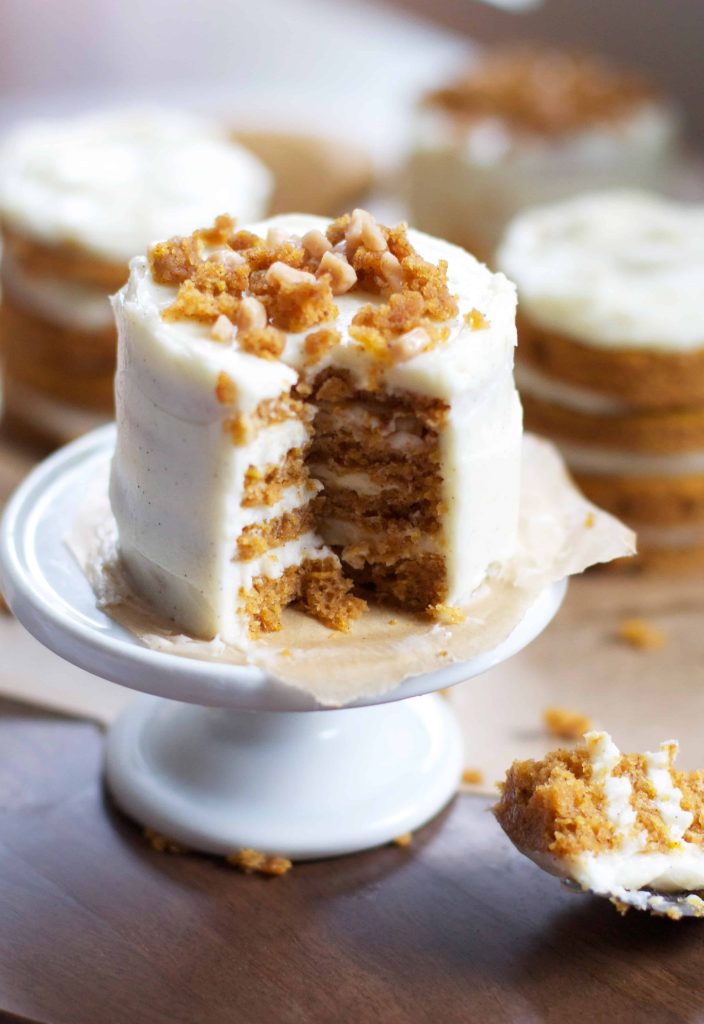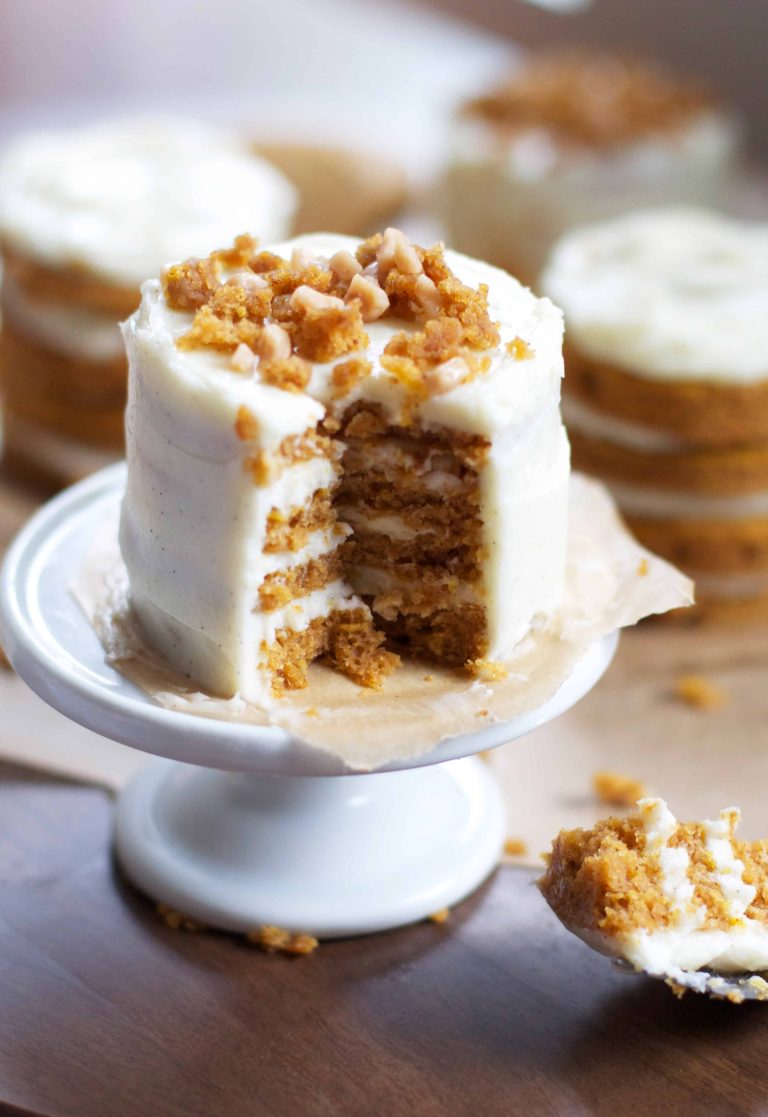 I wanted a super-thin layer for these cake-lets, so I poured the batter into a half-sheet pan and cut out little rounds using a 3-inch biscuit cutter. Those layers were frozen and frosted into little layered beauties. Now this recipe is top notch whether you want to make a full-sized layer cake or even cupcakes. (I tell you I make it every year!) But I made these cakes with a special occasion in mind, so I thought mini individual layer cakes was just the thing.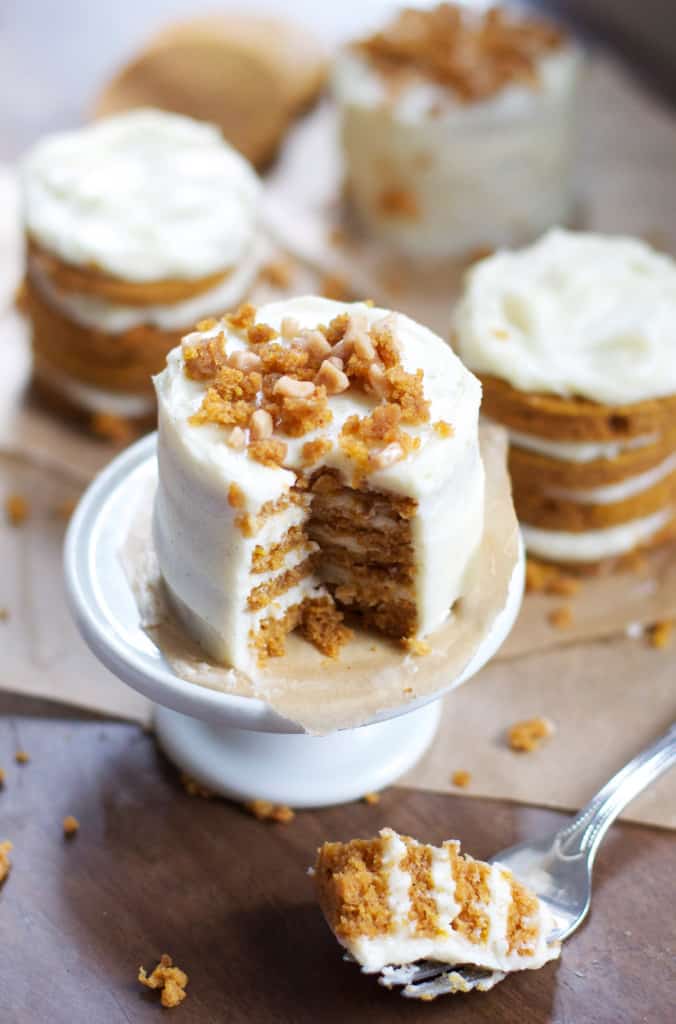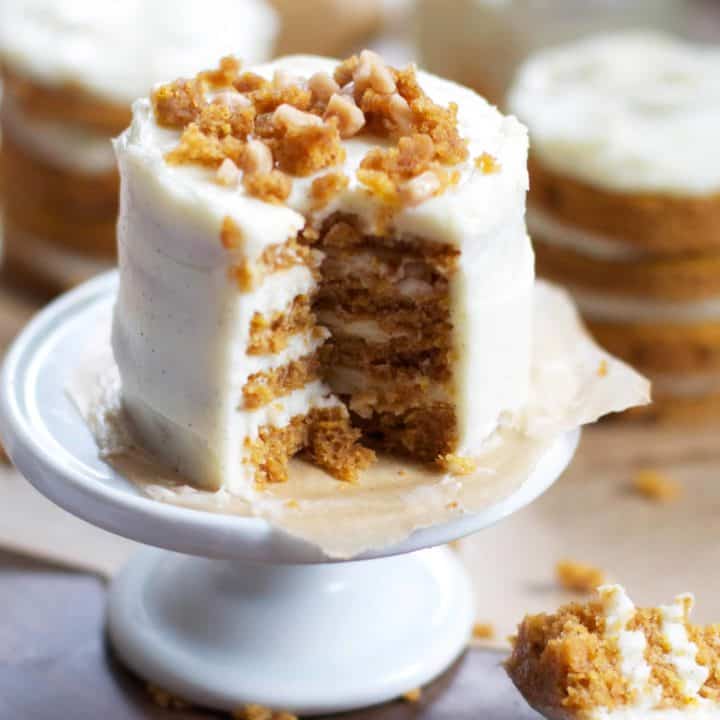 Mini Pumpkin Layer Cakes
Ingredients
For the Cake:
1 cup all-purpose flour
1 teaspoon baking powder
1/2 teaspoon baking soda
1/2 teaspoon salt
1/2 teaspoon cinnamon
1/2 teaspoon ground ginger
1/4 teaspoon freshly grated nutmeg
1/8 teaspoon ground cloves3/8 cup light brown sugar
2 large eggs
3/8 cup vegetable oil
One cup pumpkin puree
1/4 cup whole milk
Frosting:
1 8oz pacakge of cream cheese, softened
4 tablespoons of butter, softened
1 teaspoon vanilla extract, (or vanilla bean paste if you have)
2-3 cups powdered sugar
Instructions
For the cake:
Preheat the oven to 350F. Grease or spray a half sheet pan and line the bottom with parchment, set aside.
In a medium bowl combine the flour, baking powder, baking soda, salt, and spices. Whisk together and set aside.
In the bowl of a stand mixer fitted with a paddle attachment, beat the eggs and brown sugar for 2-3 minutes or until fluffy. Add the oil and pumpkin, beating until smooth.
Gradually mix in the dry ingredients in 3 batches alternating with milk, starting and ending with the dry ingredients. Don't over-mix!
Pour the batter into the sheet pan and use an off-set spatula to evenly spread it throughout the pan. (This batter pretty much stays where you put it, so if it is spread unevenly it will likely bake that way.)
Bake for about 15 minutes, or until baked through and just slightly golden. (This bakes up pretty quickly since it's so thin, I would check it every minute or two after 10 minutes so it doesn't over-bake.)
Allow cake to cool and then place a sheet of parchment on your work-space and carefully flip the cake onto it. Peel off the parchment.
When cool- use a 3-inch biscuit cutter to stamp rounds out of the cake. Freeze the rounds until ready to frost.
For Frosting:
Whip the cream cheese and butter until light and fluffy. Add the vanilla and the powdered sugar, a little at a time until the desired sweetness and consistency is reached.
To Assemble:
Place one cake round on a piece of parchment and spread 2 tablespoons of frosting on top. Repeat with 2 or 3 more layers, and either leave the sides of the cake exposed or give it a crumb coat and frost the whole thing.
Top with cake crumbs and (in my case,) toffee bits!
Notes
Cake Recipe adapted from: Food & Wine