Mini Raspberry Rhubarb Pavlovas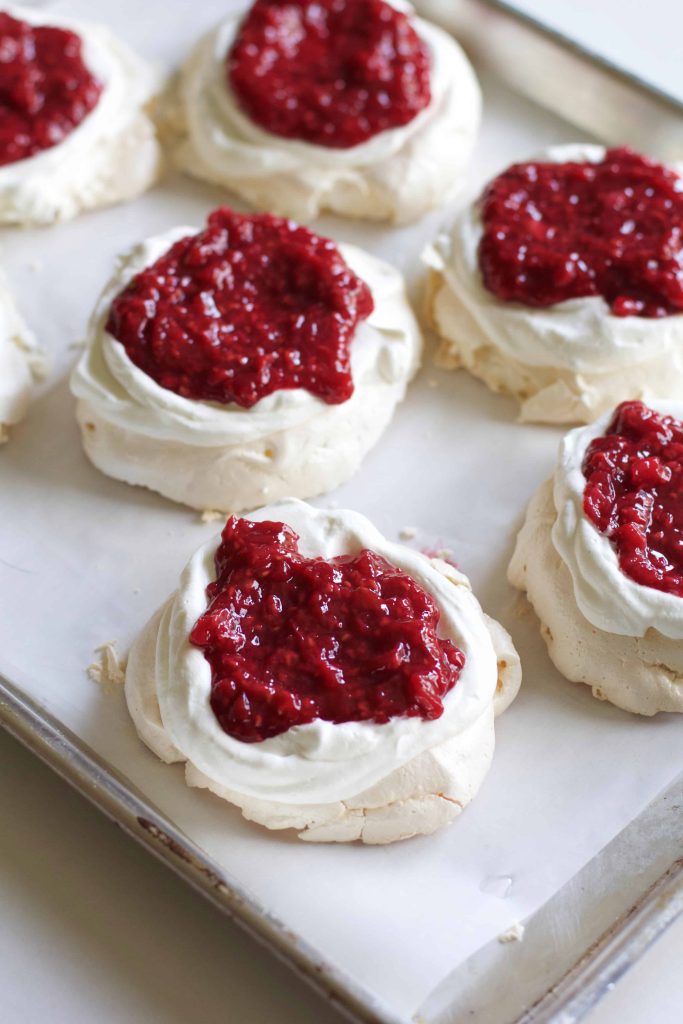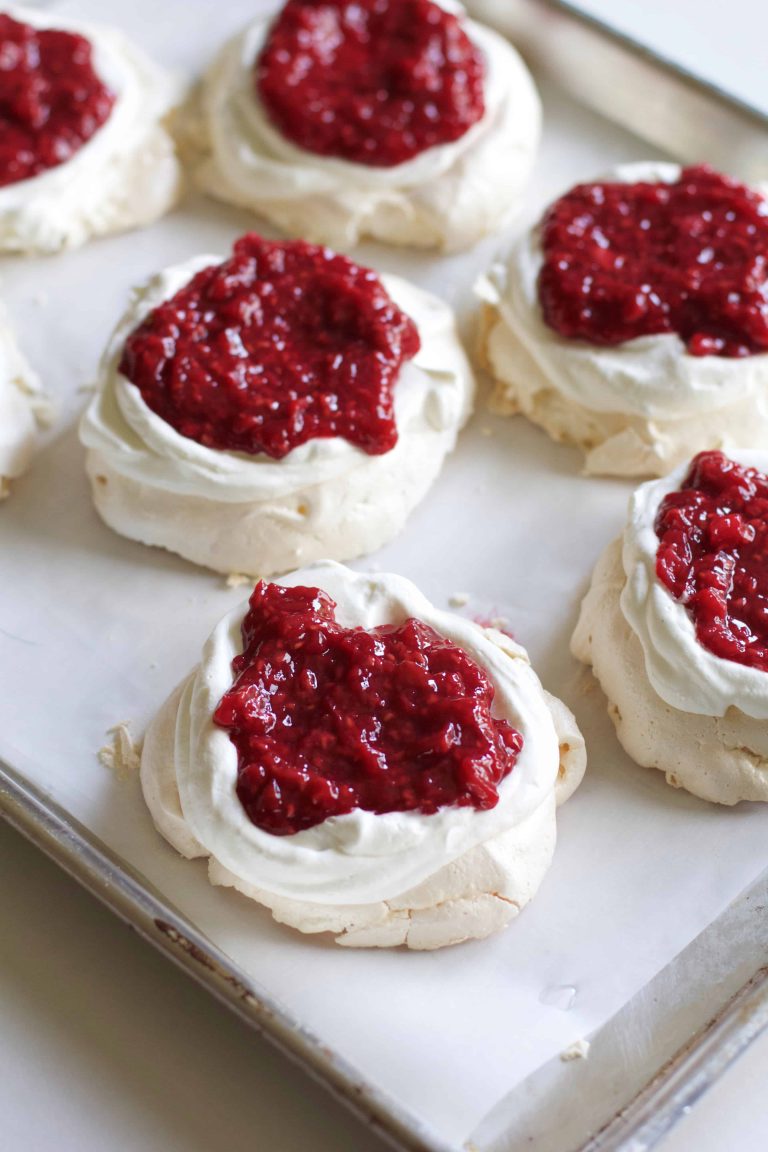 Ladies and Gents I think Spring may actually be here. I wore a dress today with bare legs and I saw people having lunch al fresco. Little buds are forming on the trees and most importantly rhubarb is popping up in the produce department of the grocery store. To me, seeing the cheerful stalks amongst all the other fruits and veggies makes me giddy to get it to my kitchen and start baking. Man I love the stuff!
For this light and refreshing dessert I made a tart/sweet compote with raspberries and rhubarb, and piled it on top of a sweet & airy pavlova. I just adore this type of dessert. Light as can be, not overly sweet, and easy to put together- what's better than that?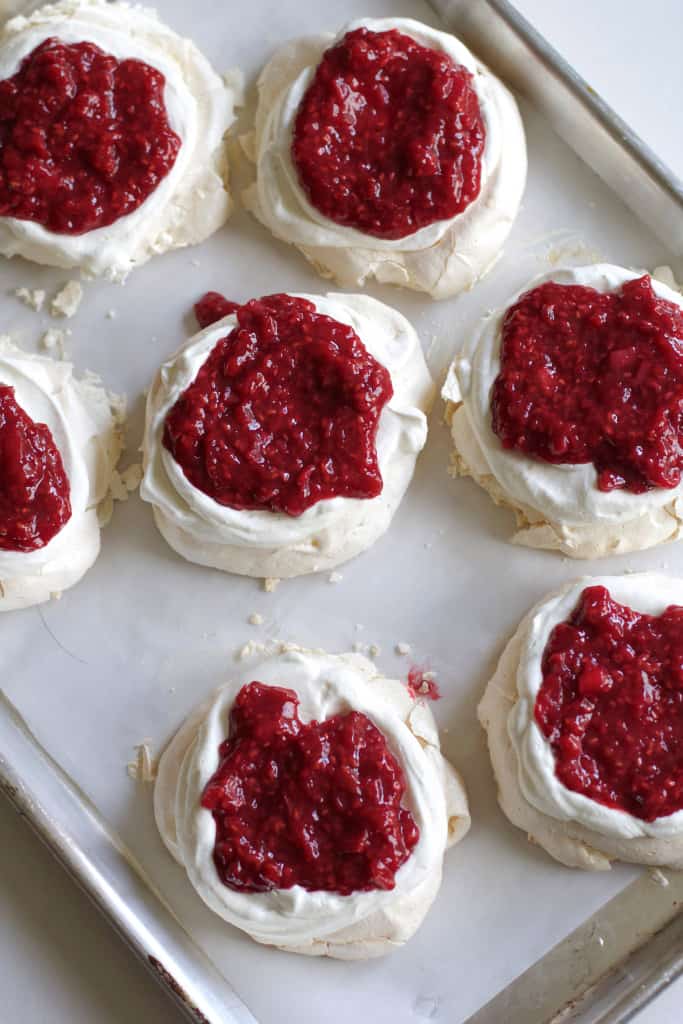 The other thing I love about Spring being in the air is the bright and fresh possibility for something new….like new babies! April showers bring…baby showers? (Haha I had to go there.) Well today they do, as I'm joining with some sweet blogging friends to celebrate sweet Christina from Dessert for Two who is expecting a baby girl next month! If you aren't familiar with her lovely blog you must check it out! Expect to find lots of desserts and also some dinners and drinks, all scaled down for two! I have dabbled in small portion desserts but they are Christina's specialty. She also is a cookbook author and is sweet and funny and charming. I am so excited to see her become a Mama, I know she is going to be just wonderful at it!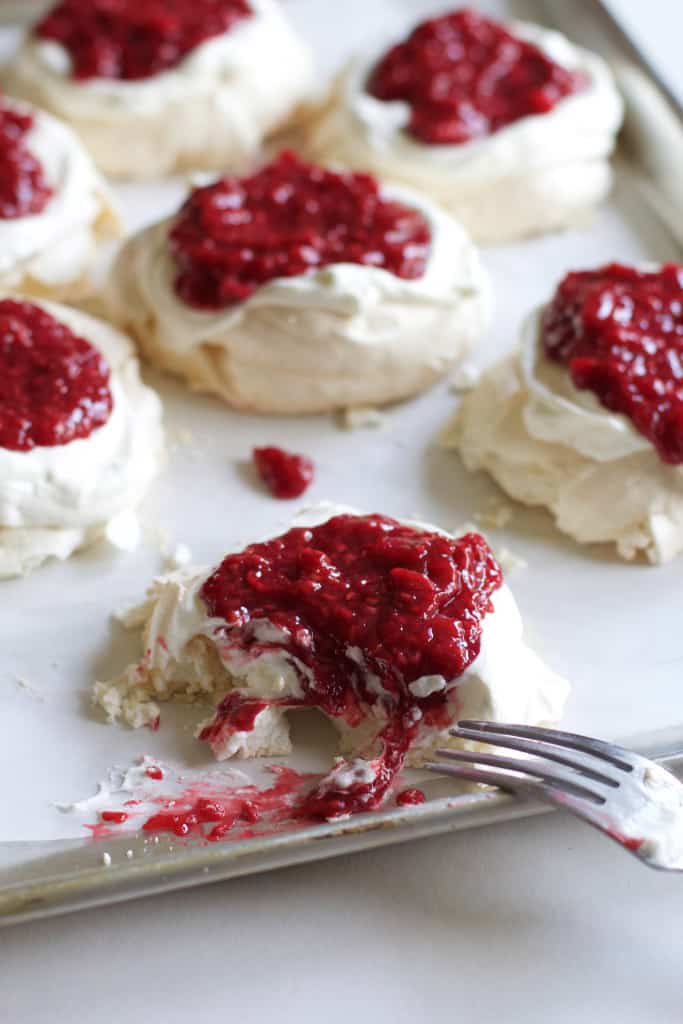 I wanted to make Christina something sweet, but also feminine and dainty in honor of her new little girl. I hope you like these Mama-to-be! I am so so excited for you! xoxo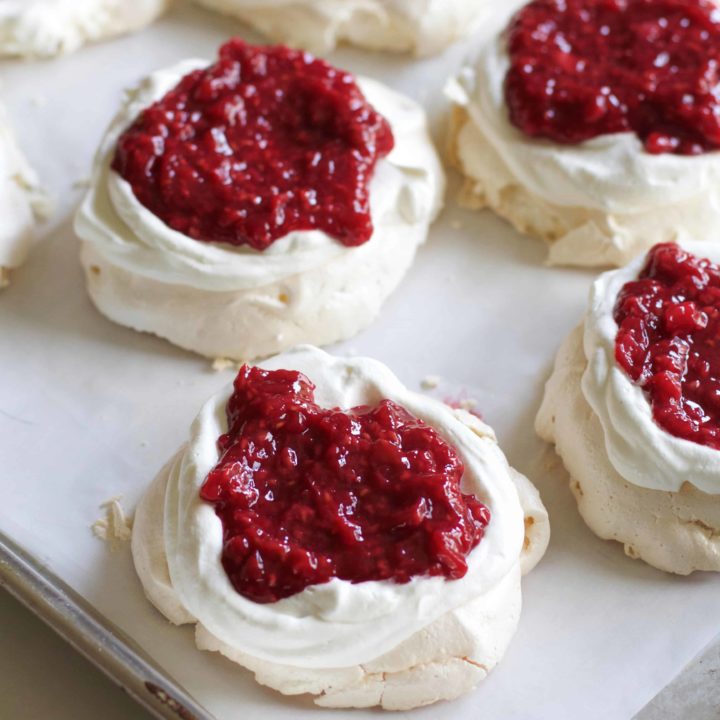 Mini Raspberry Rhubarb Pavlovas
Ingredients
For the Raspberry Rhubarb Compote:
2 cups fresh or frozen raspberries
2 cups fresh rhubarb, small diced
1/2 cup sugar
2 tablespoons corn starch
1 tablespoon lemon juice
For the Pavlovas:
4 egg whites
1 cup superfine sugar*
1/2 teaspoon cornstarch
1 teaspoon white vinegar
1 teaspoon vanilla extract.
For the Whipped Cream:
1 cup of heavy cream
2 tablespoons of powdered sugar
Instructions
For the Compote:
Combine rhubarb, raspberries and lemon juice in 2-quart saucepan.
Cover; cook over medium heat, stirring occasionally, until fruit is tender (8 to 12 minutes). (Test a piece of rhubarb to make sure it's soft.)
Combine 1/2 cup sugar and cornstarch in small bowl. Stir into fruit mixture. Continue cooking, stirring constantly, until mixture comes to a boil (about 1 minute). Continue boiling until thickened (about a minute more).
Set compote aside to cool while you make the rest of the dessert.
For the Pavlovas:
Preheat oven to 275F. Line a large cookie sheet with parchment paper. (If desired,) trace 6- 3 inch circles spaced evenly among the sheet and flip the parchment over so the writing is facing down.
Place the egg whites in the very clean bowl of a stand mixer fitted with a (very clean) whisk attachment. Whisk on medium high speed until soft peaks form. Let the machine continue to run as you gradually add the sugar- one tablespoon at a time. Continue to beat, raising the speed to high if needed, until stiff glossy peaks are formed.
Sprinkle the corn starch, vinegar and vanilla over the meringue and gently fold them in to combine.
Now gently spread the meringue in the circles on the parchment to make circular bases. Make sure the edges of the meringue are slightly higher then the center so you have a very small well in the middle.
Bake for about 40-55 minutes, or until the meringue rounds are a pale pinky/cream egg-shell type color. Turn the oven off and leave the door slightly ajar to let the meringues cool completely. As the meringue cools, it will crack slightly.
For the Whipped Cream:
Whip the heavy cream with an electric mixer until soft peaks form. Add the vanilla and sugar and continue beating until you get stiff peaks.
To Assemble:
Top each cooled pavlova shell with whipped cream and then spread compote on top. Store in the fridge until you're ready to serve.
Nutrition Information:
Yield:

6
Serving Size:

1 grams
Amount Per Serving:
Unsaturated Fat:

0g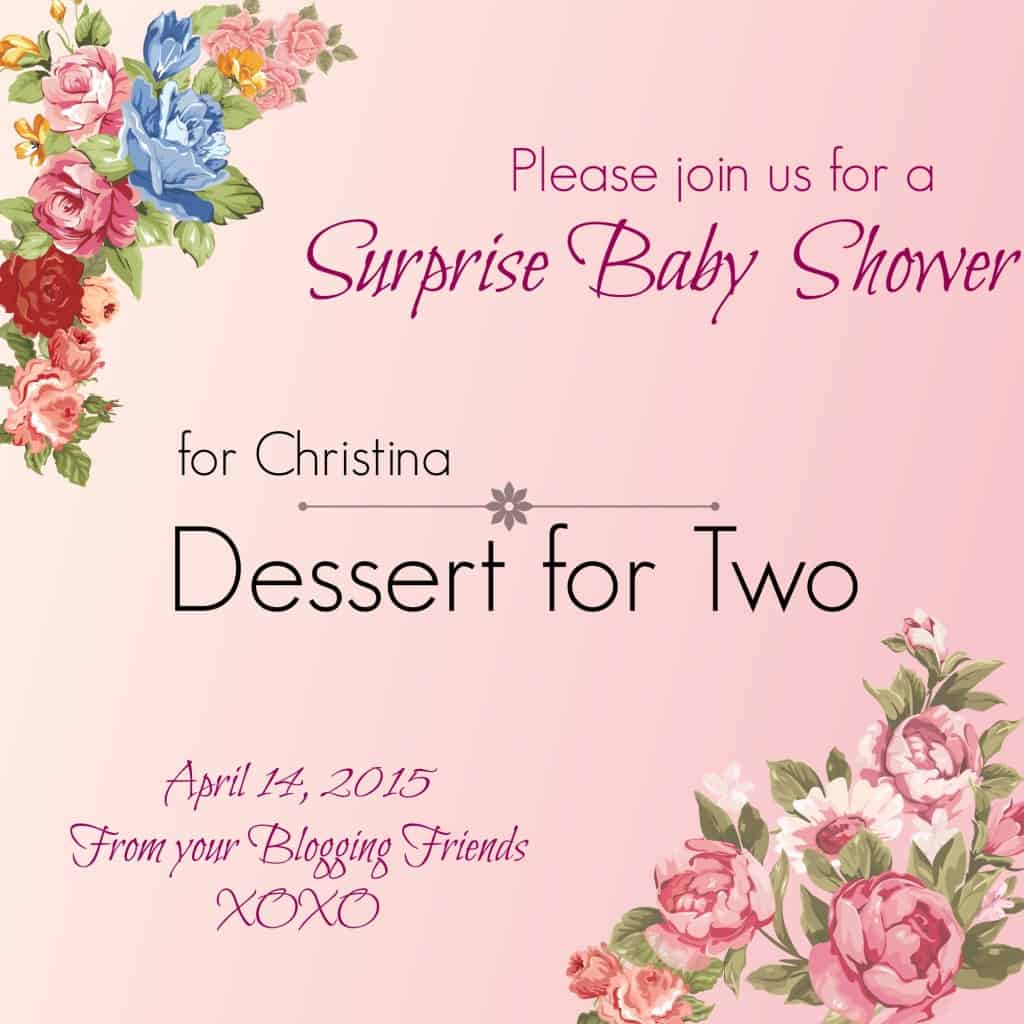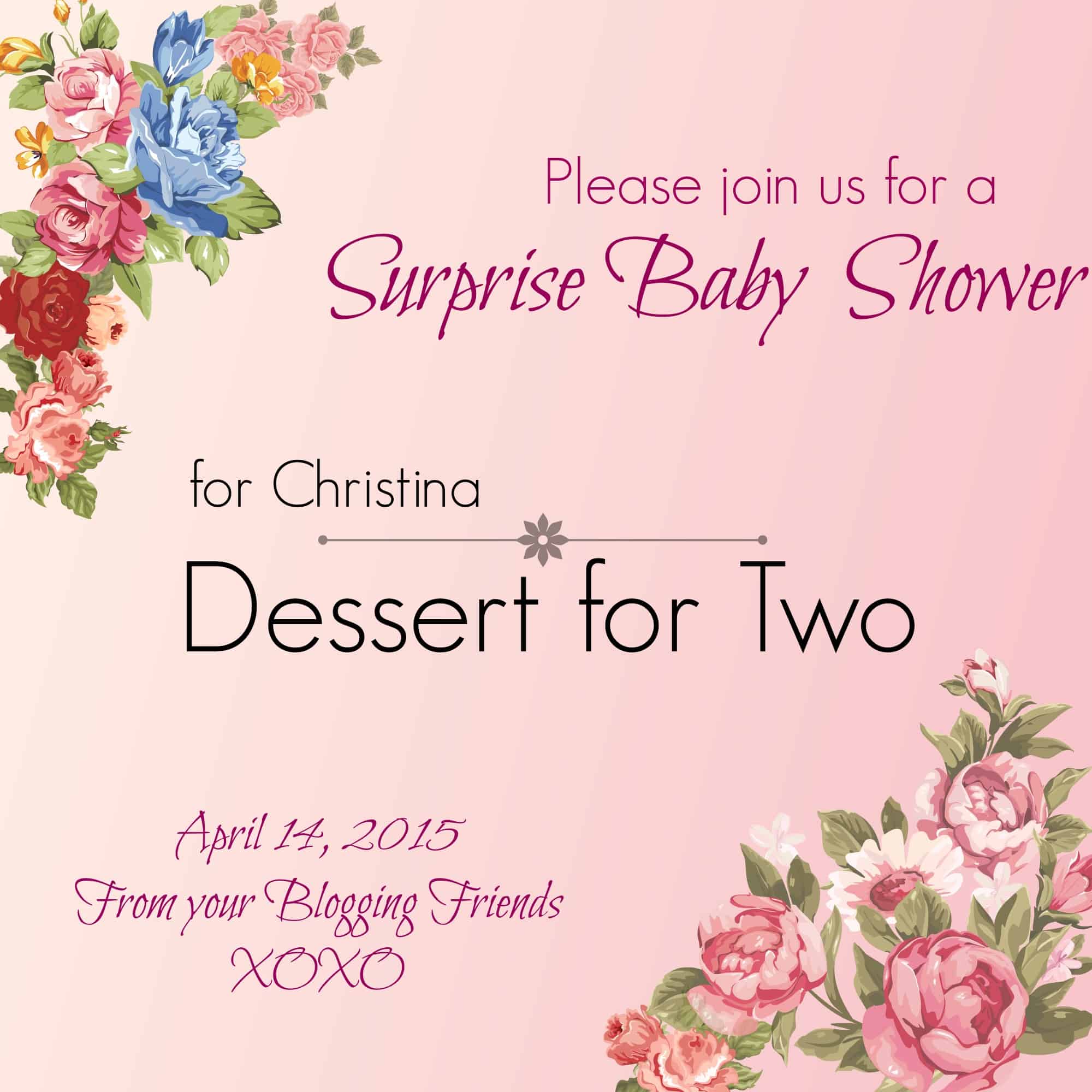 Check out the rest of the fabulous recipes created for the shower below!
Fizzy Grapefruit Margaritas from Well Plated
Earl Grey Cake with Vanilla Bean Buttercream from Country Cleaver
Mini Bourbon and Bacon Tater Tot Casseroles from Climbing Grier Mountain
Maple-Chia Overnight Oatmeal from Feed Me Phoebe
Lemon Cake for Two from Keep It Sweet Desserts
Almond Berry Cake Parfaits for Two from Edible Perspective
Peanut Butter Bourbon Blondies from The Frosted Vegan
Mixed Berry Mascarpone Scones from Bluebonnet Baker
Greek Yogurt Funfetti Cupcakes for Two from The Housewife in Training Files
Bourbon Barbeque Sliders with Bleu Cheese from Saucy Pear
Steak Fajita Tacos for Two from The Sweetphi Blog
Mango Madeleines from Stetted
Citrus Salad with Mint, Honey, and Lime from Rachel Cooks
Parfaits for Two from Order in the Kitchen
Peanut Butter Chocolate Mousse with Coconut Whipped Cream from Joyful Healthy Eats
French Breakfast Puffs from Stephie Cooks
Blueberry Vanilla Cream Hand Pies from Eats Well With Others
Banana Pudding Cheesecake from The Domestic Rebel