Mini Sugar Cookie Fruit Tarts are the perfect bite-sized fruity dessert and easy too!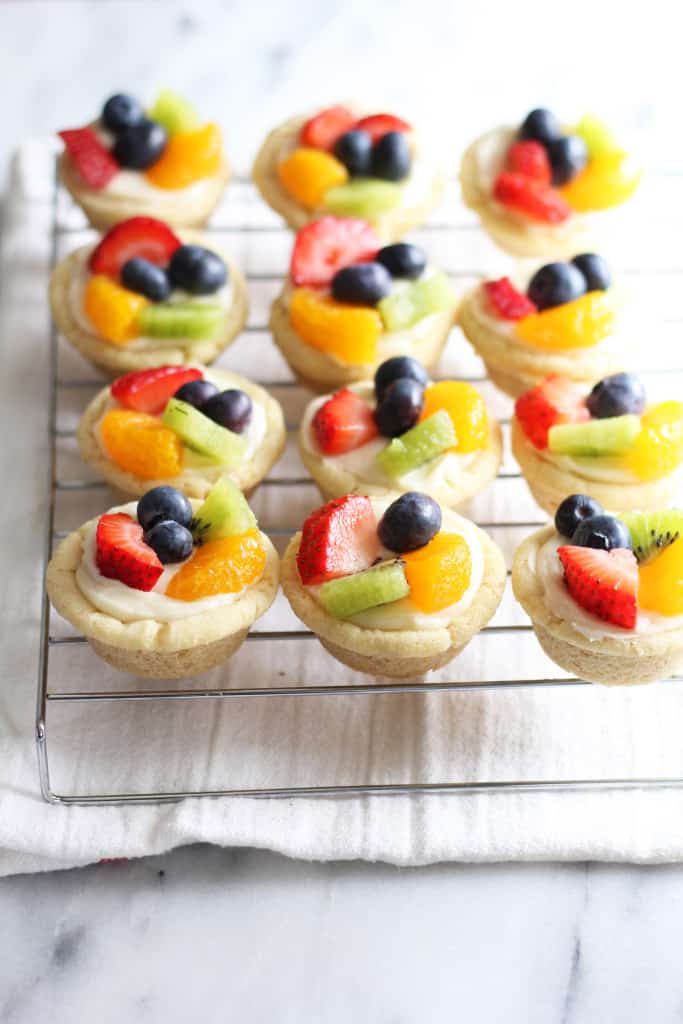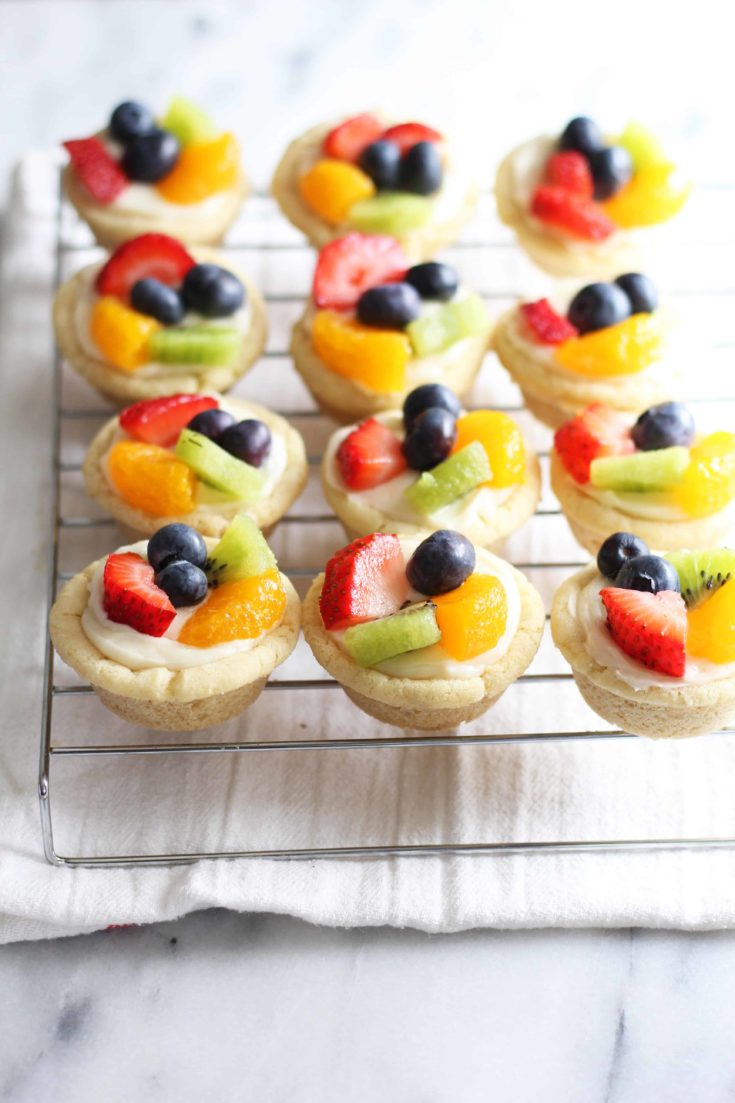 Fruit tarts have long been one of my favorite dessert, and these mini fruit tartlets are the perfect bite-sized treat for your festive Spring and Summer events. Baby Showers, Mother's Day, Sunday Brunch, anything where light and delicate finger food is appreciated, these sugar cookie cups with fresh fruit will be a hit.
I love them for being easy and versatile, cute and delicious. Who doesn't love a mini dessert? What's fun about this recipe is that the tart shells are made of sugar cookies! I love a good butter-based tart crust, but the use of sugar cookie dough here makes these easy as can be and so fun to make with kids! Also- most fruit tarts use a custard-like pastry cream with egg yolks as the filling, but I am keeping it simple with a sweet and creamy filling. It keeps these mini tarts super fast and easy to make.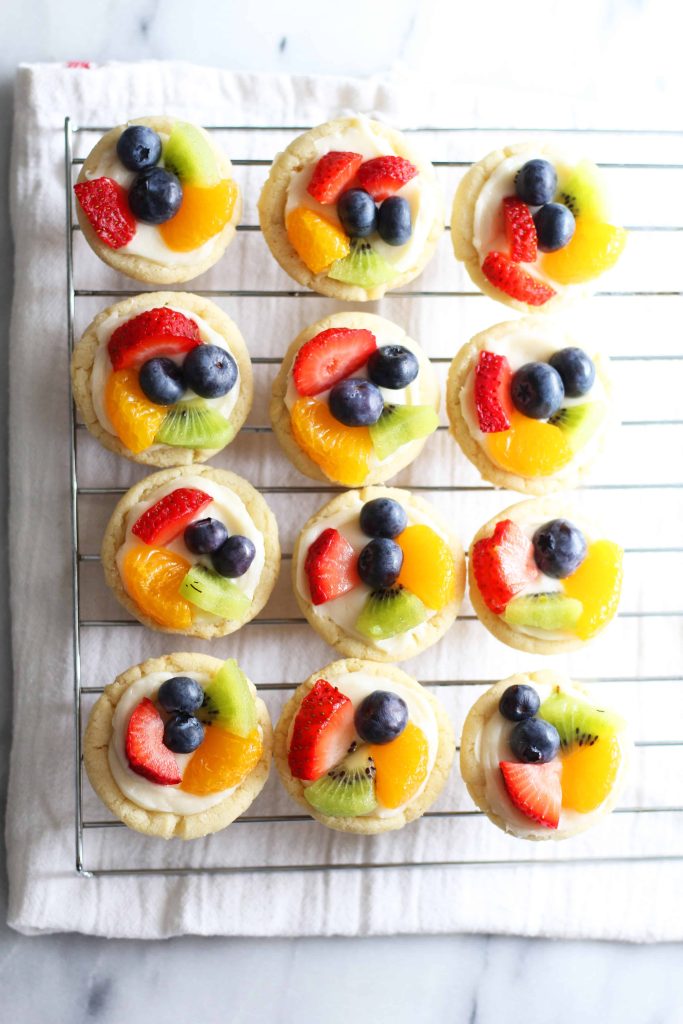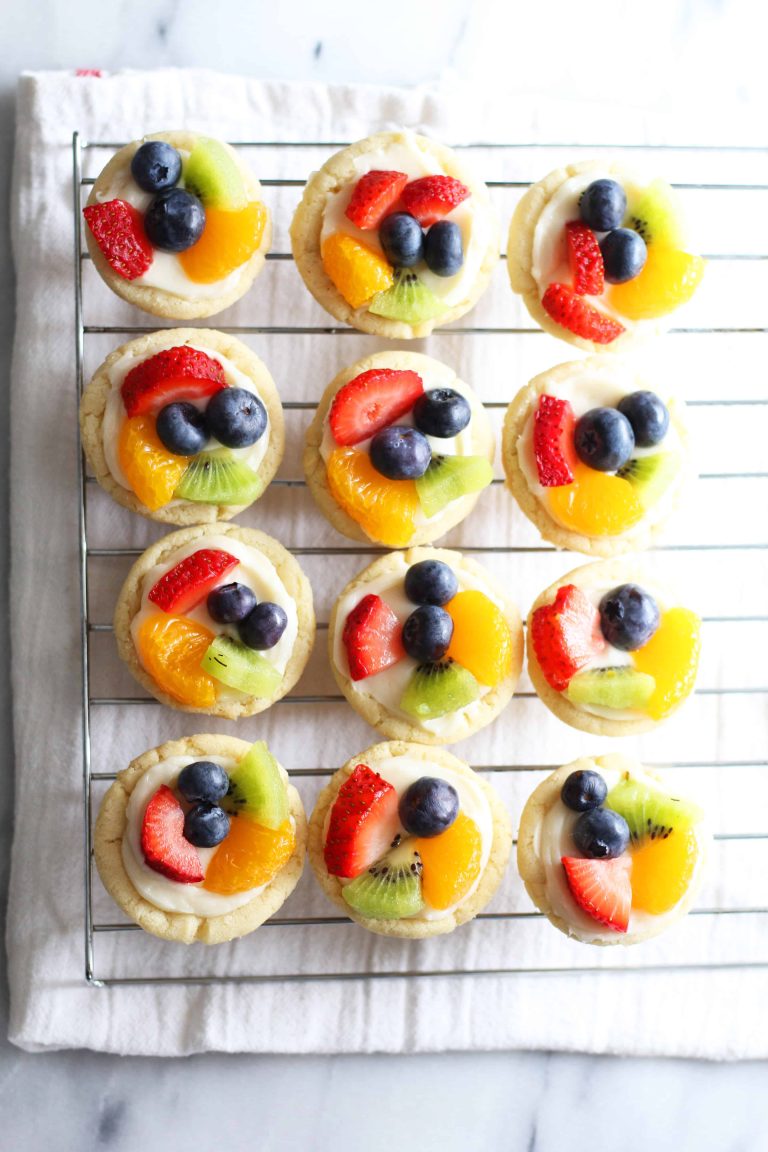 Ingredients needed for Mini Sugar Cookie Fruit Tarts:
Flour
Butter
Sugar
Vanilla Extract
Cream Cheese
Lemon Juice
Powdered Sugar
Fresh Fruit. My favorite fruits to use in this recipe are fresh berries, kiwi, mandarin oranges,
Supplies needed for Mini Fruit Tarts:
Mini Muffin Pan
Electric Mixer
Large bowl
Wire Rack

Why sugar cookies instead of pie crust?
Yes, a traditional tart recipe uses pie dough or tart dough, and I have made many delicious tarts with this traditional dough, but for these easy and simple treats, I love the ease of a sugar cookie crust. It comes together super fast, adds a nice sweetness, and is really delicious.
Using a butter-based pie dough involves par baking the crust to ensure they don't have "soggy bottoms" which is simple enough with pie weights, but doing that for 24 mini tarts just felt like one step too much. These Easy Mini Fruit Tarts come together so quickly and are worth the crust shortcut!
Other filling ideas for Mini Sugar Cookie Fruit Tarts:
Lemon Curd
Jam
Pudding
Buttercream
Fresh whipped cream (beat 1 cup of heavy cream)
The process:
Make the cookie dough by creaming some room temperature butter and sugar together. Add egg, vanilla, flour and other dry ingredients. Cream with a mixer until smooth. Use a dough scoop or spoon to portion the dough into equal sized balls and place them in the wells of a mini-muffin tins. Bake for about 10 minutes and then use the bottom of a wooden spoon, a small spoon, or your finger (when dough has cooled,) to make an indentation in the center of each ball of dough.
Make the cream cheese filling by mixing all the ingredients until smooth and creamy. Spoon the cream cheese mixture into the cooled cookie cups and then top with your colorful fruit. Enjoy your mini treats, the perfect addition to any dessert tray!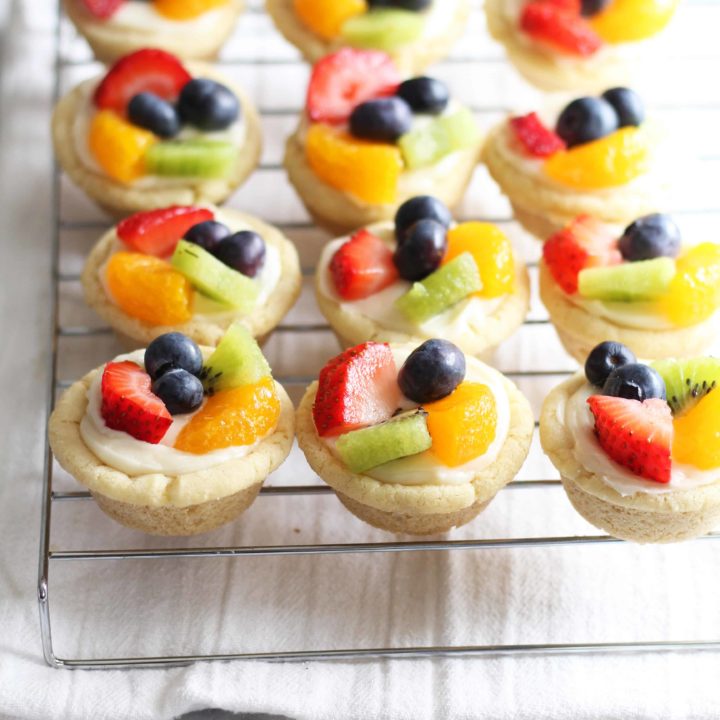 Mini Sugar Cookie Fruit Tarts
Ingredients
For the Crust:
1 1/3 cup plus 1 tablespoon all-purpose flour
1/2 teaspoon baking soda
1/4 teaspoon baking powder
1/2 cup butter, softened (4 oz or 1 stick)
3/4 cups white sugar
1 egg yolk
1/2 teaspoon vanilla extract
For the Filling:
1- 8oz block of cream cheese, softened
2 cups powdered sugar
1/2 teaspoon vanilla extract
Fresh fruit for topping
Instructions
For the Crust:
Grease a mini-muffin tin, set aside. Preheat oven to 350F.
In a large bowl cream together the butter and sugar.
Add the egg yolk and vanilla and mix until smooth and fluffy.
Add the flour, baking soda & powder to a small bowl, stir together and then add to the butter mixture.
Mix until well combined (dough may seem crumbly.)
Use a small cookie scoop to portion 1 1/2 inch balls of dough, and use your hands to roll them into a smooth ball. (I found the dough seemed dry until I rolled each scoop by hand.)
Portion a dough ball into each of the wells of your pan, and press down slightly.
Bake for 8-10 minutes or until the edges are golden. Allow to cool before removing from the pan.
For the Filling
Cream together the cream cheese and powdered sugar until thick and smooth. Add the vanilla extract.
Pipe or spread the filling into the cooled cookie shells. Top with fresh fruit.
Store in the fridge until ready to serve.
Recommended Products
As an Amazon Associate and member of other affiliate programs, I earn from qualifying purchases.