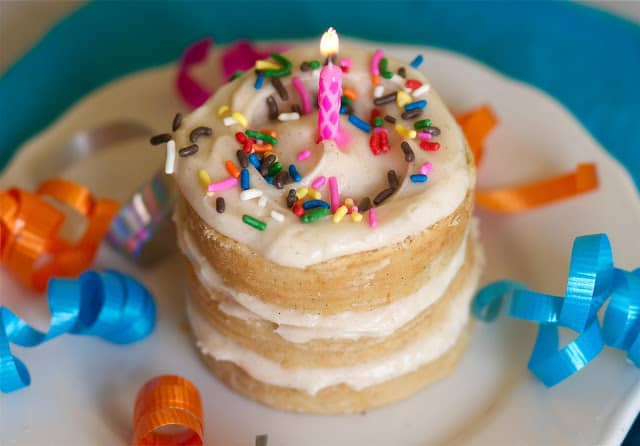 Sometimes in life you just don't want to share your birthday cake. You want to sit with a perfectly portioned serving of sugary goodness and eat the whole thing all by yourself. I mean you're welcome to share, but with this adorable little nugget of a cake you don't have to. In my opinion, it's perfect to make for a birthday girl or boy when there isn't a huge celebration, but cake is still in order. (Or in my situation, make it for myself and eat it later for breakfast.)
So I made my own birthday cake so what? It's so cute that I don't even care! It was a last minute decision made yesterday as I realized that even though I wasn't having a big party this year, I still wanted some birthday cake. SO I started thinking…should I just make cookies instead? No….I definitely needed a cake. Would cupcakes do? No…I want to cut into something with layers. Luckily I remembered seeing a genius idea on Pintrest of baking cakes in a tin can…and that's where this idea was born.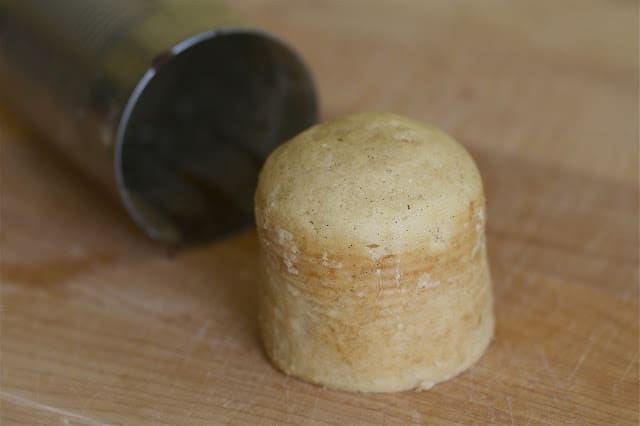 It really is the most easy way to make a mini layer cake. Any non-coated tin can will do*, just make sure it's clean and free of sharp edges. You can use any cake recipe you'd like, but I found a great one that is actually for 2 cupcakes. Instead of using muffin tins , I just poured all the batter into the can and it was just the right size.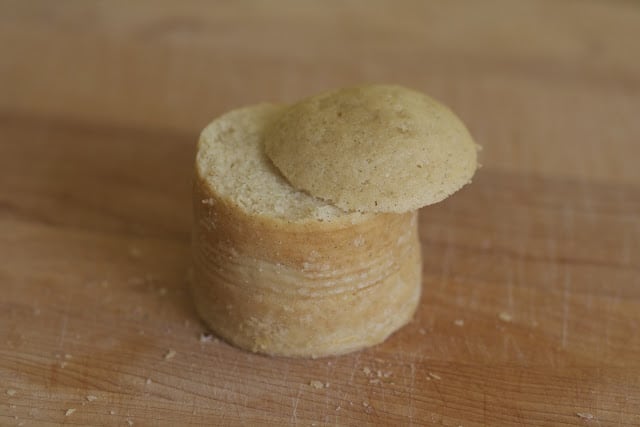 Like full size layer cakes, I sliced off the domed top and made three (even-ish) layers ready to be filled. I had some cinnamon cream cheese frosting left over from these which was perfect. The options for flavors, frostings and fillings are endless, which makes this recipe perfectly adaptable for the birthday girl/boy. I can't wait to make various versions of this cake for every upcoming event. It was baked, cooled and frosted in an hour. Can't beat that can ya?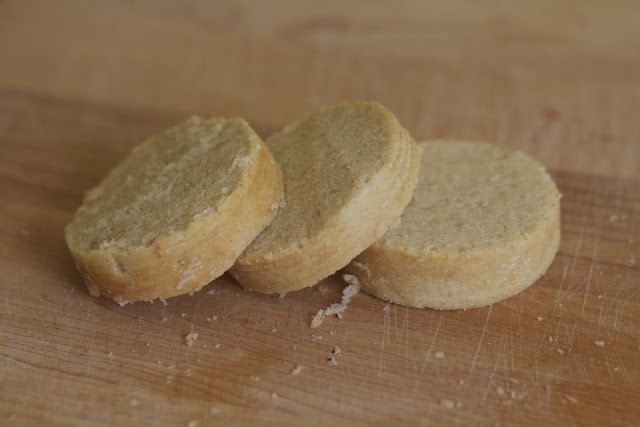 Oh- and I made you one more birthday treat, (remember when we used to bring in birthday treats to our classmates in school?) This one is also festive and full of sprinkles!
My first batch ever of homemade Marshmallows! These ones are extra special because they taste like birthday cake. Fluff, puffy, sticky, gooey birthday cake. The recipe is from an adorable new cookbook callled Marshmallow Madness by Shauna Sever. It is full of whimsical mallow recipes that I can't wait to try more of (Salted Caramel Marshmallows anyone?) The photos are gorgeous, the recipes are creative, easy to follow, and perfect for the mallow-lover in all of us.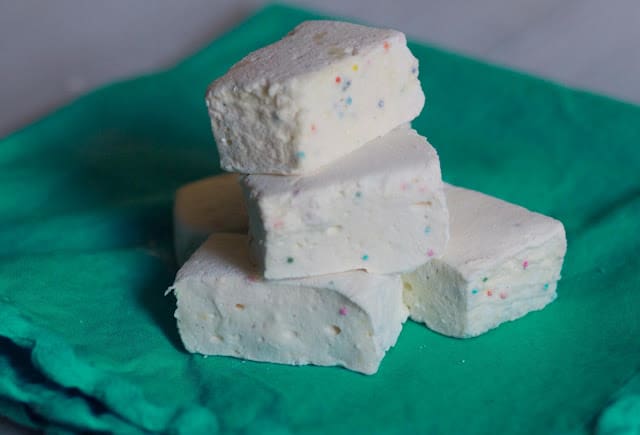 Mini Tin Can Birthday Cake
Ingredients
1 egg white
2 tablespoons sugar
2 tablespoons butter, melted
1 teaspoon vanilla extract (I used vanilla bean paste)
¼ cup flour
¼ heaping teaspoon of baking powder
pinch of salt
1½ tablespoons milk
Instructions
Preheat oven to 350 degrees. Spray a 15oz tin can with cooking spray and dust with flour, tapping to shake out any excess. cut out a round of parchment paper and place it in the bottom of the can.
In a bowl, add egg white and sugar and whisk until combined. Add in vanilla and melted butter and stir until mixed. Add flour, baking powder and salt and stir until smooth. Stir in milk. Pour batter into can.
Bake at 350 for 20-25 minutes, or until a toothpick comes out clean. Let cool completely, then invert cake and slide it out of the can. Slice the top off to level it (perfect for taste testing,) slice it into layers, and frost as desired.
Notes
*Some tin cans contain a possibly toxic coating called BPA. Most Organic Brands don't use it in their cans so I recommend buying a few to reuse for this purpose. I also think cleaning and scrubbing out a regular can is fine- whatever you're comfortable with!
cake recipe adapted from: How Sweet It Is
Mini Tin Can Birthday Cake, Birthday Cake Marshmallows and a Giveaway!
Ingredients
4½ tsp of unflavored powdered gelatin
½ cup cold water
¾ cup sugar
½ cup light corn syrup, divided
¼ cup water
⅛ tsp salt
2 tsp vanilla extract
¼ cup yellow cake mix
2 tablespoons sprinkles
gel food coloring (optional)
coating: (1/4 cup corn starch and ⅜ cup powdered sugar combined)
Instructions
Lightly coat an 8x8 baking pan with cooking spray.
Whisk together the gelatin and cold water in a small bowl and let soften for 5 minutes
Stir together the sugar, ¼ cup of the corn syrup, ¼ cup water and salt in a medium saucepan over high heat. Boil, stirring occasionally, until the temperature reaches 240 F on a candy thermometer.
Meanwhile, pour the remaining ¼ cup corn syrup into the bowl of an electric mixer fitted with a whisk attachment. Microwave gelatin on high until totally melted, about 30 seconeds. Pour into the mixer bowl, Set the mixer speed to low and keep it running.
When the syrup is 240F, slowly pout it into the mixer bowl. Increase the speed to medium and beat for 5 minutes. Increase to medium-high and beat for 5 more minutes. Beat on the highest setting for 1-2 mins more and beat in the vanilla and food coloring if you're using. The finished marshmallow will be opaque, white, fluffy and tripled in volume. (don't overwhip the batter or it will make folding in the cake mix a huge mess.)
Sift in about half the cake mix over the marshmallow batter. Use a spatula to gently fold it in and then sift and fold in the rest. Fold in the sprinkles.
Pour the batter into the prepared pan, using an offset spatula to smooth it into the corners. Sift the coating over the top, reserving some for later. Let it set for 6 hours in a cool dry place.
Use a knife to loosen the marshmallow fro the edges of the pan. Invert the slab onto a coating-dusted work surface and dust it with more coating. Cut into pieces (scissors worked well for me,) and dip the sticky edges into more coating, patting off the excess.
Notes
In this recipe and in her whole book, Shauna highly recommends using a stand mixer to whip the batter. I still don't have one (wedding gift I hope...) so I managed without. It wasn't easy, but you can do it. I held on to the mixer with one hand while I stirred the syrup.

Also- make sure your candy thermometer is "calibrated" check this by seeing what temp it shows for boiling water. I realized mine measures at 205F instead of 212- so I only cooked the sugar to 233F. Get me? Overheat the sugar and you'll end up with a hard candy-like mess!

Recipe from: Marshmallow Madness by Shauna Sever.