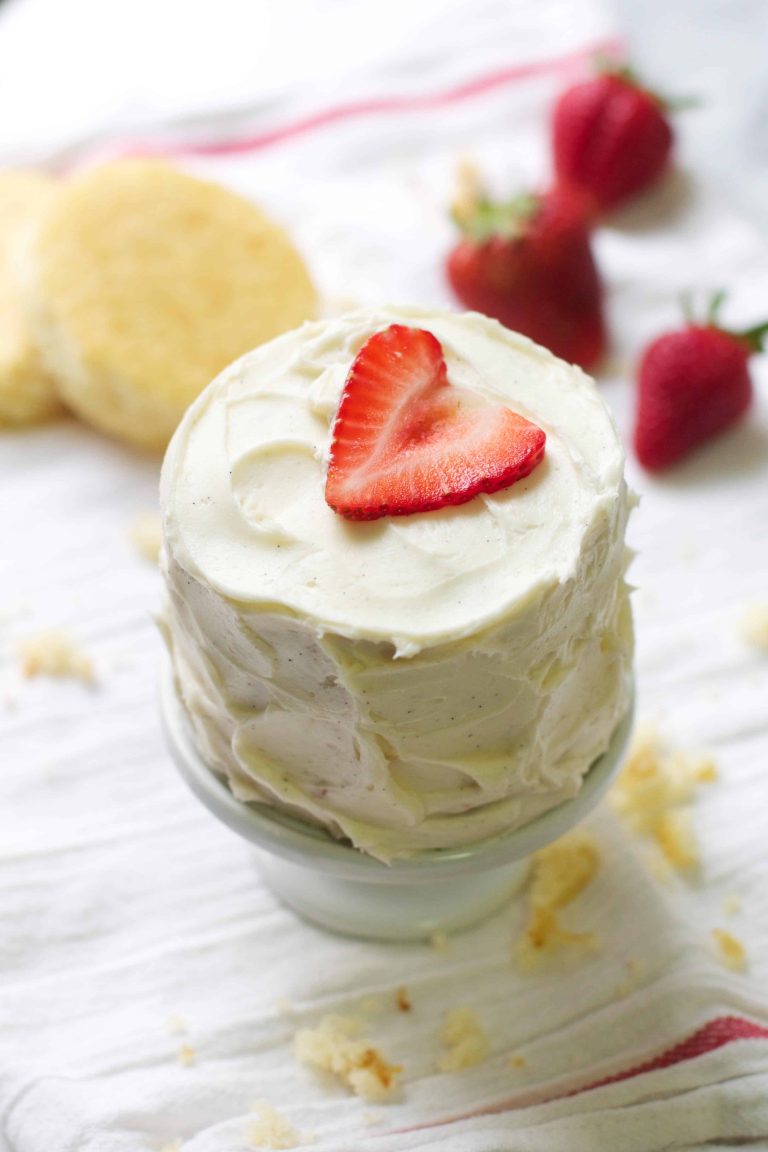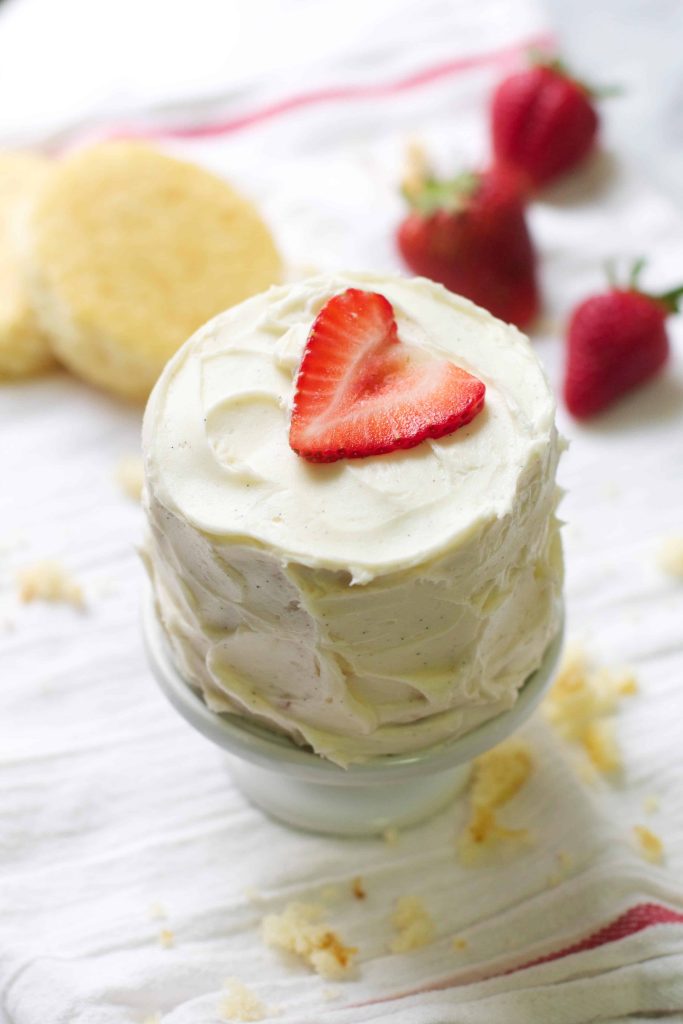 I love mini things. They are just so darn cute you know? It's not just food items though- as proven by my real addiction to baby clothes. (Someone help me please!) I just find that everything is better in teeny portions, and mini layer cakes are no exception. These are made by cutting rounds out of a cake with biscuit  cutter and layering them just like you would a regular cake. Pretty sweet huh? I think they are perfect for giving someone their own personal cake- or for special dessert spreads for parties.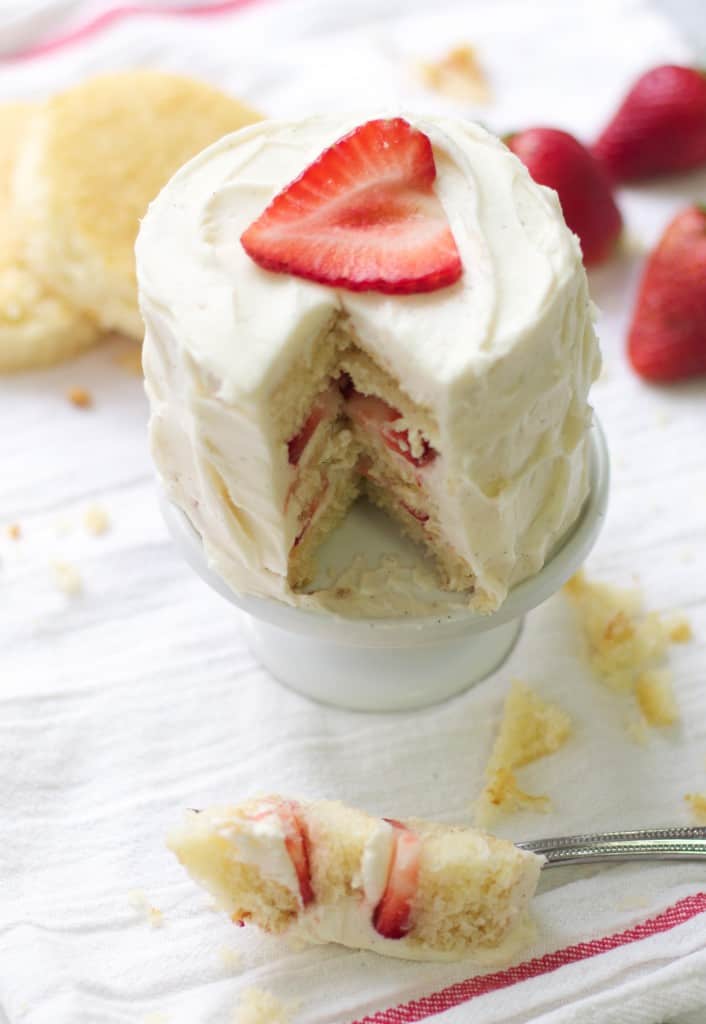 Speaking of parties, I think these would be exceptionally sweet at a baby shower- don't you? I figured mini layered cakes would be adorable on a baby shower dessert spread and since a few blog friends and I are throwing a *surprise* virtual baby shower for our friend Stephanie who writes the fabulous blog Girl Vs. Dough.  I thought these cakes would be perfect. Steph is expecting a little baby girl any day now, and I just can't wait for her to join the throws of Mommyhood. We met last summer when I was pregnant and Steph was hoping to be.  I will not-so-secretly imagine these little beauties on a real life dessert spread for this special gal's baby shower.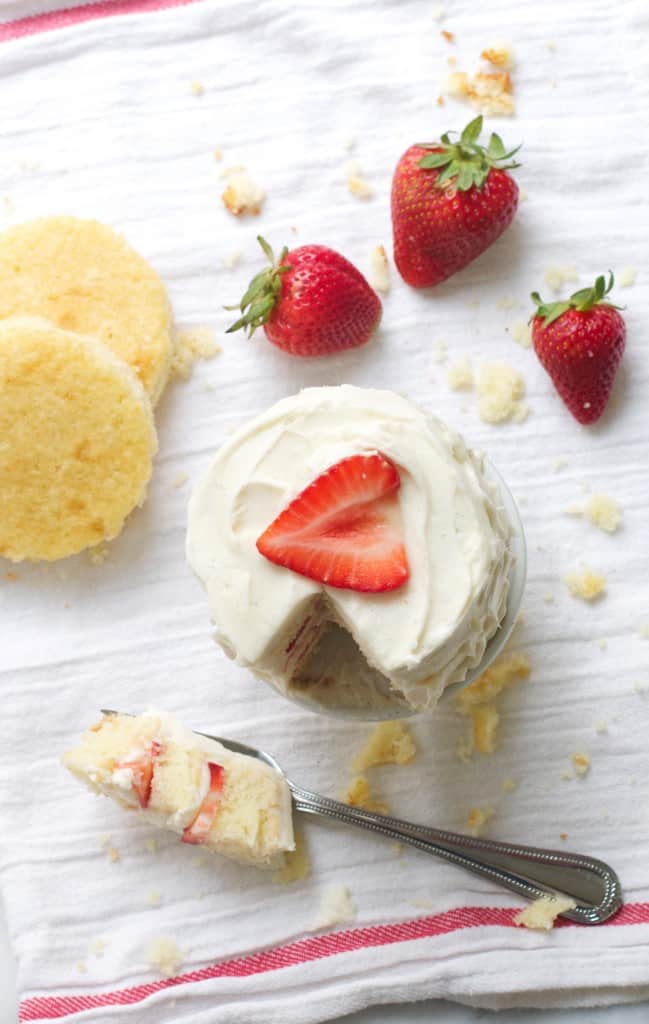 My favorite part of this fluffy vanilla bean cake is that you can actually bake the cake, stamp the rounds out, and freeze them until you're ready to use. It's the perfect way to make sure you have the means to whip up a quick personal-sized cake for someone special at a moment's notice. This is my favorite fluffy white cake and it would be good with almost any frosting- chocolate, cream cheese, vanilla etc. Everything is cuter (and maybe more delicious,) when it's mini- I promise!
Mini Vanilla Bean Strawberry Layer Cakes
Yield:
5- 4 inch layer cakes
Ingredients
1½ cup white sugar
12 tablespoons butter, softened
3 eggs, room temperature
3 teaspoons vanilla extract (or a combo of extract, vanilla bean paste or vanilla bean)
2¼ cups all-purpose flour
2½ teaspoons baking powder
1 teaspoon salt
1¼ cup whole milk
For frosting*:
¾ cups butter, softened (1½ sticks)
1½ cups powdered sugar
1 teaspoon vanilla bean paste (or extract)
splash of milk
4 strawberries, sliced
Instructions
Preheat oven to 350 degrees F (175 degrees C). Grease a jelly-roll pan with butter. (or spray.) Set aside.
In a medium bowl, cream together the sugar and butter. Beat in the eggs, one at a time, and beat on high speed for about 3 minutes, until fluffy and pale. Stir in the vanilla.
Combine flour, baking powder and salt, and add to the butter mixture in three batches, alternating with the milk, starting and ended with the flour mixture. Don't over-beat the batter.
Pour batter into the prepared pan evenly, smoothing with the back of a spoon.
Bake for 25-30 minutes in the preheated oven or until golden. Let cool in the pan for 5-10 minutes and then transfer to a cooling rack.
For Frosting:
Whip butter on high speed until fluffy. Add the powdered sugar and continue to beat until smooth. Add the vanilla and milk, and beat until creamy and good spreading consistency.
To assemble:
Use a round cookie or biscuit cutter to stamp out rounds of the cooled cake. Spread each layer with frosting, add sliced strawberries and then add another layer and repeat. After adding a thin layer of frosting to the whole cake, chill in the freezer before adding an thicker layer of frosting.
Notes
*The frosting recipe given is enough for 2 mini layer cakes. I chose to freeze the rest of my cake rounds, saving them for a later time when I needed a cute mini cake!
Cake recipe adapted from:
All Recipes