Mini White Chocolate Cheesecakes with Apple Cinnamon Compote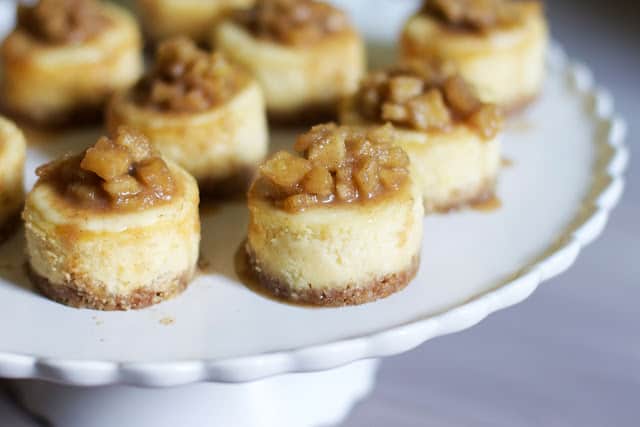 These adorable little cheesecakes were the sweet addition to my Tiny Food Party I posted about here. I've been dying for a chance to use my new cute mini cheesecake pan, and these were the perfect thing. The white chocolate adds a creamy richness without being overpowering. I was able to find high quality organic chocolate that was flecked with vanilla beans, (Green & Black.) I think that it really added a delicious richness to the flavor without actually tasting like white chocolate. (Everyone asked about the flavor of these but couldn't quite place what it was.)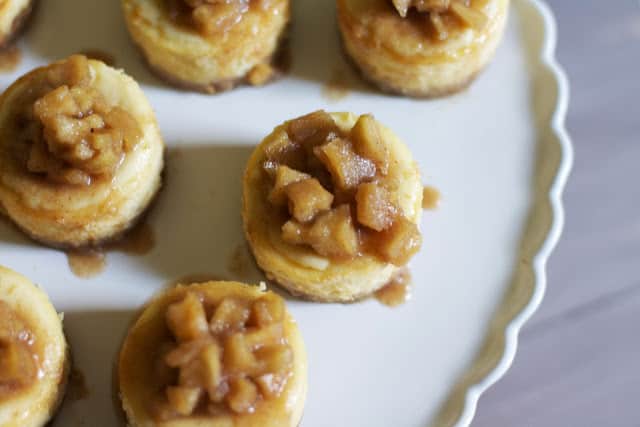 To keep things seasonal, I decided to top these with an apple-cinnamon compote instead of the blueberry that it called for. I must say it was a great choice as the spices and tart apples paired perfectly with the creamy cheesecake. I adored this recipe and I look forward to trying it again with new toppings and even crust flavor. Have a wonderful weekend!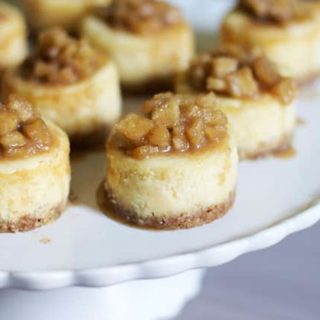 Mini White Chocolate Cheesecakes with Apple Cinnamon Compote
Ingredients
crust:
1 1/2 cups graham cracker crumbs, from 6 whole sheets.
1/4 cup granulated sugar
1/4 cup unsalted butter, melted
filling:
16 oz. cream cheese, softened
1/3 cup granulated sugar
2 eggs
1 egg yolk
1 tablespoon all purpose flour
6 oz. white chocolate, melted
1 tsp. vanilla extract
1/2 tsp. salt
topping:
1 granny smith apple, diced
2 tablespoons butter
1 tsp. cinnamon
2 tablespoons brown sugar
splash of apple juice or cider
Instructions
Preheat oven to 350. Combine crust ingredients in a mixing bowl. Press 1 1/2 tablespoons of the mixture into each bottom of 18 greased mini cheesecake pans or muffin tins.
In a stand mixer fitted with the paddle attachment or using a hand mixer, beat cream cheese and sugar or 2 minutes until smooth and creamy. Scrape down the sides of the bowl.
With the mixer running, add eggs and yolk, one at a time, scraping down the sides of the bowl after each addition. Mix in the flour, white chocolate, vanilla, and salt until just combined and smooth.
Pour filling into crusts and bake for 20-25 minutes, or until the centers have set.
Let the cheesecakes cool completely and then chill thoroughly before removing from pan.
Top each cheesecake with 2 teaspoons of apple compote and serve. (both cheesecakes and compote can be make ahead of time and assembled just before serving.)
For the Compote:
Melt butter in a small saucepan over medium heat. add the brown sugar, cinnamon and apple juice, and whisk until the sugar is dissolved. (if mixture seems too thick or clumpy add another splash of cider.)
Add the apples and cook until soft. Remove from heat. Mixture will thicken as it cools.
Nutrition Information:
Serving Size:

1 grams
Amount Per Serving:
Unsaturated Fat:

0g
Cheesecake recipe from:
Tiny Food Party